Research article
Open Access
Comparative genomics reveals diversity among xanthomonads infecting tomato and pepper
Received: 1 December 2010
Accepted: 11 March 2011
Published: 11 March 2011
Abstract
Background
Bacterial spot of tomato and pepper is caused by four Xanthomonas species and is a major plant disease in warm humid climates. The four species are distinct from each other based on physiological and molecular characteristics. The genome sequence of strain 85-10, a member of one of the species, Xanthomonas euvesicatoria (Xcv) has been previously reported. To determine the relationship of the four species at the genome level and to investigate the molecular basis of their virulence and differing host ranges, draft genomic sequences of members of the other three species were determined and compared to strain 85-10.
Results
We sequenced the genomes of X. vesicatoria (Xv) strain 1111 (ATCC 35937), X. perforans (Xp) strain 91-118 and X. gardneri (Xg) strain 101 (ATCC 19865). The genomes were compared with each other and with the previously sequenced Xcv strain 85-10. In addition, the molecular features were predicted that may be required for pathogenicity including the type III secretion apparatus, type III effectors, other secretion systems, quorum sensing systems, adhesins, extracellular polysaccharide, and lipopolysaccharide determinants. Several novel type III effectors from Xg strain 101 and Xv strain 1111 genomes were computationally identified and their translocation was validated using a reporter gene assay. A homolog to Ax21, the elicitor of XA21-mediated resistance in rice, and a functional Ax21 sulfation system were identified in Xcv. Genes encoding proteins with functions mediated by type II and type IV secretion systems have also been compared, including enzymes involved in cell wall deconstruction, as contributors to pathogenicity.
Conclusions
Comparative genomic analyses revealed considerable diversity among bacterial spot pathogens, providing new insights into differences and similarities that may explain the diverse nature of these strains. Genes specific to pepper pathogens, such as the O-antigen of the lipopolysaccharide cluster, and genes unique to individual strains, such as novel type III effectors and bacteriocin genes, have been identified providing new clues for our understanding of pathogen virulence, aggressiveness, and host preference. These analyses will aid in efforts towards breeding for broad and durable resistance in economically important tomato and pepper cultivars.
Keywords
Draft GenomeXanthomonas SpeciesTomato PathogenCell Wall DeconstructionCandidate Effector Gene
Background
Bacterial spot disease of tomato and pepper presents a serious agricultural problem worldwide, leading to significant crop losses especially in regions with warm and humid climate. The disease is characterized by necrotic lesions on leaves, sepals and fruits, reducing yield and fruit quality [1]. The disease is caused by a relatively diverse set of bacterial strains within the genus Xanthomonas; strain nomenclature and classification for the strains that infect pepper and tomato have gone through considerable taxonomic revision in recent years. Currently, the pathogens are classified into four distinct pathogen groups (A, B, C, and D) within the genus Xanthomonas. Strains belonging to groups A, B and D infect both tomato and pepper. Group C strains are pathogenic only on tomato [2, 3]. These phenotypically and genotypically distinct strains have different geographic distributions. Strains of group A and B are found worldwide. C strains have been increasingly found in the U.S., Mexico, Brazil, Korea and regions bordering the Indian Ocean, and D group strains are found in the former Yugoslavia, Canada, Costa Rica, U.S, Brazil and regions of the Indian Ocean [4–8]. Three of the four groups except for D were originally described as a single pathovar within Xanthomonas campestris and referred to as X. campestris pv. vesicatoria. The D group consisted of a strain isolated from tomato that had been designated 'Pseudomonas gardneri' for many years [9] although De Ley provided evidence for placement in the genus Xanthomonas[10]. Subsequently all four groups were classified as separate species on the basis of physiological and molecular characteristics as follows: Xanthomonas euvesicatoria (group A), Xanthomonas vesicatoria (group B), Xanthomonas perforans (group C), and Xanthomonas gardneri (group D) [11].
Based on 16S rRNA analysis, X. euvesicatoria strain 85-10 (A group) and X. perforans (C group) together form a monophyletic group, whereas X. vesicatoria (B group) and X. gardneri (D group) cluster together with X. campestris pv. campestris (Xcc) Xcc strain 33913 [11]. Recently, a phylogenetic tree was constructed based on MLST (multi-locus sequence typing) data for A, B, C and D group strains and other xanthomonads [12]. The MLST approach revealed that X. euvesicatoria and X. perforans form a group along with X. citri strain 306 (Xac). X. gardneri is most closely related to X. campestris pv. campestris strains while X. vesicatoria forms a distinct clade [12]. This diversity among the four groups makes the Xanthomonas-tomato/pepper system an excellent example to study pathogen co-evolution, as distinct species have converged on a common host.
While integrated management approaches for control of bacterial spot disease are available, the development of host resistance is more economical and environmentally benign for the control of the disease [13, 14]. Host resistance may also be required to replace the loss of some integrated management tools. Use of copper and streptomycin sprays over the years, for example, has led to the development of resistant strains [5]. At the same time, genetic resistance has been lost due to race shifts in pathogen populations [15–17]. Designing new and possibly durable resistance requires knowledge of pathogenicity factors possessed by the four groups.
Many candidate pathogenicity factors have been identified in strains of Xanthomonas. A number of virulence factors are employed by xanthomonads to gain entry into leaf or fruit tissue, and gain access to nutrients, while simultaneously overcoming or suppressing plant defenses. Different secretion systems and their effectors have been shown to contribute to the virulence of plant pathogens. The type III secretion system (T3SS) encoded by the hrp (Hypersensitive Response and Pathogenicity) gene cluster [18, 19] and type III secreted effectors have been widely studied for their role in hypersensitivity and pathogenicity. Effectors common between strains are believed to be responsible for conserved virulence function and avoidance of host defense. Differences in effector suites have evolved in closely related strains of plant pathogens and strain-specific effectors may help to escape recognition by host-specific defenses [20–25]. Important insights into pathogenicity mechanisms of X. euvesicatoria strain 85-10 (hereafter, Xcv) have been obtained with its genome sequence [26]. Here we report draft genome sequences of type strains of the other three bacterial spot pathogen species: X. vesicatoria strain 1111 (Xv 1111) (ATCC 35937), X. perforans strain 91-118 (Xp 91-118), and X. gardneri strain 101 (Xg 101) (ATCC 19865). We have annotated and analyzed predicted pathogenicity factors in the draft genomes. Additionally, we have investigated differentiation between xanthomonads that might explain differences in disease phenotypes and in host range.
Conclusions
The interaction of
Xanthomonas
strains with tomato and pepper represents a model system for studying plant-pathogen co-evolution because of the diversity present among the strains causing bacterial spot. Although the four
Xanthomonas
species infect the same host, tomato, and cause very similar disease, they are genetically diverse pathogens. The comparative genomic analysis has provided insights into the evolution of these strains. Whole genome comparisons revealed that
Xg
and
Xv
are more closely related to
Xcc
than
Xcv
and
Xp
. A few pathogenicity clusters, such as
hrp
,
xcs
and
xps
of
Xg
and
Xv
, were similar in terms of genetic organization and sequence identity to
Xcc
(Figure
8
). However, a few pathogenicity clusters of the four strains belonging to four phylogenetic groups showed different evolutionary origins. While the pepper pathogens
Xcv
,
Xv
and
Xg
possess similar LPS biosynthesis cluster, part of the LPS cluster from
Xp
is similar to the one from
Xac
(Figure
8
).
Xv
contains few effectors, including
xopAG
(
avrGf1
) and
xopAI
the latter of which was previously found to be unique to citrus pathogens
Xac
,
Xaub
and
Xauc
[
25
].
Xg
has a number of effectors homologous to
P
.
syringae
type III effectors suggesting probable horizontal transfer of these effectors.
Xg
contains a unique T4SS along with the one that is exclusive to
Xp
,
Xv
and
Xg
.
Xp
has two T6SSs, as found in
Xcv
.
Xv
has only one T6SS which is similar to that of
Xac
.
Xg
has no T6SS as seen for
Xcc
(Figure
8
). While
Xg
and
Xv
show close relationship to
Xcc
based on whole genome comparisons, few pathogenicity clusters mentioned above seem to be conserved among tomato/pepper xanthomonads.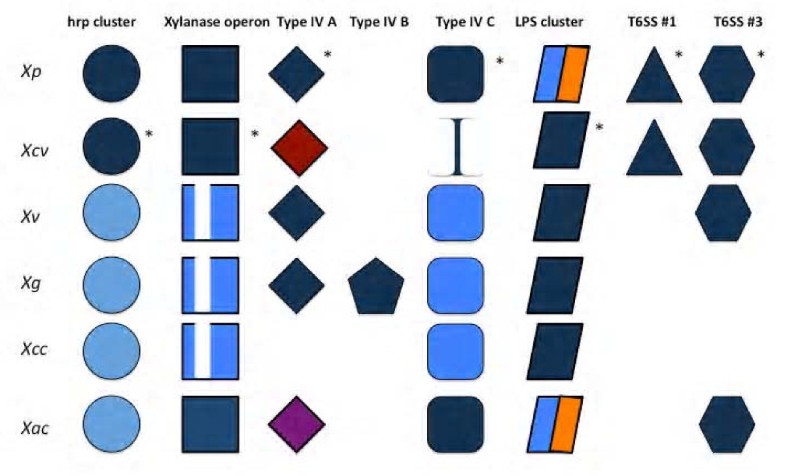 Type III effectors have been investigated for their contribution to pathogenicity and host-range specificity. In addition to homologs of the known effectors, we identified novel effectors in the draft genomes. By comparing effector repertoires of tomato pathogens, two possible candidate pathogenicity determinants, xopF1 and xopD, were identified, of which xopD is responsible for delaying symptom development, and in turn, is important for pathogen survival. Unique genes present in Xg include the novel effectors xopAO, xopAQ, xopAS and an avrBs1 member as well as a few other virulence factors, which have been characterized in other plant pathogens and which could explain the aggressive nature of Xg on pepper. Each species contains at least three unique type III effectors, which could explain host preferences among the strains and their aggressiveness on tomato/pepper. Comparison of the LPS clusters between the four species revealed significant variation. Xp has acquired a novel LPS cluster during evolution, which might be responsible for its predominance and its limited host range. As seen from the in planta growth assay of Xp ΔavrXv3 mutant carrying the LPS O-antigen from Xcv, the LPS cluster from pepper pathogens can be a contributor to the increased in planta growth of Xp ΔavrXv3 mutant on pepper, but is not the absolute virulence determinant. Use of the XA21 receptor similar to the Xoo-rice system in Xcv - tomato/pepper could be one of the ways to confer resistance to xanthomonads due to presence of a similar AX21 peptide and a functional rax system in Xcv. Common and unique genes encoding enzymes involved in cell wall deconstruction are candidates for further study to define host preference and virulence.
In conclusion, comparison of draft genomes obtained by next generation sequencing has allowed an in-depth study of diverse groups of bacterial spot pathogens at the genomic level. This analysis will serve as a basis to infer evolution of new virulent strains and overcoming existing host resistance. The knowledge of potential virulence or pathogenicity factors is expected to aid in devising effective control strategies and breeding for durable resistance in tomato and pepper cultivars.
Methods
Genome sequencing
Xv, Xp and Xg were sequenced by 454-pyrosequencing [27] at core DNA sequencing facility, ICBR, University of Florida. Xanthomonas isolates were grown overnight in nutrient broth. Genomic DNA was isolated using CTAB-NaCl extraction method [97] and resuspended in TE buffer (10 mM Tris pH 8, 1 mM EDTA pH 8). Libraries of fragmented genomics DNA were sequenced on 454-Genome Sequencer, FLX instrument at Interdisciplinary Center for Biotechnology Research (ICBR) at UF. De novo assemblies were constructed using 454 Newbler Assembler [27]. The three draft genomes were obtained with around 10× coverage.
For Illumina sequencing, the Xanthomonas strains were purified from single-colony and grown overnight in liquid cultures. Genomic DNA was isolated by phenol extraction and precipitated twice with isopropanol, and finally dissolved in TE buffer. DNA was then purified by cesium chloride density gradient centrifugation and precipitated with 95% ethanol, then dissolved in TE buffer. Libraries of fragmented genomic DNA with adapters for paired-end sequencing were prepared according to the protocol provided by Illumina, Inc. with minor modifications. The libraries were sequenced on the 2G Genome Analyzer at Center of Genome Research & Biocomputing at Oregon State University and post-processed using a standard Illumina pipeline [28]. We obtained approximately 8-10 million 60-bp reads for each genome, providing roughly 95× predicted coverage.
Assembly and annotation
De novo assembly was generated on Newbler assembler (version 2.3; 454 Life Science, Branford, CT) using 454-sequencing reads for each genome. CLC workbench [29] was used in the next step for combining 454-based contigs with illumina reads, wherein, 454 based contigs were used as long reads to fill in gaps generated during combined de novo assembly. These combined assemblies of each genome were uploaded on IMG-JGI (Joint Genome Institute, Walnut Creek, California) server for gene calling. The gene prediction was carried out using GeneMark. Pfam, InterPro, COGs assignments were carried out for identified genes. Pathogenicity clusters described in the paper were manually annotated.
Whole genome comparisons
We aligned draft genomes against reference Xanthomonas genomes using nucmer [31] of MUMmer program (version 3.20) and dnadiff was used to calculate percentage of aligned sequences. We have also compared genomes using the MUM index [30] to measure distances between two genomes. The maximal unique exact matches index (MUMi) distance calculation was performed using the Mummer program (version 3.20). Mummer was run on concatenated contigs or replicons (achieved by inserting a string of 20 symbols 'N' between contig or replicon sequences) of each genome. The distance calculations performed using the MUMi script are based on the number of maximal unique matches of a given minimal length shared by two genomes being compared. MUMi values vary from 0 for identical genomes to 1 for very distant genomes [30].
Phylogenetic analysis
MLST sequences (fusA, gapA, gltA, gyrB, lacF, lepA) for all the genomes were obtained in concatenated form from PAMDB website http://pamdb.org. Genes and their corresponding amino acid sequences spanning gum, hrp cluster were downloaded from NCBI genbank sequences of sequenced genomes. Amino acid sequences of proteins of these clusters for Xcv and Xcc were used as query to search for homology against draft genomes of Xp, Xv and Xg. The amino acid sequences were then concatenated for each pathogenicity cluster and then aligned using CLUSTALW ignoring gaps. Neighbour-joining trees were constructed with boostrap value for 1000 replicates using MEGA4 [98]. Codon positions included were 1st+2nd+3rd+Noncoding. All positions containing gaps and missing data were eliminated from the dataset (Complete deletion option). There were a total of 2723 positions in the final dataset.
Phylogeny reconstruction
Species tree. We used a supermatrix approach as in previous work [25]. Protein sequences of six Xanthomonas genomes (ingroups) and the S. maltophilia R551-3 genome (outgroup) were clustered in 5,096 families using OrthoMCL [99]. We then selected families with one and only one representative from each of the ingroup genomes and at most one outgroup protein, resulting in 2,282 families. Their sequences were aligned using MUSCLE [100] and the resulting alignments were concatenated. Non-informative columns were removed using Gblocks [101], resulting in 792,079 positions. RAxML [102] with the PROTGAMMAWAGF model was used to build the final tree.
Prediction of effector repertoires, cloning of candidate effectors and confirmation using avrBs2 reporter gene assay
A database was created collecting all the known plant and animal pathogen effectors. Using all these known effectors as query, tblastn analysis was performed against all contigs of the draft genomes of Xv, Xg and Xp with e-value of 10-5[103]. Pfam domains were searched for possible domains found in known effectors in predicted set of ORFs of draft genome sequences. Candidate effectors were classified according to the nomenclature and classification scheme for effectors in xanthomonads recently [24]. Candidate effectors showing < 45% identity at amino acid level to the known effectors were confirmed for their translocation using avrBs2 reporter gene assay.
N-terminal 100 amino acid region along with upstream 500 bps sequence of candidate genes were PCR amplified using primers with BglII restriction sites at the 5' ends. Following digestion with BglII, PCR amplicons were ligated with BglII-digested pBS(BglII::avrBs262-574::HA) (courtesy of Dr. Mary Beth Mudgett, Stanford university), and later transformed into E. coli DH5α. In-frame fusions were confirmed by DNA sequencing using F20 and R24 primers. BamHI-KpnI fragments containing the candidate gene fused to avrBs2 was then cloned into pUFR034. Resulting plasmids were then introduced into Xcv pepper race 6 (TED3 containing mutation in avrBs2) by tri-parental mating. The resulting Xcv strains were inoculated on Bs2 pepper cv. ECW 20R and kept at 28°C in growth room. After 24 hours, strong HR was indicating successful translocation of candidate effector fusions.
Cloning of pepper specificity genes in Xp
The three genes mentioned above were cloned individually and in combination in pLAFR3 vector and conjugated in Xp 91-118 ΔavrXv3 mutant PM1. The PM1 transconjugants with the three individual genes and combined ones along with virulent pepper race 6 strain were infiltrated at 105 CFU/ml concentration in pepper cv. ECW and leaves were sampled at every 48 hours after inoculation. The samples were plated on nutrient agar, incubated at 27°C and CFU/ml counts were enumerated. Experiment was carried out in triplicate and repeated three times.
Database submission
The draft genome sequences of Xanthomonas vesicatoria ATCC 35937 (Xv) have been deposited at DDBJ/EMBL/GenBank under accession number AEQV00000000. The draft genome sequences of Xanthomonas perforans 91-118 (Xp) have been deposited at DDBJ/EMBL/GenBank under accession number AEQW00000000. The draft genome sequences of Xanthomonas gardneri ATCC 19865 (Xg) have been deposited at DDBJ/EMBL/GenBank under accession number AEQX00000000. The version described in this paper is the first version, AEQV01000000, AEQW01000000, AEQX01000000. All three draft genomes will be released upon manuscript acceptance.
List of abbreviations
Xcv Xanthomonas euvesicatoria :

strain 85-10
formerly:

Xanthomonas campestris pv. vesicatoria strain 85-10
Xv Xanthomonas vesicatoria :

strain 1111 (ATCC 35937)
Xp Xanthomonas perforans :

strain 91-118
Xg Xanthomonas gardneri :

strain 101 (ATCC 19865)
Xvv Xanthomonas vasicola :

pv. vasculorum NCPPB702
Xac Xanthomonas citri :

subsp. citri strain 306
formerly:

Xanthomonas axonopodis pv. citri strain 306
Xaub Xanthomonas fuscans :

subsp. aurantifolii B strain
Xauc Xanthomonas fuscans :

subsp. aurantifolii C strain
Xalb:

Xanthomonas albilineans
Declarations
Acknowledgements
This research was supported by USDA-NIFA special grant T-STAR (J. B. Jones, J. F. Preston and M. T. Momol, USDA 2006-34135-17569). We thank IMG-JGI for providing genome annotation pipeline and interface for the comparative genomic analyses. Special thanks to Kostantinos Mavromatis in helping preparation of Genbank files.
Authors' Affiliations
(1)
Department of Plant Pathology, University of Florida, Gainesville, USA
(2)
Department of Plant & Microbial Biology, University of California, Berkeley, Berkeley, USA
(3)
Department of Microbiology and Cell Science, University of Florida, Gainesville, USA
(4)
Faculdade de Computação, Universidade Federal de Mato Grosso do Sul, Campo Grande, Brazil
(5)
Institute of Microbial Technology (CSIR), Chandigarh, India
(6)
BIOMERIT Research Centre, Biosciences Institute, University College Cork, Ireland
(7)
Fundecitrus - Fundo de Defesa da Citricultura, Araraquara, Brazil
(8)
Department of Plant Pathology, Kansas State University, Manhattan, USA
(9)
Department of Plant Pathology, Physiology and Weed Sciences, Virginia Tech, Blacksburg, USA
(10)
Laboratoire Génome et Développement des Plantes, IRD-CNRS-Université-de Perpignan, Centre IRD, Montpellier, France
(11)
Virginia Bioinformatics Institute, Virginia Polytechnic Institute and State University, Blacksburg, USA
(12)
Institute of Food and Agricultural Sciences, Mid-Florida Research & Education Center, University of Florida, Apopka, USA
Copyright
© Potnis et al; licensee BioMed Central Ltd. 2011
This article is published under license to BioMed Central Ltd. This is an Open Access article distributed under the terms of the Creative Commons Attribution License (http://creativecommons.org/licenses/by/2.0), which permits unrestricted use, distribution, and reproduction in any medium, provided the original work is properly cited.