Research article
Open Access
Genome-wide differential gene expression in immortalized DF-1 chicken embryo fibroblast cell line
Received: 18 July 2011
Accepted: 23 November 2011
Published: 23 November 2011
Abstract
Background
When compared to primary chicken embryo fibroblast (CEF) cells, the immortal DF-1 CEF line exhibits enhanced growth rates and susceptibility to oxidative stress. Although genes responsible for cell cycle regulation and antioxidant functions have been identified, the genome-wide transcription profile of immortal DF-1 CEF cells has not been previously reported. Global gene expression in primary CEF and DF-1 cells was performed using a 4X44K chicken oligo microarray.
Results
A total of 3876 differentially expressed genes were identified with a 2 fold level cutoff that included 1706 up-regulated and 2170 down-regulated genes in DF-1 cells. Network and functional analyses using Ingenuity Pathways Analysis (IPA, Ingenuity® Systems, http://www.ingenuity.com) revealed that 902 of 3876 differentially expressed genes were classified into a number of functional groups including cellular growth and proliferation, cell cycle, cellular movement, cancer, genetic disorders, and cell death. Also, the top 5 gene networks with intermolecular connections were identified. Bioinformatic analyses suggested that DF-1 cells were characterized by enhanced molecular mechanisms for cell cycle progression and proliferation, suppressing cell death pathways, altered cellular morphogenesis, and accelerated capacity for molecule transport. Key molecules for these functions include E2F1, BRCA1, SRC, CASP3, and the peroxidases.
Conclusions
The global gene expression profiles provide insight into the cellular mechanisms that regulate the unique characteristics observed in immortal DF-1 CEF cells.
Keywords
Infectious Bursal Disease VirusChicken Embryo FibroblastChicken Embryo Fibroblast CellNDC80 ComplexLabel cRNA Probe
Background
Normal (primary) cultured cells derived from living tissue exhibit a limited life span reaching replicative senescence in a non-dividing state [1]. Each cell division results in the generation and accumulation of various cellular genetic alterations, such as telomere shortening caused by the inability of DNA polymerases to fully replicate the ends of linear chromosomes [2, 3]. This inability to overcome these alterations ultimately leads to cellular aging. Most cells are unable to overcome senescence unless key tumor suppressor pathways are first altered. Thus, cellular immortalization has been achieved by genetic alterations which bypass the stages leading to cellular senescence.
Spontaneous immortalization is a rare event in human and avian cells, but occurs much more frequently in rodent cells [4]. Unlike virally or chemically induced tumor cell lines, spontaneously induced, non-transformed cell lines lacking endogenous and exogenous viral genomes are much more useful for studying the conversion to an immortal state and to evaluate the effects of viral infection. Traditionally, in the absence of a suitable avian cell line, primary chicken embryo fibroblasts (CEF) have been used in virology and vaccine production, although a major disadvantage is the fluctuation of virus titers from lot to lot. Thus, there are advantages to using a spontaneously immortalized non-transformed cell line for vaccine production, which provides an unlimited supply of identical cells.
The immortal DF-1 CEF cell line was established spontaneously from Line 0 (endogenous-virus negative; [
5
]) embryos and has been widely used for the propagation of various avian viruses, including avian sarcoma leukosis virus [
6
,
7
], avian leukosis virus [
8
], Marek's disease virus [
9
], avian influenza virus [
10
,
11
], infectious bursal disease virus [
12
], and avian metapneumovirus [
13
,
14
]. The non-transformed DF-1 CEF cell line has been continuously grown in culture for more than 300 passages and does not harbor any known endogenous viruses [
7
,
15
]. DF-1 cells have enhanced growth potential compared to their primary CEF counterparts [
6
,
16
]. The morphology of DF-1 cells is that of a typical spindle-shaped fibroblast, but is much smaller than its primary CEF counterpart (Figure
1
; [
17
]).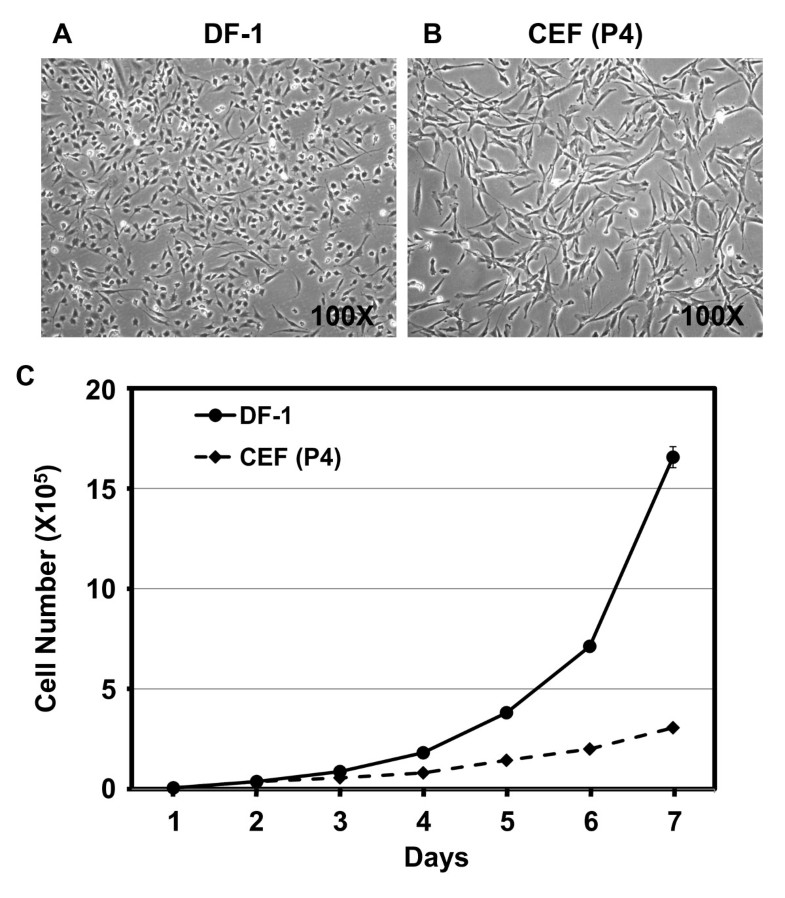 Various genetic, biochemical, and physiological characteristics of the DF-1 cell line have been reported. At the chromosomal level, DF-1 cells display different ploidy lineages and chromosomal rearrangements by maintaining a complex derivative karyotype which may be caused by chromosome fusions in homozygous and heterozygous conditions. In addition the DF-1 cells contain a greater amount of telomeric sequence repeats per genome compared to normal chicken cells and to a telomerase positive transformed lymphoma cell line [18]. Chromosome rearrangements and different ploidy thus may influence structural or dosage-related alterations in gene expression. Indeed, DF-1 cells retain various genetic alterations of down-regulated p53 function, an up-regulated pRB (retinoblastoma protein) and E2F1 pathway, and elongated telomere length, which are commonly found in immortalized cells [19]. Compared to the parent line of primary CEF cells, DF-1 cells were shown to transcriptionally increase mitochondrial encoding gene expression and elevated mitochondrial respiratory functions, which supports its rapidly dividing cellular characteristics [16]. Moreover, cellular antioxidant genes, such as manganese containing superoxide dismutase (MnSOD or SOD2), copper-zinc containing SOD (CuZnSOD or SOD1), and catalase were deregulated transcriptionally and functionally in the DF-1 cell line. These deregulated antioxidant functions may be considered to be responsible for hypersensitivity to oxidative stress shown in DF-1 cells [20–22].
The DF-1 CEF cell line is a biologically important spontaneously immortalized cell line that has been utilized by great number of research groups for a host of research topics. Due to the diverse utility and the potentially unique genetic characteristics, the DF-1 cell line (along with several other chicken cell lines and chicken breeds) will be subjected to whole genome sequencing within the year (personal communication Jerry Dodgson, Michigan State University).
Biologic, virologic and important genetic alterations in immortal DF-1 CEF cells have been reported, however there are no reports concerning genome-wide gene expression profiling of the DF-1 cells to our knowledge. Thus, the major goal of this study was to conduct global gene expression analysis to profile differentially expressed genes in DF-1 CEF cells compared to their primary CEF counterpart using a 44K chicken oligo microarray. The results indicate that DF-1 cells retain cellular characteristics of enhanced cell cycle progression and proliferation, down-regulated cell death pathways, hyperactive mitochondrial functions, and altered cellular morphogenesis.
Conclusions
In this study, we have demonstrated changes in genome-wide gene expression for the immortal DF-1 CEF cell line showing rapid growth potential and chromosomal rearrangement. Taken together, the DF-1 genome sequence, which will be announced in the near future, and the differentially expressed genes characterized here provide transcriptional insights into the regulatory mechanisms for the unique characteristics observed in immortal DF-1 CEF cells.
Methods
Cell culture
Cell culture reagents were purchased from Invitrogen Life Technologies (Carlsbad, CA). Primary chicken CEF cells were isolated from 10 day old specific-pathogen free (SPF) chicken embryos (Charles River Laboratories, North Franklin, CT). Whole embryos were dissociated into single cell populations using 0.25% trypsin/1 mM EDTA. Cells dissociated from embryos were suspended in a Dulbecco's Modified Eagle's Medium (DMEM, 0.45% glucose) plus 10% fetal bovine serum (FBS), 100 units/ml penicillin, 100 μg/ml streptomycin, and 2 mM L-glutamine in 10 cm tissue culture dishes (Sarstedt Inc., Newton, NC). Cultured cells were grown at 39°C in a 5% CO2 incubator until cells reached confluent monolayers (2 to 4 days) and primary CEF cells were passaged every 3-4 days and frozen stocks of cells were prepared from each passage at a density of 3 × 106 cells and stored in liquid nitrogen. Cell freezing medium was prepared by the addition of 40% FBS to growth media supplemented with 10% DMSO. The immortal DF-1 CEF cell line was grown using the same conditions as for primary CEF cells. All procedures of handling chicken embryos, cell cultures, and DNA/RNA were approved by Institutional Biosafety Committee (IBC: protocol number: 10007) of University of Arkansas.
Total RNA extraction
Total RNA was extracted from primary (passage 4) and DF-1 (passage 285) CEF cells using TRIzol reagent (Invitrogen Life Technologies, Carlsbad, CA) following the manufacturer's instructions. Total RNA was treated with DNase I (New England BioLabs Inc., Ipswich, MA), and RNA was re-purified by TRIzol reagent. The quality of RNA was checked by agarose gel electrophoresis fractionation (data not shown).
Probe labeling and microarray hybridization
A two color labeling microarray system was used to compare mRNA expression between primary and DF-1 CEF cells. Fluorescently labeled complementary RNA (cRNA) probes were generated by using the Two Color Microarray Quick Labeling kit (Agilent Technologies, Palo Alto, CA) following the manufacturer's instructions. RNA Spike-in controls were used to adjust possible dye effects following the manufacturer's instructions. The Spike-in controls represent two sets of ten synthesized RNA mixtures derived from the Adenovirus E1A transcriptome with different concentrations in each set [69, 70]. These Spike-in sets were mixed with either primary or DF-1 CEF samples and co-hybridized to the arrays. Briefly, 2 μg of total RNA was mixed with Spike-in controls and converted to cDNA using reverse transcriptase and oligo dT primers in which T7 promoter sequences were added. T7 RNA polymerase was used for the synthesis and labeling of cRNA with either Cy3 dye for the primary CEF control or Cy5 dye for DF-1 CEF samples. The fluorescently labeled cRNA probes were purified using the Qiagen RNeasy Mini Kit (Qiagen Inc., Valencia, CA), and the concentration, fluorescent intensities, and quality of labeled cRNA probes were determined using a Nano-drop spectrophotometer (Thermo Scientific, Wilmington, DE). An equal amount (825 ng) of Cy3 and Cy5 labeled cRNA probes were hybridized on a 4 × 44K Agilent chicken oligo microarray (array ID: 015068). The hybridized slide was washed using a commercial kit package (Agilent Technologies, Palo Alto, CA) and then scanned using a Genepix 4000B scanner (Molecular Devices Corporation, Sunnyvale, CA) with the tolerance of saturation setting of 0.005%. Four biological replicates for each cell line were conducted.
Microarray data collection and analysis
Background-corrected red and green intensities were normalized by the local polynomial regression (loess) method. The average values of the resulting normalized expression in replicate hybridization sets were considered in the subsequent analysis. In order to identify differentially expressed genes, moderated t-statistic and its corresponding p-value based on empirical Bayes methods [71] for each gene were computed. The genes with both a p-value below 0.05 and fold change over ± 2 fold were considered as statistically different between two groups and identified as differentially expressed genes. Results were deposited into Gene Expression Omnibus (GEO; accession number: GSE29257). All analyses were implanted in Microsoft Excel and JMP Genomics (SAS Institute, Cary, NC), which is licensed to Cell and Molecular Biology Program of University of Arkansas.
Quantitative reverse transcription-polymerase chain reaction (qPCR)
Reverse transcription was performed with 3 μg of total RNA using Superscript II reverse transcriptase and oligo dT
12-18
primers (Invitrogen Life Technologies, Carlsbad, CA) following the manufacturer's instructions. The reverse-transcribed cDNA was diluted by 1:10 ratio and a portion (1 μl) was subjected to qPCR under the following conditions: 40 cycles of 95°C for 30 s, gene-specific annealing temperature (58 - 65°C) for 1 min, extension for 30 s at 72°C, and a final extension at 72°C for 10 min. A non-template control and endogenous loading control (chicken GAPDH) were used for the relative quantification. The differential expression in DF-1 CEF cells were calculated by the -ΔΔCT method, which is comparable to log
2
value of differentially expressed genes, against the primary CEF counterpart [
72
]. Primers for qPCR were designed using Primer3 software
http://frodo.wi.mit.edu/cgi-bin/primer3/primer3.cgi
and were synthesized by Integrated DNA Technologies (Coralville, IA). Primer information is listed in Table
5
. All qPCR reactions were performed three times.
Table 5
Primers used for qRT-PCR
Accession #

Forward Primer (5' → 3')

Reverse Primer (5' → 3')

Gene Symbol

AB109635

GGCACCAACTTGCTACCACA

GCTGCAAGAGCTGCCATTAG

HMGCR

AB196971

AGTGATGGGCGGAACAGAGT

GTCTTGCTGCACACCGACTT

APCDD1

AF505881

CCAGCTACATCTCCCACCTG

TCTGTTTGGGCTGGGAGTTC

SCX

AJ131110

GTGGATAGCTTGGGGACCAG

AAGACTGGGAGCTGGGACTG

TWIST2

BU279212

GGCAACCATTTTGATCTTGCT

CCCCTGCAAAAGCTGAAATC

CBLN2

BX929635

TCTCGCTCCTGGCAATGATA

CCAGCAGCACCATCTTTGAG

NDP

BX931599

CTGTTTCCTGACCGCAGTTC

AGCACAAACTCCGCCATTTT

VIPR2

BX932694

GGCCCCTTACTGGTGGTCTT

AGACGGGCTTTGGATAGCAA

MPZL2

BX933478

CCTGTGCAAGGTGTCCAGTG

CCCAATGGCCATACAGTTCA

MXRA5

BX933888

CTGGGATCCCTCCAGAGCTA

CCATTCACTGGAGCACCAAA

C1QTNF3

BX935456

CGAGGCCATCAACTTCCTTC

TCCACATGACGCACATACCC

EGLN3

BX936211

CCAGCTGTCCTCCTTGGAAT

AGGGAGAGGAAGACGTGCTG

TMEM116

CK611983

ATGATGACTGGGGGCTTGTC

GCAACCACTTGAGTCCGGTA

CSTA

CR385566

CGCGCTCTACGACTACATGC

CTGGGTGGTGATCTCGGTCT

CLEC3B

D87992

TGCAGCACTGAGACCTGGAT

CAGTTGCTGCGGATGAAGTC

ANPEP

M60853

TTTTGGCTACCAGTCCAGCA

TTCGCAAGTGTTCCCCAGTA

THBS2

M64990

TGCTCCCCTGAGTACTGGAA

GCCTCTGTGGGTTCAGGATT

PTGS2

M80584

TCCCACTGAGCAGCTTCTGTA

CCAGAGAGATATCCGCAGCA

LUM

M87294

GGTGCTGACTTTCGCCTTGT

GCCTGGTGATGAGGTTGATG

NPY

X87609

CCACCTGAGAAAAGCGACCT

ACATCGACCTCTGCCAACCT

FST

NM_204305

GGCACTGTCAAGGCTGAGAA

TGCATCTGCCCATTTGATGT

chGAPDH
Bioinformatics
Functional interpretation of differentially expressed genes was analyzed in the context of gene ontology and molecular networks using the Ingenuity Pathways Analysis (IPA; Ingenuity Systems®;http://www.ingenuity.com). Since IPA is based on human and mouse bioinformatics, functionalities for differentially expressed genes in the chicken were interpreted based primarily on mammalian biological mechanisms. The differentially expressed genes were compared to genetic categories in the IPA database, and ranked according to p-values [73]. Since the size of the created gene network could potentially be enormous, the number of molecules in the network was set to the limit of 35, leaving only the most important ones based on the number of connections for each focus gene (focus genes = a subset of uploaded significant genes having direct interactions with other genes in the database) to other significant genes [74].
Declarations
Acknowledgements
This work was supported by Arkansas Bioscience Institute and, in part, by Arkansas Agricultural Experimental Station.
Authors' Affiliations
(1)
Department of Poultry Science, Center of Excellence for Poultry Science, University of Arkansas, Fayetteville, USA
(2)
Department of Chemistry, Purdue University, West Lafayette, USA
(3)
Department of Animal Science, University of Minnesota, USA
Copyright
© Kong et al; licensee BioMed Central Ltd. 2011
This article is published under license to BioMed Central Ltd. This is an Open Access article distributed under the terms of the Creative Commons Attribution License (http://creativecommons.org/licenses/by/2.0), which permits unrestricted use, distribution, and reproduction in any medium, provided the original work is properly cited.