Research article
Open Access
Proteomic analysis of endothelial cold-adaptation
Received: 8 August 2011
Accepted: 22 December 2011
Published: 22 December 2011
Abstract
Background
Understanding how human cells in tissue culture adapt to hypothermia may aid in developing new clinical procedures for improved ischemic and hypothermic protection. Human coronary artery endothelial cells grown to confluence at 37°C and then transferred to 25°C become resistant over time to oxidative stress and injury induced by 0°C storage and rewarming. This protection correlates with an increase in intracellular glutathione at 25°C. To help understand the molecular basis of endothelial cold-adaptation, isolated proteins from cold-adapted (25°C/72 h) and pre-adapted cells were analyzed by quantitative proteomic methods and differentially expressed proteins were categorized using the DAVID Bioinformatics Resource.
Results
Cells adapted to 25°C expressed changes in the abundance of 219 unique proteins representing a broad range of categories such as translation, glycolysis, biosynthetic (anabolic) processes, NAD, cytoskeletal organization, RNA processing, oxidoreductase activity, response-to-stress and cell redox homeostasis. The number of proteins that decreased significantly with cold-adaptation exceeded the number that increased by 2:1. Almost half of the decreases were associated with protein metabolic processes and a third were related to anabolic processes including protein, DNA and fatty acid synthesis. Changes consistent with the suppression of cytoskeletal dynamics provided further evidence that cold-adapted cells are in an energy conserving state. Among the specific changes were increases in the abundance and activity of redox proteins glutathione S-transferase, thioredoxin and thioredoxin reductase, which correlated with a decrease in oxidative stress, an increase in protein glutathionylation, and a recovery of reduced protein thiols during rewarming from 0°C. Increases in S-adenosylhomocysteine hydrolase and nicotinamide phosphoribosyltransferase implicate a central role for the methionine-cysteine transulfuration pathway in increasing glutathione levels and the NAD salvage pathway in increasing the reducing capacity of cold-adapted cells.
Conclusions
Endothelial adaptation to mild-moderate hypothermia down-regulates anabolic processes and increases the reducing capacity of cells to enhance their resistance to oxidation and injury associated with 0°C storage and rewarming. Inducing these characteristics in a clinical setting could potentially limit the damaging effects of energy insufficiency due to ischemia and prevent the disruption of integrated metabolism at low temperatures.
Keywords
Protein Disulfide IsomeraseHuman Coronary Artery Endothelial CellDAVID Bioinformatics ResourceTrxR ActivityCell Redox Homeostasis
Background
Hypothermia is utilized in several clinical situations. Moderate-to-deep hypothermia (32°-15°C) is the primary method for delaying ischemic injury in patients during cardiovascular [1, 2], neurovascular [3] or trauma surgery [4]. More severe hypothermia (< 10°C) is used to protect isolated tissues and organs for transplantation. Therapeutic mild hypothermia (34°-32°C) improves the neurological recovery of patients following a cardiac arrest [5, 6], stroke [7], or traumatic brain injury [8]. In each situation, the reduction in temperature decreases the metabolic demand for energy and slows the progression of injury. However, hypothermia also disrupts metabolic integration and impairs important functional processes, particularly when it is severe. For example, cold-induced vascular injury is characterized by a loss of endothelial cell-cell contact [9, 10], a release of inflammatory cytokines [11, 12], an increase in the expression of adhesion molecules [11, 12], impaired vasoactivity [13, 14] and cell death [15]. Unfortunately, both the protective and harmful mechanisms induced by hypothermia vary with temperature and are poorly understood and therefore its clinical utility remains limited.
Many organisms, from prokaryotes to plants and animals adapt to a range of temperatures and remain viable. Poikilotherms and mammalian hibernators adapt to cold and become resistant to injury from more prolonged and severe hypothermia and ischemia. Interestingly, the cells of non-hibernating mammals adapt to mild-moderate hypothermia in tissue culture [16–19] in what is likely a conserved response to cold and several mechanisms of cold-induced changes in gene expression have been identified. These include a generalized inhibition of transcription and translation, an increase in transcription of some RNA-binding chaperones, alternative splicing of pre-mRNAs and preferential translation of mRNAs that have cold-inducible internal ribosome entry sites (IRESs) [19]. In our studies of cold-adaptation, human coronary artery endothelial cells (HCAECs) cultured at 25°C become progressively more resistant over time to 0°C-injury and in particular to the oxidative stress induced by exposure to 0°C and rewarming [16]. The molecular basis of the adaptation remains largely unknown but the resulting protection at 0°C is due, in part, to the sequestration of catalytically active iron [16]. The protection may also be associated with an increase in intracellular glutathione, an important antioxidant and signaling molecule of the cell, at 25°C. Glutathione (GSH) reacts directly with free radicals, participates in the reductive detoxification of hydrogen peroxide and organic peroxides, serves as a co-factor in the enzymatic breakdown of xenobiotics and reacts with protein thiols to form mixed disulfides (P-SSG) under conditions of mild oxidative stress [20]. Protein glutathionylation is a reversible modification that provides a mechanism for protecting proteins from irreversible oxidative damage and for regulating protein function and thereby many diverse cellular processes such as cytoskeletal organization, ionic homeostasis and the expression of genes involved in antioxidant defenses [21]. Understanding the process of cold-adaptation and the characteristics of the protected state in human cells may be beneficial to the development of new clinical strategies for improved ischemic and hypothermic protection.
The aim of the present study was to characterize the cold-adapted state and the potential role of GSH in endothelial protection at 0°C. We performed quantitative proteomic analyses of human coronary artery endothelial cells collected before and after 72 h of culture at 25°C and classified the changes in protein abundance using the DAVID Bioinformatics Resource [22, 23]. The most significant biological processes associated with cold-adaptation were translation, glycolysis, RNA processing, actin filament-based processes, and mRNA metabolic processes. Evidence of a regulated decrease in energy-consuming processes such as protein, DNA and fatty acid synthesis and suppression of cytoskeletal dynamics suggest that the cold-adapted state is hypometabolic. There was also evidence of a complementary increase in antioxidant protection as there were significant changes in categories relevant to GSH such as oxidoreductase activity and cell redox homeostasis. Among the many changes in cold-adapted endothelial cells were increases in the abundance of thioredoxin, thioredoxin reductase and glutathione S-transferase, which correlated with increases in their respective activities, increases in protein glutathionylation, recovery of reduced protein thiols and diminished oxidative stress following rewarming from 0°C.
Conclusions
Differential proteomic analysis of endothelial cells collected before or after cold-adaptation at 25°C demonstrated significant changes to a broad range of biological processes and a new phenotype of enhanced redox protection and down-regulated anabolic and energy-consuming processes. The principal findings are depicted in Figure
9
and provide a preliminary model of the endothelial adaptive response to cold and a framework to guide future investigations. Cold-adaptation increases the abundance of redox active proteins thioredoxin, thioredoxin reductase, glutathione S-transferase and tyrosine hydroxylase [
52
] and decreases protein disulfide isomerases 1 and 4 and glutaredoxin-3 [
52
]. These changes correlate with a recovery of protein thiols, an increase in protein glutathionylation and diminished oxidative stress when cells are rewarmed from 0°C. Protein glutathionylation may prevent irreversible oxidation and formation of intermolecular disulfide bonds and therefore represents a potentially important protective function of GSH in cold-adapted cells. The increase in abundance of S-adenosylhomocysteine hydrolase (SAHH), a component of the methionine-cysteine transsulfuration pathway that generates cysteine for GSH synthesis, may play a role in generating the higher concentrations of GSH observed in cold-adapted cells [
16
]. In addition to protecting proteins from oxidative injury, cold-adapted cells may be more resistant to lipid peroxidation than non-adapted cells because of increases in peroxiredoxin 1 and aldehyde dehydrogenase (ALDH), which enzymatically reduce lipid peroxides and detoxify aldehydes, respectively. The increase in antioxidant activities requires the availability of reducing equivalents from NADPH and the proteomic data show several adaptive changes that could increase NADPH availability. Cold-adapted cells have higher levels of Nampt, the rate-limiting enzyme in NAD synthesis from nicotinamide. A significant decrease in PFK, the rate-limiting enzyme of glycolysis, potentially redirects glucose catabolism to the pentose phosphate pathway to increase NADP
+
reduction to NADPH. The increase in ALDH abundance (and presumably activity) also potentially increases NADP
+
reduction. Most importantly, the attenuation of NADPH-dependent anabolic processes such as DNA, RNA and fatty acid synthesis due to decreases in RRM1, IMPDH2, and FAS expression, respectively, could further increase NADPH availability for antioxidant activities.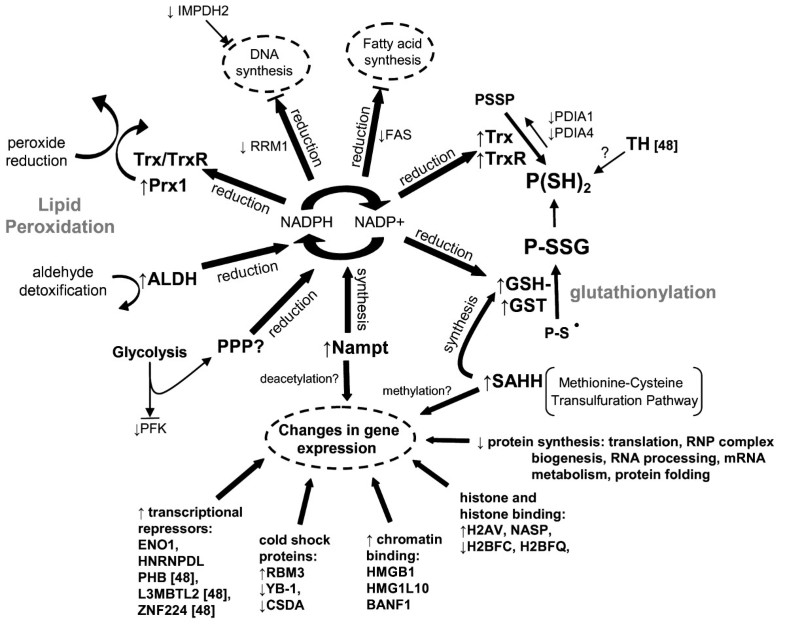 Central to the proteomic changes is the evidence of a regulated decrease in energy consuming processes such as protein synthesis, DNA synthesis, fatty acid synthesis and cytoskeletal dynamics. The net decrease in proteins associated with translation, ribonucleoprotein complex biogenesis, RNA processing, mRNA metabolism and protein folding at 25°C is consistent with a generalized cold-induced inhibition of protein synthesis described by others [19]. Increases in transcriptional repressors and changes in the abundance of histone and non-histone chromatin-binding proteins are possible indicators of a concurrent decrease in transcription. Changes in the expression of cold-shock proteins (RBM3 increased, CSDA and YB-1 decreased) and the increase in histone H2A.V at 25°C potentially counteract the generalized decrease in gene expression by enhancing translation efficiency and the direct responsiveness of genes to cold, respectively. This may be an important requirement for increasing the synthesis of a subset of proteins at reduced temperatures- one third of identified proteins increased in abundance in our study. Two enzymes we have identified, SAHH and Nampt, may play pivotal roles in mediating adaptation to cold because each induces transcriptional repression and increases the cell's reducing capacity. SAHH facilitates SAM-dependent DNA and histone methylation and consequently gene silencing [73] while up-regulating GSH synthesis. Nampt regulates histone deacetylation and transcriptional repression [74] while increasing NAD synthesis. The ability to down-regulate cellular energy demand while increasing the cell's reducing capacity would be clinically beneficial where the application of cold-ischemia would otherwise create energy insufficiency, uncouple metabolic integration and generate oxidative stress and injury. Whether or not a similar adaptive response occurs in other cell types, such as myocardial or neural cells, or following an ischemic insult, such as during the application of therapeutic hypothermia, remain important questions.
Methods
Cell culture
Proliferating human coronary artery endothelial cells (Clonetics; passages 4 to 8) were seeded at a density of 1.4 × 104 viable cells/cm2 (6-well culture plates, 12.5 cm2, 25 cm2 or 75 cm2 culture flasks; Falcon, Franklin Lakes, New Jersey) and were maintained at 37°C (95% air + 5% CO2) in culture medium (EGM2-MV; Clonetics). Cells formed a confluent monolayer after 3 to 4 days of culture and were then used in experiments. Cells were adapted to cold at 25°C for up to 72 h in a water-jacketed incubator (3.8% CO2 + 96.2% air) and the culture medium was replaced with fresh medium every 24 h. Controls consisted of confluent cells collected at the start of the adaptation period or following continued maintenance at 37°C for up to 72 h. For cold storage, cells were washed with Hank's balanced salt solution, flasks received endothelial basal medium (EBM-2, Clonetics) and were immersed in a circulating water bath at 0°C.
Label-free protein quantification method
A large scale quantitative proteomics experiment was performed using a well-validated label-free mass spectrometry-based method [24, 26, 109, 110]. Cold-adapted and control cells were prepared as previously described [110]. Proteins were extracted from the tissue culture cells using 8 M urea, reduced by triethylphosphine, alkylated by iodoethanol, and digested by trypsin [114]. Tryptic peptides (~20 μg/injection) were analyzed using Thermo-Fisher linear ion-trap mass spectrometer (LTQ) coupled with a Surveyor HPLC system. C-18 reverse phase column (i.d. = 2.1 mm, length = 50 mm) was used to separate peptides with a flow rate of 200 μL/min. Peptides were eluted with a gradient from 5 to 45% acetonitrile developed over 120 min and data were collected in the triple-play mode (MS scan, zoom scan, and MS/MS scan). The acquired data were filtered and analyzed by a proprietary algorithm that was developed and described by Higgs, et al. [26, 109]. Database searches against the IPI (International Protein Index) human database was carried out using both the X!Tandem and SEQUEST algorithms. Protein quantification was also carried out using the same proprietary algorithm described previously [24, 26, 110].
Bioinformatics analysis
IPIs of Priority 1 and 2 proteins were converted to UniProt Accession numbers using the EMBL-EBI PICR Service, http://www.ebi.ac.uk/Tools/picr/. Accession numbers were then uploaded to the DAVID (Database for Annotation, Visualization and Integrated Discovery) Bioinformatics Resources 6.7 website http://david.abcc.ncifcrf.gov/tools.jsp and the proteins were classified and organized according to their GO Biological Process, Molecular Function, Cell Component and SP-PIR Keyword annotations using the Gene Functional Annotation Tool.
Measurement of protein thiols (PSH) and mixed disulfides (PSSG)
Confluent HCAEC from T-75 flasks were rinsed twice with HBSS and scraped in 1.5 ml of 5% TCA in 10 mM HCl with 5 mM EDTA. Protein pellets and non-protein supernatants were separated by centrifugation and stored at -80°C until analysis of protein thiols (PSH) and mixed disulfides (PSSG) using the method described by Nagy [115] with some modifications. The protein pellets were extracted with diethyl ether to eliminate TCA, redissolved in 0.25 ml 6 M GuHCl, and pH adjusted to 8 by addition of 0.5 ml phosphate buffer with 5 mM EDTA, pH 8.6. Insoluble material was removed by centrifugation and supernatants were used to determine the levels of PSH and PSSG. For PSH, 100 μl of the sample was reacted with 0.9 ml of 0.1 mM 5,5'-dithio-bis-(2-nitrobenzoic acid) (DTNB, 1 mM stock in methanol) in 125 mM sodium phosphate buffer containing 6.25 mM EDTA, pH 8.6. Absorbance was measured at 412 nm after 30 minutes at room temperature. GSH standards (50-500 μM) were similarly measured and PSH-levels in samples were calculated directly from the standard curve.
PSSG levels were determined in the reaction mix comprised of 0.1 ml sample, 0.9 ml of 125 mM sodium phosphate buffer, pH 7.5 (with 6.25 mM EDTA) containing 0.1 mM DTNB, 0.03 mM NADPH and 20 μl of glutathione reductase (25 units per ml). The absorbance was measured at 412 nm after 10 minutes of incubation at room temperature. PSSG levels in samples were calculated from a GSH standard curve (0.5 - 10 μM) run under same conditions.
Glutathione determination
Confluent cells were washed two times in HBSS and then lysed in 500 μL of 125 mM sodium phosphate buffer with 6.3 mM EDTA and 2% Triton X-100. Protein was removed from lysates by precipitation with 500 μL of metaphosphoric acid (10% w/v) and centrifugation at 14,000 × g for 5 minutes. The supernatant was neutralized with 5 N sodium hydroxide and stored at -80°C until t-GSH and GSSG was measured using the method of Ishii [116]. To determine t-GSH, 100 μL of the neutralized supernatant was incubated at 25°C with 800 μL of 0.3 mM NADPH in 125 mM sodium phosphate buffer with 6.3 mM EDTA, 100 μL of 6 mM 5,5'-dithiobis(2-nitrobenzoic acid) (DTNB) and 20 μL of 25 U/mL GSH reductase. After precisely 15 minutes, the optical density was measured at 412 nm. To determine GSSG, GSH in samples was derivatized by adding 2.5 μL of 4-vinylpyridine (95%) per 250 μL solution, mixing vigorously for 1 min and incubating samples at room temperature for 30 min. Samples were then centrifuged at 14,000 × g for 5 min and GSSG was measured in supernatants by the procedure described for t-GSH. The measured optical densities were converted to concentrations using standard curves prepared with GSH (0.5-10 μM) or GSSG (0.25-5 μM).
Measurements of thioredoxin, thioredoxin reductase, and glutathione S-transferase activity
Confluent HCAECs from T-75 flasks were scraped and resuspended in 0.15-0.5 ml of assay buffer and cell lysates were prepared by sonicating samples two times on ice (10 seconds, amplitude of 40) using an Ultrasonic Processor. Insoluble materials were removed by centrifugation at 13,000 rpm for 20 minutes at 4°C and supernatants were used to measure enzyme activities and total protein concentrations (Micro Bicinchoninic Assay Kit; Pierce Thermoscientific). Thioredoxin (Trx) activity in samples was determined using an assay kit (Redoxica, Littlerock, AK) and following the manufacturer's recommendations. Briefly, Trx activity was determined by measuring the rate of depletion of NADPH at 340 nm in the presence of oxidized insulin and thioredoxin reductase (TrxR). Reaction blanks with each sample were run without the insulin substrate to determine Trx-independent NADPH depletion. Positive controls consisting of thioredoxin supplied with the kit were run to validate the assay. Reaction rates were calculated from the slopes of logarithmic plots of A340 nm versus time (in min). The difference in reaction rates between the samples and corresponding reaction blanks represented Trx activity and was expressed as nmoles of Trx activity/min/mg protein.
TrxR activity was measured using an assay kit (Cayman Chemical Company, Ann Arbor, Michigan, USA). The assay is based on measuring the rate of reduction of DTNB (5,5'-dithiobis(2 dinitrobenzoic acid)) to a colored product by TrxR, in the presence of NADPH. TrxR-independent reduction of DTNB was determined by adding aurothiomalate (ATM), a specific inhibitor of TrxR, to the reaction mixture. TrxR activity was determined by measuring the difference in the rate of increase in absorbance at 412 nm between samples with or without ATM and was expressed in nmoles/min/mg proteins, using an extinction coefficient of 6.35 mM-1.
GST activities were assessed using an assay kit from Cayman and following the manufacturer's protocol. GST activity was quantified by measuring the rate of conjugation of reduced glutathione by GST to CDNB (1-chloro-2,4 dinitrobenzene) at 340 nm and was expressed in nmoles of conjugated CDNB/min/mg protein, using an extinction coefficient of 0.0053 μM-1.
Abbreviations
IPI:

International Protein Index
UniProt:

Universal Protein Resource
EMBL:

European Molecular Biology Laboratory
EBI:

European Bioinformatics Institute
PICR:

Protein Identifier Cross Reference
DAVID:

Database for Annotation, Visualization and Integrated Discovery
GO:

Gene Ontology
SP-PIR:

Swiss Prot- Protein Information Resource.
Declarations
Acknowledgements
We thank Heather Richardson for her help preparing the figures. We gratefully acknowledge the support of the Methodist Research Institute and IU Health in funding this study.
Authors' Affiliations
(1)
Methodist Research Institute, Indiana University Health, Indianapolis, USA
(2)
Department of Medicine, Indiana University School of Medicine, Indianapolis, USA
(3)
Department of Biochemistry and Molecular Biology, Indiana University School of Medicine, Indianapolis, USA
Copyright
© Zieger et al; licensee BioMed Central Ltd. 2011
This article is published under license to BioMed Central Ltd. This is an Open Access article distributed under the terms of the Creative Commons Attribution License (http://creativecommons.org/licenses/by/2.0), which permits unrestricted use, distribution, and reproduction in any medium, provided the original work is properly cited.