Research article

Open Access
Quantitative genome re-sequencing defines multiple mutations conferring chloroquine resistance in rodent malaria
Received: 9 November 2011
Accepted: 21 March 2012
Published: 21 March 2012
Abstract
Background
Drug resistance in the malaria parasite Plasmodium falciparum severely compromises the treatment and control of malaria. A knowledge of the critical mutations conferring resistance to particular drugs is important in understanding modes of drug action and mechanisms of resistances. They are required to design better therapies and limit drug resistance.
A mutation in the gene (pfcrt) encoding a membrane transporter has been identified as a principal determinant of chloroquine resistance in P. falciparum, but we lack a full account of higher level chloroquine resistance. Furthermore, the determinants of resistance in the other major human malaria parasite, P. vivax, are not known. To address these questions, we investigated the genetic basis of chloroquine resistance in an isogenic lineage of rodent malaria parasite P. chabaudi in which high level resistance to chloroquine has been progressively selected under laboratory conditions.
Results
Loci containing the critical genes were mapped by Linkage Group Selection, using a genetic cross between the high-level chloroquine-resistant mutant and a genetically distinct sensitive strain. A novel high-resolution quantitative whole-genome re-sequencing approach was used to reveal three regions of selection on chr11, chr03 and chr02 that appear progressively at increasing drug doses on three chromosomes. Whole-genome sequencing of the chloroquine-resistant parent identified just four point mutations in different genes on these chromosomes. Three mutations are located at the foci of the selection valleys and are therefore predicted to confer different levels of chloroquine resistance. The critical mutation conferring the first level of chloroquine resistance is found in aat1, a putative aminoacid transporter.
Conclusions
Quantitative trait loci conferring selectable phenotypes, such as drug resistance, can be mapped directly using progressive genome-wide linkage group selection. Quantitative genome-wide short-read genome resequencing can be used to reveal these signatures of drug selection at high resolution. The identities of three genes (and mutations within them) conferring different levels of chloroquine resistance generate insights regarding the genetic architecture and mechanisms of resistance to chloroquine and other drugs. Importantly, their orthologues may now be evaluated for critical or accessory roles in chloroquine resistance in human malarias P. vivax and P. falciparum.
Keywords
Artemisinin
Mefloquine
Artesunate
Pyrimethamine
Chloroquine Resistance
Background
Despite advances in vector control and attempts to develop effective vaccines, chemotherapy remains a principal mode of malaria control. Unfortunately malaria parasites resistant to drugs such as chloroquine (CQ) have arisen by gene mutation; their prevalence increasing by subsequent selection and transmission. These drug resistant parasites seriously compromise efforts to treat and control malarial disease both in individual cases and in communities. The ability to describe, understand and respond to these evolutionary processes continues to depend upon the identification of the precise genetic mutations which underlie the resistance phenotypes. Also, an identification of the genes involved may lead to insights regarding the mechanisms of drug action and resistance, and the design of improved drugs and treatment strategies.
For chloroquine resistance (CQ-R), genetic linkage studies [1, 2], other experimental approaches [3] and phenotype/genotype associations in parasites from natural infections [3–5] have mapped and identified the K76T mutation in the chloroquine resistance transporter, pfCRT, as the dominant genetic determinant in the most important human parasite Plasmodium falciparum. This protein mediates the export of CQ from the parasite digestive vacuole (DV) [6–8], its presumed site of action [9]. Additionally, specific point mutations in the multidrug resistance gene (pfmdr1) encoding an ABC transporter (P-glycoprotein homologue, Pgh-1) have also been shown to modulate the level of resistance in CQ-R parasites in transfection experiments [10, 11] and in association studies using parasites from natural infections [12, 13]. However, these two genes neither account for the full variation of in vitro CQ responses, including high-level CQ-R (CQ-hiR) [4, 14] nor the appearance of CQ-R in another major human pathogen, P. vivax[15].
Understanding the genetic basis of CQ-R in the rodent malaria parasite,
P. chabaudi
could illuminate both of these questions; firstly, because, as in
P. vivax
, the orthologues of the
pfcrt
and
pfmdr1
genes are not involved [
16
], at least in an existing lineage (Figure
1A
) of parasites (strain AS); secondly because this same lineage contains parasites (e.g. AS-sens, AS-3CQ and AS-30CQ) with different levels of CQ-R [
17
,
18
]. Previous classical linkage analysis of a genetic cross between the CQ-R mutant AS-3CQ and a genetically distinct sensitive strain, AJ, defined a region of 250 kb on chromosome 11 (chr11) as that containing the mutation conferring the first level of CQ-R [
19
,
20
] but the critical gene or mutation was not identified. For
P. chabaudi
CQ-hiR in AS-30CQ, there has been no previous quantitative description of higher level CQ-R or CQ-hiR phenotypes, nor a systematic mapping of the genetic loci containing the critical mutations. Indeed, even the number of genes and mutations involved, and the sizes of their effect have remained undefined [
18
].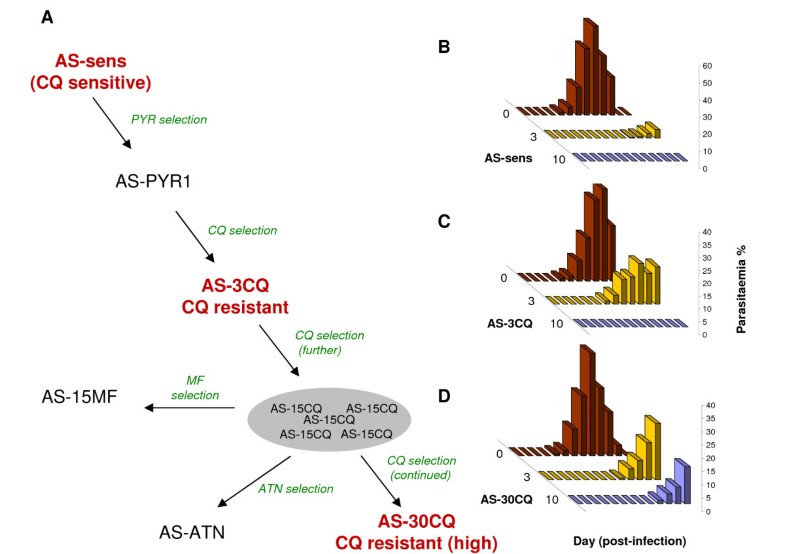 For drug resistance in malaria, classical linkage analysis of genetic crosses has proved effective in mapping single genes conferring clear phenotypes [1–3, 21]. Also, Quantitative Trait Loci (QTL) approaches [22, 23] or genome wide association studies [24–26] have identified multiple major loci contributing to drug-resistance phenotypes. However, because these methods require the individual characterisation of many parasite lines or clones, they can be time-consuming or may fail to reveal the specific identity of a critical gene. Accordingly, Linkage Group Selection (LGS) [27] or QTL analysis were previously combined with Illumina® whole genome re-sequencing (WGS) to specify the mutations conferring resistance to artemisinin (V2728F ubp1) [28, 29], sulphadoxine (K392Q mdr2) [30], or mefloquine and lumefantrine resistance (mdr1 duplication) [31].
Here, we define the basic and high-level CQ-R phenotypes, extend the LGS strategy to map the multiple loci contributing to increasing levels of CQ-R, and use quantitative WGS of >100,000 single nucleotide polymorphisms (SNPs, differentiating the parental strains of the genetic crosses) to improve their resolution. We propose that, within these loci, mutations occur in the P. chabaudi AS-lineage that confer CQ-R and CQ-hiR. We identify these and additional mutations using WGS.
Discussion
We have described in vivo CQ-R and CQ-hiR phenotypes in the genetically related P. chabaudi AS parasites AS-3CQ and AS-30CQ, mapped the underlying genetic loci on chr11 (CQ-R), chr03 and chr02 (CQ-hiR) and, by WGS, have identified a small number of mutations proposed to confer these phenotypes. A173E aat1 (on chr11) is proposed to confer CQ-R. T719N PCHAS_031370 (transporter on chr03) and V2728F ubp1 (on chr02) are proposed to confer CQ-hiR. We also suggest that T707N PCHAS_030200 (cir gene on chr03) may also contribute to CQ-hiR.
Conclusions
Previously, increasing chloroquine resistance phenotypes were experimentally selected in a lineage of the rodent malaria, Plasmodium chabaudi. Here, these phenotypes were measured, the underlying genetic loci mapped and mutations specified using a novel quantitative genetics and genomics approach.
This approach analysed genetic crosses by selecting progeny en masse at different drug concentrations. The frequencies of parental alleles in the surviving parasites were measured using ~ 100 pyrosequencing single nucleotide polymorphism (SNP) assays, and for ~100,000 single nucleotide polymorphisms, by Illumina short-read sequencing. This defined 'selection valleys' on chromosomes 11, 3 and 2, where genes conferring resistance were expected to be located. Whole genome re-sequencing of the chloroquine resistant mutant parasite and the sensitive progenitor wild-type parasite showed that only 7 point mutations in the whole genome had arisen in the lineage. The specific isolated mutations within the selection valleys were identified. A mutation in a putative aminoacid transporter (aat1) encoded on chr11 confers chloroquine resistance. Mutations in another transporter (PCHAS_031370, chr03) and a deubiquitinating enzyme (ubp1, chr02) confer higher level chloroquine resistance. Orthologues of these genes in P. falciparum and P. vivax can now be studied for their contribution to chloroquine resistance in human infection. These data will generate insights of the mechanism of chloroquine resistance in human and rodent malaria parasites.
Methods
Parasite and mouse strains, routine passage
AJ and AS-sens are chloroquine (CQ) sensitive clones of the rodent malaria Plasmodium chabaudi chabaudi, isolated from wild-caught Thamnomys rutilans thicket rats from the Central African Republic [49]. AS-PYR, AS-3CQ and AS-30CQ were selected (and cloned) sequentially from AS-sens by pyrimethamine, CQ and high CQ concentrations progressively and respectively [18, 50]. All resistant phenotypes were heritable and stable after cloning, freeze/thaw cycles, passage of parasite without drug, and after transmission through the mosquito host. Six- to eight-week old laboratory CBA female mice were used for all the experiments with the exception of mosquito transmission when C57/BL6 mice were used. All animals were housed and maintained according to the standard animal husbandry conditions, with free access to food (RM3 diet) and PABA supplemented water. All experiments were conducted in compliance with the United Kingdom Animals (Scientific Procedures) Act 1986.
Drug phenotyping
Mouse infections were initiated with an intraperitoneal inoculum of 106 parasites and treated with CQ sulphate (Beacon Pharmaceuticals) diluted to appropriate concentration with water and administered to a 20 g mouse by gavage in 100 μl. The treatment was repeated for the first 3 days of infections (d0-2 post-infection (p.i.)). The parasitaemia of all infections was monitored by daily thin blood smears as described previously [29]. Each treatment group consisted of three animals.
AS-30CQ × AJ backcross and LGS
The AS-30CQ × AJ cross was performed by allowing Anopheles stephensi mosquitoes to feed upon anaesthetised C57/BL6 mice infected with mixture of both strains, according to the protocol established previously [29]. After 14-15 days, salivary glands were dissected and sporozoites injected into donor mice. The recovered cross-progeny asexual forms were further passaged, treated with 0, 1.5 or 10 mg CQ kg-1 day-1 for three days, and pooled in order to increase the numbers of resistant recombinants in the mixture. The resulting parasites were backcrossed with the sensitive parent (AJ) using the same procedure as above. The backcross recombinant progeny were selected en masse with 0, 1.5, 3, 10 and 20 mg CQ kg-1 day-1 (d0-2 p.i.) in groups of 5 mice each. When parasitaemias within a group reached > 10%, blood was harvested, pooled and DNA isolated using the protocol previously described [34].
Pyrosequencing
The PSQ™ HS-96A pyrosequencing system was used to measure the proportion of AJ alleles in all selected backcross populations. A set of ~96 uniformly spaced, quantitative pyrosequencing assays measuring the proportion of the SNPs between the AS and AJ were designed as previously described [33]. The pyrosequencing assays were prepared and performed according to the manufacturer's instructions, each assay being performed in triplicate, on three different template samples.
Quantitative sequencing (LGS-Illumina)
AJ and the AS-30CQ × AJ backcross (surviving 0 or 3 mg CQ kg-1 day-1) were each sequenced using ~2 μg of DNA on single lanes, using 50 base paired end reads that were mapped against the AS-WTSI reference sequence (PlasmoDB 6.3 version, 17 Feb 2010) using BWA (v0.5.8) software [53]. For AJ/AS SNP detection, unique reads with mapping quality > 30 and bases with base quality (Phred-like code) > 20 were used. SNPs were called in positions covered by at least 10 reads if at least 30% of the bases are different from the reference.
SNP selection
113,746 candidate AS/AJ SNPs were determined by Illumina® whole-genome re-sequencing (WGS) of CQ-sensitive parental strain AJ (relative to reference strain sequence AS-WTSI). Of these 838 (0.74%) are in contigs that are currently not assembled in the 14 chromosomes and were ignored in the analysis presented here. For inclusion in the plots presented in this work, the remaining 112,908 SNPs were further filtered using the following criteria: (i) ≥ 20 reads in all samples (i.e. the AJ sequence sample, the untreated cross-progeny sequence sample and the CQ-treated cross-progeny sequence sample, (ii) > 90% frequency of the AJ base-call in the AJ sequence sample (usually this is 100%). SNPs failing these criteria (7,079) were excluded leaving 104,667 SNPs for the genome wide scan of selection. The numbers of AS and AJ nucleotide calls at these SNPs were determined from the sequencing data of AJ and AS-30CQ × AJ (untreated and treated at 3 mg CQ kg-1 day-1) samples using custom scripts.
Statistics - Binomial test
The quantitative LGS-Illumina analysis samples reads from a population of individual clones that are the result of the recombination and selection processes described above. For each SNP the finite sampling size results in random deviations from the expected value for the true allele proportion. These random deviations can be described by the binomial distribution, which is the basis of the tests for statistical significance we employ. As expectation p we use the point estimate obtained from our data, where the 'number of successes' x are given by the number of AJ alleles observed and the total number of attempts n is given by the sum of AJ + AS alleles sequenced (usually equal to the number of reads containing the SNP). We use a two-sided binomial test with a confidence limit of 95% throughout the paper. This means that strong AF-reductions (see below) can result in "significant" points at high AJ allele frequencies, indicating possible selection for AJ alleles.
Statistics - sliding window analysis
Because the frequencies of individual SNPs come with binomial variability, we sought to estimate the local AJ proportions with reduced sampling error by combining neighbouring SNPs in a sliding window analysis (on the assumption that the real AJ allele frequency was constant over this scale). We summed x and n for 101 neighbouring SNPs (50 on each side of a focal site) and computed upper and lower limits (using binomial test described above), shown by blue and red lines in Figure 3A-D and Figure 4A-D.
Statistics - AF-reduction
As described in 'Results' and elsewhere [29], there are factors that may reduce AJ allele proportions at loci not linked to the drug resistant phenotype in drug-treated samples relative to untreated samples. The effects of these factors are very difficult to estimate precisely. We therefore increased the stringency of our statistical analysis by applying a correction parameter, termed "Allele Frequency Reduction" (AF-reduction). This parameter reduces the observed % of AJ alleles in the untreated population (in order to correct for additional and confounding factors, such as the removal of AJ parental parasites). To test the robustness of our conclusions we tested the significance of differences between the drug-treated and the untreated samples with AF-reduction = 0% and 25%. We then computed the probability that our drug-treated samples could have been produced by allele frequencies as observed in the point estimates of our untreated samples. These probabilities are indicated by the colour of each SNP shown (Figure 3C, D and Figure 4A-D). In these plots, we highlight probability P < 10-6 as an important threshold by coloured data points. The choice of this threshold can be justified by considering the large number of SNPs used in this test (approximate Bonferroni correction). At AF-reduction = 25% we found 7342 SNPs that deviated from their expected values with P < 10-12 (red in Figure 3C, D, 4A-D), 3588 with 10-12 < P < 10-10 (yellow), 5945 with 10-10 < P < 10-8 (cyan) and 9272 with 10-8 < P 10-6 (blue). In these SNPs, the AJ-allele proportion was either below or above the expected values with the specified probability. Lower SNP frequencies indicate the valleys of selection caused by resistance mutations. Higher SNP frequencies could indicate the presence of AJ alleles benefiting the growth of parasites in the presence of drugs and other more complex growth, virulence and immunity traits. Alternatively, many significant higher SNP proportions might indicate that the AF-reduction operation was too large.
The confirmation of predicted mutations
The presence of all mutations predicted between the AS-sens and AS-30CQ clones was confirmed using standard PCR and dideoxysequencing using primers presented in Additional File 9. Additional clones from the AS lineage (AS-PYR, AS-3CQ, AS-15MF, AS-ART and AS-ATN) were also tested, when required, to determine and confirm when mutations arose in the lineage.
Proportional sequencing
The proportions of mutant alleles at aat1, PCHAS_031370 and ubp1 genes were measured in untreated and treated populations of parasites using proportional sequencing as described previously [54]. The fragments containing the pre-defined mutations were amplified and sequenced using specific primers (Additional File 9). The resulting electropherograms were analyzed using Chromas 2.33 software (Technelysium Pty Ltd) and the heights of peaks corresponding to the wild-type and mutated nucleotides measured. These were used to calculate an index of the respective proportion of the wild-type allele (AJ) in the population.
Authors information
The authors declare that they have no competing interests.
Abbreviations
AAT1:

amino acid transporter 1
ABC:

ATP-binding cassette
CQ:

chloroquine
CQ-R:

chloroquine resistant: chloroquine resistance
CQ-hiR:

high level chloroquine resistance
CRT:

chloroquine resistance transporter
DV:

digestive vacuole
LGS:

linkage group selection
LGS-pyro:

LGS analysed by pyrosequencing
LGS-Illumina:

LGS analysed by quantitative Illumina whole-genome sequencing
Pgh-1:

P-glycoprotein homologue-1
QTL:

quantitative trait loci
SNP:

single nucleotide polymorphism
TM:

transmembrane
WGS:

whole genome (re-)sequencing
WTSI:

Wellcome Trust Sanger Institute.
Declarations
Acknowledgements
The research was supported by Medical Research council (MRC), UK (G0400476). For personal support, we thank the Darwin Trust (KM), the MRC (AC, PH), BBSRC and EPSRC (LL), Fundação para a Ciencia e a Tecnologia, Portugal (AM, SB, LR), IHMT, Universidade Nova de Lisboa (PC), the School of Biological Sciences, MRC, UK (G0900740) (TM, MB), and the Wellcome Trust (RC, PH). The Centre for Immunity, Infection and Evolution is a Wellcome Trust Centre in Development (082611/Z/07/Z). The Centre for Systems Biology at Edinburgh is a Centre for Integrative Systems Biology (CISB) funded by BBSRC and EPSRC, reference BB/D019621/1. DNA sequencing was carried out in the GenePool Genomics Facility in the University of Edinburgh and we thank Marian Thomson, Karim Gharbi and other GenePool staff for assistance with sequencing. Members of the Pathogen Genomics group at the Wellcome Trust Sanger Institute and core sequencing and informatics groups gave valuable access to the P. chabaudi genome sequence, assembly and annotation data. We thank Richard Fawcett for technical assistance.
Authors' Affiliations
(1)
Institute for Immunology and Infection Research, University of Edinburgh, Edinburgh, UK
(2)
Laboratory of Genetics and Wisconsin Institute for Discovery, University of Wisconsin-Madison, Madison, USA
(3)
The GenePool, University of Edinburgh, Edinburgh, UK
(4)
Centro de Malaria e Outras Doenças Tropicais/IHMT/UEI Malaria, Lisbon, Portugal
(5)
Centro de Malaria e Outras Doenças Tropicais/IHMT/UEI Biologia Molecular, Lisbon, Portugal
(6)
Institute for Evolutionary Biology, University of Edinburgh, Edinburgh, UK
(7)
Centre for Immunity, Infection and Evolution, University of Edinburgh, Edinburgh, UK
(8)
The Wellcome Trust Sanger Institute, Hinxton, UK
(9)
Research Unit and Cardiology department, Funchal Hospital Center, Funchal, Madeira, Portugal
(10)
Microbiology, Molecular Genetics and Immunology, Kansas University Medical Center, Kansas City, USA
(11)
IPTSP, Universidade Federal de Goiás, Goiânia, Brasil
Copyright
© Modrzynska et al; licensee BioMed Central Ltd. 2012
This article is published under license to BioMed Central Ltd. This is an Open Access article distributed under the terms of the Creative Commons Attribution License (http://creativecommons.org/licenses/by/2.0), which permits unrestricted use, distribution, and reproduction in any medium, provided the original work is properly cited.