Research article
Open Access
Transcriptome profiling of low temperature-treated cassava apical shoots showed dynamic responses of tropical plant to cold stress
Received: 3 August 2011
Accepted: 10 February 2012
Published: 10 February 2012
Abstract
Background
Cassava is an important tropical root crop adapted to a wide range of environmental stimuli such as drought and acid soils. Nevertheless, it is an extremely cold-sensitive tropical species. Thus far, there is limited information about gene regulation and signalling pathways related to the cold stress response in cassava. The development of microarray technology has accelerated the study of global transcription profiling under certain conditions.
Results
A 60-mer oligonucleotide microarray representing 20,840 genes was used to perform transcriptome profiling in apical shoots of cassava subjected to cold at 7°C for 0, 4 and 9 h. A total of 508 transcripts were identified as early cold-responsive genes in which 319 sequences had functional descriptions when aligned with Arabidopsis proteins. Gene ontology annotation analysis identified many cold-relevant categories, including 'Response to abiotic and biotic stimulus', 'Response to stress', 'Transcription factor activity', and 'Chloroplast'. Various stress-associated genes with a wide range of biological functions were found, such as signal transduction components (e.g., MAP kinase 4), transcription factors (TFs, e.g., RAP2.11), and reactive oxygen species (ROS) scavenging enzymes (e.g., catalase 2), as well as photosynthesis-related genes (e.g., PsaL). Seventeen major TF families including many well-studied members (e.g., AP2-EREBP) were also involved in the early response to cold stress. Meanwhile, KEGG pathway analysis uncovered many important pathways, such as 'Plant hormone signal transduction' and 'Starch and sucrose metabolism'. Furthermore, the expression changes of 32 genes under cold and other abiotic stress conditions were validated by real-time RT-PCR. Importantly, most of the tested stress-responsive genes were primarily expressed in mature leaves, stem cambia, and fibrous roots rather than apical buds and young leaves. As a response to cold stress in cassava, an increase in transcripts and enzyme activities of ROS scavenging genes and the accumulation of total soluble sugars (including sucrose and glucose) were also detected.
Conclusions
The dynamic expression changes reflect the integrative controlling and transcriptome regulation of the networks in the cold stress response of cassava. The biological processes involved in the signal perception and physiological response might shed light on the molecular mechanisms related to cold tolerance in tropical plants and provide useful candidate genes for genetic improvement.
Keywords
Gene OntologyCold StressCold ResponseApical ShootCassava Plant
Background
Cassava (Manihot esculenta Crantz) is widely cultivated for its starchy storage roots and is a staple food and animal feed in tropical and sub-tropical areas [1]. It is also considered to be an important source of modified starches and bioethanol in China and other Southeast Asian countries [2, 3]. Nevertheless, as a tropical root crop, cassava is native to a warm habitat and is categorized as a cold-sensitive species [4]. Thus, low temperatures and frozen conditions are the most important limiting factors for its geographical location and productivity. In the subtropics, where unpredictable cold weather occurs occasionally, it is important to protect the storage roots and propagation stems from chilling stress. For example, the unprecedented freezing disaster occurred in Southern China in January 2008 caused great damage to cassava stem seeds and led to yield reduction in Guangxi, Guangdong and other provinces, resulting in a loss of a billion Chinese Yuan [5]. Furthermore, to ensure a prolonged growth period (i.e., early planting and late harvesting) in the high latitude regions, novel cassava cultivars with improved cold tolerance are in demand.
Under low temperature below 10°C, many species of tropical or subtropical origin are typically injured or killed and show various symptoms of chilling injury due to the inability to adapt to non-freezing low temperatures [6]. For example, cassava exhibits obvious symptoms of damage at these temperatures, including delayed sprouting of the stem cutting, yield decrease, reduced leaf expansion, chlorosis and even necrosis in its leaves [7]. Low temperatures have also been recognized as an important facilitator of decreases in nutrient absorption rates (e.g., Boron), reductions in the leaf photosynthetic rate, and the inhibition of plant growth [4]. In addition, the physiological status of cold-stressed plants is also altered, such as transient increases in hormone levels (e.g., ABA) [8] and changes in membrane lipid composition [9]. Furthermore, the accumulation of compatible osmolytes, such as soluble sugars, betaine, and proline [10–12], and increases in the level of antioxidants [13] are also occurred. In contrast, temperate plants can withstand freezing temperatures following a period of low, but non-freezing, temperatures, a process called cold acclimation [14]. The mechanisms of cold acclimation have been extensively investigated in the model plant Arabidopsis thaliana[15], as well as in other important crop species such as maize and barley [16, 17]. The most extensively studied mechanism involves a class of ethylene response factors (ERFs) known as the dehydration-responsive element-binding proteins/C-repeat-binding factors (DREBs/CBFs). They interact with the dehydration-responsive element/C-repeat element (DRE/CRT) in the promoters of their downstream target genes to execute a highly coordinated transcriptional response to low temperature signals. Overall, less information is available for tropical plants (e.g., cassava). Therefore, it would be important to increase our understanding of the physiological, biochemical, and molecular characteristics that are associated with cold stress in tropical cassava, especially during the early stages. Moreover, the function of homologous genes in Arabidopsis could be used to predict the function of cassava genes which may share the same biological functions or common regulatory scenarios among different plant species [18].
With the development of molecular technologies and 'omics' tools, microarray studies have become a useful strategy for the global analysis of plant gene expression. Using cDNA microarrays or whole genome arrays, the abiotic stress responses of Arabidopsis and other plants have been widely analyzed. For examples, the expression patterns of genes were identified in Arabidopsis and rice under conditions of drought, cold, high-salinity or abscisic acid treatment [19, 20]. The transcriptomic identification of candidate genes involved in sunflower responses to chilling and salt stresses has also been reported [21]. The long-oligonucleotide microarray, which has many advantages compared to other microarray technologies, reliably detects transcript ratios even at one copy per cell in complicated biological samples, and could distinguish different members of gene families [22, 23]. Thus, it is appropriate to explore the early cold stress responsive genes of cassava using a 60-mer long-oligonucleotide microarray approach.
Thus far, several studies have been reported in cassava using genomic tools for developing new knowledge and technologies. For instance, EST and cDNA libraries have been constructed in cassava for the identification of starch biosynthesis and biotic/abiotic-responsive genes or genes corresponding to the different developmental stages of various tissues [24–28]. Studies using cassava cDNA microarrays to analyze gene expression in cassava plants subjected to post-harvest physiological deterioration (PPD) or Xanthomonas axonopodis infection have also been reported [29, 30]. Moreover, gene expression profiling related to the different growth stages of cassava storage roots was recently conducted using a long-oligonucleotide microarray [31]. Fortunately, a draft genome sequence for cassava has been released and recently updated (http://www.phytozome.net/cassava), which greatly facilitates cassava research worldwide. Nevertheless, comprehensive genome-wide expression profiling data for cassava under cold stress treatment are still lacking, which limits our capacity to decipher the molecular mechanisms related to various stress responses. Additionally, to stabilize cassava yield even under unfavorable growth conditions, it is necessary to study the changes of pan-genome genes or pathways in order to identify key candidates for improving cold tolerance in cassava.
In this study, a gene expression profiling of apical shoots from cassava subjected to low temperature was conducted using a custom-designed, 60-mer oligonucleotide microarray covering 20,840 cassava transcripts. In total, 508 differentially expressed genes (DEGs) were identified, and their biological functions were characterized through gene ontology (GO) annotation and KEGG pathway analysis. Our study could increase the understanding of cassava gene regulation under the condition of cold stress and reveal novel approaches to improve cold tolerance through genetic engineering.
Conclusions
Our study presented a genome-wide gene expression profiling of cassava subjected to cold stress using the microarray technology. Overall, the transcriptomic responses of cassava to cold stress were basically consistent with the changes seen in other plants under abiotic stresses [
83
]. A considerable amount of specific cassava genes related to different biological functions were identified. For examples, many new stress-responsive genes or TFs, such as early flower 4,
ERF2
, and AP2 domain transcription factor (CUST_2332), were found, suggesting that various regulatory pathways may exist in cassava together with the well-characterized CBF pathway. Based on the comprehensive transcriptomic, real-time RT-PCR and physiological analyses, our study supports the fact that crosstalks among different signaling systems play an important role in regulating the cold stress response in tropical plants. Thus, a hypothetical model for depicting the components involved in cold response networks in cassava could be established (Figure
8
). Plants may perceive low temperature through cell membrane receptors, most likely transmembrane proteins, and by membrane modification through fatty acid synthesis (e.g., FAB1 and SSI2). Then, the cold signal transduction might induce cellular metabolism changes, such as the calcium signaling cascade, hormone signal transduction, and ROS signaling. The calcium signaling pathway may stimulate the calcium ion binding protein, leading to the activation of cascade kinase activities (e.g., MAP kinase 4), which could switch on various cold stress-responsive genes and transcription factor family proteins (e.g., AP2-EREBP, HSF, and GRAS). Hormone (auxin, ABA, GA, ETH, and JA) signal transduction could also be activated to alter plant growth status in order to adapt to stress condition through the differential regulation of their downstream genes (e.g., SAUR, AREB3, GAI, ERF2, and JAZ7, respectively). Moreover, other metabolisms could also take part in the process, including starch and sucrose metabolism (e.g., TPS7 and AMY1), amino acid metabolism (e.g., ASP3 and PDS1), and the ROS scavenging system (e.g., catalase 2, SOD, and GSTs). Apparently, the balance between cell damage and tolerance might decide the fate for cold-stressed cassava plants (Figure
8
). On the other hand, a large number of genes (about 37.2% of total 508 DEGs) encode proteins of unknown functions. Studying these genes may reveal novel mechanisms that are fundamental to the ability of cassava to cope with cold stress.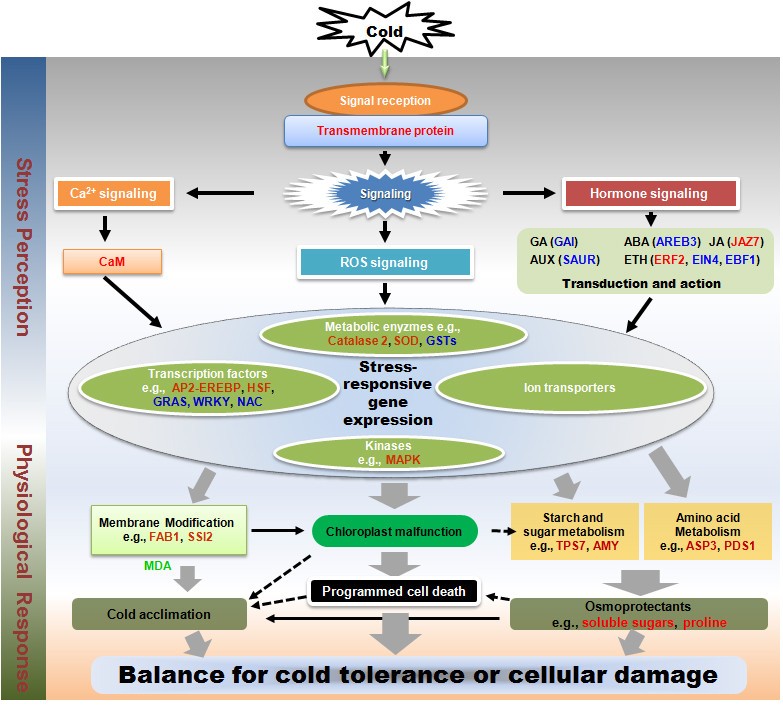 In summary, our array study will provide the fundamental knowledge related to the biological and physiological changes of cassava under cold stress. It will also be served as a very useful genetic resource for relevant research community globally. Further studies are needed to verify the functions of candidate genes for improving cassava tolerance ability through genetic engineering.
Methods
Plant materials used for microarray hybridization
In vitro plants of a cassava cultivar (TMS60444) were planted in plastic pots at 28°C under a 16 h light photoperiod (110-150 μmol·m-2·s-1) for 3 months in the greenhouse. Plants with a uniform growth status were transferred to a chamber for cold treatment at 7°C under weak light (cool-white fluorescent light at approximately 35 μmol·m-2·s-1). The apical shoots (about 4-6 cm in size, Additional file 1), including apical buds, stems, and the first and second expanded leaves, were harvested after 4 h and 9 h of treatment, then frozen in liquid nitrogen and held at -80°C prior to transporting to Shanghai Biochip Corporation (Shanghai, China) for RNA extraction. Untreated apical shoots were harvested as controls (0 h). More than 3 plants were harvested and pooled for each time point, and the collection was repeated 3 times as biological replicates.
Physiological analyses of cold-treated cassava plants
To analyze the physiological changes of cassava under cold treatment prior to the microarray study, malondialdehyde (MDA) and proline, indicators of the cold response in plants, were measured. The MDA content was determined by the thiobarbituric acid (TBA) reaction with minor modifications of the method of Dhindsa et al [84] Proline concentrations were measured by the sulfosalicylic acid-acid ninhydrin method according to Bates et al [85] with slight modifications.
Determination of hydrogen peroxide (H2O2) content and diaminobenzidine (DAB) staining
Hydrogen peroxide (H2O2) levels were determined according to Velikova et al [86] The first and second expanded leaves (1 g) were homogenized in an ice bath with 10 mL of 0.1% (w: v) trichloroacetic acid (TCA). The homogenate was centrifuged at 12,000 × g for 15 min, and 1 mL of the supernatant was added to 1 mL of 10 mM potassium phosphate buffer (pH7.0) and 2 mL of 1 M KI. The reaction solution containing the supernatant was read at 390 nm using a UV-vis spectrophotometer. The content of H2O2 was given on a standard curve.
H2O2 was visualized by staining with DAB, which undergoes a polymerization reaction to yield a dark-brown color once it encounters H2O2[87]. The first or second fully developed leaves harvesting from the in vitro and greenhouse-grown cassava plants, which were treated with cold stress (7°C) for 0, 4, 9, and 24 h, were excised. Their leaf petiole cuttings were immersed in 1 mg/mL of DAB solution (pH3.8) for 8 h under continuous light. The leaves were immersed in 96% (w/v) boiling ethanol for 10 min to decolorize the chloroplasts. After cooling, the leaves were kept in ethanol and photographed.
Assay for catalase (CAT) and superoxide dismutase (SOD) activities
For the measurement of enzyme activities, the first and second fully expanded leaves (1 g) from 3-month-old greenhouse plants under cold stress for 0, 4, 9, and 24 h were homogenized in 5 mL of 10 mM potassium phosphate buffer (pH7.0) containing 4% (w: v) polyvinylpyrrolidon (Mr 25 000). The homogenate was centrifuged at 10,000 rpm for 15 min, and the supernatant obtained was used as the enzyme extract. All steps in the preparation of the enzyme extract were carried out at 0-4°C.
CAT activity was determined by directly measuring the decomposition of H2O2 at 240 nm as described by Cheng et al [88] The reaction mixture contained 50 mM potassium phosphate buffer (pH7.0), 10 mM H2O2, and 200 μL of enzyme extract in a 2 mL volume. SOD activity assay was based on the method described by Beauchamp and Beaucham et al [89], which measures the inhibition of the photochemical reduction of nitro blue tetrozulium (NBT) at 560 nm. Three milliliters of reaction mixture contained 50 mM phosphate buffer (pH7.8), 0.1 mM EDTA, 13 mM methionine, 75 μM NBT, 16.7 μM riboflavin, and 300 μL of enzyme extract.
Measurement of total soluble sugars, sucrose and glucose
Soluble sugars were extracted from the leaf tissues by a hot ethanol extraction as follows. Leaves were sampled from 3-month-old cassava, which was treated by cold stress (7°C) at 0, 4, 9, and 24 h and quickly dried at 110°C for 15 min and then 70°C overnight. Exactly 100 mg of homogenized dry leaf powder for each sample was extracted with 8 mL of 80% ethanol (v/v) at 85°C for 40 min. The extracts were then centrifuged at 12,000 × g for 10 min. The ethanol extraction step was repeated two times. The 3 resulting supernatants were combined and diluted with 80% ethanol to a volume of 50 mL; they were then treated with 20 mg of activated charcoal at 80°C for 30 minutes. The soluble sugar analysis was conducted according to Ebell [90] with minor modifications. After removing the activated charcoal with a 0.2 μm filter, an aliquot of extraction buffer was reacted with anthrone-sulfuric acid at 95°C for 15 min and then cooled to room temperature. The absorbance of the reaction solution was read at 620 nm. The total soluble sugar content was calculated by a standard curve. Sucrose and glucose content were measured by glucose oxidase method as described by Johnson et al [91] with slightly modification.
Oligonucleotide microarray preparation, hybridization, and data extraction
The custom-designed 60-mer microarray [31] was constructed based on public sequence information from a large collection of cassava ESTs from NCBI (71,520 ESTs, released 28 March 2008) and TIGR (Manihot_esculenta_release_5, containing 5,189 assemblies and 10,214 singletons, released 1 June 2007), as well as a 35,400 full-length cDNA RIKEN library [27]. Total RNA was extracted from both control and cold-treated tissue samples using an RNeasy Mini Kit (Qiagen, Valencia, CA, USA). The RNA quality was checked on a 1.2% agarose gel using an RNase-free electrophoresis system. RNA labeling and hybridization were conducted by the Shanghai Biochip Corporation (Shanghai, China) following the manufacturer's instructions. The arrays were incubated at 65°C for 17 h in Agilent hybridization chambers (G2545A) and then washed according to the protocol at room temperature. Hybridized microarray slides were scanned at 5 μm resolution with an Agilent Technologies Scanner (G2505B), and the images were saved in JPG format. Both the 10% and 100% Photomultiplier tube (PMT) settings were selected, and the combined images were exported. The signal intensities of all spots on each image were quantified with the Feature Extraction software (Agilent Technologies, Santa Clara, California, USA), and the data were saved as .txt files for further analysis.
Data normalization and identification of differentially expressed genes (DEGs)
The signal intensity of each gene was globally normalized within the GeneSpring GX Software (Agilent Technologies, Santa Clara, California, USA) following the workflow guide [92]. The signal-to-noise ratio (SNR) was calculated as follows: the difference of the median signal minus the background median signal, divided by the background standard deviation [22]. Pair comparison was used to analyze the normalized and averaged data from the three types of samples (0, 4, and 9 h). The P values were calculated using a t test, and the fold changes between each comparison for each gene were compared. The genes that were induced or suppressed at levels equal to or greater than a twofold ratio (twofold change cutoff, FCC) were taken to be differentially expressed when SNR > 2.6 and P value ≤ 0.05.
Microarray data analysis
All non-redundant sequences that were considered to be unique cassava genes were locally blasted in the TAIR protein database (27,217 Arabidopsis protein sequences), which was download from ftp://ftp.arabidopsis.org/home/TAIR, using the blastx program in the blastall package (version 2.2.9). The top hits were used for gene annotations, and the corresponding Arabidopsis gene locus identifiers were mapped to the GO function annotation (http://www.arabiopsis.org/) and to the Kyoto Encyclopedia of Genes and Genomes (KEGG) pathways. The TAIR percent of cold-responsive genes was calculated as follows: The TAIR percent (%) = the number of genes annotated to terms in the GO Slim category divided by N × 100, where N represents the total number of genes from the input list annotated to any term in this ontology.
Utilization of the microarray
MIAME information about the cassava transcriptome microarray used here has been deposited in the Gene Expression Omnibus (GEO) of NCBI. The accession numbers are: Platform, GPL11271; Series, GSE31073; Samples, GSM769563-GSM769571.
RNA preparation and real-time RT-PCR
To verify the expression patterns of DEGs identified from the microarray analysis, real-time RT-PCR was conducted using plant materials from either in vitro shoot cultures or greenhouse-grown plants. Four-week-old in vitro seedlings were transferred into plastic jars containing 150 mL of MS solution [1 × Murashige and Skoog basal salts (MS, Duchefa), 1% sucrose, pH5.7] in a chamber at 25°C, 70% relative humidity, and a light intensity of 125 μmol·m-2· s-1 on a 16 h light/8 h dark cycle for 4 days. The solution was then replaced with fresh MS medium (pH5.7) supplemented with 100 μM ABA, 25% PEG, or 200 mM NaCl. Meanwhile, the seedlings were directly transferred to a 7°C chamber for cold stress treatment. After 6 h, whole seedlings were harvested and frozen in liquid nitrogen; they were then stored at -80°C for abiotic stress analysis. Plants in the same hydroponic system with no stress treatment were harvested and used as controls. The apical buds (AP), fibrous roots (FR), mature leaves (ML), stem cambia (SC), young leaves (YL), and young stems (YS) were collected from 3-month-old cassava plants grown in the greenhouse for tissue-specific expression analysis of selected genes. All of the stress treatments had three biological and temporal replicates.
The expression of 32 responsive genes was validated by real-time RT-PCR with RNA samples extracted with a Plant RNA Reagent according to the manufacturer's protocol (Invitrogen, Cat.No.12322-02). The RNA quality was determined by running an agarose gel with ethidium bromide staining. Reverse transcription was performed according to the manufacturer's protocol (TOYOBO, Code: TRT-101). Each cDNA sample was diluted 2 times in sterile ddH2O, and 1 μL of this dilution was used as a template for real-time RT-PCR. Specific primers were designed with Primer-BLAST (http://www.ncbi.nlm.nih.gov/tools/primer-blast/) to obtain a Tm of 60°C and an amplicon length between 70-200 bp (Additional file 13). The real-time RT-PCR reactions were performed in a 20 μL volume containing 10 μL of 2 × SYBR Green Master Mix (TOYOBO, Code: QPK-201), 50 ng cDNA, and 400 nM of forward and reverse primers in a Bio-Rad CFX96 thermocycler. The amplification conditions were as follows: 95°C for 1 min, followed by 40-50 cycles of 95°C for 15 s, 60°C for 20 s, and 72°C for 20 s. A melting curve (65°C-95°C with a heating rate of 0.05°C·s-1 and a continuous fluorescence measurement) was run after the PCR cycles. Beta-actin was used as the internal control. All of the samples were measured in triplicate, and the experiments were performed on three biological replicates. The comparative Ct method was used to calculate the relative gene expression level across the samples. The relative expression level of each gene in one sample (ΔCt) was calculated as follows: Ct target gene-Ct beta-actin. The relative expression of each gene in two different samples (ΔΔCt) was calculated as follows: ΔCt (sample 1) -ΔCt (sample 2).
Declarations
Acknowledgements
This project was supported by the National Basic Research Program (2010CB126605), the Earmarked Fund for Modern Agro-industry Technology Research System (nycytx-17), the National High Technology Research and Development Program (2009AA10Z102) and the Chinese Academy of Sciences (No. KSCX2-EW-J-12).
Authors' Affiliations
(1)
National Laboratory of Plant Molecular Genetics and National Center for Plant Gene Reserach (Shanghai), Institute of Plant Physiology & Ecology, Shanghai Institutes for Biological Sciences, Chinese Academy of Sciences, Shanghai, China
(2)
Shanghai Chenshan Plant Science Research Center, Chinese Academy of Sciences, Chenshan Botanical Garden, Shanghai, China
Copyright
© An et al; licensee BioMed Central Ltd. 2012
This article is published under license to BioMed Central Ltd. This is an Open Access article distributed under the terms of the Creative Commons Attribution License (http://creativecommons.org/licenses/by/2.0), which permits unrestricted use, distribution, and reproduction in any medium, provided the original work is properly cited.