Automated extraction and semantic analysis of mutation impacts from the biomedical literature
BMC Genomics
2012
13(Suppl 4):S10
Abstract
Background
Mutations as sources of evolution have long been the focus of attention in the biomedical literature. Accessing the mutational information and their impacts on protein properties facilitates research in various domains, such as enzymology and pharmacology. However, manually curating the rich and fast growing repository of biomedical literature is expensive and time-consuming. As a solution, text mining approaches have increasingly been deployed in the biomedical domain. While the detection of single-point mutations is well covered by existing systems, challenges still exist in grounding impacts to their respective mutations and recognizing the affected protein properties, in particular kinetic and stability properties together with physical quantities.
Results
We present an ontology model for mutation impacts, together with a comprehensive text mining system for extracting and analysing mutation impact information from full-text articles. Organisms, as sources of proteins, are extracted to help disambiguation of genes and proteins. Our system then detects mutation series to correctly ground detected impacts using novel heuristics. It also extracts the affected protein properties, in particular kinetic and stability properties, as well as the magnitude of the effects and validates these relations against the domain ontology. The output of our system can be provided in various formats, in particular by populating an OWL-DL ontology, which can then be queried to provide structured information. The performance of the system is evaluated on our manually annotated corpora. In the impact detection task, our system achieves a precision of 70.4%-71.1%, a recall of 71.3%-71.5%, and grounds the detected impacts with an accuracy of 76.5%-77%. The developed system, including resources, evaluation data and end-user and developer documentation is freely available under an open source license at http://www.semanticsoftware.info/open-mutation-miner.
Conclusion
We present Open Mutation Miner (OMM), the first comprehensive, fully open-source approach to automatically extract impacts and related relevant information from the biomedical literature. We assessed the performance of our work on manually annotated corpora and the results show the reliability of our approach. The representation of the extracted information into a structured format facilitates knowledge management and aids in database curation and correction. Furthermore, access to the analysis results is provided through multiple interfaces, including web services for automated data integration and desktop-based solutions for end user interactions.
Keywords
Regular ExpressionDomain OntologyProtein PropertyMutation ImpactImpact Detection
Background
Vast amounts of research is dedicated to the identification of mutations and their impacts. Biologists usually make inferences about functions of novel sequences by comparing them to the functions of known sequences [1]. Many mutagenesis experiments are performed to improve the properties of proteins, particularly enzymes. Additionally detection of disease causal mutations attracted a lot of attention. The result of all these efforts lies in publications, particularly in textual format. Consequently, locating and retrieving this information is a very cumbersome task. Some databases try to manually curate such information and provide it in publicly accessible form. However, even for an expert curator, extracting this information manually is laborious. Hence, database curators now increasingly reach for text-mining procedures.
Large-scale attempts resulted in high levels of performance in the realization of the automatic extraction of mutations [2–10]. Yet, finding their impacts, affected protein properties and magnitudes of effects remains challenging.
MEMA [2] uses regular expressions to extract mutations and mutation-gene pairs. It focuses on the co-occurrence of mutations and genes within a sentence and proximity parameters within an abstract. The performance of the system is evaluated on a set of 100 abstracts. The reported recall and precision for the mutation detection task are >67% and >96%, respectively.
MuteXt [3] searches for mutation data using a pattern matching approach and further validates the extracted point mutations using two plausibility filters: A sequence filter and distance filter. The performance of the system is evaluated on two corpora. Their algorithm detects 49.3%-64.5% of point mutations with a specificity of 85.8%-87.9%.
Mutation GraB [4] takes a dictionary-based approach to identify protein and gene names while extracting point mutation terms using regular expressions, utilizing graph bigrams to disambiguate the extracted protein point mutations. The authors evaluate the effectiveness of their approach on the articles describing three protein families, namely, tyrosine protein kinases, GPCRs and transmembrane ion.
MuGex [5] uses 12 regular expressions to detect mutations and statistical techniques to disambiguate between protein mutations and nucleotide mutations or cell lines. Gene-mutation pairs are detected through proximity measures.
The MutationFinder system [6] extends MuteXt [3]'s rules to extract and normalize point mutations.
In recent work [7], the authors present a strategy to integrate information about phenotypic effect of SNPs from UniProtKB and pathways from Reactom and BioPAX for visualization in Cytoscape.
Yip et al. [8] uses 4 regular expressions to extract and retrieve single amino acid poly morphisms (SAPs). The system is assessed on a Swiss-Prot corpus with 9820 PubMed references. Additionally, each pattern is evaluated separately.
The mSTRAP (Mutation extraction and STRucture Annotation Pipeline) system [9] was developed with the aim of annotating mutations and representing them as instances of an ontology. They further use mSTRAPviz to read the populated ontology and visualize the annotations on protein structures.
EnzyMiner [10] tries to categorize PubMed abstracts based on the impact of a protein level mutation on the stability and activity of a given enzyme. Using different classification algorithms, EnzyMiner is able to narrow down search results; however, detailed information about the direction of the impacts, association of impacts to mutations and the kind of change in stability or functionality is not provided. Although EnzyMiner targets mutation impact information, it differs significantly from our approach, as we are concerned with sentence-level detection and semantic analysis of mutation impacts, not document classification.
In [11], the authors introduced the first rule-based approach to extract mutation impacts on protein properties while categorizing the directionality of the impacts and grounding the impacts to the mutations. The extracted information was populated to a domain ontology for further querying through a web service. While in the aforementioned work, molecular properties and the Michaelis constant (K m ), the rate constant (K cat ) and the compound variable (K cat / K m ) are considered, the other protein properties, such as the remaining kinetic constants and protein stability, are ignored. On the corpus of 13 documents on haloalkane dehalogenase, the authors report a recall of 34% and a precision of 86% for the mutation-impact relation extraction task.
A recent work on the extraction of kinetic information and associated information, namely, enzyme names, EC numbers and localization is presented in [12]. The proposed rule- and dictionary-based approach in this system is applied to PubMed abstracts and the results are provided in KID, the KInetic Database [13].
KiPar [14], an information retrieval system, focuses on kinetic modeling of metabolic pathways using a rule-based approach.
However, all the existing approaches are unable to extract the protein properties affected by mutations. In this paper, we present a rule-based approach to extract mutation series, modified protein properties and magnitudes of effects [
15
,
16
]. In our system, the relation between the magnitudes of effects and the protein properties are detected and validated against the domain ontology. To provide for effective querying and analysis, we populate a domain ontology with the extracted information. Table
1
summarizes the scope of our Open Mutation Miner (OMM) system, compared to existing approaches. Further details on these tasks are provided in the following section.
Table 1
Literature mining approaches for mutations and impacts
| | MEMA[2] | MuteXt[3] | Mutation GraB[4] | MuGex[5] | mSTRAP[9] | Mutation Miner[20] | MutationFinder[6] | Yip et al.[8] | Mehren et al.[7] | Laurila et al.[11] | OMM |
| --- | --- | --- | --- | --- | --- | --- | --- | --- | --- | --- | --- |
| Mutation Tagging | √ | √ | √ | √ | √ | √ | √ | √ | | √ | √ |
| Mutation Series Tagging | | | | | | (√) | | | | | √ |
| Mutation-Protein Grounding | √ | √ | √ | | √ | √ | | | √ | | |
| Impact Tagging | | | | | | | | | | √ | √ |
| Impact-Mutation Grounding | | | | | | | | | | √ | √ |
| Protein Property Tagging | | | | | | | | | | (√) | √ |
| Physical Quantity Tagging | | | | | | | | | | | √ |
| Impact-Protein Property Grounding | | | | | | | | | | | √ |
| Protein Property-Physical Quantity Grounding | | | | | | | | | | | √ |
| Visualization | | | | | √ | √ | | | √ | | |
| Ontology Export | | | | | √ | | | | | (√) | √ |
| Web Service Access | | | | | | | | | | (√) | √ |
Methods
In order to comprehensively extract mutation impacts, the detection of several named entities and their relations, in particular mutations and protein properties, is required. As an example, consider the following text segment (formatting used: bold face: Mutation; underlined: Impact expression; underlined non-italics: Protein property; underlined bold: Physical quantity) [17]: "Several single mutants (Q15K, Q15R, W37K, and W37R), double mutants (Q15K-W37K, Q15K-W37R, Q15R-W37K, and Q15R-W37R), and triple mutants (Q15K-D36A-W37R and Q15K-D36S-W37R) were prepared and expressed as glutathione S-transferase (GST) fusion proteins in Escherichia coli and purified by GSH-agarose affinity chromatography. Mutant Q15K-W37R and mutant Q15R-W37R showed comparable activity for NAD and NADP with an increase in activity nearly 3fold over that of the wild type."
In this example, we need to extract increase as an impact that is caused "comparably" by two mutation pairs, Q15K-W37R and Q15R-W37R. In other words, the two aforementioned mutations have the same impact on the activity of an enzyme, glutathione S-transferase (GST) that is residing in the host organism, Escherichia coli. We are also interested to know that activity as a kinetic property of the mutant enzyme is measured 3fold higher than the activity of the wild-type enzyme. Note that other entities, such as single mutations (Q15K, Q15R, W37K, and W37R), exist in the text segment, but here we are only interested in the entities that are related to the identified impact. The result of the system should be a set of detected entities, correctly normalized and grounded, and linked with each other.
After detecting organism mentions, which is handled by a separate module, the OrganismTagger [
18
], the first step of impact analysis is to detect impact mentions. However, extracting only impacts is not sufficient; we want to know which mutation
caused
the impact. Hence, the system needs to ground the detected impacts to mutations. Additionally, mutations can appear in the form of mutation series (see the above example). Thus, the system must also be able to identify these complex mutation expressions. Finding out which protein properties were affected by the mutations and to what extent is necessary to identify advantageous mutations. Towards this end, we export the analysis results into an ontology (so-called ontology population [
19
]) for further applications, including queries and summarization. An overview of our system is presented in Figure
1
. In what follows, we will provide a detailed description of each task.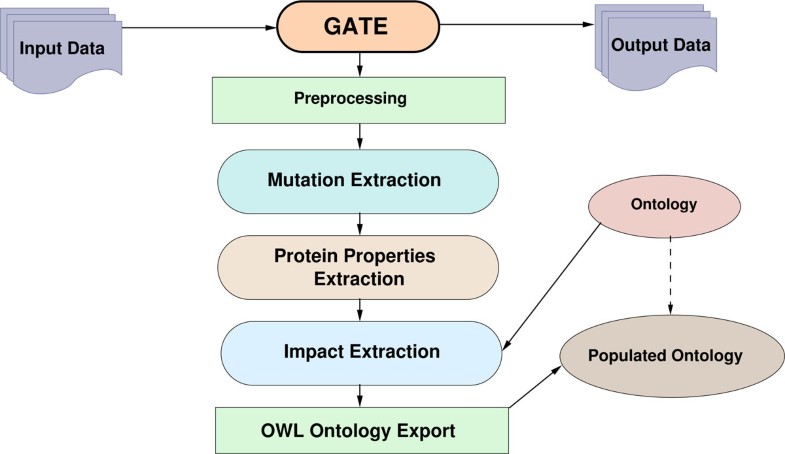 Results
We analyzed the performance of our approaches for mutation series and impact extraction in detail on different corpora. First, the evaluation of the mutation series detection module is investigated. Then, the effectiveness of the impact extraction, as well as grounding to the correct mutation is measured on literature describing enzymes.
Data
To evaluate the performance of the system for each task, we prepared two corpora: Mutation Series and Impact.
Mutation series detection corpus
We prepared a corpus containing 11 full-text PubMed articles on enzymes to assess the efficiency of the system in detecting mutation series. We ensured that all these documents contain multiple mutation mentions. These documents contain a total of 1306 mutations and 271 mutation series. The list of documents used for evaluation is provided in an additional file [see Additional file 1].
Impact extraction corpora
We selected 40 PubMed IDs and manually annotated them with the impact information. For each impact mention, only the part of the sentence mentioning the mutation and the impact was selected. Thus, if a sentence expresses multiple impacts, all are annotated separately [see Additional file 2 for manual annotations]. The impacts are grounded to the respective mutations and the EC number of experimented enzymes is specified. The list of documents used for evaluation is provided in an additional file [see Additional file 1].
Evaluation
First, the correctness of the mutation series extraction is assessed. Second, the effectiveness of the impact extraction, as well as grounding to the correct mutation, is measured on literature describing enzymes. Since the mutation series detection relies on correctly recognizing mutations, we first show the mutation detection result for each system, followed by the result of our mutation series detection.
Discussion
False negatives of impact detection are mainly due to author-defined mutation names. For example, PMID 10074357, reporting on the mutant of alcohol dehydrogenase, uses mSsADH to refer to N249Y in the document. Authors of the paper PMID 10544015 also assign No. 87 to a mutation containing 8 amino acid substitutions; T71A, K264E, L317S, T331A, R407L, S415G, K455I and E277G. Since we rely on mutation mentions and the keywords introduced earlier in Impact Detection section to detect impacts, these impacts are not detected.
Tables from processed PDF files are converted into indistinct textual blocks, and in case they are reporting the impacts of mutations, our system detects them as impacts. These mentions are not manually annotated, thus they are considered as false positives.
Conclusions
Mutation impacts are essential for understanding the role of mutations. The data regarding the mutations and impacts exists primarily in scientific publications. In this paper, we described Open Mutation Miner (OMM), a comprehensive, modular, open source text mining system for extracting and grounding mutation impacts, affected protein properties and magnitudes of effects.
The performance of our system is evaluated on multiple corpora. Furthermore, we created additional manual annotations for the biomedical literature. Our ontology population approach provides comprehensive information to a biologist and can be queried or further integrated with other systems.
Further work will address mutation co-reference resolution; In journal papers, very often the authors use pronominal or nominal mutation references that hinders the grounding of impacts. All occurrences of mutations, including nominal and pronominal references are required to be detected. Deletion and insertion mutations pose additional challenges to be addressed in a future version.
Abbreviations used
AMENDA:

Automatic Mining of ENzyme DAta
BRENDA:

BRaunschweig ENzyme DAtabase
DL:

Description Logic
EC:

Enzyme Commission
FRENDA:

Full Reference ENzyme DAta
GATE:

General Architecture for Text Engineering
GO:

Gene Ontology
JAPE:

Java Annotation Pattern Language
KID:

KInetic Database
NLP:

Natural Language Processing
OWL:

Web Ontology Language
RDF:

Resource Description Framework
SI:

Systéme International d'unités
SPARQL:

SPARQL Protocol and RDF Query Language
XML:

eXtensible Markup Language.
Declarations
Acknowledgements
Vladislav Ryzhikov contributed to the MutationTagger component. Thomas Kappler contributed to the MutationTagger component and the impact ontology. Christopher J.O. Baker contributed to the impact ontology. Funding for the Open Mutation Miner project is supplied in part by the Natural Sciences and Engineering Research Council of Canada (NSERC) Discovery Grants (DG) program.
This article has been published as part of BMC Genomics Volume 13 Supplement 4, 2012: SNP-SIG 2011: Identification and annotation of SNPs in the context of structure, function and disease. The full contents of the supplement are available online at http://www.biomedcentral.com/bmcgenomics/supplements/13/S4.
Authors' Affiliations
(1)
Semantic Software Lab, Department of Computer Science and Software Engineering, Concordia University, Montréal, Canada
Copyright
© Naderi and Witte; licensee BioMed Central Ltd. 2012
This article is published under license to BioMed Central Ltd. This is an Open Access article distributed under the terms of the Creative Commons Attribution License (http://creativecommons.org/licenses/by/2.0), which permits unrestricted use, distribution, and reproduction in any medium, provided the original work is properly cited.