Research article

Open Access
Comparative analysis of non-coding RNAs in the antibiotic-producing Streptomyces bacteria
Received: 17 May 2013
Accepted: 13 August 2013
Published: 16 August 2013
Abstract
Background
Non-coding RNAs (ncRNAs) are key regulatory elements that control a wide range of cellular processes in all bacteria in which they have been studied. Taking advantage of recent technological innovations, we set out to fully explore the ncRNA potential of the multicellular, antibiotic-producing Streptomyces bacteria.
Results
Using a comparative RNA sequencing analysis of three divergent model streptomycetes (S. coelicolor, S. avermitilis and S. venezuelae), we discovered hundreds of novel cis-antisense RNAs and intergenic small RNAs (sRNAs). We identified a ubiquitous antisense RNA species that arose from the overlapping transcription of convergently-oriented genes; we termed these RNA species 'cutoRNAs', for c onvergent u nt ranslated o verlapping RNAs. Conservation between different classes of ncRNAs varied greatly, with sRNAs being more conserved than antisense RNAs. Many species-specific ncRNAs, including many distinct cutoRNA pairs, were located within antibiotic biosynthetic clusters, including the actinorhodin, undecylprodigiosin, and coelimycin clusters of S. coelicolor, the chloramphenicol cluster of S. venezuelae, and the avermectin cluster of S. avermitilis.
Conclusions
These findings indicate that ncRNAs, including a novel class of antisense RNA, may exert a previously unrecognized level of regulatory control over antibiotic production in these bacteria. Collectively, this work has dramatically expanded the ncRNA repertoire of three Streptomyces species and has established a critical foundation from which to investigate ncRNA function in this medically and industrially important bacterial genus.
Keywords
Streptomyces
Non-coding RNA
sRNA
Antisense RNA
Secondary metabolic gene cluster
Antibiotic
RNA degradation
Background
Over the last decade, there has been a growing appreciation for the multifaceted roles played by regulatory RNAs in organisms ranging from bacteria to mammals. In bacteria, regulatory non-coding RNAs (ncRNAs) come in many forms, and can impact protein function, transcription initiation, mRNA stability and translation initiation/elongation [1]. Independent ncRNA transcripts can be broadly divided into two categories: cis- antisense RNAs (asRNAs) and trans-encoded small RNAs (sRNAs) [2]. asRNAs are expressed from the strand opposite their target protein-coding gene, and can negatively or positively impact transcription, translation or mRNA stability [3]. In contrast, most sRNAs, which typically range in size from 40–300 nucleotides, are expressed from intergenic regions. While a small subset of characterized sRNAs affect protein function (e.g. 6S RNA [4]), the majority of sRNAs studied to date target one or more mRNAs, influencing transcript stability or translation [1]. A notable difference between asRNAs and sRNAs is that asRNAs share complete complementarity with their mRNA targets, whereas the trans-encoded sRNAs have much shorter complementary regions, and different sequences within a sRNA may bind different mRNA targets. ncRNA-mediated regulation has been implicated in a multitude of cellular processes, including stress responses [5], quorum sensing [6] and pathogenicity [7].
The ncRNA potential of bacteria has been explored most thoroughly in Escherichia coli[8–11] but in recent years, technological advances in the form of tiling microarrays [12] and RNA sequencing [13–15] have begun to reveal the extent - and the complexity - of ncRNAs in a wide range of bacteria.
The non-coding RNA capacity of Streptomyces bacteria is expected to be extensive. The streptomycetes are predominantly soil-dwelling bacteria, and as such must have the means of coping with diverse environmental stresses. They also have a large chromosome (>8 Mb), and a complex life cycle that involves progression through distinct developmental and metabolic stages - processes that are subject to multi-level regulation. During growth on solid culture, the Streptomyces life cycle begins with spore germination and hyphal outgrowth. Hyphal tip extension and branching ensue, leading to the formation of an intricate network of vegetative hyphae known as the vegetative mycelium. From these vegetative cells emerge reproductive structures that extend into the air and are termed aerial hyphae. The aerial hyphae then undergo synchronous septation and chromosome segregation, subdividing them into prespore compartments that ultimately develop into chains of dormant exospores [16]. Most streptomycetes grow vegetatively in liquid culture, although several species including Streptomyces venezuelae, sporulate under these conditions. Along with their morphological complexity, the streptomycetes are best known for their ability to produce a vast array of secondary metabolites having medical and agricultural importance, including the majority of naturally synthesized antibiotics. Secondary metabolism is co-ordinately regulated with development, initiating during the transition from vegetative to aerial growth (or vegetative to 'mycelial fragmentation', for those species that sporulate in liquid culture); in liquid culture, secondary metabolism initiates during entry into stationary phase [16] for the majority of (nonsporulating) streptomycetes.
We were interested in exploring the ncRNA potential of
Streptomyces
bacteria throughout the course of their developmental and metabolic cycles. A series of initial investigations had confirmed the existence of ncRNAs in these bacteria [
17
–
20
], and this ncRNA repertoire was expanded considerably by an early RNA sequencing study undertaken by Suess and colleagues [
21
], who identified many asRNAs and sRNAs in the model species
Streptomyces coelicolor
. This pioneering study focused on RNA expression at a single time point during
S. coelicolor
growth in liquid culture. To gain a more comprehensive view of the ncRNA potential of
Streptomyces
bacteria, we undertook a comparative genomics investigation into the transcriptomes of three evolutionarily divergent
Streptomyces
species [
22
] –
S. coelicolor
,
Streptomyces avermitilis
, and
S. venezuelae
- using RNA harvested at distinct metabolic and developmental stages.
S. coelicolor
and
S. venezuelae
represent classic and emerging model species, respectively, while
S. avermitilis
has been well studied in part due to its production of avermectin, a commercially important insecticidal and anti-parasitic compound. We identified dozens of new conserved sRNAs and asRNAs, including a distinct group of asRNAs termed 'cutoRNAs' that resulted from overlap of the 3′ ends of convergently transcribed mRNAs (Figure
1
). We also detected an abundance of unique ncRNAs, including many that featured prominently in secondary metabolic biosynthetic clusters.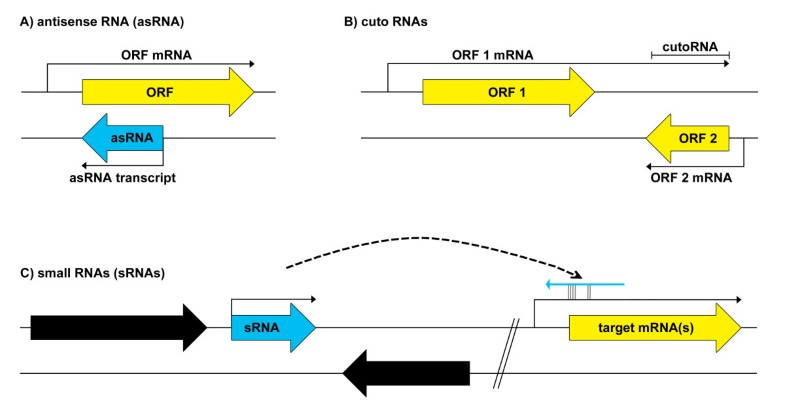 Results and discussion
To probe the ncRNA potential of S. avermitilis, S. coelicolor and S. venezuelae, we performed RNA-Seq using species-specific RNA pools. Each species was grown on the same medium (maltose, yeast extract, malt extract, or MYM), so as to effectively compare their RNA profiles, with the only difference being that S. avermitilis and S. coelicolor were grown on MYM agar, while S. venezuelae, which sporulates in liquid culture, was grown in liquid MYM. For each species, RNA was isolated from cells at major developmental stages (vegetative; aerial hyphae/fragmentation (in the case of S. venezuelae); spores). The RNA samples for each species were then pooled and used to generate two libraries for sequencing: one enriched for full-length transcripts, and a second enriched for shorter transcripts (e.g. sRNAs and stable RNA degradation products).
Conclusions
Using an RNA-Seq approach to evaluate gene expression throughout the Streptomyces life cycle, we have identified hundreds of novel ncRNAs in three disparate Streptomyces species. These included novel sRNAs, asRNAs and a prominent new class of asRNA – the cutoRNAs – that result from overlapping convergent transcription. Comparative analysis of the ncRNAs revealed considerable differences between species and between ncRNA types: S. coelicolor and S. avermitilis shared far greater numbers of ncRNA elements than either did with S. venezuelae, and throughout all species, asRNAs were less well conserved than sRNAs. From a genome-scale perspective, sRNA conservation largely mirrored that of protein-coding genes: sRNAs expressed from the chromosome ends were species-specific, while chromosome core-localized sRNAs were more highly conserved. Notably, ncRNAs were common features in secondary metabolic biosynthetic clusters, and likely contribute to the regulatory control of these pathways. Uncovering the ncRNA capacity of the streptomycetes will facilitate the downstream integration of these molecules into the regulatory networks governing growth, development and antibiotic production.
Methods
Streptomyces growth and RNA isolation
Streptomyces strains were grown on cellophane disks on the surface of solid MYM agar medium (S. coelicolor M145 and S. avermitilis MA-4680), or shaken in flasks containing liquid MYM (S. venezuelae ATCC 10712) at 30°C. Cells were harvested at timepoints corresponding to vegetative growth, aerial hyphae formation (or mycelial fragmentation in the case of S. venezuelae) and sporulation. RNA was extracted using a modified version of the guanidium thiocyanate protocol described previously [83]. Briefly, cells were lysed by vortexing with glass beads in a guanidium thiocyanate solution (4 M guanidium thiocyanate, 25 mM trisodium citrate dihydrate, 0.5% w/v sodium N-lauroylsarcosinate, 0.8% ß-mercaptoethanol) until homogeneous. The resulting suspension was subjected to two phenol-chloroform extractions and one acid phenol-chloroform extraction. Total nucleic acids were precipitated overnight at −20°C in isopropanol, before being pelleted, washed with 70% ethanol and resuspended in nuclease free water. Contaminating DNA was removed using Turbo DNase (Ambion), and RNA purity and concentration were determined using a Nanodrop spectrophotometer. RNA quality was assessed using an Agilent 2100 Bioanalyzer or by agarose gel electrophoresis prior to RNA-Seq or other applications, respectively. PCR amplification of a 196-nucleotide region of 16S rDNA was used to confirm the absence of DNA (lack of any product, relative to a chromosomal DNA control) prior to RNA-Seq library creation.
Library preparation and RNA sequencing
For each species, RNA samples from each of three timepoints were divided in two, with one half being subjected to rRNA depletion using the MICROBExpressTM Bacterial mRNA Enrichment Kit (Ambion) as per the manufacturer's instructions. Each of the rRNA depleted samples was then combined to generate a species-specific 'pool', such that each pool contained equal amounts of RNA from each time-point (vegetative growth, aerial growth/mycelial fragmentation, sporulation). Equivalent pools were created for the untreated (total) RNA samples. The two pools were destined to become two separate libraries: the rRNA-depleted pools were sequenced using a protocol optimized for full length transcripts, while the total RNA samples were enriched for sRNAs prior to sequencing.
All samples were treated with tobacco acid pyrophosphatase to create 5′ ends amenable for adapter ligation. To enrich for small RNAs, the total RNA samples were size selected (40 to 300 nucleotides) following polyacrylamide gel electrophoresis. RNA from both libraries was then fragmented in a buffered zinc solution and single stranded RNA adapters were ligated to the 5′ and 3′ ends to maintain strand specificity, prior to re-purifying on a polyacrylamide gel. Each pool was then reverse transcribed and PCR amplified to generate DNA colonies, which were sequenced using an Illumina HiSeq 2000 sequencer. For the sRNA-enriched library, read lengths ranged from 24 to 94 nucleotides, while read lengths were as long as 150 nucleotides for the long transcript-enriched library.
Alignment of reads to genomes
Sequencing reads having low quality 3′ ends were trimmed using the program PrinSeq [84]. The quality trimmed reads were aligned to their respective genome sequence using Bowtie2 [85] and then sorted, indexed and converted to BAM format using SAMtools (Version 0.1.18) [86]. For the full length transcript libraries, 59,073,931 (~99.4% of total reads obtained during sequencing), 44,462,362 (~99.4%) and 94,358,187 reads (~99.4%) were mapped to the S. coelicolor, S. avermitilis, and S. venezuelae genomes respectively. For the sRNA-enriched libraries a total of 21,871,239 (~99.5%), 23,608,152 (~98.5%) and 21,880,716 (~97.6%) reads were mapped to the same respective genomes. The BAM files were visualized using Integrated Genomics Viewer (Version 2.0) [87]. BEDTools [88] was used to calculate the positive and negative-strand read depth at each nucleotide, and a Perl script was used to exploit the BEDTools output in calculating the average sense and antisense coverage per nucleotide of each annotated gene.
Non-coding RNA analysis
The genes with the highest levels of antisense coverage from the full length transcript libraries were chosen for analysis. This included genes with an antisense 'mean expression value' (MEV) (average read depth per nucleotide) greater than 10.0 in S. coelicolor, 3.5 in S. avermitilis, and 4.1 in S. venezuelae; the different values were determined by normalizing the MEV to the number of non-ribosomal RNA sequences obtained for each species. Given that many known antisense RNAs overlap only a small fraction of their sense counterpart, we also used BEDTools to determine the highest peak antisense expression levels for each gene. We focused on those genes having a maximum expression level greater than 20.0 in S. coelicolor, 6.9 in S. avermitilis, and 8.2 in S. venezuelae. Again, cutoff values were chosen to reflect differences in numbers of non-ribosomal RNA sequences obtained for each species. Intergenic sRNAs were annotated manually using Integrated Genomics Viewer [87].
Homologous sRNAs were identified using BLASTN (E-value less than 1e-06) and aligned using Clustal Omega [89, 90]. Selected alignments were computationally folded using CMFinder [91] on the WAR webserver [92]. Compensatory mutations that maintained secondary structure were located manually and the VARNA software package [93] was used to illustrate RNA secondary structure. RNA secondary structure predictions were performed using the program Mfold [80].
To evaluate the protein-coding potential of sRNAs, we focused on those sRNAs conserved in at least two of the three Streptomyces species identified in this study. Frame Plot 2.3.2 was used to highlight potential open-reading frames, and amino acid sequences of similar lengths (≤10% difference) were aligned using Clustal Omega [89, 90]. Amino acid sequences with high similarity (≥65%) were deemed to have the potential to encode a conserved small peptide.
Analysis of stable degradation products
A custom Perl script was used to identify mRNAs with defined regions of high coverage compared with the average coverage for the entire gene in the short-read library. The top hits from this analysis were visualized using Integrated Genomics Viewer, and putative stable regions that were grossly overrepresented (more than 100-fold) compared with the rest of the mRNA were identified. These stable regions were classified according to their location: 5′ end-associated; 3′ end-associated (or between genes in an operon); or internal to the mRNA coding sequence. A custom Perl script was also developed to analyze the nucleotide content for entire genes, stable regions, and sequences flanking the stable regions.
Northern blotting
Northern blotting was performed as described previously [17, 94], only RNA was crosslinked to membranes using a 1-ethyl-3-(3-dimethylaminopropyl) carbodiimide crosslinking solution at 55°C for 2 hours [95]. Membranes were stripped with high-stringency buffer (0.2% saline-sodium citrate, 0.1% sodium dodecyl sulfate) at 65°C. They were subsequently checked by exposure to a storage phosphor screen to ensure complete removal of all radiolabelled probe, and re-probed as necessary.
Semi-quantitative RT-PCR
Semi-quantitative RT-PCR was conducted using total RNA isolated from S. coelicolor at three distinct life-cycle stages. For each reverse transcription reaction, 3 μg of RNA was mixed with 10 nmol of each dNTP, and 2 pmol of each gene-specific primer (Additional file 1: Table S6). RNase-free water was added to give a total reaction volume of 12 μL. Following mixing, each sample was first incubated at 65°C for 10 minutes and then immediately chilled on ice for 5 minutes. Reverse transcription was performed using SuperScript® III reverse transcriptase (Invitrogen) according to the manufactures instructions with a few modifications. Briefly, 4 μL of 5× First Strand Buffer, 2 μL of 0.1 M DTT and 1 μL of RNaseOUT™ were added to each reaction. After incubation at 42°C for 2 minutes, 1 μL of SuperScript® III reverse transcriptase was added. Reverse transcription was performed at 42°C for 60 minutes and reactions were terminated by incubating at 70°C for 15 minutes.
The reverse transcription products (2 μL) were then used as template for PCR amplification. A standard PCR protocol using Taq DNA polymerase (Norgen) was used, with primers indicated in (Additional file 1: Table S6). Annealing temperatures were optimized for each primer combination, as were the number of amplifications cycles (to ensure that amplification remained within the linear range). PCR products were separated on 2-3% agarose gels. Negative controls containing nuclease free water in lieu of reverse transcriptase were included to ensure there was no residual genomic DNA present in the RNA samples. Primers targeting 16S rRNA were used as positive controls for RNA quality. All reverse transcription/PCR reactions were carried out in triplicate, using RNA isolated from three independent RNA time-courses.
Abbreviations
asRNA:

Antisense RNA
bp:

Base pair
cutoRNA:

Convergent untranslated overlapping RNA
MEV:

Mean expression value
MYM:

Maltose-yeast extract-malt extract
ncRNA:

Non-coding RNA
RNA-Seq:

RNA sequencing
RT-PCR:

Reverse transcription PCR
sRNA:

Small RNA
UTR:

Untranslated region
Declarations
Acknowledgments
We are incredibly grateful to Dr. Brian Golding for assistance with bioinformatics. We would also like to thank Prof. Maggie Smith for valuable discussions, and Drs. Turlough Finan, Justin Nodwell, David Capstick and Emma Sherwood for helpful comments and suggestions on the manuscript. This work was supported by funding from the Natural Sciences and Engineering Research Council of Canada (NSERC Discovery Grant No. 312495) and the Canada Research Chairs (CRC) program.
Authors' Affiliations
(1)
Department of Biology and Michael G. DeGroote Institute for Infectious Disease Research, McMaster University, Hamilton, Canada
Copyright
© Moody et al.; licensee BioMed Central Ltd. 2013
This article is published under license to BioMed Central Ltd. This is an Open Access article distributed under the terms of the Creative Commons Attribution License (http://creativecommons.org/licenses/by/2.0), which permits unrestricted use, distribution, and reproduction in any medium, provided the original work is properly cited.