Research article
Open Access
Differential adaptation to multi-stressed conditions of wine fermentation revealed by variations in yeast regulatory networks
Received: 20 June 2013
Accepted: 30 September 2013
Published: 4 October 2013
Abstract
Background
Variation of gene expression can lead to phenotypic variation and have therefore been assumed to contribute the diversity of wine yeast (Saccharomyces cerevisiae) properties. However, the molecular bases of this variation of gene expression are unknown. We addressed these questions by carrying out an integrated genetical-genomic study in fermentation conditions. We report here quantitative trait loci (QTL) mapping based on expression profiling in a segregating population generated by a cross between a derivative of the popular wine strain EC1118 and the laboratory strain S288c.
Results
Most of the fermentation traits studied appeared to be under multi-allelic control. We mapped five phenotypic QTLs and 1465 expression QTLs. Several expression QTLs overlapped in hotspots. Among the linkages unraveled here, several were associated with metabolic processes essential for wine fermentation such as glucose sensing or nitrogen and vitamin metabolism. Variations affecting the regulation of drug detoxification and export (TPO1, PDR12 or QDR2) were linked to variation in four genes encoding transcription factors (PDR8, WAR1, YRR1 and HAP1). We demonstrated that the allelic variation of WAR1 and TPO1 affected sorbic and octanoic acid resistance, respectively. Moreover, analysis of the transcription factors phylogeny suggests they evolved with a specific adaptation of the strains to wine fermentation conditions. Unexpectedly, we found that the variation of fermentation rates was associated with a partial disomy of chromosome 16. This disomy resulted from the well known 8–16 translocation.
Conclusions
This large data set made it possible to decipher the effects of genetic variation on gene expression during fermentation and certain wine fermentation properties. Our findings shed a new light on the adaptation mechanisms required by yeast to cope with the multiple stresses generated by wine fermentation. In this context, the detoxification and export systems appear to be of particular importance, probably due to nitrogen starvation. Furthermore, we show that the well characterized 8–16 translocation located in SSU1, which is associated with sulfite resistance, can lead to a partial chromosomic amplification in the progeny of strains that carry it, greatly improving fermentation kinetics. This amplification has been detected among other wine yeasts.
Keywords
Wine yeastFermentationQTLTranscriptomePartial disomyDetoxification
Background
Since the development of wine-making, wine yeasts have undergone a specific pattern of evolution and have become highly effective in the fermentation of grape juice [1]. They are able to withstand various stresses, such as low pH or high levels of ethanol. These yeasts are also resistant to inhibitors, such as sulfites [2] and medium-chain fatty acids [3], and are able to continue fermentation for long periods of nutrients starvation. In addition, commercial wine yeasts make a specific contribution to the aroma bouquet of the wine. Knowledge of the genomic bases of these specific features is a prerequisite for understanding the mechanisms underlying adaptation [1, 4, 5]. Such knowledge would also provide a basis for the improvement of industrial wine yeast strains [6]. Various studies have enhanced our understanding of genomic structural variation in wine yeast strains. Genome sequencing has led to the identification of genomic rearrangements and mutations specific to wine yeasts (reviewed in [7–9]). One of the best examples is the translocation between chromosomes 8 and 16 described by Pérez-Ortín et al.[10] leading to overexpression of the sulfite exporter gene SSU1 and to the resistance of higher levels of sulfite. Dunn et al.[11, 12] have shown, using comparative genomic hybridization (aCGH), that copy-number variations for several groups of genes (involved in drug responses and ion sensors) are also characteristic of wine strains. Based on an analysis of the wine yeast EC1118 sequence, Novo et al.[13] showed that three loci widely conserved in wine strains had been gained by horizontal transfer events from non Saccharomyces yeast [14]. Comparison of sequenced genomes has suggested that nucleotide polymorphisms are the major source of phenotypic diversity [15, 16]. However the relationships between such genetic variations and phenotypic diversity remain unclear, particularly in the context of alcoholic fermentation.
Quantitative trait locus (QTL)-based approaches are widely used in yeast, to link allelic variations to phenotypic diversity [17–20]. This approach has been applied to wine strains to identify the origin of fermentation traits. Marullo et al. [21] used this approach to show that mutations of the asparaginase gene ASP1 underlie differences in acetic acid production between two wine strains. QTL-based approaches have proved efficient for identifying the traits associated with a single mutation, but most fermentation traits are under complex polygenic control which is much more difficult to resolve. Using new approaches based on the analysis of very large populations of segregants; Extreme QTL mapping (X-QTL); Ehrenreich et al.[22, 23] demonstrated the feasibility of identifying the genetic determinants of complex phenotypes, such as drug resistance.
Trait variation in may also results from changes in gene expression of the underlying regulatory networks. Brem et al.[24] have demonstrated that regulatory variations could be linked to genomic alterations by QTL approaches. Searches for expression QTLs (eQTLs) are now widely used in yeast to decipher regulatory networks variations [25–29], reviewed in [30, 31].
Such approaches can be used to elucidate the origin of regulatory network variations and their impact on fermentation traits, such as the fermentation duration, the nitrogen consumption and the metabolite production. We previously generated a segregating population by crossing the lab strain S288c and a spore derivative of the wine yeast EC1118, for eQTL linkage analysis [4]. One of the main results of this previous study was the detection of a large impact of the ABZ1 (encoding para-amino benzoate (PABA) synthase) allele on nitrogen assimilation, resulting in large variations in the fermentation rate [4]. Furthermore, a recent QTL study using this lineage implicated ABZ1 allele variation in aromatic compounds production [32] probably due to the involvement of this gene in amino-acid metabolisms.
We report here of the results of a new search for fermentation traits QTL and eQTL with an enlarged segregant population in the late stages of alcoholic fermentation, more relevant conditions for addressing the stress response. The use of this approach provided us with a broad view of expression variation in alcoholic fermentation and allowed us to identify the genetic origin of variation for several regulatory networks involved in key processes, such as detoxification and sulfate assimilation. An unexpected result of this study was the finding that fermentation rate was controlled by a partial disomy of chromosome 16, revealing a new role in wine yeasts for a well known translocation.
Discussion
In this study, we developed a genetical genomic approach to get insight into variation of gene regulatory networks during alcoholic fermentation and to assess the impact of this variation on wine yeast properties. We mapped 1465 eQTLs with 601 local eQTLs and 864 distant eQTLs (several distributed in 11 hotspots). As heritability exceeded 80% for 80% of the transcripts, genetic variations clearly had a major impact on global mRNA levels. The differences between the transcripts differentially expressed between the two parental strains and those displaying eQTLs confirmed that multigenetic controls are underlying most variations in transcripts abundance. These observations are consistent with the results obtained for other genetical genomic approaches in various organisms [30]. We observed several overlaps between phenotypic QTLs (glycerol, pyruvate) and eQTLs, consistent with the involvement of regulatory networks variation in yeast trait variations. Some of these linkages have been described before (clumpiness, floculation, mating type), whereas others are probably specific to our conditions or strains. We show that various mechanisms contribute to variations of expression and highlight the role of transcription factors for toxic compound export and the contribution of large chromosomal variations, a partial chromosomal duplication in this case, to the control of fermentation rate.
The transcriptome analysis was performed during the stationary phase in starvation and alcohol stress. Therefore our approach was adapted to describe regulatory change associated to this condition. However, variations in regulatory network involved in nitrogen consumption and cell growth were not considered here. For example, expressions of only few genes were found correlated to Rmax.
Genetic control of fermentation rate
Ambroset et al.[4] showed that fermentation rate (Rmax) depended on the PABA biosynthesis capacity and ABZ1 allele. By bypassing the effect of ABZ1, we identified another genetic control of the fermentation rate: the improvement of fermentation kinetics by partial disomy of the left arm of chromosome 16. In the system studied here, this partial disomy was present only in the offspring, due to cross carried out. This link cannot therefore be considered a "real" QTL, but it nevertheless highlights the role of gene copy number variations in the control of a key phenotype [11].
The mechanisms underlying the improvement of fermentation rate associated with this disomy are unclear, however, and will not be easy to decipher, given the size of the chromosomal region and the large number of genes it contains (190 genes). However, candidate genes may be identified on the basis of their patterns of expression, because the fermentation phenotype is thought to be triggered by a change in expression level. One or several of the 155 genes overexpressed in the translocated area may improve tolerance to starvation or, potentially, to alcohol. We investigated the properties of the set of genes in this region of chromosome 16 and evaluated their correlation with fermentation rate (R70). We observed that levels of expression of SAM3 and SAM4, involved in S-adenosyl methionine (SAdM) pool control, were correlated with R70. Interestingly, the expression levels of other genes, not located in the duplicated region, involved in SAdM synthesis (SAM1, SAM2) and involved in methyl transfers (CHO2, NNT1, SET7) were also correlated with R70. We suspect that SAM3 and SAM4 improve of the fermentation rate of the disomic segregants by increasing the availability of SAdM. However, the addition of SAdM (final concentration: 0.1 μM) to the fermentation medium did not improve the fermentation rate of the 59A strain (data not shown). We previously showed that the methyl donor synthesis and methionine biosynthesis pathways had a strong impact on fermentation rate [4], highlighting the key role of these metabolic pathways in alcoholic fermentation. Additional experiments are required to determine the mechanisms underlying this control of fermentation rate.
As this chromosomal amplification increased the fermentation capacity of wine yeasts, we checked for its presence in wild and industrial strain. Dunn
et al.
[
12
] reported a aCGH analysis of 83
S. cerevisiae
strains including 69 wine strains. We used their data to search for a partial trisomy (for diploid strains) of the left arm of chromosome 16. We detected such partial trisomy in the wine yeast strain NT45. Moreover, in their characterization of the
S. cerevisiae/S. kudriavzevii
triploid hybrid EG8, Erny
et al.
[
49
] detected a major amplification (four copies) of the left arm of the
S. cerevisiae
chromosome 16. The diploid
S. cerevisiae
strain EG25, which is genetically related to the
S. cerevisiae
moiety of the EG8 genome (with no
S. kudriavzevii
DNA), also displays trisomy of this region (Legras JL, personal communication). We determined the form of the chromosomes 16 and 8 (normal or translocated) present, by PCR for these three strains (Figure
10
). The NT45 and EG25 strains carry three chromosomes 16 left arms, originating from two normal chromosomes 16 and one copy of chromosome 8 carrying the translocation from chromosome 16. The hybrid aneuploid strain EG8 carries four left arms of chromosome 16: one from a normal chromosome 16 and three from the three chromosomes 8, all carrying the translocation. This findings confirm that amplification of the left arm of chromosome 16 occurs in wild/industrial strains. The situation described here suggests a spectacular evolutionary event occurring in two independent steps: a translocation selected due to its effect on sulfite resistance followed by amplification of the chromosomal region concerned, improving fermentation properties.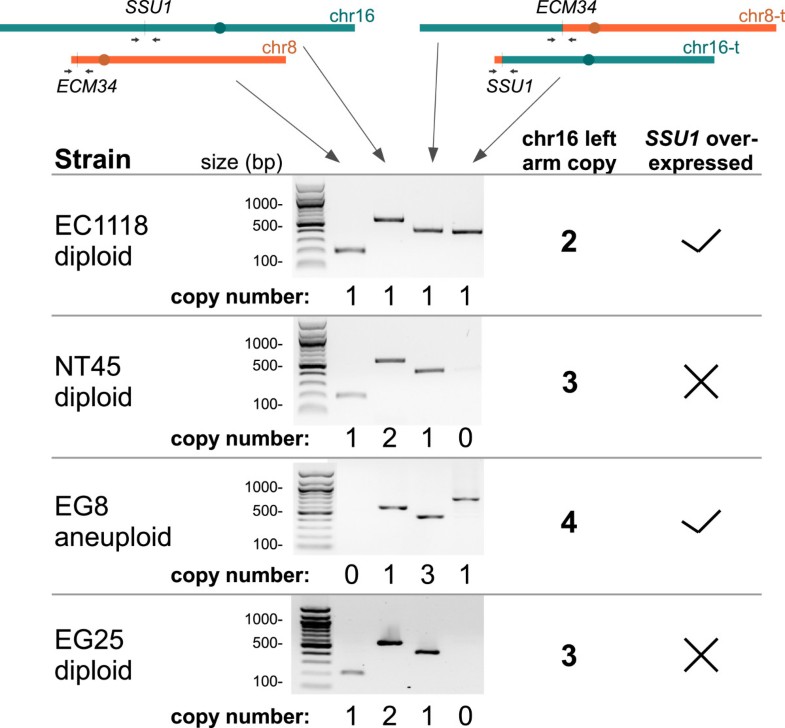 We evaluated the contribution of the disomy effect to eQTL linkage, by modifying the input dataset. We found that a large set of new eQTLs had been masked by the effect of this disomic. Most of these eQTLs (113) formed 2 hotspots on chromosome 2. Several of the genes controlled by these hotspots were found correlated with R70. Thus, these loci may partially control fermentation rate, despite the lack of detection of a QTL for this phenotype.
Importance of variations in detoxification systems
The analysis of functional enrichment for all eQTLs (in FunSpec [
33
]) highlighted a set of 22 eQTLs linking genetic variation to expression level of genes involved in detoxification. Our data show the importance of variations in transcription factor genes and their impact on detoxification systems:
PDR8
,
WAR1
and
YRR1
, in addition to
HAP1
(as summarized in Figure
11
).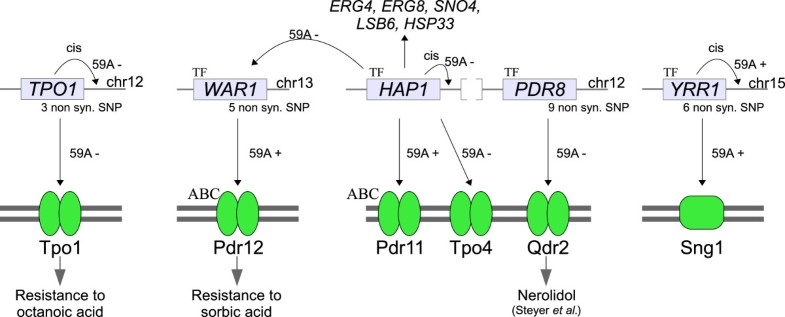 During fermentations, yeast produces toxic compounds that may lead to stuck fermentations [50]. This is the case for the medium-chain fatty acids generated as by-products of lipid biosynthesis. PDR12 has been shown to be involved in weak organic acid [46], and Legras et al.[3] have shown that PDR12, together with TPO1, is also a key transporter involved in octanoic acid and decanoic acid resistance. We were able to link genetic variations of TPO1 to its expression and to octanoic acid resistance. PDR12 has an eQTL in the gene encoding its known transcription factor, WAR1, that we could link to variations of sorbic acid resistance, but not to octanoic acid resistance, suggesting that the allelic effect of TPO1 outweighs the control of medium-chain fatty acid resistance.
For the same population, Steyer et al. [32] shown that the allele of PDR8 gene controls the export of nerolidol via QDR2. We confirm here that PDR8 allelic variation controls the expression of QDR2 and YLR179c, the function of which remain unknown. We observed that several drug exporters (TPO1, TPO2, TPO4 and QDR2) were less strongly expressed by the wine form, consistent with the deletions in wine yeasts reported by Dunn et al. (PDR3, SNQ1, QDR1[11]). The exact physiological role of several of these transporters remains unclear. Qdr2p was initially identified as a drug efflux system but its natural targets remain a matter of debate [51, 52]. It was subsequently suggested that Qdr2p might export amino acids in starvation conditions [53]. Such a function would be consistent with the lower levels of expression of this gene in wine yeast, given the major effect of nitrogen homeostasis on wine yeasts fermentation capacity.
In addition to the toxic compounds produced by the yeast during fermentation, natural grape musts contain various phenolic compounds [54], which act as key wine preservatives and contribute to aging. Stilbene compounds are clearly toxic to fungi, such as S. cerevisiae and Aspergillus flavus[55]. Pan et al.[56] studied the transcriptomic response to pterostilbene (an analog of resveratrol) and show that YRR1 and SNG1 were among the upregulated genes in response to the drug. We identified eQTLs for these two genes, which were upregulated by the wine allele of YRR1 transcription factor encoding gene.
As the polymorphism observed here may result from specific adaptation to exposure to these compounds, we tried to infer to phylogeny of War1p and Yrr1p and evaluate if these genes evolve neutrally. Interestingly the McDonald Kreitman test [48] revealed a non neutral evolution for these two genes (NI calculated was greater than two): this indicates very likely that the substantial diversity observed for WAR1 and YRR1 results from balanced selection due to specific adaptation of the strain to wine fermentation conditions. This is consistent with the analysis of Steyer et al.[32], who reported also a non neutral evolution of PDR8 according to the results of a McDonald test.
Unlike Yvert et al.[34], who reported that distant QTLs were not often due to variations of transcription factor genes, we found that most of the variation of detoxification gene expression was linked to transcription factors. Surprisingly, variations in these three genes (PDR8, YRR1, WAR1) encoding zinc-finger transcription factors modified the expression of only one or two of their known targets. This may be partly due to the different environment in which PDR8 targets have been characterized. We performed our expression analysis in stationary phase under a stressful condition whereas cell growths in rich medium were used for the Chip on Chip assay of Hikkel et al.[43]. In addition, Jothi et al.[57] have shown that these transcription factors belong to the lower layer of the hierarchy of the yeast transcription factors network, with direct effects on a limited number of targets. This may make them more tolerant to variation than genes higher up in this hierarchy.
Regulatory network variations involved in wine fermentation
In this study, we investigated, for the first time, the expression profiles of the genes present in the three regions introgressed into EC1118 by horizontal transfer [13]. As we worked with a second parental strain devoid of these three regions, we could not identify real eQTLs for these genes. We searched for links, using the populations of segregant possessing each region (half of segregants). On chromosome 6, at 145kpb, an eQTL was identified that trigger the expression of the two genes encoding polypeptide transporters (FOT) describes by Damon et al.[41]. The new fructose transporter gene, FSY1, [58] also had an eQTL on chromosome 13, at 446 kbp (data not shown). No clear candidate gene was identified in these loci, but our findings could lead to revealing the role of these new genes in fermentation. No phenotypic QTL or trans-eQTL were found in these three regions. More detailed analysis, with a larger set of segregants, should be carried out to assess the variations of expression associated with these regions.
The phenotypic data indicated that most of the traits considered were under multigenic control. This may reflect the large genetic distance between our two parental strains, but Marullo et al.[59] aslo found, in a study using two commercial wine yeasts and a population of 51 segregants, a preponderance of multigenic traits, such as ethanol tolerance and kinetic properties. We were nevertheless able to associate several phenotypic QTLs with eQTLs. Pyruvic acid levels, which were strongly correlated with R70, were linked to a major hotspot on chromosome 2. A candidate gene, SCT1, was identified. This gene is involved in lipid desaturation, suggesting that it may act by modulating the plasma membrane stability under alcoholic stress.
However, within the eQTLs set, several new linkages are probably involved in the management of the multi-stress conditions in wine fermentation. Changes were detected for genes involved in glucose sensing (GRR1 cis-eQTL that may control SNF3 expression) or thiamine synthesis (affected by THI3). Functional validations of these results are required, together with further investigations to determine the role of such genetic variation in the adaptation of strains to the wine making process. We also showed that the sulfur amino-acid pathway (MET32, MET2, MET5) was partially enhanced by SUL2 mutation, probably through effects on sulfate uptake. Such activation has not been described before and may reflect the conditions of nitrogen starvation in this study.
Conclusion
In this study, we developed an approach to deciphering the variation of transcriptional networks in yeast, during an industrial wine-making process resulting in multiple stresses. The results obtained were consistent with those of other studies. However, the wine fermentation conditions used here led to the identification of specific variations of regulatory networks not revealed previously in classical laboratory environment. We show that expression variations affect networks of genes involved in various pathways and cellular functions, through diverse mechanisms involving both local and distal regulations and copy number changes driven by chromosomal rearrangements. We focus here on variations of detoxification systems and identified and we confirm the key role of variations in transcription factor genes in modulating the expression of these systems. These results also raise questions about the role of these export systems in fermentation conditions, in which cells are starved and stressed.
The eQTL linkage analysis was generally highly consistent, but most of the phenotype changes were not linked genetic variations and were considered to be under multi-locus control. We found that fermentation rate depended on a gene copy numbers effect of a duplication of the left arm of chromosome 16. This partial disomy was also found in natural yeasts and appears to be a potential new target for yeast optimization for the wine making process.
Author's contributions
CB participated in the design of the study, performed the data acquisition and analysis, and drafted the manuscript. CA participated in the design of the study, and realized the 59AxS288c lineage. IS performed the statistical analyses, the transcriptomic data processing and the QTL and eQTL linkages. JLL performed the phylogenic analysis and provided guidance over the data analysis and the manuscript preparation. BB conceived and coordinated the study, and provided guidance over the manuscript preparation. All authors read and approved the final manuscript.
Abbreviations
QTL:

Quantitative trait locus
X-QTL:

Extreme QTL
eQTL:

Expression QTL
cis-eQTL:

eQTL closer than 40 kbp to the localization of the gene ("local" eQTL)
trans-eQTL:

eQTL farer than 40 kbp to the localization of the gene ("distant" eQTL)
aCGH:

Comparative genomic hybridization in array
logFC:

Log2 of Fold-Change
FDR:

False discovery rate
LOD:

Logarithm of odds
SAdM:

S-adenosyl methionine
PABA:

Para-amino benzoate
Rmax:

Maximal fermentation rate
R70:

Fermentation rate at 70% of fermentation progress
OD600:

Optic density at 600 nm
Pv:

P-value
adjPv:

Adjusted P-value
kbp:

Kilo base-pair.
Declarations
Acknowledgment
C. Brion was supported by a grant form French Ministry for Higher Education and Research. C. Ambroset was supported by a fellowship from the INRA Département Microbiologie et Chaîne Alimentaire (MICA) and the region Languedoc-Roussillon. This work was partly supported by Agence Nationale de la Recherche grant Genyeastrait ANR-07-BLAN-0205.
Authors' Affiliations
(1)
INRA, UMR1083 Science pour l'Œnologie, Montpellier, France
(2)
Montpellier SupAgro, UMR1083 Science pour l'Œnologie, Montpellier, France
(3)
Université Montpellier 1, UMR1083 Science pour l'Œnologie, Montpellier, France
Copyright
© Brion et al.; licensee BioMed Central Ltd. 2013
This article is published under license to BioMed Central Ltd. This is an open access article distributed under the terms of the Creative Commons Attribution License (http://creativecommons.org/licenses/by/2.0), which permits unrestricted use, distribution, and reproduction in any medium, provided the original work is properly cited.