Research article
Open Access
Prioritizing genes responsible for host resistance to influenza using network approaches
Received: 3 April 2013
Accepted: 6 November 2013
Published: 21 November 2013
Abstract
Background
The genetic make-up of humans and other mammals (such as mice) affects their resistance to influenza virus infection. Considering the complexity and moral issues associated with experiments on human subjects, we have only acquired partial knowledge regarding the underlying molecular mechanisms. Although influenza resistance in inbred mice has been mapped to several quantitative trait loci (QTLs), which have greatly narrowed down the search for host resistance genes, only few underlying genes have been identified.
Results
To prioritize a list of promising candidates for future functional investigation, we applied network-based approaches to leverage the information of known resistance genes and the expression profiles contrasting susceptible and resistant mouse strains. The significance of top-ranked genes was supported by different lines of evidence from independent genetic associations, QTL studies, RNA interference (RNAi) screenings, and gene expression analysis. Further data mining on the prioritized genes revealed the functions of two pathways mediated by tumor necrosis factor (TNF): apoptosis and TNF receptor-2 signaling pathways. We suggested that the delicate balance between TNF's pro-survival and apoptotic effects may affect hosts' conditions after influenza virus infection.
Conclusions
This study considerably cuts down the list of candidate genes responsible for host resistance to influenza and proposed novel pathways and mechanisms. Our study also demonstrated the efficacy of network-based methods in prioritizing genes for complex traits.
Keywords
Quantitative Trait LocusInfluenzaQuantitative Trait Locus RegionInfluenza Virus InfectionSeed Gene
Background
Influenza is a highly contagious, seasonal respiratory illness caused by the influenza virus. The progression and outcome of pathogenic infections are influenced by host genetic factors[1–7]. Further studies showed that this finding may also hold true for influenza A virus infection[8–12]. Thus host genetic factors should be identified to gain insights into the molecular mechanisms underlying host resistance and accelerate the development of new therapeutic regimes for patients. Several genome-wide quantitative trait locus (QTL) mapping studies have been conducted using different mouse strains to identify host genetic factors that contribute to the resistance to influenza virus infection[10, 13–16]. The identified QTLs have greatly narrowed the scope of genetic factors from the whole genome to a set of genomic intervals. However, identifying the underlying genes from a large number of candidates within these regions remains a challenge. In this study, in silico approaches were used to prioritize a list of the most promising candidate genes from these QTL regions for future investigations.
The basic idea for most computational gene prioritization is that for a heritable trait with genetic heterogeneity, different trait-related genes should show similarities with one another based on some particular measure. Assuming that the known disease genes (termed "seed genes" or "seeds") represent all of the genes responsible for a specific disease, then the unknown disease genes can potentially be distinguished from other candidates based on their similarities to the seeds (so called "seed-based" strategy). With the accumulation of high-throughput protein-protein interaction data, network-based similarity measures were demonstrated to be effective in prioritizing human disease genes using the seed-based strategy[17]. We first showed that a scoring method based on these measures could have reasonable power to predict known host resistance genes. However, the "seed-based" methods have several drawbacks stemming from an inherent limitation: these methods rely on known disease genes, which are incomplete in some studies and may introduce considerable bias. Meanwhile, many microarray experiments comparing the gene expression profiles of cases and controls have been performed. These studies contained rich information regarding trait-related genetics, but the information has not been fully exploited. Previous studies showed that disease genes are often surrounded by differentially expressed neighbors in a gene network, but not necessarily highly differentially expressed themselves[18, 19]. We further demonstrated that host resistance genes also share this property in a protein association network. Several scoring approaches using DE levels of network neighbors were evaluated to prioritize known host resistance genes. Our evaluation suggested that DE-based methods could also effectively prioritize the genes responsible for host resistance to influenza.
By applying both strategies to prioritize genes within mouse QTLs associated with host resistance to influenza, we identified functional relevant genes that were supported by multiple lines of evidence from previous studies. A list of promising candidate genes strongly supported by literatures was totally missed when seed-based methods were used. Using the DE-based method, we were able to identify these genes. This result indicated that the DE-based strategy can complement the seed-based strategy to obtain novel candidates without the influence of limited knowledge. In addition, evidence-supported genes were significantly enriched in top-ranked genes prioritized by both seed- and DE-based strategies. Hence, DE-based strategy can also enhance the credibility of the inference of a candidate's role in the pathogenesis of a disease. The results of functional enrichment analysis further showed that genes prioritized by both strategies revealed several biological processes that may exert critical functions in influencing host outcomes after influenza virus infection. In summary, our results suggested that the DE-based strategy can provide additional benefits and reduce the bias from a limited set of known disease genes. These results can also enhance our understanding of the pathological pathways of influenza.
Results and discussion
The overall prioritization strategy was shown in Figure
1
. Each candidate gene within the QTL intervals associated with host resistance to influenza was scored using seed- (Figure
1
a) and DE-based strategies (Figure
1
b). We used the gene association network compiled by the STRING database (version 9)[
20
] to derive the similarity measures and network neighbors. Top 10% of the genes within each QTL region ranked by either seed- or DE-based scoring strategy were considered as prioritized. All of the prioritized genes were then subject to systematic literature survey and gene set enrichment analysis.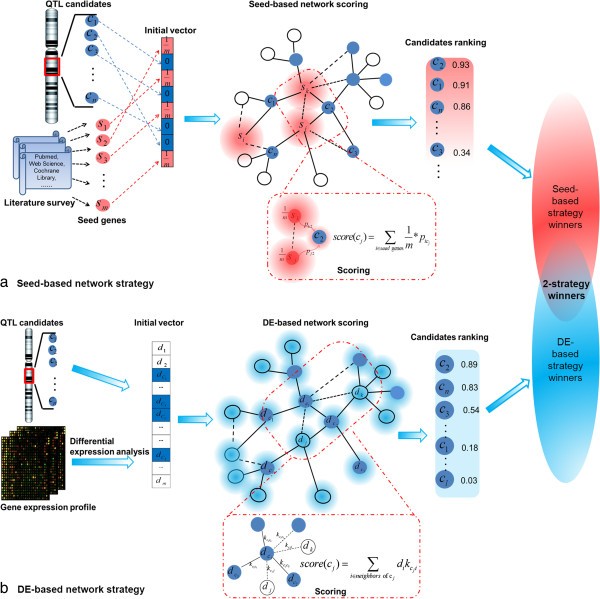 Conclusions
Disease genes could be directly and efficiently predicted based on the prior knowledge of the biological processes involved in a particular disease. However, an alternative strategy, which could address the gaps left by the seed-based strategy, is needed when host genetics in resistance to influenza is partially understood and only a few known host resistance genes could be used as training set for the seed-based network strategy. In this study, we applied an integrated network analysis based on the known disease genes and DE levels between resistant/susceptible mouse strains. The DE-based strategy can overcome the inherent limitations of the seed-based strategy and complement the identification of promising candidates. In addition, the DE-based strategy can also add the credibility of a candidate gene for its role in host resistance to influenza to some extent. A list of genes suggested by multiple types of studies was specifically prioritized using the DE-based strategy. In our study, promising candidate genes supported by different types of evidence were significantly enriched in the 2-strategy winner set. Furthermore, top-ranked genes from both strategies indicated the significance of several biological processes and molecular functions. These results will enhance our understanding of the pathways associated with host genetic factors.
Methods
Candidate gene selection
We collected 17 chromosome regions (Table 2) that were reported as significantly or suggestively [logarithm of the odds (LOD) > 2.2)] associated with different traits related to influenza resistance from five independent genome-wide linkage studies. The human orthologs of the genes within the QTL regions were queried from Ensembl database (release 69)[67] by using the BioMart tool. A total of 876 conserved Mus musculus genes with human orthologs were obtained. Genes within different QTL regions formed separate candidate sets as input for the gene prioritization models. We assumed that at least one gene within each confirmed QTL region harbored variants associated with host susceptibilities.
Network-based prioritization methods
To apply the network-based approaches, we evaluated several similarity measures between genes based on a protein-protein interaction network (STRING, version 9). STRING is a functional association network that contains associations inferred from various data sources (experimentally verified interaction, co-occurences in the literature, coexpression, and similar genomic context). The gene-gene interaction scores were extracted from the interaction scores between their corresponding protein products. When multiple proteins/isoforms are encoded by a single gene, all interactions will be considered if each encoded protein is linked to different proteins, or only the strongest interaction will be retained when some of the encoded proteins interact with the same protein. For the seed-based method, 14 genes (Table 1) related to different host responses to influenza virus infection were collected as seeds to construct our model. An initial score vector was constructed, in which the elements representing "seed genes" were given equal scores with sum of the probabilities equal to 1; whereas the scores for the other genes in the genome were initialized as 0. Four gene-gene similarity measurements were considered and evaluated in this step: DIR, SAR, RWR, and sHKDR. DIR ranks candidates according to the number of directly linked seed genes, whereas SAR uses the sum of association scores between a gene and the linked seeds in the STRING network. In RWR, the similarities between a gene and the seeds are assigned based on a steady-state probability vector, which is obtained after a number of iterative transitions from the current nodes to their randomly selected neighbors until convergence. sHKDR estimates the gene-gene similarities based on a diffusion kernel matrix, which is equivalent to a lazy random walker consisting of transitions from the current node to each of its neighbors with probability β and stay put with a probability of 1 - d i β (with d i as the degree of node i)[17].
Rather than relying on prior knowledge of the disease, DE-based methods initialized scores for all genes in the network with the experimental data of the DE levels between susceptible and resistant hosts. Considering that very few public expression profiles for human subjects are currently available, we used a mouse expression profile (GSE30506) from the GEO database. This dataset consisted of 44 pre-CC mouse samples, among which 26 mouse lines showed severe ("h igh") r esponse (I HC score: 4 or 5, % weight loss > 15%) to influenza virus i nfection (HRI mice), whereas 18 lines expressed mild ("l ow") r esponse (I HC score: 0 or 1, % weight loss < 5%) to infection (LRI mice). The log2 ratio between the expression values of the HRI group to those of the LRI group was used as the DE measure. To investigate the effectiveness of the DE-based network method in identifying known host resistance genes, we used three methods: DER, DNR, and deHKDR. DER prioritizes candidates purely on their DE levels (represented as log2 ratio statistics) between susceptible and resistant hosts. DNR and deHKDR calculate a gene's score by considering the DE levels of the gene and its surrounding neighbors. In particular, DNR applies equal weights for all neighbors; by comparison, deHKDR considers the initial interaction scores between the studied gene and its neighbors and applies the final weights from the heat kernel diffusion matrix. The mathematical details for each method were given in Additional file1: Mathematical details of methods.
Evaluation of model performance and screening of top-ranked genes
The performance of the seed-based network model was assessed by LOOCV test. In LOOCV, each seed gene is in turn removed from the training set and added to a set of 99 randomly selected genes from the whole genome. After prioritization was conducted based on a particular model, the rank of the seed genes among the 99 random genes reflects the discriminative ability of the model to identify host resistance genes. To quantify the enrichment of the seeds among the top-ranked genes, we calculated the proportion of the known genes that can be found at different rank thresholds (top 5%, 10%, 20%, etc.). Detection rates were then plotted against different rank thresholds, and the ROC curve was obtained. AUC was then used as a measure to assess the performance of a model. For DE methods, 11 seed genes were scored against 11*99 randomly selected genes. The ROC curve was then plotted. AUC was used to compare the effectiveness of different algorithms. We further tuned the required parameters to maximize the AUC for each method.
The top 10% candidates in a QTL candidate set prioritized by a method were termed as winners for that method, e.g., RWR winners were top-ranked genes by the RWR method. When a candidate gene was within multiple (overlapping) loci, each was counted as a separate prediction for a certain locus. Genes that were top ranked by both seed- and DE-based methods were referred to as 2-strategy winners.
Literature annotation
Four types of studies related to host resistance or response to influenza, including genetic association studies[22, 27, 35–41], QTL studies[10, 14–16, 33], RNAi screenings[42–46], and microarray gene expression analyses[47–49], were collected and used to annotate the functional significance of these top-ranked genes. The genetic association studies were collected by conducting a literature search for the reported associations between gene variants and host resistance to influenza infection. QTL studies, in which the QTLs for candidate gene prioritization were collected, also provided a list of candidate genes based on independent evidence. In this study, supporting evidence from the genetic association studies and QTL studies was considered as genetic evidence. RNAi screenings[68] and microarray gene expression profiles[49] have also been extensively applied to identify host genes implicated in the life cycle of influenza virus and responses to virus infection. We also obtained the candidates recommended by these studies and referred to these types of supporting evidence as functional evidence. To accounting for the false positives in expression microarray, genes must be identified by at least two studies of expression analysis to be considered as supported. Additional file2: Table S5 summarized the studies that provided supporting evidence including the criteria used to determine the candidates, number of identified genes, and corresponding references. Top ranked-genes suggested by multiple types of studies were summarized and listed in Table 3. To provide an overview of the functional significance of prioritized genes from seed- and DE-based network strategies, we grouped the top-ranked genes into 2-strategy winners (genes identified by both seed-based and DE-based strategy), DE-only winners (genes specifically identified by deHKDR method), and seed-only winners (genes specifically identified by seed-based strategy, either sHKDR or RWR). The proportions of top-ranked genes supported by genetic evidence and functional evidence or suggested by both types of evidence in each winner set were summarized and plotted as a stacked cylinder (Figure 4b). Using the prioritized genes as background, we evaluated the significance of the supported genes enrichment in each winner set by one-tailed hypergeometric test. The p value for each winner set was annotated above the corresponding cylinder (Figure 4b).
Functional enrichment analysis
The BIOCARTA, KEGG, PANTHER, and REACTOME systems deposited by DAVID (version 6.7)[55] were applied in pathway enrichment analysis. GO and PANTHER were also used for gene ontology (including BP, MF and CC) enrichment analysis.
To reduce the redundancy from broad GO terms, we applied the GO FAT (GOTERM_BP_FAT, GOTERM_MF_FAT) categories, which screen out very broad GO terms based on the measured specificity of each term, in each top-ranked gene group (2-strategy, deHKDR, RWR, and sHKDR winners). In the PANTHER system, PANTHER_BP_ALL and PANTHER_MF_ALL were used for the gene set enrichment analysis. The enriched gene sets with p < 0.01 and FDR <0.25 were selected as significant sets. We classified all functional terms into four categories: pathway, biological process, molecular function, and cellular component. For each category, annotation terms that were significantly enriched in at least one winner group were illustrated as a heatmap. Each row in the heatmap denoted an enriched term, and each column represented a winner group. The cells were color coded using the fold enrichment of the annotation term by the corresponding winner group. All of the gene sets enriched by each method (2-strategy, deHKDR, RWR, and sHKDR) at a nominal significant level of p < 0.01, regardless of FDR, were listed in Additional file3.
Pathway analysis
We mapped top-ranked genes to the "canonical pathway" in ingenuity pathway analysis (IPA). The log2 ratios between the gene expressions of HRI mice and that of LRI mice were prepared as a dataset and imported into "Analyses, Datasets & Lists" OVERLAY in IPA for analysis. Genes with higher expression in HRI mice than in LRI were illustrated in red; otherwise, these genes were represented in green.
Abbreviations
QTL:

Quantitative trait locus
eQTL:

Expression quantitative trait locus
DIR:

Direct interaction ranking
SAR:

STRING association ranking
RWR:

Random walk with restart
sHKDR:

Seed-based heat kernel diffusion ranking
DER:

Differential expression ranking
DNR:

Direct neighborhood ranking
deHKDR:

Differential expression-based heat kernel diffusion ranking
ROC:

Receiver operating characteristic
AUC:

Area under the curve
LOOCV:

Leave-one-out cross validation
RNAi:

RNA interference
CC:

Collaborative Cross
HRI:

High response to infection
LRI:

Low response to infection.
Declarations
Acknowledgements
This work was funded by grants from the Research Fund for the Control of Infectious Diseases of Hong Kong (No.11101032) to YQS, NSFC grants (No. 81271226 to YQS, No.91010016 to XGZ), the Research Grants Council of Hong Kong (HKU775208M/HKU777212) to YQS and (HKU718111 & HKU717613) to LQW, the National Basic Research Program of China (No. 2012CB316504) to XGZ, and the National High Technology Research and Development Program of China (2012AA020401) to XGZ. This research is also supported in part by the Zhejiang Provincial, Hangzhou Municipal and Linan County Governments.
Authors' Affiliations
(1)
Department of Biochemistry, The University of Hong Kong, Hong Kong, China
(2)
Bioinformatics Division and Center for Synthetic and Systems Biology, TNLIST, MOE Key Lab of Bioinformatics / Department of Automation, Tsinghua University, Beijing, China
(3)
Department of Biophysics, College of Bioinformatics Science and Technology, Harbin Medical University, Harbin, China
(4)
Department of Microbiology, The University of Hong Kong, Hong Kong, China
(5)
Carol Yu Centre for Infection, The University of Hong Kong, Hong Kong, China
(6)
National Research Institute for Family Planning, Beijing, China
(7)
Department of Mechanical Engineering, The University of Hong Kong, Hong Kong, China
(8)
HKU-Zhejiang Institute of Research and Innovation (HKU-ZIRI), Linan, Zhejiang, China
(9)
Center for Genome Science, The University of Hong Kong, Hong Kong, China
Copyright
© Bao et al.; licensee BioMed Central Ltd. 2013
This article is published under license to BioMed Central Ltd. This is an open access article distributed under the terms of the Creative Commons Attribution License (http://creativecommons.org/licenses/by/2.0), which permits unrestricted use, distribution, and reproduction in any medium, provided the original work is properly cited.