Research article

Open Access
Assessment of hematopoietic failure due to Rpl11 deficiency in a zebrafish model of Diamond-Blackfan anemia by deep sequencing
Received: 20 May 2013
Accepted: 10 December 2013
Published: 17 December 2013
Abstract
Background
Diamond–Blackfan anemia is a rare congenital red blood cell dysplasia that develops soon after birth. RPL11 mutations account for approximately 4.8% of human DBA cases with defective hematopoietic phenotypes. However, the mechanisms by which RPL11 regulates hematopoiesis in DBA remain elusive. In this study, we analyzed the transcriptome using deep sequencing data from an Rpl11-deficient zebrafish model to identify Rpl11-mediated hematopoietic failure and investigate the underlying mechanisms.
Results
We characterized hematological defects in Rpl11-deficient zebrafish embryos by identifying affected hematological genes, hematopoiesis-associated pathways, and regulatory networks. We found that hemoglobin biosynthetic and hematological defects in Rpl11-deficient zebrafish were related to dysregulation of iron metabolism-related genes, including tfa, tfr1b, alas2 and slc25a37, which are involved in heme and hemoglobin biosynthesis. In addition, we found reduced expression of the hematopoietic stem cells (HSC) marker cmyb and HSC transcription factors tal1 and hoxb4a in Rpl11-deficient zebrafish embryos, indicating that the hematopoietic defects may be related to impaired HSC formation, differentiation, and proliferation. However, Rpl11 deficiency did not affect the development of other blood cell lineages such as granulocytes and myelocytes.
Conclusion
We identified hematopoietic failure of Rpl11-deficient zebrafish embryos using transcriptome deep sequencing and elucidated potential underlying mechanisms. The present analyses demonstrate that Rpl11-deficient zebrafish may serve as a model of DBA and may provide insights into the pathogenesis of mutant RPL11-mediated human DBA disease.
Keywords
ZebrafishHematopoiesisRpl11RNA-SeqTranscriptomeDBA
Background
Ribosomal protein dysfunction causes abnormal ribosomal particle assembly and affects protein synthesis in all cell types. Although RP dysfunction affects multiple tissues and systems, pathological defects in hematopoietic systems, such as aberrant development in Diamond–Blackfan anemia (DBA), are the most frequently observed phenotypes [1–3].
Mutations in RP genes reduce the efficiency of ribosome biogenesis, which is indispensable for immature erythrocytes in early and rapid growth phases [4]. Defective ribosome biosynthesis leads to excessive release of RPs such as RPL5 and RPL11, which may increase p53 activity by activating the RPS MDM2-p53 signaling pathway [5]. Because erythroid progenitor cells are highly sensitive to p53 activation [6], subsequent activation of the p53 pathway in erythroid progenitor cells leads to cell cycle arrest and apoptosis and finally to hematopoietic disorders. Interestingly, these hematopoietic defects were rescued by increased RP expression or reduced p53 activity in zebrafish and in erythroid progenitor cells from DBA patients [7–10]. It was also observed that Rpl22l1 plays essential roles in hematopoiesis, but acts independently of p53 and does not induce apoptosis [11].
DBA is a rare congenital red blood cell dysplasia that develops soon after birth. This disorder is mainly characterized by reduced reticulocyte counts, selective red cell aplasia, and macrocytosis, while a number of other blood cell lineages, such as neutrophils and platelets, are maintained or slightly decreased. Furthermore, DBA patients suffer other developmental defects, such as short stature, cleft lip, hand deformities, kidney and heart hypoplasia, and tumor predisposition [12–14]. Ribosome biogenesis defects have been identified as a major cause of DBA, and mutations of genes encoding RPs have emerged as the main cause of DBA. Indeed, various mutations have been found in coding and noncoding regions of at least 13 RPs, including RPL5, RPS7, RPL9, RPS10, RPL11, RPS15, RPS17, RPS19, RPS24, RPS26, RPL36, RPS27a, and RPL35a, accounting for about 55% of all DBA cases [15–23]. RPS19 was the first identified causative gene in DBA patients, and its mutations account for 25% of DBA cases [24].
RPL11 is one of 79 vertebrate RPs, and its gene mutations occur on coding and intronic binding regions of chromosome 1 [17]. DBA patients with mutations in RPL11 show typical hematopoietic defects, and 67% of these have physical deformities, especially of the thumb [17]. In particular, RPL11 dysfunction results in abnormal erythrocyte development, markedly decreased progenitor cell proliferation, delayed erythroid differentiation, and markedly increased apoptosis [25]. Importantly, these are different from the deficiencies in DBA patients with RPS19 mutations [25]. Hence, divergent mechanisms underlie hematopoietic defects in DBA patients with different RP mutations. Moreover, RPL11 dysfunction in erythroblasts lead to aberrant erythroblast differentiation, reduced hemoglobin, and unusual cell morphology [26].
Zebrafish are a classic animal model for mechanistic studies of embryonic development, hematopoiesis, and DBA [27, 28]. Knockdown of most RP genes causes developmental defects in the brain of zebrafish, indicating that the vast majority of RP functions are associated with nervous system development [29]. Several reports focus on regulation of zebrafish hematopoiesis by the RP proteins Rps7, Rpl11, Rps19, and Rps29 [8–10, 30]. Rpl11 dysfunction in zebrafish embryos leads to defective development, hematopoiesis, brain development, and shape dysplasia [8, 29, 31]. Furthermore, Danilova et al. reported that the hematopoietic defects caused by Rpl11 dysfunction were fully reversed by the inhibition of p53 activity in zebrafish mutants [8], indicating that p53 may regulate Rpl11 in zebrafish [25, 31]. However, hematopoiesis in zebrafish with dysfunctional Rps19 is not fully recovered by inhibition of p53 [32]. Presumably, these varying phenotypic defects in zebrafish embryos with dysfunctional Rpl11 are regulated by multifactorial interactions of genes, regulatory networks, and signaling pathways.
High-throughput transcriptome sequencing is now widely accepted as a useful tool for investigating human disease mechanisms and gene functions. However, this technology has not been widely used in zebrafish research. Using microarray technology, Danilova et al. (2011) studied the impact of Rpl11 deficiency on hematopoiesis of zebrafish embryos. However, because of the limitations of detectable gene transcripts, some important aspects of Rpl11 functions in zebrafish may only be elucidated using high-throughput sequencing.
In this study, we examined genome-wide transcription by high-throughput transcriptome sequencing of Rpl11-deficient zebrafish embryos. In combination with bioinformatic analyses, we studied affected genes, hematopoiesis-related signaling pathways, and molecular regulatory networks in Rpl11-deficient zebrafish embryos. We found that Rpl11 deficiency leads to defects of hemoglobin synthesis and hematopoiesis, which were caused by dysregulation of iron metabolism-related genes and impaired HSC differentiation and proliferation. These analyses provide new insights into the pathogenesis of mutant Rpl11-mediated DBA.
Conclusion
In this study, we established an Rpl11-deficient zebrafish model that showed defective hemoglobinization and hematopoiesis. To elucidate the mechanisms of hematopoietic failure, we performed mRNA transcriptome deep sequencing of Rpl11-deficient and control MO zebrafish embryos and systematically characterized Rpl11-mediated disturbances in hematological gene expression, hematopoiesis-related signaling pathways, and regulatory networks in zebrafish. We also elucidated potential mechanisms by which Rpl11 regulates hematopoiesis through genes associated with iron metabolism and proliferation and development of HSCs in zebrafish embryos or through hematopoiesis-associated pathways with unknown mechanisms (Figure
5
). The present data provide new insights into the pathogenesis of RPL11-mediated DBA.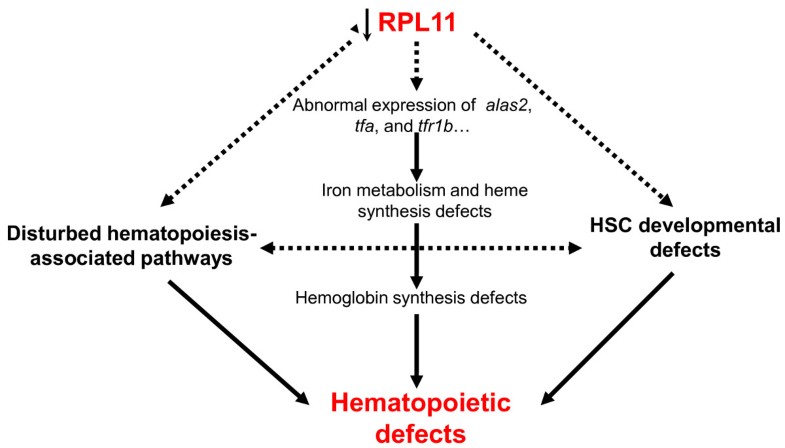 Methods
Zebrafish embryo maintenance, Rpl11 morpholino (MO) microinjection, and hemoglobin staining
Wild-type zebrafish (Danio rerio; AB type) were maintained under standard library conditions and zebrafish embryo stages (hours post fertilization; hpf) were determined as described previously [74, 75]. All studies of zebrafish were approved by the Animal Care and Use Committee of Huazhong University of Science and Technology. Rpl11 Morphlino (MO; 5-CTTCTTCTCGCTCTGGTCCGCCATG-3) and control MO (5-CTTATTCGCGCTATGGTCGGCAATG-3) were obtained from Gene-Tools, LLC. The Rps19 MO, p53 MO, and control MO were previously described [76]. Zebrafish embryos at the one-cell stage were injected with MOs using a microinjector (WPI SYS-PV830). Based on the literature and our initial injection trials, 0.5-ng Rpl11 MO and control MO were chosen as the optimal concentration. The effectiveness of translational inhibition by this Rpl11 MO was tested in vivo using a Rpl11–egfp green fluorescent fusion protein. We found that at a dose of 0.5 ng/embryo, most GFP expression was knocked down. Hemoglobin in zebrafish embryos was analyzed using o-dianisidine (Sigma) as described [77]. All images were collected using an Olympus microscope with a digital camera (OLYMPUS IX71) and were imported into Adobe Photoshop CS2 9.0.2 for orientation and figure preparation.
Total RNA isolation, library preparation, and sequencing
Immediately after harvesting, 40–50 pooled embryos at 48 hpf from at least three experiment were snap-frozen in liquid nitrogen and stored at −80°C. Total RNA was extracted from pooled embryos using TRIzol reagent (Invitrogen) according to the manufacturer's instructions. RNA concentrations were determined using NanoDrop 2000 (Thermo Scientific). The integrity of RNA samples was determined using 1.2% agarose gel electrophoresis, followed by removal of the residual genomic DNA with RNase-free DNase I (Ambion). Libraries of mRNA were constructed using the Illumina mRNA-Seq library preparation kit according to the manufacturer's instructions. Concentration and size distribution of the libraries were determined on an Agilent Bioanalyzer DNA 2000 chip (Agilent Technologies), followed by sequencing on an Illumina Hiseq 2000 Genome Analyser platform in pair-end mode by 100-bp lengths. A total of 35–40 million reads were collected for further analysis.
RNA-Seq data analysis
Reads were processed and aligned to the UCSC zebrafish reference genome (build Zv9/danRer7, Jul. 2010) using TopHat (version 1.3.3) [78]. TopHat incorporates the Bowtie v0.12.7 algorithm to perform alignments. In brief, TopHat initially removes a portion of reads based on the quality of information accompanying each read and maps qualified reads to the reference genome. The reference index was built using Bowtie with a fasta file for the entire genome of zebrafish, which was downloaded from UCSC (http://genome.ucsc.edu/). Parameters were set by default, but the number of threads to align reads was set at 6. TopHat aligned read files were then entered into Cufflinks (version 1.2.1) software for further analyses, including transcript assembly, abundance estimation, and differential expression and regulation testing in RNA-Seq samples [79]. To calculate gene expression intensity, read counts were normalized to the number of fragments per kilobase of transcript per million mapped reads (FPKM) according to the gene length and total mapped reads [78]. Confidence intervals for estimates of FPKM were calculated using a Bayesian inference method [80]. The R package DEGseq was used to identify DEGs from RNA-Seq data. Genes with FPKM less than 1 were removed from analyses. DEGs were characterized according to the criterion of fold change (FC) >2.0 and p-value <0.05.
RT-PCR
Real-time RT-PCR was performed to verify the expression of genes detected in mRNA-seq experiments involving Rpl11-deficient and MO control zebrafish embryos. Reverse transcription was performed using the cDNA Reverse Transcription Kit (Fermentas) with oligo d(T)s. RT-PCR was performed using SYBR Green PCR Master Mix (Fermentas) with a CFX-96 Real-time PCR system according to the manufacturer's instructions (Bio-Rad) (Additional file 15: Table S10). PCR products were analyzed using agarose gel electrophoresis to identify bands of expected sizes. Gene expression was calculated according to the real-time PCR manual of Bio-Rad and normalized to the expression of β-actin. Data were represented as mean ± SD and One-way ANOVA was performed for comparison between MO control and Rpl11-deficient embryos.
IPA analysis
Gene interaction networks and signaling pathways were generated using Ingenuity Pathways Analysis (IPA) software (http://www.ingenuity.com/) from Ingenuity® Systems. This software was used to analyze data from a variety of experimental platforms and to provide accurate biological insights into interactions between genes, proteins, chemicals, pathways, cellular phenotypes, and disease processes. Differentially expressed genes were processed using DEGseq and screened according to the criteria FC >2 and p-value <0.05. These genes were submitted to IPA for biological function, canonical pathway, and interaction network analyses. Since the current edition of IPA cannot accept and identify zebrafish gene IDs, we matched these differentially expressed zebrafish genes with their human homologs using the homolog database HomoloGene, which was downloaded from NCBI. After conversion to human homolog genes, these homologs were submitted to IPA, sets of genes that were enriched for a particular function or pathway were identified, and enrichment ratios were calculated. To determine the significance of enrichment in a particular function, IPA calculates the significance value based on the measure of involvement of the gene in the input data set with its respective molecular functions and signaling pathways [81]. The significance of networks was calculated using Fisher's exact test, and p-values were executed using negative logarithmic transformation.
Screening of differentially expressed hematological genes
Zebrafish gene sets associated with hematological systems were identified by searching with the keywords "erythroid," "hematopoietic," "globin," and "hema" using the AmiGO software of the Gene Ontology (GO) database (http://www.geneontology.org/). Differentially expressed genes (FC >2.0, p-value <0.05) detected by DEGseq were mapped to this hematological gene set, which indicated the differentially expressed hematological genes in our data set. Mapping and drawing of the scatter diagrams were accomplished using R scripts.
Cluster analysis
Expression intensities of differentially expressed hematological genes were used in cluster analyses. Gene expression intensity was normalized using the equation , where x i is the FPKM value and is the mean FPKM value of a gene calculated from two samples. Average linkage hierarchical clustering was performed in this study using Pearson distance as the measure between genes and samples. Computation and visualization were achieved using the heatmap plus package in R.
Abbreviations
DBA:

Diamond–Blackfan anemia
Rpl11:

Ribosomal protein L11
HSC:

Hematopoietic stem cells
FPKM:

The number of fragments per kilobase of transcript per million mapped reads
DEGs:

Differentially expressed genes
RPs:

Ribosomal proteins.
Declarations
Acknowledgements
This work was supported by the "Strategic Priority Research Program" of the Chinese Academy of Sciences, Stem Cell and Regenerative Medicine Research (XDA01040405); National "Twelfth Five-Year" Plan for Science & Technology Support (2013BAI01B09); the following funds from the Ministry of Science and Technology (2013CB945300, 2012CB966603, 2013CB966902, 2010CB945204, 2012AA022502); NSFC (81090414, 81170470, 81130074, 31171387, 31000640, 81070390, 31371300, 31100924); the National Key Scientific Instrument and Equipment Development Projects of China (2011YQ03013404); Hubei National Natural Science Foundation Grant 2010CDB02402 and State Key Laboratory of Experimental Hematology Pilot Project Grant (ZK12-05, ZK13-05).
Authors' Affiliations
(1)
CAS Key Laboratory of Genome Sciences and Information, Beijing Institute of Genomics, Chinese Academy of Sciences, Beijing, China
(2)
Key Laboratory of Molecular Biophysics of Ministry of Education, College of Life Science and Technology Center for Human Genome Research, Huazhong University of Science and Technology, Wuhan, China
(3)
State Key Laboratory of Experimental Hematology, Institute of Hematology and Blood Disease Hospital, Chinese Academy of Medical Sciences & Peking Union Medical College, Tianjin, China
(4)
Hepatic Surgery Center Tongji Hospital, Tongji Medical College, Huazhong University of Science and Technology, Wuhan, China
Copyright
© Zhang et al.; licensee BioMed Central Ltd. 2013
This article is published under license to BioMed Central Ltd. This is an open access article distributed under the terms of the Creative Commons Attribution License (http://creativecommons.org/licenses/by/2.0), which permits unrestricted use, distribution, and reproduction in any medium, provided the original work is properly cited.