Analysis of schizophrenia and hepatocellular carcinoma genetic network with corresponding modularity and pathways: novel insights to the immune system
BMC Genomics
2013
14(Suppl 5):S10
Published: 16 October 2013
Abstract
Background
Schizophrenic patients show lower incidences of cancer, implicating schizophrenia may be a protective factor against cancer. To study the genetic correlation between the two diseases, a specific PPI network was constructed with candidate genes of both schizophrenia and hepatocellular carcinoma. The network, designated schizophrenia-hepatocellular carcinoma network (SHCN), was analysed and cliques were identified as potential functional modules or complexes. The findings were compared with information from pathway databases such as KEGG, Reactome, PID and ConsensusPathDB.
Results
The functions of mediator genes from SHCN show immune system and cell cycle regulation have important roles in the eitology mechanism of schizophrenia. For example, the over-expressing schizophrenia candidate genes, SIRPB1, SYK and LCK, are responsible for signal transduction in cytokine production; immune responses involving IL-2 and TREM-1/DAP12 pathways are relevant for the etiology mechanism of schizophrenia. Novel treatments were proposed by searching the target genes of FDA approved drugs with genes in potential protein complexes and pathways. It was found that Vitamin A, retinoid acid and a few other immune response agents modulated by RARA and LCK genes may be potential treatments for both schizophrenia and hepatocellular carcinoma.
Conclusions
This is the first study showing specific mediator genes in the SHCN which may suppress tumors. We also show that the schizophrenic protein interactions and modulation with cancer implicates the importance of immune system for etiology of schizophrenia.
Keywords
SchizophreniaSchizophrenic PatientTazaroteneFenretinideRetinoid Acid
Background
Recent studies suggest that schizophrenia may result from neuropathological abnormalities and imbalanced immune systems. Signal transduction dysfunction of the neuroendocrine system are responsible for schizophrenia, especially the dopamine, serotonin and glutamate system in the temporal and frontal lobe of the brain area [1, 2]. Although an increasing number of studies show that the immune-mediated mechanism for inflammation responses are the pathogenesis of schizophrenia [3], the corresponding specific complexes, pathways and candidate genes are not well-documented for the etiological model of schizophrenia.
In recent years, there have been many studies focusing on the discovery of schizophrenic candidate genes and the construction of PPI networks and related pathways for the hope of a better understanding of schizophrenia. However, genetic association researches have been published with largely inconsistent results [4]. It was generally believed that a protein sub-network, rather than a single gene or genetic variants, accounts for the susceptibility of schizophrenia. Sun J. et al. (2008) surveyed the increased association studies from the SchizophreniaGene database in ethnic populations [5], in which candidate genes are selected and ranked by the combined odds ratio method as an important index of the candidate genes [6]. It provides a basis for the investigation of molecular and cellular mechanisms of schizophrenia by the analysis of gene features for a genetic network. A regularly updated online database of genetic association studies for schizophrenia (SZGene) was collected from Allen NC. et al. (2008)[4]. Sun J. et al. (2010) [7] selected a list of schizophrenia candidate genes by a multi-dimensional evidence-based approach to provide a comprehensive review of the schizophrenia molecular networks. The identified pathway characteristics of schizophrenic candidate genes have important implications of molecular features for schizophrenia. Another gene risk prediction study used the translational convergent functional genomics approach introduced by Ayalew M. et al. (2012) to prioritize schizophrenia genes by gene-level integration of genome-wide association study data to identify top candidate genes [8]. These candidate gene studies conclude the specific genetic variants or patterns contributing to the schizophrenic model by integrating functional and genotypic data. The previous literatures provide different databases and integration of formulated reliability analysis, ranking and scoring for important candidate genes of schizophrenia.
Schizophrenic patients have less chance to develop cancer than the general population [9]. Lower incidence of cancers, especially in lung, prostate and bladder cancer, was found in schizophrenic patients [10–12]. Research suggests that cancer risk decreases as the duration and age of onset of schizophrenia increases [13]. Cancer protective factors in schizophrenic patients are genetic predisposition [14, 15]. These literature reviews have implication of sharing common disease genes or pathways between schizophrenia and cancer, and that schizophrenia is a protective factor for cancer [16].
To demonstrate the genetic relationship between schizophrenia and cancer, network biology and systemic bioinformatics data such as protein-protein interactions (PPIs) and related pathways were introduced. The data of human PPIs brought insights to the network biology of diseases and explained the interrelationships among disease-related genes and proteins. Through the development of modulation interaction networks of schizophrenic candidate genes, the related resources of molecular biology were integrated to explore the molecular biological information of disease mechanism and related drug targets or complexes.
Efforts on the exploration of schizophrenic common pathways from corresponding candidate gene analysis are gaining more attention and represent for novel treatment approaches in schizophrenia. Postulated disease networks are analyzed by tools or algorithms such as modularity, centrality (closeness and degree) and clique analysis derived from network biology, which the functional relevance of different gene sets and related biological significance were analyzed. In functional genomics, there are available integrative protein interaction databases developed to identify gene sets of interest which involve similar disorders. These gene sets are commonly presented as gene modules, protein complexes or pathways such as in the Database for Annotation, Visualization and Integrated Discovery (DAVID) [17], Kyoto Encyclopedia of Genes and Genomes (KEGG) [18] and ConsensusPathDB [19]. In these integrative databases, candidate gene sets from disease-related network to gene ontology classification were mapped to the related molecular pathways and PPI networks.
This study integrates comparative analysis of different genetic research results. From the RNA extraction of microarray data, the expression level of each gene was acquired from BA22-derived brain cells and hepatocellular carcinoma cells. Generated from two group sets of candidate genes, the corresponding PPI networks were constituted and analyzed. The over- and under- expression level of genetic interactions between schizophrenia and hepatocellular carcinoma are not only found by the direct effect of inhibition of candidate genes for cancer, but also through an indirect modulation of protein-protein interactions in the cancer genetic network which have potential effects on tumor suppression by analysis of the core schizophrenia-cancer genetic network. The differences in gene expression and PPI sub-networks between schizophrenia and hepatocellular carcinoma were analyzed to discover protein complexes and possible drug targets.
Methods
By analyzing microarray data of Brodman Area 22 (BA22), susceptible genes for schizophrenia were proposed. Through the analysis of the PPI network of schizophrenia and cancer, the potential complexes or possible drugs were proposed. The research flow is shown in Figure
1
. The related tools for candidate gene resources, PPI networks and pathway databases with analytic tools or algorithms are described in the following sections.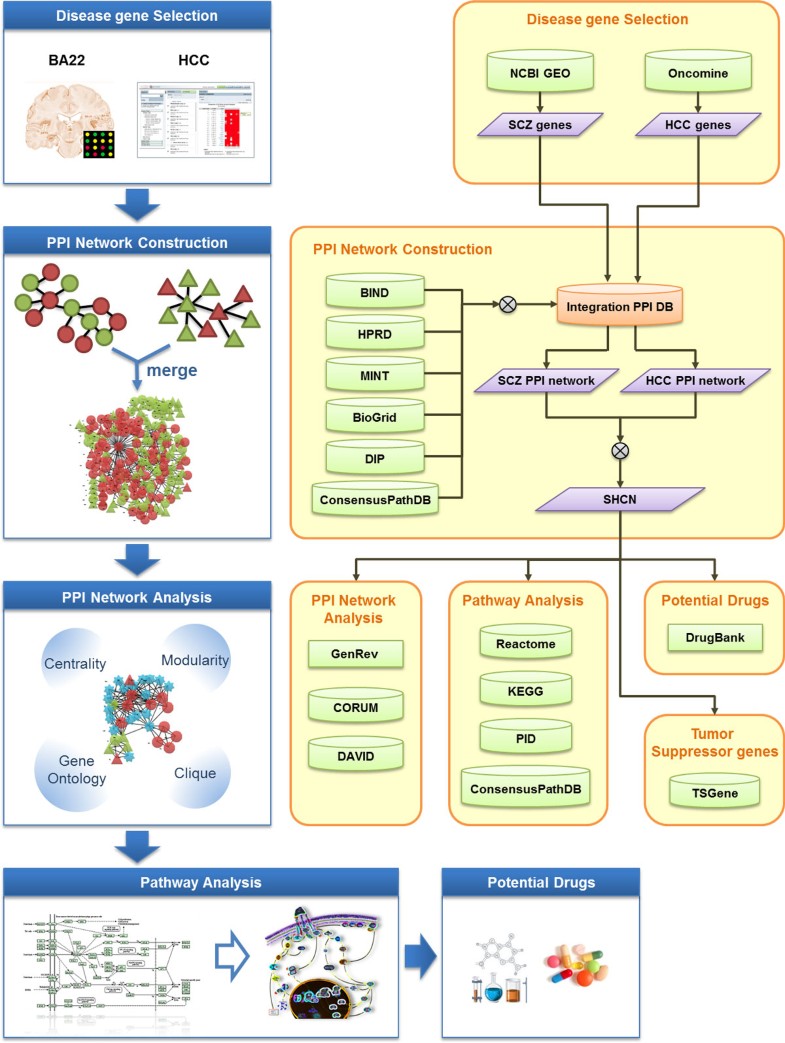 Discussion
Few microarray studies of mental disorders have used post-mortem brain samples of human species from schizophrenic patients. Researchers did not have convenient access to brain samples of psychiatric patients until 1994 when the Stanley Brain Collection started. However, the result of using a single expression dataset could be biased. A more diverse microarray dataset of BA22, BA10, BA46 samples and other tissue specific samples from schizophrenic patients could be compared and analyzed for the future study.
In order to determine the extent of which the BA22 genetic network is the result of chance, we introduced 5000 randomly generated control networks by randomly selecting 472 genes from 32560 official human genome gene symbols. The 472 query genes generated from the BA22 sample formulate a genetic network with 15 subgraphs and 36 QQPPIs. However, the mean subgraphs and QQPPIs of 5000 randomly generated networks was 7.54 and 18.54 respectively. The number of QQPPIs of the BA22 genetic network ranked top 4.52% of all randomly generated networks, which shows that the BA22 genetic network unlikely to be the result of chance.
In the search of schizophrenia specific pathways, there are consistent results compared with Sun J. et al. (2010) that there are 4 among 8 pathways involving in or related to the immune system [7] including the glucocorticoid receptor regulatory network, the Fc-epsilon receptor I signaling in mast cells, the NF-kappaB pathway and IL-10 signaling. The interleukin family (IL1, IL2, IL3, IL4, IL5, IL6, IL8, IL10, IL12, IL23 and IL27) pathways also implicate significant schizophrenic pathways. These immune-related pathways with significant p-value (<0.01) supports the autoimmune hypothesis of schizophrenia [61].
Conclusions
It is not clear that cross-talk among various schizophrenic candidate genes is essential for the explanation of the etiology of schizophrenia. The aim of this research is to evaluate the candidate genes chosen from significant over- and under-expression genes of schizophrenia and hepatocellular carcinoma. The SHCGene formulates the SHCN, including the QQPPI, L1PPI and clique network as a major approach for the discovery of potential complexes and pathways. Investigation of potential schizophrenic pathways with the IL-2/TREM-1 pathway reveals possible complexes or drugs responsible for novel treatment of schizophrenia and hepatocellular carcinoma.
Declarations
Acknowledgements
We would like to give special thanks to Beitou Branch, Tri-Service General Hospital for providing space and facilities for necessary computing machine and discussion. We were also grateful that Information Technology Center, Kainan University provided high-performance computing resources. We also thanked DAVID, GenRev, CORUM and DrugBank for helpful webtools available online for data analysis and retrieving.
Declarations
Publication of this research was funded by Project NSC100-2218-E-424-001 of National Science Council, Taiwan.
This article has been published as part of BMC Genomics Volume 14 Supplement 5, 2013: Twelfth International Conference on Bioinformatics (InCoB2013): Computational biology. The full contents of the supplement are available online at http://www.biomedcentral.com/bmcgenomics/supplements/14/S5.
Authors' Affiliations
(1)
Department of Computer Science and Information Engineering, National Taiwan University, Taipei, Taiwan
(2)
Department of Psychiatry, Beitou Branch, Tri-Service General Hospital, Taipei, Taiwan
(3)
Graduate Institute of Biomedical Electronics and Bioinformatics, National Taiwan University, Taipei, Taiwan
(4)
Department of Information Management, Kainan University, Taoyuan, Taiwan
Copyright
© Huang et al.; licensee BioMed Central Ltd. 2013
This article is published under license to BioMed Central Ltd. This is an open access article distributed under the terms of the Creative Commons Attribution License (http://creativecommons.org/licenses/by/2.0), which permits unrestricted use, distribution, and reproduction in any medium, provided the original work is properly cited.