Research article
Open Access
Elucidating how the saprophytic fungus Aspergillus nidulans uses the plant polyester suberin as carbon source
Received: 18 March 2014
Accepted: 16 July 2014
Published: 21 July 2014
Abstract
Background
Lipid polymers in plant cell walls, such as cutin and suberin, build recalcitrant hydrophobic protective barriers. Their degradation is of foremost importance for both plant pathogenic and saprophytic fungi. Regardless of numerous reports on fungal degradation of emulsified fatty acids or cutin, and on fungi–plant interactions, the pathways involved in the degradation and utilisation of suberin remain largely overlooked. As a structural component of the plant cell wall, suberin isolation, in general, uses harsh depolymerisation methods that destroy its macromolecular structure. We recently overcame this limitation isolating suberin macromolecules in a near-native state.
Results
Suberin macromolecules were used here to analyse the pathways involved in suberin degradation and utilisation by Aspergillus nidulans. Whole-genome profiling data revealed the complex degrading enzymatic machinery used by this saprophytic fungus. Initial suberin modification involved ester hydrolysis and ω-hydroxy fatty acid oxidation that released long chain fatty acids. These fatty acids were processed through peroxisomal β-oxidation, leading to up-regulation of genes encoding the major enzymes of these pathways (e.g. faaB and aoxA). The obtained transcriptome data was further complemented by secretome, microscopic and spectroscopic analyses.
Conclusions
Data support that during fungal growth on suberin, cutinase 1 and some lipases (e.g. AN8046) acted as the major suberin degrading enzymes (regulated by FarA and possibly by some unknown regulatory elements). Suberin also induced the onset of sexual development and the boost of secondary metabolism.
Keywords
Aspergillus nidulans β-oxidationCutinaseLong chain fatty acidsSuberinWhole-genome profiling
Background
Plant lipid polymers, particularly cutin and suberin, are the third most abundant of the plant polymers [1], yet the least understood since the underlying polyester structure remains partially unresolved. High recalcitrance is an inherent property of their molecular structure and hallmark monomers are often identified in soils [2, 3]. Filamentous fungi are key recyclers and compose nearly 75% of the soil microbial biomass [4] but their role in the turnover (biodegradation) of plant polyesters remains largely overlooked [5]. Suberin is a structural component of the secondary cell walls in specialised tissues, namely in the phellem of tree barks and subterranean organs [5, 6] and in the endodermis of roots [7]. Cutin, together with waxes (viz. cuticle), covers the cell walls in the epidermis of aerial tissues [8, 9]. Biosynthesis of either suberin or cutin is developmentally regulated and triggered as response to infection or wounding, among other challenges [8–13]. These lipid hydrophobic barriers constrain apoplastic water and solute translocation, physically strengthen the cell wall and, might also play roles in plant–pathogen interactions [14, 15].
In general, both suberin and cutin contain fatty acids (FAs), ω-hydroxy FAs and glycerol but suberin also contains high levels of α,ω-dicarboxylic acids, ferulic acid and fatty alcohols and its saturated aliphatics have longer chain lengths than in cutin (>C20 and C16-18, respectively) (Figure
1
a) [
5
,
10
]. These composing monomers are linked essentially through acylglycerol or linear aliphatic ester bonds, building a three-dimensional network [
16
,
17
]. Fungal degradation of plant polyesters has been reported to involve the activity of carboxylesterases, namely cutinases [
18
–
20
]. Despite high complexity and redundancy, it is well established that FAs can be used by filamentous fungi via β-oxidation leading to the production of acetyl-CoA [
21
,
22
]. Downstream pathways, such as the glyoxylate and the tricarboxylic acid cycles and gluconeogenesis, enable the fungus to use FAs as sole carbon and energy sources.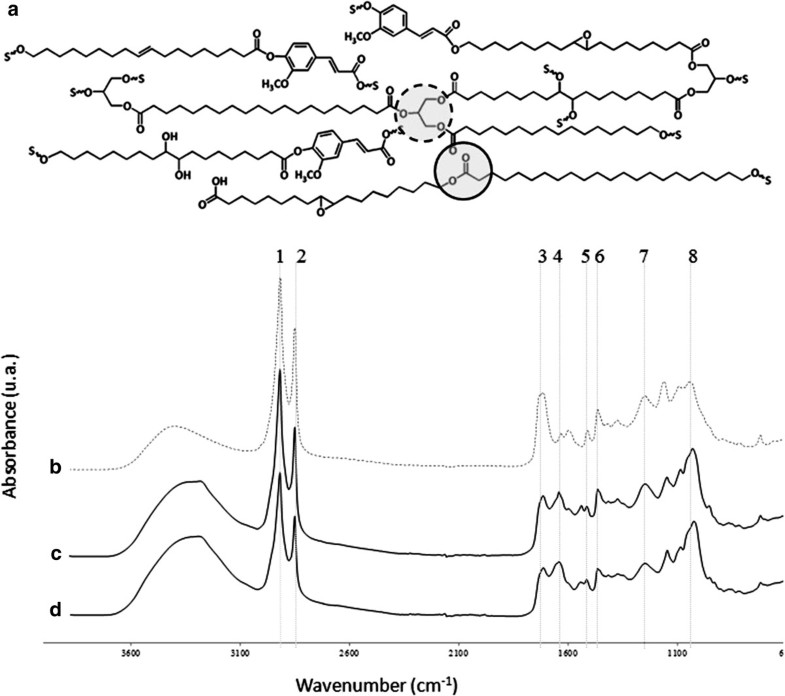 In plants, suberin is ingrained between a primary and a tertiary cell wall and cross-linked to the other cell wall polymers, hence its extraction usually destroys its chemical skeleton [5]. This is still a major obstacle [5] and has restrained most biodegradation studies to the use of cutin films [23–25] and/or mixtures of nearly non-esterified suberin or cutin samples [26–28]. However, near-native suberin can be efficiently extracted from cork (outer bark of Quercus suber L.) through selective hydrolysis of acylglycerol ester bonds but leaving most linear aliphatic ester bonds intact [29–32] (Figure 1). In the present contribution we demonstrate that suberin macromolecules could be used as sole carbon source by Aspergillus nidulans. During fungal growth, synergetic action of cutinases, lipases and long chain fatty alcohol modifying enzymes released suberin long chain fatty acids (LCFAs) that were metabolised via peroxisomal β-oxidation. Other major alterations included the onset of sexual development and the boost of secondary metabolism.
Conclusions
Previous studies on
A. nidulans
colonisation of cork revealed that suberin remained unaltered [
103
] probably because the outermost lignin-enriched cell wall layers hampered its degradation. Here we have shown that
A. nidulans
was able to utilise suberin macromolecules as sole carbon source (Figure
1
b) and that the fungus also underwent sexual development (Figure
4
) and boosted secondary metabolism (Table
1
). We propose the suberin degradation and utilisation pathway in
A. nidulans
, as depicted schematically in Figure
5
. Amongst the up-regulated genes encoding lipid hydrolysing enzymes only two were detected in the secretome, namely Cut1 and AN8046 (Tables
2
,
3
and
4
). In particular, out of the four cutinase genes, only
cut1
expression pattern was correlated to that of
farA
, similar to that described in plant pathogenic fungi [
22
,
81
]. ω-Hydroxy fatty acid oxidation reactions (mediated by either NADPH-cytochrome P450 reductase or LC fatty alcohol oxidase, Tables
1
and
4
), are likely involved in the modification of suberin LC fatty alcohols, even if their cellular compartmentalisation remains uncertain. The hydrolysed suberin monomers were essentially composed of LCFAs, hence activated to their corresponding acyl-CoA derivatives probably by FaaB; the major peroxisomal fatty acyl-CoA synthetase in this fungus [
92
]. Despite high functional redundancy of additional peroxisomal FA-CoA synthetase genes,
fatA
showed the highest up-regulation on suberin. Up-regulation of
aoxA
also occurred, agreeing with the idea that the encoded fatty-acyl-CoA oxidase plays a major role during growth on LCFAs [
21
]. In addition, among the peroxisomal fatty-acyl-CoA dehydrogenase genes up-regulated here, AN1699 underwent the highest up-regulation (Table
4
), similar to that reported for its
B. cinerea
ortholog during plant infection [
93
]. The core binding sequence for FarA, typically overrepresented in the promoter region of genes required for growth on FAs, is not present in all related genes up-regulated during
A. nidulans
growth on suberin (Table
3
). Some unknown regulatory elements are certainly yet to be discovered, further emphasised by the down-regulation of some lipid hydrolysing genes carrying the FarA recognition site.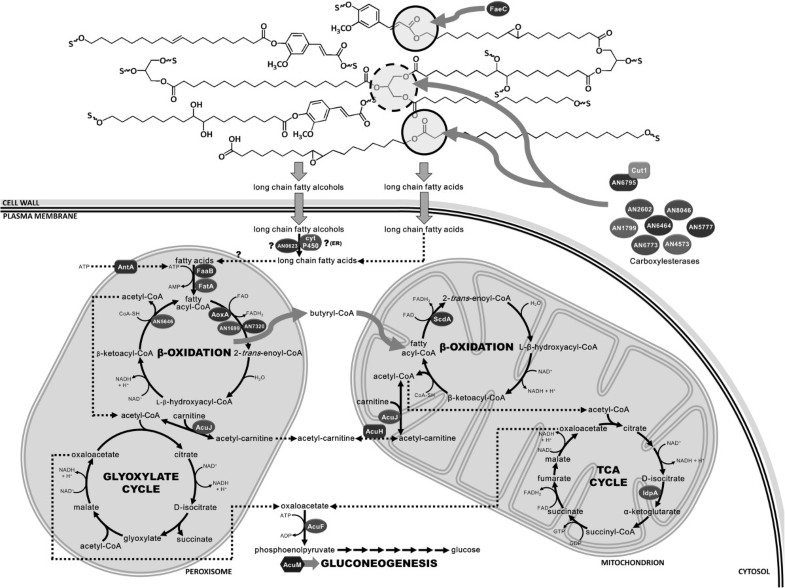 Availability of supporting data
The data sets supporting the results of this article are included within the article (and its additional files).
Authors' information
This research constitutes an important milestone of C. Silva Pereira's team (established in 2008) that is addressing a major scientific question: How fungi perceive and interact with the environment? What makes our research approach distinctive is the merging of fundamental biology research with chemical expertise. Such multidisciplinary environment has inspired the development of a new extraction method for suberin - a structural component of the plant cell wall. Elucidating how fungi utilise and degrade plant polyesters strongly impacts on our understanding of plant-fungi interactions and nutrients cycling. Complementary to this research, we have reported that the plant polyester can be reconstituted as a material that combines bactericidal and antibiofouling properties. We are particularly interested in further elucidating plant polyesters physiological roles and to promote the clinical use of plant polyester based materials.
Abbreviations
FC:

Fold change
FAs:

Fatty acids
SCFAs:

Small chain fatty acids
LCFAs:

Long chain fatty acids
VLCFAs:

Very long chain fatty acids
ATR-FTIR:

Attenuated total reflectance Fourier transform infrared spectroscopy
SEM:

Scanning electron microscopy
qRT-PCR:

Quantitative real-time PCR analysis
MIPS:

Munich Information Center for Protein Sequences.
Declarations
Acknowledgements
The work was partially supported by a grant from Iceland, Liechtenstein and Norway through the EEA financial mechanism (Project PT015), and FCT through the grants PEst-OE/EQB/LA0004/2013, PTDC/QUI-QUI/120982/2010 and PTDC/AAC-CLI/119100/2010.
IM, DOH, PCA and RF are grateful to Fundação para a Ciência e a Tecnologia (FCT), Portugal, for the fellowships SFRH/BD/38378/2007, SFRH/BD/66396/2009, SFRH/BD/66030/2009, SFRH/BD/48286/2008, respectively and HG to Fundação Calouste Gulbenkian, Portugal for the fellowship 21-95587-B. We are thankful to Dr. Tiago Martins (ITQB), who read and critically commented the final manuscript.
Authors' Affiliations
(1)
Instituto de Tecnologia Química e Biológica, Universidade Nova de Lisboa, Oeiras, Portugal
(2)
Instituto de Biologia Experimental e Tecnológica (iBET), Oeiras, Portugal
(3)
Proteomics Platform, Centre de Recherche Public - Gabriel Lippmann, Belvaux, Luxembourg
(4)
Cancer Genomics Research Laboratory, Division of Cancer Epidemiology and Genetics, National Cancer Institute, NIH, DHHS, Gaithersburg, USA
(5)
Instituto Gulbenkian de Ciência, Oeiras, Portugal
(6)
previously, the Scientific Computing department, Samuel Roberts Noble Foundation, USA
Copyright
© Martins et al.; licensee BioMed Central Ltd. 2014
This article is published under license to BioMed Central Ltd. This is an Open Access article distributed under the terms of the Creative Commons Attribution License (http://creativecommons.org/licenses/by/4.0), which permits unrestricted use, distribution, and reproduction in any medium, provided the original work is properly credited. The Creative Commons Public Domain Dedication waiver (http://creativecommons.org/publicdomain/zero/1.0/) applies to the data made available in this article, unless otherwise stated.