Research article

Open Access
The zebrafish progranulin gene family and antisense transcripts
Received: 29 August 2005
Accepted: 08 November 2005
Published: 08 November 2005
Abstract
Background
Progranulin is an epithelial tissue growth factor (also known as proepithelin, acrogranin and PC-cell-derived growth factor) that has been implicated in development, wound healing and in the progression of many cancers. The single mammalian progranulin gene encodes a glycoprotein precursor consisting of seven and one half tandemly repeated non-identical copies of the cystine-rich granulin motif. A genome-wide duplication event hypothesized to have occurred at the base of the teleost radiation predicts that mammalian progranulin may be represented by two co-orthologues in zebrafish.
Results
The cDNAs encoding two zebrafish granulin precursors, progranulins-A and -B, were characterized and found to contain 10 and 9 copies of the granulin motif respectively. The cDNAs and genes encoding the two forms of granulin, progranulins-1 and -2, were also cloned and sequenced. Both latter peptides were found to be encoded by precursors with a simplified architecture consisting of one and one half copies of the granulin motif. A cDNA encoding a chimeric progranulin which likely arises through the mechanism of trans-splicing between grn1 and grn2 was also characterized. A non-coding RNA gene with antisense complementarity to both grn1 and grn2 was identified which may have functional implications with respect to gene dosage, as well as in restricting the formation of the chimeric form of progranulin. Chromosomal localization of the four progranulin (grn) genes reveals syntenic conservation for grna only, suggesting that it is the true orthologue of mammalian grn. RT-PCR and whole-mount in situ hybridization analysis of zebrafish grns during development reveals that combined expression of grna and grnb, but not grn1 and grn2, recapitulate many of the expression patterns observed for the murine counterpart. This includes maternal deposition, widespread central nervous system distribution and specific localization within the epithelial compartments of various organs.
Conclusion
In support of the duplication-degeneration-complementation model of duplicate gene retention, partitioning of expression between grna and grnb was observed in the intermediate cell mass and yolk syncytial layer, respectively. Taken together these expression patterns suggest that the function of an ancestral grn gene has been devolved upon four paralogues in zebrafish.
Keywords
Antisense Transcript
Head Kidney
Antisense Transcription
Yolk Syncytial Layer
Pronephric Duct
Background
In mammals, a single progranulin gene, also known as proepithelin, acrogranin and PC-cell-derived growth factor (PCDGF), encodes a glycoprotein precursor exhibiting pleiotropic tissue growth factor activity (reviewed in [1–4]). Progranulin is secreted in an intact form [5–8], or undergoes proteolysis leading to the release of its constituent peptides, the granulins [9–11]. Individual granulins have an approximate molecular weight of 6 kDa, and are structurally defined by the presence of 12 cysteines arranged in a characteristic motif: X2–3C X5–6C X5CC X8CC X6CC X5CC X4C X5–6C X2 [12]. Comparison of the biosynthetic origin of granulin peptides in various mammals reveals that all are commonly derived from a precursor composed of one amino-terminal half followed by seven non-identical copies of the granulin motif.
A role of progranulin in mammalian embryogenesis has been suggested. The exogenous addition of recombinant progranulin to eight-cell stage mouse embryos grown in culture ex vivo accelerates the onset of cavitation, stimulates the rate of blastocoel expansion, and leads to an increase in the number of trophectoderm cells compared to controls [13]. Conversely, the use of a progranulin function-blocking antibody arrests growth and prohibits embryo implantation [13, 14]. These results are consistent with the growth-promoting activity of progranulin upon epithelial cells in vitro.
Despite these advances, the evolutionary history and phylogenetic distribution of the progranulin gene outside the mammalian radiation remain largely unexplored. In order to shed light on this issue, and to establish a model for studying the functional contribution of progranulin to vertebrate development, we undertook the characterization of the biosynthetic origins of progranulins in the zebrafish. The widely documented evidence in favor of a pan-genomic duplication event at the base of the teleost radiation [15], commonly referred to as 3R, predicts that the single mammalian progranulin gene will likely be represented by two zebrafish co-orthologues [16, 17]. Results reported here demonstrate that, in zebrafish, progranulins arise as members of an extended gene family represented by two distinct architectures, in excess of that predicted by 3R.
Comparative chromosomal mapping of the various progranulin genes (grns) was performed to assist in the establishment of an orthologous relationship to their mammalian counterpart and to provide a point of reference to discuss the evolutionary origins of the distinct progranulin architectures. In support of the duplication-degeneration-complementation (DDC) model [18] gene expression analysis of the zebrafish progranulins reveals spatio-temporal divergence among the different family members, possibly reflecting extensive functional devolution of an ancestral form. Also, the occurrence of natural antisense transcription to some grns suggests that gene dosage may have influenced the retention of extra grn paralogues in zebrafish.
Results
Evidence for a progranulin multigene family in teleosts
A previous study indicated that major forms of granulin peptides found in hematopoietic organs of carp,
Cyprinus carpio
, differ in their relative abundance [
19
]. Specifically, extracts of carp spleen contained granulin-1 only, while the head kidney contained granulins-1, -2, and -3, arguing that some granulins found in teleost fish, unlike those found in mammals, have different biosynthetic origins [
19
]. We revisited the issue of the sole occurrence of granulin-1 in carp spleen and confirmed the earlier report. However, granulin-1 was found to co-purify with another member of the granulin family (Figure
1
, Panel A). Sequencing of this peptide suggested that it is a close homologue of mammalian granulin-A, sharing 58% identity with the human peptide (Figure
1
, Panel B). The isolation of a carp granulin peptide homologous to mammalian granulin-A suggested that teleosts synthesize a protein equivalent to mammalian progranulin. Carp is a tetraploid species known to express multiple copies of closely related genes that can complicate the study of the origins of multigene families [
20
]. Therefore, we chose to study the structure and expression of granulin genes in the zebrafish, a closely-related diploid teleost of the cyprinoforme order [
21
].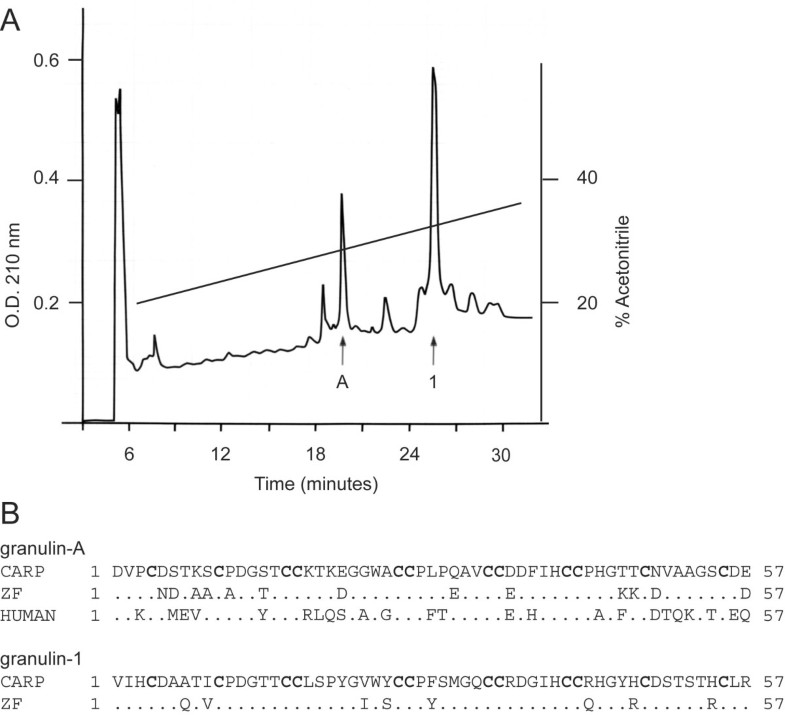 Zebrafish progranulins are represented by two distinct architectures
Assessment of zebrafish grn gene expression by RT-PCR
Zebrafish grn gene expression in adult tissues
Semi-quantitative RT-PCR analyses were performed to examine the relative expression of the individual members of the zebrafish
grn
gene family in adult tissues. A list of primers used and size of the respective amplicons is listed in
Additional File 10
. Both grna and grnb are expressed in all adult tissues examined, including the gills, heart, multiple visceral organs, and at modest levels in the brain (Figure
6
, panel A). Comparison of the expression of the smaller zebrafish paralogues (grn1 and grn2) relative to their mutual antisense gene in selected adult zebrafish organs (Figure
6
, panel B), showed that the combined expression of grn1 and grn2 was qualitatively similar to that of grna and grnb (Figure
6
, panels B and C). In contrast to the widespread combined expression of grn1 and grn2, low levels of ASgrn1-2 transcripts are detected in the blood and intestine (Figure
6
, panel B). In agreement with the observed carp peptide expression profiles [
19
], the zebrafish spleen expresses grn1 only (Figure
6
, panel C). In tissues that display overlapping expression, grn1 is the predominant form in the heart and intestine, while the eyes express higher levels of grn2 (Figure
6
, panel C). Surprisingly, low abundance of the hybrid grn transcript, the authenticity of which was confirmed by sequencing of the amplicon, is detected exclusively in the intestine (Figure
6
, panel C).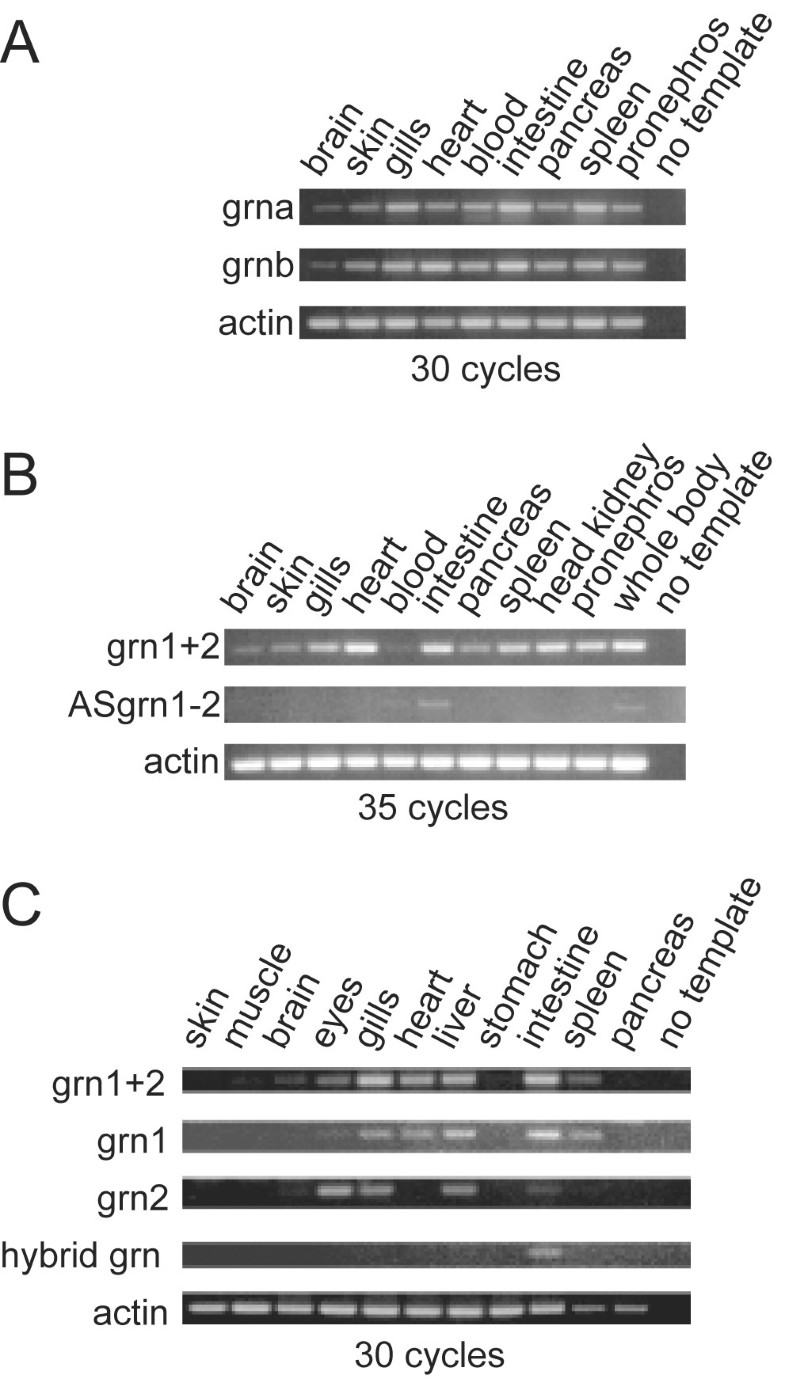 Developmental expression of Zebrafish grn genes
Since divergence in expression patterns between duplicated genes is suspected to promote their retention [
18
], the temporal regulation of
grn
gene expression between the two
grn
gene classes during development was investigated by RT-PCR. Transcripts for both grna and grnb are maternally provided although grnb is more abundant (Figure
7
, panel A). This trend continues following commencement of zygotic transcription until mid-epiboly (shield stage) where both transcripts are present at similar levels (Figure
7
, panel A). In contrast, combined grn1 and grn2 expression is first noticeable during the late pharyngula period by 48 hours post-fertilization (hpf) (Figure
7
, panel A). When using an increased number of cycling, the combined expression of grn1 and grn2 is detected as early as 30 hpf, while antisense transcript levels remain too low for detection using conventional ethidium bromide staining (Figure
7
, panel B). Southern blot analysis demonstrates that antisense transcription occurs, albeit weakly, at 72 hpf and becomes more evident by 120 hpf (Figure
7
, panel B).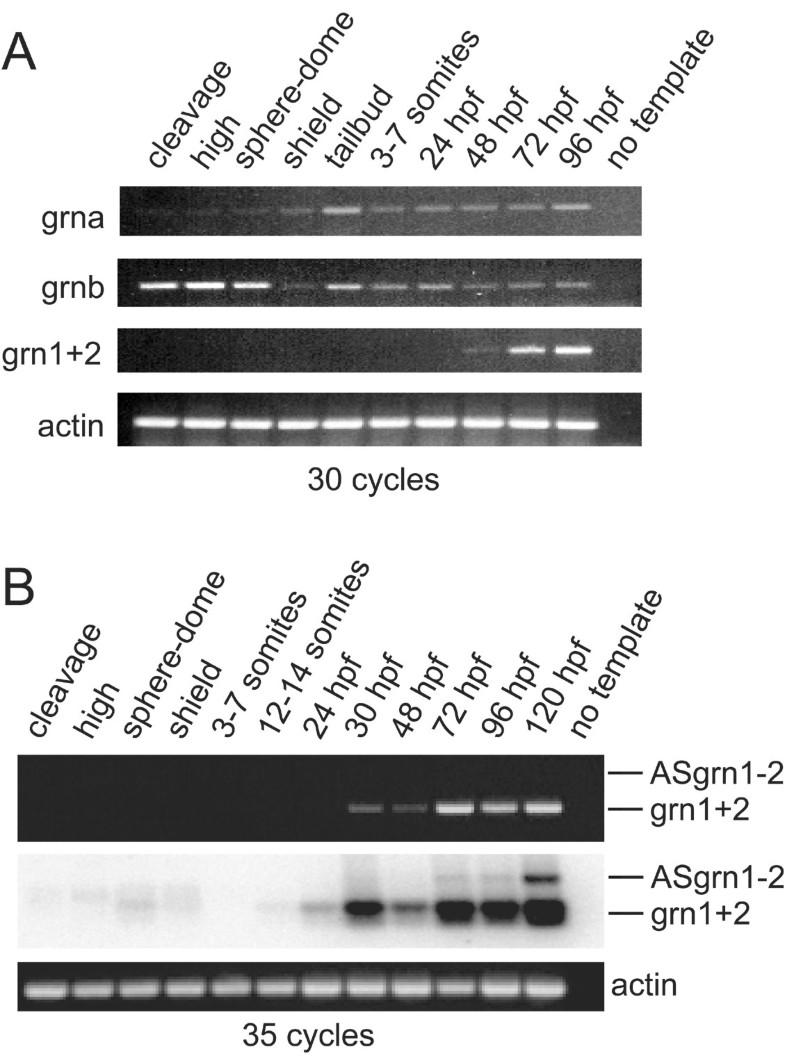 Assessment of zebrafish grn gene expression by whole mount in situ hybridization
In order to evaluate the relationship between sense and antisense transcription, and to gain insights into the potential contributions of the four grn paralogues to development, the spatio-temporal expression of zebrafish grns was monitored by whole-mount in situ hybridization. For all stages examined, sense and antisense riboprobes for sonic hedgehog were used as experimental controls since the tissue expression of this gene is discrete and well documented [30]. No non-specific hybridization signal for sonic hedgehog was detected (data not shown). Unless stated otherwise, the respective sense riboprobes to grna and grnb did not give rise to detectable signals.
Grna and grnb
The low abundance of transcripts for grna relative to grnb revealed by RT-PCR during early embryogenesis (Figure
7
, panel A) is reflected in the relative signal intensity for these transcripts by whole-mount
in situ
hybridization from the 4-cell to late segmentation stage (18–20 hpf) (Figure
8
, panel A and B, a–f). Weak, ubiquitous grna expression can first be detected by 12 hpf (6 somite stage), with slightly stronger signal in the hypoblast (Figure
8
, panel A, c, d). Grnb expression remains similarly ubiquitous, however defined regions of heightened expression are evident including in the hypoblast, central nervous system (CNS), optic epithelial layers, ear primordium, lateral plate mesoderm (LPM) and tailbud (Figure
8
, panel B, c, d and data not shown). As the embryo matures to late segmentation stages (18–20 hpf), low levels of grna expression become confined to the eyes, tectum and tailbud (Figure
8
, panel A, e, f), whereas grnb expression undergoes further regionalization within the eyes and CNS, the caudal region of the notochord and surrounding adaxial cells, and in the yolk syncytial layer (YSL) (Figure
8
, panel B, e, f). During the pharyngula period (24–48 hpf) and hatching stage (72 hpf), overlapping expression patterns between grna and grnb include the pharyngeal and anterior visceral endoderm, the skin epidermis (Figure
8
, panels A and B, g–i), and the pronephric tubules, albeit at modest levels (data not shown). In addition, both genes are expressed temporally within the apical ectodermal ridge (AER) between 36 and 72 hpf (Figure
8
, panels A and B, h, i and data not shown). Divergent expression of the zebrafish co-orthologues of mammalian progranulin is also notable during this period (24–72 hpf). For instance, only grna is strongly expressed in the intermediate cell mass (ICM) caudal region, the lens and retina as well as the tectum of the 24 hpf embryo (Figure
8
, panel A, g). Grna is also uniquely expressed at low levels within the forming head vasculature and aorta at 48 hpf (Figure
8
, panel A, h–i and data not shown), and exhibits relatively increased leukocytic expression from 48 to 72 hpf (Figure
8
, panel A, h–k). In contrast to that observed for grna, grnb is expressed within the YSL and often found concentrated at the end of the yolk extension. Sustained high levels of grnb were observed within the brain at all stages examined (Figure
8
, panel B, g–k) and in the swim bladder by 72 hpf (Figure
8
, panel B, k). Patterns observed during the hatching period generally persist and are accentuated in the 5 day-old larva (Figure
9
, panels A and B). In addition, grna can be detected in the epithelial lining of various visceral organs, in particular the pharynx, intestine, swim bladder and pronephric ducts (Figure
9
, panel A, a). Weak staining in the dorsal aorta but not the posterior cardinal vein can sometimes be noticed in whole-mount and through sectioning of the animal (Figure
9
, panel A, a). Likewise, grnb is widely expressed in the visceral region of the larval stage animal, in particular the intestine, pancreas and YSL (Figure
8
and
9
). Weak expression is also detected for both genes in the olfactory epithelium and in the presumptive thymus as bilateral patches located caudal to the eyes (data not shown).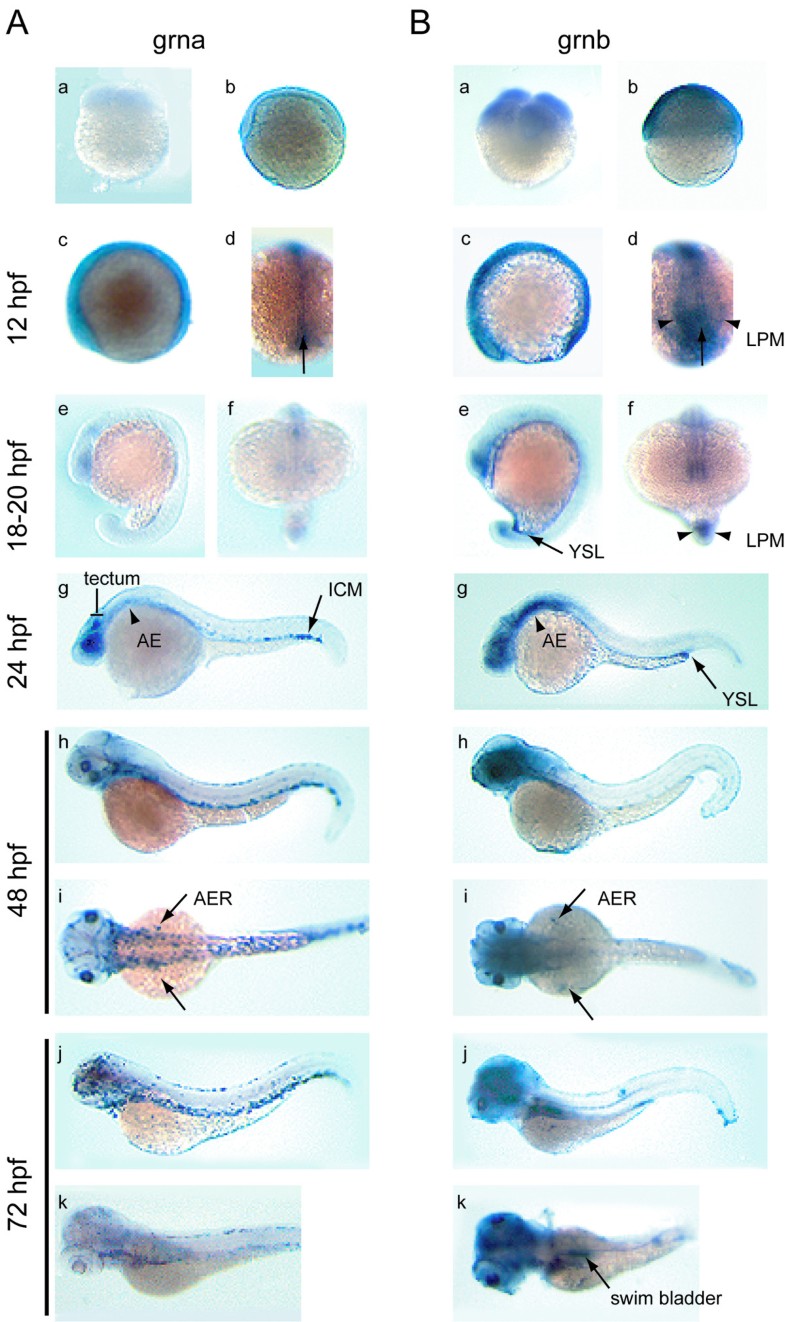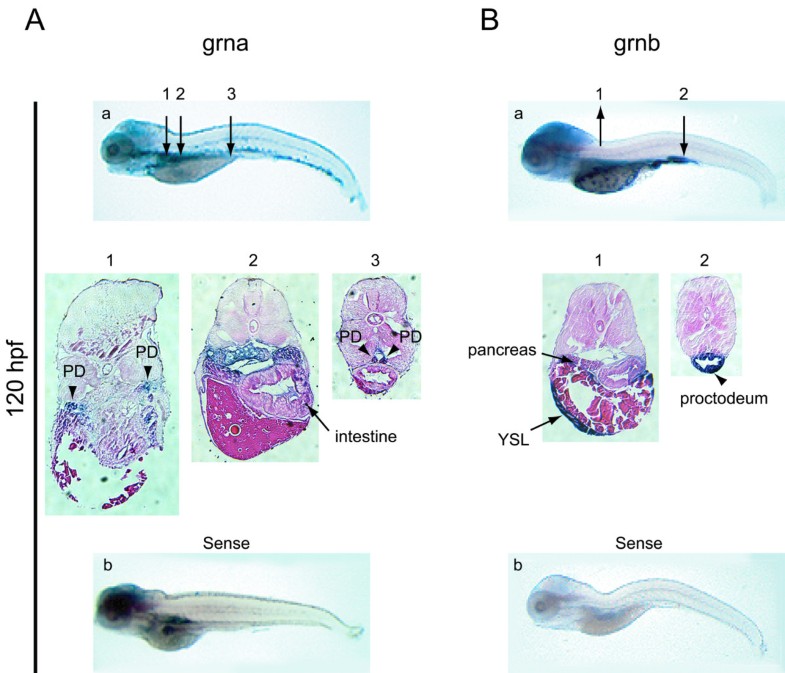 The sense riboprobe corresponding to grna but not grnb detects staining in the brain, intestine and pronephros at this stage (Figure 9, panel A and B, b), suggesting either non-specific hybridization or the presence of an antisense transcript. This observation prompted a search for sequences deposited at GenBank corresponding to parts of the grna cDNA sequence, but in the reverse complement orientation. Three unidirectionally cloned ESTs (accessions CD585878, CD585963 and CD596001) were all revealed upon sequencing to correspond to a 914 nucleotide long cDNA sharing perfect complementarity to nucleotides 2701–3614 of the grna cDNA (Additional File 11, panel A). This sequence corresponds to the 3'UTR region of the grna gene and is not bisected by an intron at the genomic level. This precludes the conclusion that this candidate antisense transcript is not an artifact of cloning. To confirm its directionality, cDNA was synthesized for subsequent PCR amplification using a primer located within the 3'UTR exon of grna that shared complementarity to ASgrna (sense relative to grna) or using another primer that was located downstream of the cloned ASgrna sequence and within a known intron for grna (Additional File 11, panel A). This RT-PCR strategy suggests that the ASgrna deduced from cloned EST sequences may represent a splice variant, and that antisense transcription extends further in the 3'direction (Additional File 11, panel B).
Grn1 and grn2
As expected from the RT-PCR data (Figure
7
, panel A), expression for grn1 or grn2 is not detected by
in situ
hybridization in early development (data not shown). Expression of grn1 is detected in the intestine and the pharyngeal region of the 3-day old animal (Figure
10
, panel A) and at very low levels in the pronephros (data not shown). Grn2 does not share this expression pattern and is detected at low levels in the proctodeum (Figure
10
, panel B) and is often detected in a few sporadic peripheral leukocytes (data not shown). In contrast hybrid grn is detected at relatively high levels in the proctodeum. (Figure
10
, panel C). This specific expression pattern is confirmed by examining the signal obtained using sense riboprobes corresponding to grn1 and grn2 that, after prolonged exposure, detect weak signals from their complementary transcript (ASgrn1-2) in the pharyngeal region of these animals (Figure
10
, panels D and E). Notably, the use of a sense riboprobe corresponding to hybrid grn (Figure
10
, panel F) does not replicate the expression pattern observed for ASgrn1-2 (Figure
10
, panel D and E).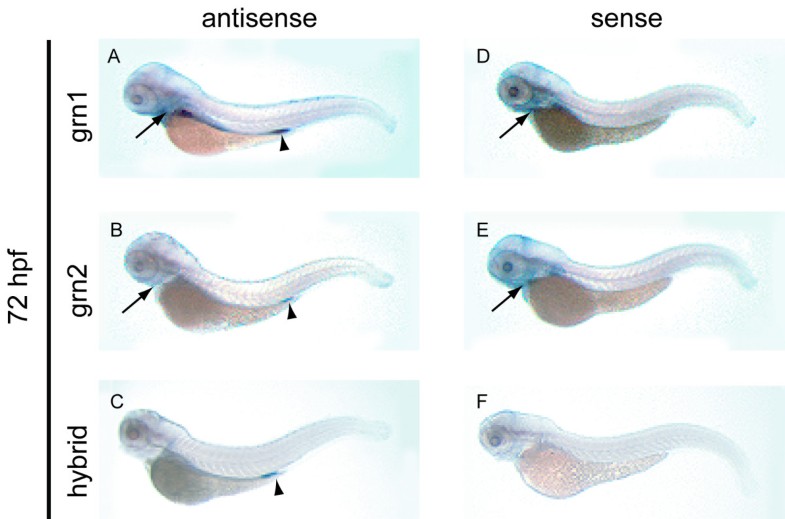 In the 5 day-old larva, specific grn1 expression is observed in the intestine and the swim bladder, whereas low levels can be seen in the pharynges (Figure
11A–C
). Elevated levels of expression for grn2 in the brain, the pharyngeal jaw region, and in presumed peripheral leukocytes (Figure
11D–F
), contrast with the pattern observed for grn1. However, both genes share higher levels of expression in the anterior or head kidneys and pronephric ducts (Figure
11B
and
11E
).
In situ
hybridization of cross sections of the animals indicates that grn1 and grn2 expression, like that of grna and grnb, occurs in the epithelial lining of the visceral organs (data not shown). The chimeric transcript remained restricted to the proctodeum where it is expressed more abundantly than grn2, and was not detected in leukocytes at this stage (Figure
11G
). In turn, the antisense gene to grn1 and grn2 is expressed in the brain, swim bladder, and the middle segment of the intestine (Figure
11H
).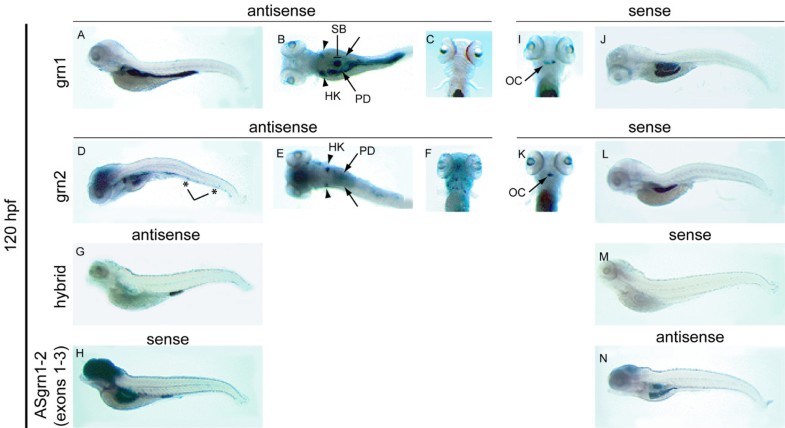 Conclusion
Although the existence of two co-orthologues of mammalian progranulin in zebrafish is likely a result of genome-wide duplication, similar genetic events have occurred within chordates prior to divergence of the ray-finned (teleost) and lobe-finned (mammalia) radiations. Indeed two rounds of genome-wide duplication are believed to have occurred [67]. More precisely, the first genome duplication probably occurred in a common ancestor of all agnathans and gnathostomes after its divergence from cephalochordates, ~594 mya (million years ago). The second round is presumed to have occurred ~488 mya, within the lineage leading to jawed vertebrates after the jawless line diverged, presumably before the split between cartilaginous and bony fish. Despite this, all mammals studied thus far have retained only a single copy of the progranulin gene, whereas two rounds of genome duplication would theoretically create four progranulin genes. It is therefore interesting to consider the biological rationale behind retention of grna and grnb following the teleost genome duplication, an event not permitted within other vertebrates, in conjunction with the appearance of two extra paralogues, grn1 and grn2. Regulation by gene dosage through complementary transcription may have allowed for the retention of the smaller paralogues, while putative antisense transcription to grna may be necessary for precisely regulating the spatio-temporal activity of this growth factor.
Overall, the expression patterns of zebrafish progranulins faithfully replicate those observed for the mouse counterpart in a similar context [42, 46]. Importantly, this indicates that the use of zebrafish will enable modeling of the contributions of progranulin activity to vertebrate development through investigating both grna and grnb. These studies will be uncomplicated by the presence of grn1 and grn2, whose expression patterns largely do not overlap with the co-orthologues. Overall, the expression patterns for the grns indicate that these growth factors may subserve multiple functions in vivo that are consistent with the known role of their mammalian counterpart in cell growth, motility and survival.
Sequence Accession Numbers
GenBank accession numbers of all zebrafish proranulin genes and antisense transcripts described in this paper are as fellows: grn1, AF273479; grn2, AF273480; hybrid grn, AF273481; ASgrn1-2, AY289607; grna, AF375477, ASgrna, AY826190; grnb, AY289606 .
List of abbreviations
AER:

apical ectodermal ridge
ASgrn:

antisense granulin
CNS:

central nervous system
DDC:

duplication-degeneration-complementation
EVL:

enveloping monolayer of cells
grn:

granulin
hpf:

hours post-fertilization
HSC:

hematopoietic stem cell
ICM:

intermediate cell mass
LG:

linkage group
LPM:

lateral plate mesoderm
mya:

million years ago
SSLP:

single sequence length polymorphism
YSL:

yolk syncitial layer.
Declarations
Acknowledgements
This work was supported by an operating grant (MOP-53105) from the Canadian Institute of Health Research. We are indebted to Drs. Marc Ekker and Marie-Andrée Akimenko (University of Ottawa) for their hospitality and for sharing their technical expertise with the whole mount in situ hybridisation technique during the initial phases of this project, as well as for performing the linkage analyses on the LN54 mapping panel. We also thank Ms. Jo-Ann Bader (Molecular Oncology Group, Royal Victoria Hospital, Montreal) for providing assistance with sectioning and staining tissue sections.
Authors' Affiliations
(1)
Endocrine Laboratory, Royal Victoria Hospital, McGill University Health Centre, Montreal, Canada
(2)
Cancer Research Institute, UCSF, San Francisco, USA
(3)
Room L2.05, Royal Victoria Hospital, MontrealQuebec, Canada
Copyright
© Cadieux et al; licensee BioMed Central Ltd. 2005
This article is published under license to BioMed Central Ltd. This is an Open Access article distributed under the terms of the Creative Commons Attribution License (http://creativecommons.org/licenses/by/2.0), which permits unrestricted use, distribution, and reproduction in any medium, provided the original work is properly cited.