Research article

Open Access
Fungi have three tetraspanin families with distinct functions
Received: 06 September 2007
Accepted: 03 February 2008
Published: 03 February 2008
Abstract
Background
Tetraspanins are small membrane proteins that belong to a superfamily encompassing 33 members in human and mouse. These proteins act as organizers of membrane-signalling complexes. So far only two tetraspanin families have been identified in fungi. These are Pls1, which is required for pathogenicity of the plant pathogenic ascomycetes, Magnaporthe grisea, Botrytis cinerea and Colletotrichum lindemuthianum, and Tsp2, whose function is unknown. In this report, we describe a third family of tetraspanins (Tsp3) and a new family of tetraspanin-like proteins (Tpl1) in fungi. We also describe expression of some of these genes in M. grisea and a basidiomycete, Laccaria bicolor, and also their functional analysis in M. grisea.
Results
The exhaustive search for tetraspanins in fungal genomes reveals that higher fungi (basidiomycetes and ascomycetes) contain three families of tetraspanins (Pls1, Tsp2 and Tsp3) with different distribution amongst phyla. Pls1 is found in ascomycetes and basidiomycetes, whereas Tsp2 is restricted to basidiomycetes and Tsp3 to ascomycetes. A unique copy of each of PLS1 and TSP3 was found in ascomycetes in contrast to TSP2, which has several paralogs in the basidiomycetes, Coprinus cinereus and Laccaria bicolor. A tetraspanin-like family (Tpl1) was also identified in ascomycetes. Transcriptional analyses in various tissues of L. bicolor and M. grisea showed that PLS1 and TSP2 are expressed in all tissues in L. bicolor and that TSP3 and TPL1 are overexpressed in the sexual fruiting bodies (perithecia) and mycelia of M. grisea, suggesting that these genes are not pseudogenes. Phenotypic analysis of gene replacementmutants Δtsp3 and Δtpl1 of M. grisea revealed a reduction of the pathogenicity only on rice, in contrast to Δpls1 mutants, which are completely non-pathogenic on barley and rice.
Conclusion
A new tetraspanin family (Tsp3) and a tetraspanin-like protein family (Tpl1) have been identified in fungi. Functional analysis by gene replacement showed that these proteins, as well as Pls1, are involved in the infection process of the plant pathogenic fungus M. grisea. The next challenge will be to decipher the role(s) of tetraspanins in a range of symbiotic, saprophytic and human pathogenic fungi.
Keywords
Fruiting BodyLaccaria BicolorLarge Extracellular LoopTarget Gene ReplacementTetraspanin Family
Background
Tetraspanins are a superfamily of small integral membrane proteins that were first identified in mammals as cell-specific antigens [1] and, since then, in fishes, insects, worms, sponges [2] and fungi [2, 3]. They are not found in plants, although tetraspanin-like proteins were identified in Arabidopsis thaliana [4, 5]. To date, at least 33 distinct tetraspanins have been identified in humans, 37 in Drosophila melanogaster and 20 in Caenorhabditis elegans [2]. Animal tetraspanins interact tightly and specifically with other membrane proteins and have been proposed to act as molecular facilitators of membrane protein complexes [1, 6]. Animal tetraspanins are also able to interact with other tetraspanins to form a scaffold that promotes the recruitment of tetraspanin-associated proteins, hence creating a web [7]. As a consequence of this complexity, tetraspanin webs from different cell types differ markedly in their protein composition and probably also in their cellular function. This may explain the diversity of phenotypes observed among tetraspanin knockout mutants in animals. Indeed, tetraspanin null mutants are altered in diverse unrelated processes such as sperm-egg fusion, susceptibility to parasites or viruses, neuronal or lymphocyte cell-cell interactions, cell adhesion, motility and polarity and protein trafficking [1, 6, 8].
Although tetraspanins display limited amino acid sequence similarity, they share conserved structural hallmarks consisting of four transmembrane domains (TM1 to TM4), a small extracellular loop (ECL1), an intracellular loop (ICL) and a large extracellular loop (ECL2) containing a characteristic cysteine-based pattern [
9
,
10
]. In fungi, the first tetraspanin identified was in the plant pathogenic fungus
M. grisea
and was named Pls1 ([
3
]; Figure
1
). Since then, genes homologous to
PLS1
have been identified in other ascomycetes [
11
] and basidiomycetes [
2
]. The functional role of Pls1 in the fungal cell has been investigated in three plant pathogenic ascomycetes [
12
], namely
M. grisea
(MgPls1, [
3
]),
Botrytis cinerea
(BcPls1, [
13
]) and
Colletotrichum lindemuthianum
(ClPls1, [
14
]). These fungi are responsible for major diseases of agriculturally important plants,
M. grisea
causing the most devastating fungal disease of rice (blast) worldwide,
B. cinerea
being a necrotrophic pathogen affecting more than 200 different host plants and
C. lindemuthianum
causing anthracnose diseases on a wide range of crops and ornamental plants. During the infection process, these fungi differentiate a specialized cell called the appressorium that is able to perforate the plant cuticle and cell wall, allowing the fungus to penetrate into host tissues. The
ΔMgpls1
,
ΔBcpls1
and
ΔClpls1
null mutants were all non-pathogenic on intact host plant tissues. Although the mutants could differentiate appressoria, these infection structures were unable to direct the penetration of the fungus into host plant tissues [
3
,
13
,
14
]. These results demonstrate that Pls1 tetraspanins are involved in a function conserved among fungi that is essential for appressorium-mediated penetration.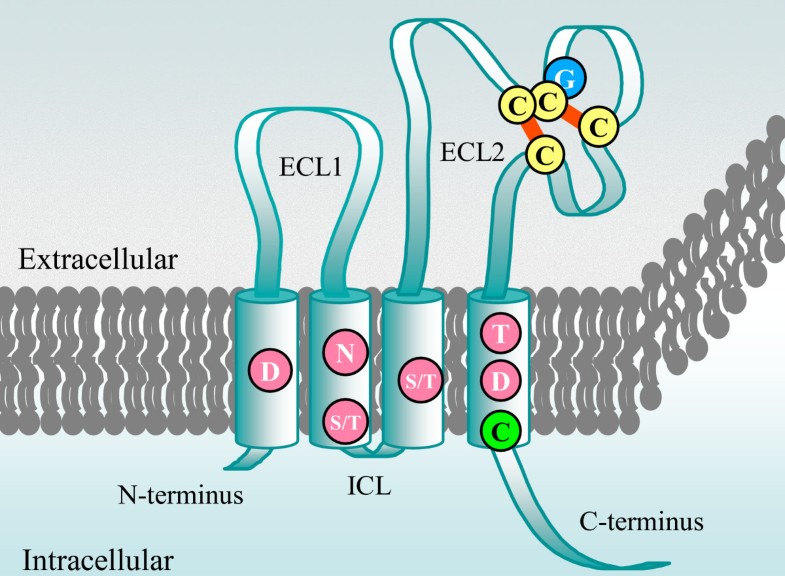 Previous studies suggested that fungal genomes possess a single tetraspanin gene [11]. However, analysis of recently sequenced fungal genomes revealed that besides Pls1 orthologs, basidiomycetes have other tetraspanins called Tsp2 [2]. This prompted us to systematically search for novel tetraspanins in fungal genomes and EST databases to better characterize this protein family in fungi. Using low stringency BlastP and HMM (Hidden Markov Model) searches using the PFAM tetraspanin profile (PF00335), we identified a novel tetraspanin (Tsp3) and a tetraspanin-like protein (Tpl1) in M. grisea and their orthologs in other ascomycetes. Furthermore, genes from the TSP2 family were identified in newly available basidiomycete genomes and they displayed a complex evolutionary history with numerous paralogs. The expression profiles of PLS1, TSP2, TSP3 and TPL1 were determined by quantitative RT-PCR in M. grisea or by microarray analysisin the symbiotic L. bicolor. Expression of these genes was also estimated in silico by compiling their occurrence in EST or cDNA libraries. Finally, a functional study of TSP3 and TPL1 was performed in M. grisea, whereby deletion mutants were constructed by targeted gene replacement and compared to the existing Δpls1 mutant. In marked contrast to this latter mutant, which was fully non-pathogenic on barley and rice, the Δtsp3 and Δtpl1 mutants were reduced in pathogenicity only on rice. Thus deletion of these genes has a host-specific effect on the pathogenicity of M. grisea which is different from that of the PLS1 deletion.
Discussion
We have performed an exhaustive search for tetraspanins in fungal genomes. In addition to expanding the previously described Pls1 [11] and Tsp2 tetraspanin families [2], we have identified a new tetraspanin family (Tsp3) and a tetraspanin-like family (Tpl1). These gene families display a different evolutionary history. An ancestral tetraspanin family specific to zygomycetes (RO3G_02583 and RO3G_14268 used as roots of the tree; Figure 5) appears to be lost in higher fungi (basidiomycetes and ascomycetes). The identification of a Tsp2 tetraspanin in the zygomycete Rhizopus oryzae (RO3G_08988/RoTsp2-A and RO3G_17009/RoTsp2-B) shows that this family is ancient and predates the divergence between this phylum and higher fungi. Pls1-encoding genes were identified in almost all ascomycete and basidiomycete species. Their absence in zygomycetes suggests that the Pls1 family is more recent than the Tsp2 one (Figure 5). The Tsp3 and Tpl1 families are restricted to ascomycetes suggesting a more recent origin than the Pls1 and Tsp2 families. The absence of tetraspanins in all hemiascomycete species suggests that these genes were lost early after the divergence of these fungi from the other ascomycetes. In the Aspergilli, the unique tetraspanin identified belongs to the Tsp3 family. Interestingly no tetraspanin genes were found in the basidiomycete, U. maydis.
The Pls1 family is highly conserved in higher fungi and is present as a single copy in each genome, defining a family of orthologous genes. In phytopathogenic fungi, Pls1 is essential for infection and is required for appressorium-mediated penetration into host plant in three species (M. grisea, B. cinerea,C. lindemuthianum). The corresponding null mutants have appressoria that are unable to form functional penetration pegs that direct the penetration of the fungus into host plant [3, 13, 14]. These results support the hypothesis that Pls1 tetraspanins are involved in a conserved cellular function essential for appressorium function. However, the existence of Pls1 in the human ascomycete pathogen Coccidioides posadasii, in saprotrophic fungiand in symbiotic basidiomycetes such as ectomycorrhiza suggests that Pls1 plays other cellular roles than appressorium-mediated penetration of host tissues since these fungi do not differentiate appressoria. At present, these functions of Pls1 remain unknown. In fungi, functional studies are just beginning to be applied to discover such functions. Furthermore, the presence of a single copy of PLS1 in these fungal genomes offers an advantage in deciphering its cellular functions, compared to animals that have numerous tetraspanins with possible functional redundancy [6].
The Tsp2 tetraspanins are highly conserved suggesting an important functional role in most basidiomycetes although it is curious that the Ustilago maydis genome does not contain tetraspanins. Interestingly, this Tsp2 family is multigenic in L. bicolor and C. cinerea, which contrasts with other fungal tetraspanins families. Indeed, L. bicolor displays four Tsp2 paralogs and C. cinerea contains three Tsp2 paralogs. The functional significance of this multigene family is unknown. The finding in L. bicolor that LbTSP2B, LbTSP2C and LbTSP2D were expressed in all analyzed tissues suggests that corresponding proteins could be involved in the formation of a tetraspanin web, as described in animals [6]. However, differential expression profiles were observed; LbTSP2B is over-expressed in mycelia, LbTSP2C is over-expressed in fruiting bodies and LbTSP2D is over-expressed in mycorrhiza. This tissue specific expression of Tsp2 tetraspanins may explain the redundancy of this family.
Although TSP3 and TPL1 are over-expressed in perithecia, no particular phenotype was observed in perithecia when either of these genes was mutated. Perithecial production after mating and ascospore germination were identical to the wild type strain. No significant differences in the fertility were observed in crosses between Δtsp3::hyg, Δtpl1::hyg and wild type M. grisea strains. In animals, analysis of mutants with deleted tetraspanins showed no effect on development, but often had slightly altered phenotypes. For example, deletions of murine tetraspanin genes led to a mild alteration of lymphocyte proliferation and motility [6]. Even, in the Drosophilae the deletion of about 25% of all tetraspanins does not affect viability or fertility and results only in a transient defect in neuromuscular innervation during the larval stage [22]. M. grisea may not be an appropriate model to characterize sexual reproduction and anastomosis. Therefore, it would be interesting to investigate the role of the TSP3 and TPL1 genes in other 'model' fungi such as N. crassa or P. anserina, which have large sexual fruiting bodies and higher reproduction frequency, and thus may be more suitable to analyze subtle phenotypes.
In M. grisea, the Δtsp3 and Δtpl1 mutants showed a significant reduction in pathogenicity only on rice. The rice cultivars used in this study are generally more resistant to M. grisea compared to the barley cultivars. Thus, barley may not be resistant enough to reveal differences in pathogenicity between the Δtsp3 and Δtpl1 mutants and a wild type strain. Our findings show that TSP3 and TPL1 are involved in the pathogenicity of M. grisea but have only a quantitative effect on pathogenicity, in contrast to the loss of pathogenicity caused by deletion of PLS1.
Conclusion
Higher fungi contain three canonical tetraspanin families: the Pls1 family identified in ascomycetes and basidiomycetes, the Tsp2 family specific to basidiomycetes and the Tsp3 family restricted to ascomycetes. Paralogs were only identified within the Tsp2 family in the basidiomycetes C. cinereus and L. bicolor. A tetraspanin-like family (Tpl1) was also identified although only in ascomycetes. Our results demonstrate that the deletion of TSP3 and TPL1 reduced the pathogenicity of M. grisea on rice. At present, functional studies of fungal tetraspanins are limited to phytopathogenic fungi producing appressoria. The function(s) of tetraspanin remain(s) unknown in saprophytic fungi, basidiomycetes and human pathogenic fungi. Future functional study of tetraspanins in these fungi may highlight other cellular roles than in appressorium-mediated penetration in host plants. Finally, the role of tetraspanin-like proteins in fungi needs to be investigated in more depth. For example, the possibility of functional interactions with canonical tetraspanins should be assessed as observed in animals [23].
Declarations
Acknowledgements
We thank Dr. Dominique Job for critical reading of the manuscript, Philippe Silar for providing Podospora anserina ESTs. We also thank Joëlle Milazzo for her excellent technical assistance. Karine Lambou was supported by a fellowship from Bayer CropScience (Lyon, France).
Authors' Affiliations
(1)
UMR 5240 CNRS-UCB-INSA-Bayer CropScience, Microbiologie, Adaptation et Pathogénie, Bayer CropScience, Lyon Cedex 09, France
(2)
UMR BGPI, CIRAD-INRA-SupAgro.M, TA A 54/K, Montpellier Cedex 5, France
(3)
UMR INRA/Université Henri Poincaré 1136, Interactions Arbres/Micro-organismes, Centre INRA de Nancy, Champenoux, France
(4)
Bayer CropScience AG, Monheim am Rhein, Germany
(5)
School of Botany, The University of Melbourne, Parkville, Australia
(6)
University of Arizona, Tucson, USA
Copyright
© Lambou et al; licensee BioMed Central Ltd. 2008
This article is published under license to BioMed Central Ltd. This is an Open Access article distributed under the terms of the Creative Commons Attribution License (http://creativecommons.org/licenses/by/2.0), which permits unrestricted use, distribution, and reproduction in any medium, provided the original work is properly cited.