Research article
Open Access
In silico analyses of mitochondrial ORFans in freshwater mussels (Bivalvia: Unionoida) provide a framework for future studies of their origin and function
Received: 26 February 2016
Accepted: 2 August 2016
Published: 9 August 2016
Abstract
Background
Many species of bivalves exhibit a unique system of mtDNA transmission named Doubly Uniparental Inheritance (DUI). Under this system, species have two distinct, sex-linked mitochondrial genomes: the M-type mtDNA, which is transmitted by males to male offspring and found in spermatozoa, and the F-type mtDNA, which is transmitted by females to all offspring, and found in all tissues of females and in somatic tissues of males. Bivalves with DUI also have sex-specific mitochondrial ORFan genes, (M-orf in the M mtDNA, F-orf in the F mtDNA), which are open reading frames having no detectable homology and no known function. DUI ORFan proteins have previously been characterized in silico in a taxonomically broad array of bivalves including four mytiloid, one veneroid and one unionoid species. However, the large evolutionary distance among these taxa prevented a meaningful comparison of ORFan properties among these divergent lineages. The present in silico study focuses on a suite of more closely-related Unionoid freshwater mussel species to provide more reliably interpretable information on patterns of conservation and properties of DUI ORFans. Unionoid species typically have separate sexes, but hermaphroditism also occurs, and hermaphroditic species lack the M-type mtDNA and possess a highly mutated version of the F-orf in their maternally transmitted mtDNA (named H-orf in these taxa). In this study, H-orfs and their respective proteins are analysed for the first time.
Results
Despite a rapid rate of evolution, strong structural and functional similarities were found for M-ORF proteins compared among species, and among the F-ORF and H-ORF proteins across the studied species. In silico analyses suggest that M-ORFs have a role in transport and cellular processes such as signalling, cell cycle and division, and cytoskeleton organisation, and that F-ORFs may be involved in cellular traffic and transport, and in immune response. H-ORFs appear to be structural glycoproteins, which may be involved in signalling, transport and transcription. Our results also support either a viral or a mitochondrial origin for the ORFans.
Conclusions
Our findings reveal striking structural and functional similarities among proteins encoded by mitochondrial ORFans in freshwater mussels, and strongly support a role for these genes in the DUI mechanism. Our analyses also support the possibility of DUI systems with elements of different sources/origins and different mechanisms of action in the distantly-related DUI taxa. Parallel situations to the novel mitochondrially-encoded functions of freshwater mussel ORFans present in some other eukaryotes are also discussed.
Keywords
Mitochondrial DNAMitochondrial ORFansMitochondrial inheritanceDoubly uniparental inheritance of mitochondriaBivalviaUnionoida
Background
Metazoan mitochondrial genomes (mtDNAs) are typically small, circular genomes without introns that encode two ribosomal RNAs, 22 transfer RNAs, and 13 proteins involved in ATP production [1, 2]. Strict maternal inheritance (SMI) of mtDNA is predominant among animals with limited or no paternal contribution [3]. There are, however, many exceptions to these characteristics (e.g. [4–6]). Anomalous gene contents have been found among metazoan mtDNAs, particularly in invertebrates (reviewed in [6]). For example, duplications of typical protein-coding genes have been reported in several mollusc species, including cephalopods, aplacophorans, and bivalves. Additional 'atypical' protein-coding genes with non-OXPHOS functions have been reported in cnidarians, sponges, and placozoans (e.g. dnaB, tatC); and mitochondrial ORFans, i.e. genes with unknown function, have been identified in cnidarians, and also in bivalves with doubly uniparental inheritance of mtDNA (DUI), which is the only known exception to SMI in animals [6].
DUI has been reported in marine and freshwater bivalves, specifically the orders Mytiloida, Nuculanoida, Unionoida, and Veneroida [7–10]. Species with DUI possess mitochondrial genomes that are transmitted in a sex-specific manner (known as a female-transmitted F-type and a male-transmitted M-type mtDNA, respectively). Haploid eggs typically contain mitochondria with only F-type mtDNA (but see [11, 12]), while sperm mitochondria, which enter the egg when fertilization occurs, only contain the M-type [10]. If the embryo develops as a female, sperm mitochondria are dispersed and/or destroyed, leading to homoplasmic females (similar to what happens under SMI) [10]. However, if the embryo develops as a male, sperm mitochondria remain grouped together, and are eventually sequestered in the germ line, which becomes homoplasmic for the M mtDNA [13, 14]. Males are therefore heteroplasmic individuals, with mitochondria inherited from their mother containing the F-type mtDNA present throughout their soma, and mitochondria inherited from their father containing the M-type mtDNA in their germ line cells (in males M mtDNA can also be found in variable proportions in somatic tissues [9, 10]). DNA divergence between conspecific M- vs. F-type mitochondrial genomes over 40 % has been found in many species [10].
The mitochondrial genomes of bivalve species with DUI also contain additional, sex-specific protein-coding genes known as mitochondrial ORFans - F
-orf
s and M
-orf
s in the F- and M-type mtDNAs, respectively - whose products are exported from the organelle and may be involved in functions other than energy production [
15
–
20
]. For example, in freshwater mussels, species typically have separate sexes (gonochorism or dioecy), but hermaphroditic species also occur rarely [
21
,
22
]. In gonochoric species, an absolute correlation has been observed between the presence of DUI and novel sex-specific proteins encoded by the F- and M-type mtDNAs (F-
ORF
and M-
ORF
), whereas hermaphroditic species lack the M-type altogether [
16
]. Hermaphroditic species appear to follow the SMI rule of mitochondrial transmission and individual mussels have only one type of mtDNA, called H-type [
16
]. The H-type is remarkably similar to (and evolutionarily derived from) the F-type mtDNA of closely-related gonochoric species except for the novel ORFan gene (named H
-orf
in these species), which is a highly mutated version of the F-
orf
in their sister taxa [
16
] (Fig.
1
)
.
For these reasons, Breton et al. [
16
] proposed a connection between DUI and the maintenance of separate sexes in freshwater mussels. However, the link between DUI and sex determination, and the cause of deviation from the "SMI rule" in bivalves remain open questions.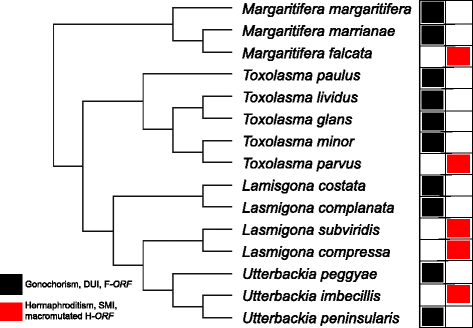 The first in-depth bioinformatic analysis of the structures and potential functions of F-ORF and M-ORF proteins was performed by Milani et al. [18] on the following DUI bivalve species: the marine mussels Musculista senhousia, Mytilus edulis, Mytilus galloprovincialis, Mytilus trossulus and Mytilus californianus (Mytiloida), the marine clam Ruditapes philippinarum (Veneroida), and the freshwater mussel Venustaconcha ellipsiformis (Unionoida). M-orf and F-orf nucleotide sequences were found to be highly variable, with mostly non-synonymous mutations, indicating rapid evolution and supporting previous claims that these protein-coding genes are the fastest-evolving mitochondrial genes in bivalves with DUI [16–18]. Despite this fast rate of evolution, structural similarities in their translated amino acid sequences were observed among species and ORFan proteins were predicted to share similar functions. For example, F-ORFs were largely predicted to bind and interact with nucleic acids, associate with membranes for cell adhesion and/or signalling, or play a role in immune response. M-ORFs were also predicted to be membrane-associated and interact with nucleic acids, primarily for signalling, cell differentiation and development, and also for cytoskeleton formation and dynamics, ubiquitination, apoptosis, and immune response [18]. Even if hit probabilities in the proteins were sometimes low and the regions of similarity were of short lengths, several clues suggested that the respective novel ORFans originated from endogenization of viral DNA [18, 19]. However, obtaining satisfactory alignments including F-ORFs and M-ORFs from all species was impossible due to the highly divergent nature of these proteins [18]. This indicated either that their fast rate of evolution erased any evidence of ORFan sequence similarities (homology) among species or that the ORFans originated from independent virus endogenization events [18]. It is also conceivable that the ORFans originated from different sources/processes but evolved similar function(s) in these distantly related DUI species, particularly if DUI evolved independently more than once [18]. Other than a viral origin, there are at least three other possibilities for the source of these mitochondrial ORFans: they may have originated from (i) a duplicated and diverged mitochondrial gene, (ii) a gene composed from previously non-coding mitochondrial sequences, or (iii) a gene transferred from the nucleus to the mitochondrion (e.g. [17]).
Unfortunately, it is not currently possible to confirm whether or not the mitochondrial ORFans in phylogenetically unrelated DUI species are homologous because of their high divergence and our incomplete knowledge regarding their distribution in bivalves. One option to better understand the origin(s) and function(s) of a subset of these ORFans is to compare a suite of more closely related sequences within a single order of bivalves. Freshwater mussels (Unionoida) offer an excellent opportunity for this for at least two reasons: (1) they are an evolutionarily old group of bivalves, suggesting that their ORFans have an ancient origin and that DUI in this group might be one of the first examples of this phenomenon in bivalves [23], and (2) complete F and M genomes or F-orf, M-orf and H-orf sequences are available for several gonochoric species and five independently evolved hermaphroditic species (e.g. [16, 23, 24]). All of these taxa belong to the family Unionidae (except for Margaritifera falcata [Margaritiferidae]), but recently we have sequenced the F and M mtDNAs from Cumberlandia monodonta (Margaritiferidae) and Hyridella menziesii (Hyriidae) (these genomes have been sequenced at the sequencing platform of McGill University [Montreal, Canada] using the genome sequencer FLX sequencing service), and these genomes possess an F-orf and an M-orf, suggesting that these unique genes have been present and functioning continuously for >200 million years in this group ([16, 23]; Guerra et al. unpublished).
The present study aims to predict the origin, structure, and function of the F-ORF and M-ORF protein sequences in Unionoida, and to analyze the H-ORFs for the first time. Our results confirm that they are encoded by the fastest evolving genes in unionoid mitochondrial genomes, that they share structural and functional similarities, and that their respective ORFans could have a viral or a mitochondrial origin, leading us to revisit the evolutionary scenario of multiple origins of DUI [18, 19].
Methods
Sequences used in the analyses
ORFan,
cox1
, and
atp8
nucleotide sequences of unionoid bivalve species were either obtained from the National Center for Biotechnology Information (NCBI) or from newly sequenced mitochondrial genomes (i.e.
H. menziesii
and
C. monodonta
; Guerra et al. unpublished). All species and GenBank entries used in this study are listed in Table
1
(note that M
-orf
sequences for
Lasmigona complanata
,
Margaritifera margaritifera
and
Toxolasma lividus
have not been obtained; Additional file
1
: Table S1). The sequences were translated with ORF Finder [
25
] using the invertebrate mitochondrial genetic code and analyzed at the nucleotide and/or amino acid level (see below). Because M
-ORF
and F
-ORF
protein sequences vary little within a species, only one sequence was used for each gonochoric species. H
-ORF
sequences are highly variable within species [
16
], and so multiple sequences were analyzed per species to provide a more complete picture of intraspecific H
-ORF
evolution and potential functionality.
Table 1
Sequences analyzed in the present study for gonochoric species with DUI and hermaphroditic species with SMI
Species

mtDNA type

Accession number

ORF names

Subfamiliy Ambleminae

  Quadrula quadrula

M

FJ809751.1

Qqu-Morf

M

FJ809751.1

Qqu-Mcox1

M

FJ809751.1

Qqu-Matp8

F

FJ809750.1

Qqu-Forf

F

FJ809750.1

Qqu-Fcox1

F

FJ809750.1

Qqu-Fatp8

  Toxolasma lividus

F

HM849457.1

Tli-Forf

  Toxolasma parvum

H

KU728097

Tpa-Horf

  Venustaconcha ellipsiformis

M

FJ809752.1

Vel-Morf

M

FJ809752.1

Vel-Mcox1

M

FJ809752.1

Vel-Matp8

F

FJ809753.1

Vel-Forf

F

FJ809753.1

Vel-Fcox1

F

FJ809753.1

Vel-Fatp8

Subfamiliy Anodontinae

  Anodonta anatina

M

KF030962.1

Aan-Morf

F

KF030964.1

Aan-Forf

Subfamiliy Gonideinae

  Inversidens japanensis

M

AB055624.1

Ija-Morf

M

AB055624.1

Ija-Mcox1

M

AB055624.1

Ija-Matp8

F

AB055625.1

Ija-Forf

F

AB055625.1

Ija-Fcox1

F

AB055625.1

Ija-Fatp8

  Solenaia carinatus

M

KC848655.1

Sca-Morf

M

KC848655.1

Sca-Mcox1

M

KC848655.1

Sca-Matp8

F

KC848654.1

Sca-Forf

F

KC848654.1

Sca-Fcox1

F

KC848654.1

Sca-Fatp8

Subfamiliy Hyriidae

Hyridella menziesii

M

KU728093

Hme-Morf

M

KU728094

Hme-Mcox1

F

KU728092

Hme-Forf

F

AY785394.1

Hme-Fcox1

Subfamiliy Margaritiferinae

  Cumberlandia monodonta

M

KU728095

Cmo-Morf

M

KU728096

Cmo-Mcox1

F

HM849375.1

Cmo-Forf

F

KF647374.1

Cmo-Fcox1

  Margaritifera falcata

H

HM849545.1

Mfa-Horf (top- bottom 1–4)

H

HM856634.1

H

HM849547.1

H

HM849548.1

H

HM856634.1

Mfa-Hcox1 (top-bottom 1–2)

H

NC_015476.1

  Margaritifera margaritifera

F

HM849399.1

Mma-Forf

F

HM849095.1

Mma-Fcox1

Subfamiliy Unioninae

  Lasmigona complanata

F

HM849393.1

Lco-Forf

  Lasmigona compressa

H

HM849534.1

Lco-Horf (top-bottom 1–2)

H

HM849535.1

H

HM856638.1

Lco-Hcox1 (top-bottom 1–2)

H

NC_015481.1

  Lasmigona subviridis

H

HM849542.1

Lsu-Horf (top-bottom 1–2)

H

HM849543.1

  Pyganodon grandis

M

FJ809755.1

Pgr-Morf

M

FJ809755.1

Pgr-Mcox1

M

FJ809755.1

Pgr-Matp8

F

FJ809754.1

Pgr-Forf

F

FJ809754.1

Pgr-Fcox1

F

FJ809754.1

Pgr-Fatp8

  Utterbackia imbecillis

H

HM849591.1

Uim-Horf (top-bottom 1–7)

H

HM849595.1

H

HM849594.1

H

HM849601.1

H

HM849606.1

H

HM849597.1

H

HM849584.1

H

NC_015479

Uim-Hcox1 (top-bottom 1–2)

H

HM856637.1

  Utterbackia peninsularis

M

HM856635.1

Upe-Morf

M

HM856635.1

Upe-Mcox1

M

HM856635.1

Upe-Matp8

F

HM856636.1

Upe-Forf

F

HM856636.1

Upe-Fcox1

F

HM856636.1

Upe-Fatp8
Analyses of ORFan sequences and protein secondary structures
Alignments of ORFan, cox1, and atp8 nucleotide and translated protein sequences were performed with M-COFFEE (DNA) and PSI-COFFEE (proteins) [26]. Nucleotide and amino acid p-distances, as well as a codon-based test of positive selection using the Nei-Gojobori method [27], were calculated using MEGA6 [28] with variance estimated using 500 bootstrap repetitions. The program VISTA [29] was used to display the level of sequence conservation between M vs. M, F vs. F, and F vs. H complete mitochondrial genomes. M- and F-type mtDNAs were not compared due to their previous characterization that showed extreme intraspecific sequence divergences [16, 23]. Hydropathy profiles of each amino acid sequence were calculated with the ProtScale tool at ExPASy [30] using the method of Kyte and Doolittle [31]. Putative transmembrane (TM) helices were identified using a variety of protein signature recognition methods implemented by the following programs: Phobius [32], InterProScan (TMHMM) [33], TMPred [34], TOPCONS [35], and Predict Protein [36].
Functional analyses of ORFan proteins
Evidence of signal peptides (SPs) was sought using Phobius [26], InterProScan [33], PrediSi [37], and SignalP [38]. Motif Scan [39] and HHpred [40] were used to search for known functional sequence motifs and domains. TPRpred [41] was used to search for potential tetratricopeptide repeat (TPR) or pentatricopeptide repeat (PPR) motifs. The following procedures were used to predict the function of ORFan proteins: (1) we performed BLASTp, tBLASTx, and PSI-BLAST searches against NCBI entire non-redundant protein database (NRDB) and against mitochondrial proteins only (last accessed July, 2015) with default parameters [42], as well as FASTA and PSI-BLAST searches against UniProt (release 2015_05) with default parameters, at the EBI websites [43] and [42], respectively; (2) we used hmmbuild (v3.1b2; downloaded from http://hmmer.janelia.org) [44] to generate two HMM profiles from both the F-ORF and M-ORF protein alignments (four profiles in total; see below) (H-ORFs were not considered given their scattered phylogenetic distribution and independent evolutionary histories) using default and custom parameters (for the latter procedure, the options --fast --symfrac 0 --fragthresh 0 --wnone --enone were used), and performed profile HMM – sequence comparison against UniProtKB, Swissprot, PDB, QfO, and Pfamseq databases using HMMER hmmsearch [44] with default parameters (E-value cutoff = 0.001); (3) for profile HMM – profile HMM comparisons, we used HHpred, which compares HMM profiles with databases of HMMs representing proteins with known structure (e.g. PDB, SCOP) or annotated protein families (e.g. PFAM, SMART, CDD, COGs, KOGs); and (4) the following programs were also used to predict the function of ORFan proteins: @tome2, which predicts tertiary structure and searches for similarity to proteins with structures solved [45]; I-TASSER, which uses a hierarchical protein structure modeling approach that is based on the secondary-structure enhanced profile–profile threading alignment [46]; and PredictProtein, which predicts aspects of protein structure (secondary structure, solvent accessibility, transmembrane helices [TMSEG] and strands, coiled-coil regions, disulfide bonds and disordered regions) and function (identification of functional regions, homology-based inference of Gene Ontology terms, comprehensive subcellular localization prediction, protein-protein binding sites, protein-polynucleotide binding sites and predictions of the effect of point mutations [non-synonymous SNPs] on protein function) [36]. For BLASTp and PredictProtein all matches with E-values <1.0 were kept, while for position-specific iterative or PSI-BLAST all matches with E-values <0.01 were kept as recommended by the program (except for PSI-BLAST analyses against NCBI mitochondrial genes only, where E-values <1.0 were kept, see below). For I-TASSER, all top templates and structural analogs were recorded. All @tome2 results were kept. Motif Scan results not marked as "questionable" or "weak" were kept. Hits described as "uncharacterized," "putative," "unknown," or "predicted" were not kept.
Conclusions
Because the evolutionary distance among mytilids, venerids, and unionids did not allow for a meaningful comparison of mitochondrial ORFans [18], we decided to perform in silico analyses on more closely related ORFan sequences within the order Unionoida. Our findings, in agreement with previous data by Milani et al. [18, 19], reveal high levels of sequence divergence among ORFans, yet with conserved predicted structures, motifs and domains. These ORFans might have originated either from viral horizontal gene transfers or mitochondrial gene duplications but they have evolved rapidly to the point that a clear signature of their origin is not easily recognizable. Our study, which also strongly supports a role for these ORFans in the DUI mechanism, is in line with the growing body of literature extending our understanding of metazoan mitochondrial genome function beyond exclusively OXPHOS related roles (e.g. [18, 59, 74, 75]. DUI as well as other intriguing systems like the recently discovered maternally transmitted sex distortion in booklice that is associated with extremely divergent mitochondria [76], represent interesting cases to look for and better understand antagonistic interactions between distorting mitochondria and nuclear suppressors similar to CMS in plants. If the F-ORF and M-ORF proteins in bivalves with DUI are indeed antagonistic molecules, i.e. with the F-ORF participating in the inhibition of testicular development in female developing embryos and the M-ORF participating in the inhibition of ovarian development in male developing embryos, this could explain why macromutations in the F-ORF protein (that turns it into a H-ORF) would allow for testis development in otherwise female gonads (i.e. hermaphroditism). However, the precise mechanisms underlying DUI and sex determination in bivalves remain to be elucidated.
Abbreviations
ATP, adenosine triphosphate; atp8, ATP synthase subunit 8; CMS, cytoplasmic male sterility; cox1, cytochrome c oxidase subunit 1; CTERM, C-terminal; DNA, deoxyribonucleic acid; dnaB, DNA helicase; DUI, doubly uniparental inheritance; ER, endoplasmic reticulum; HMM, hidden Markov model; mtDNA, mitochondrial DNA; MY, million years; nad2, NADH dehydrogenase subunit 2; nad5, NADH dehydrogenase subunit 5; NADH, nicotiamide adenine dinucleotide, reduced form; NCBI, national Center for Biotechnology Information; NRDB, non-redundant protein database; ORF, open reading frame; ORFan, open reading frame without homology to a known protein; PPR, pentatricopeptide repeat; RNA, ribonucleic Acid; SMI, strict Maternal Inheritance; SP, signal peptide; tatC, twin-arginine translocase, subunit C; TM, transmembrane; TPR, tetratricopeptide repeat
Declarations
Acknowledgements
We thank France Dufresne, two anonymous reviewers and the editor for critical reading of the manuscript. This work was supported by funding from the Natural Sciences and Engineering Research Council of Canada (grant no., RGPIN/435656-2013 to S.B. and grant no., RGPIN/217175-2013 to D.T.S.). A.M. was financially supported by a Natural Sciences and Engineering Research Council of Canada scholarship.
Availability of data and materials
All data generated or analysed during this study are included in this published article [and its Additional files].
Authors' contributions
SB conceived the study, participated in its design and coordination and drafted the manuscript. AM performed the analyses and drafted the manuscript. DG performed part of the analyses and drafted the manuscript. DTS assisted with analytical recommendations and drafting the manuscript. All authors read and approved the final manuscript.
Competing interests
The authors declare that they have no competing interests.
Consent for publication
Not applicable.
Ethics approval and consent to participate
Not applicable.
Open AccessThis article is distributed under the terms of the Creative Commons Attribution 4.0 International License (http://creativecommons.org/licenses/by/4.0/), which permits unrestricted use, distribution, and reproduction in any medium, provided you give appropriate credit to the original author(s) and the source, provide a link to the Creative Commons license, and indicate if changes were made. The Creative Commons Public Domain Dedication waiver (http://creativecommons.org/publicdomain/zero/1.0/) applies to the data made available in this article, unless otherwise stated.
Authors' Affiliations
(1)
Department of Biological Sciences, Université de Montréal, Montréal, Canada
(2)
Department of Biology, Acadia University, Wolfville, Canada