Research article
Open Access
The repertoire of G protein-coupled receptors in the human parasite Schistosoma mansoni and the model organism Schmidtea mediterranea
Received: 31 March 2011
Accepted: 6 December 2011
Published: 6 December 2011
Abstract
Background
G protein-coupled receptors (GPCRs) constitute one of the largest groupings of eukaryotic proteins, and represent a particularly lucrative set of pharmaceutical targets. They play an important role in eukaryotic signal transduction and physiology, mediating cellular responses to a diverse range of extracellular stimuli. The phylum Platyhelminthes is of considerable medical and biological importance, housing major pathogens as well as established model organisms. The recent availability of genomic data for the human blood fluke Schistosoma mansoni and the model planarian Schmidtea mediterranea paves the way for the first comprehensive effort to identify and analyze GPCRs in this important phylum.
Results
Application of a novel transmembrane-oriented approach to receptor mining led to the discovery of 117 S. mansoni GPCRs, representing all of the major families; 105 Rhodopsin, 2 Glutamate, 3 Adhesion, 2 Secretin and 5 Frizzled. Similarly, 418 Rhodopsin, 9 Glutamate, 21 Adhesion, 1 Secretin and 11 Frizzled S. mediterranea receptors were identified. Among these, we report the identification of novel receptor groupings, including a large and highly-diverged Platyhelminth-specific Rhodopsin subfamily, a planarian-specific Adhesion-like family, and atypical Glutamate-like receptors. Phylogenetic analysis was carried out following extensive gene curation. Support vector machines (SVMs) were trained and used for ligand-based classification of full-length Rhodopsin GPCRs, complementing phylogenetic and homology-based classification.
Conclusions
Genome-wide investigation of GPCRs in two platyhelminth genomes reveals an extensive and complex receptor signaling repertoire with many unique features. This work provides important sequence and functional leads for understanding basic flatworm receptor biology, and sheds light on a lucrative set of anthelmintic drug targets.
Keywords
Support Vector MachineHide Markov ModelSecretinTraining SequenceSupport Vector Machine Training
Background
The G protein-coupled receptor (GPCR) superfamily constitutes the most expansive family of membrane proteins in the metazoa. These cell-surface receptors play a central role in eukaryotic signal transduction, and conform to a structural archetype consisting of a core domain of seven transmembrane (TM)-spanning α-helices. GPCRs are also established drug targets, acting as sites of therapeutic intervention for an estimated 30-50% of marketed pharmaceuticals [1, 2]. This is undoubtedly a function of their extensive involvement in a wide range of important physiological processes. The diverse panel of known GPCR ligands includes biogenic amines, photons, peptides, odorants and classical neurotransmitters [3]. This diversity is mirrored by the significant degree of primary sequence variation displayed among GPCRs.
At present, there exists no comprehensive study of GPCRs for the phylum Platyhelminthes. This important phylum houses prominent endoparasites, both flukes and tapeworms, as well as free-living species that serve as established model organisms in the realm of developmental biology. Lack of sequence data and a reliance on techniques with a definably narrow expectation of success such as degenerate PCR have contributed to the very modest number of GPCRs thus far identified or characterized [4–9] in this phylum. The arrival of EST repositories [10–12] has only marginally contributed to this number, perhaps as a consequence of GPCR under-representation [13]. The recent availability of Schistosoma mansoni[14] and Schmidtea mediterranea[15] whole genome sequence data provides basis for the in silico accumulation and analysis of undiscovered and potentially novel receptors.
The blood fluke Schistosoma mansoni is the primary etiological agent of human schistosomiasis, a chronic and debilitating condition that afflicts a staggering 207 million people in 76 countries [16] and accounts for 280,000 deaths per annum in sub-Saharan Africa alone [17]. It is calculated that up to 70 million disability-adjusted life years (DALYs) are lost to schistosomiasis annually [18]. This figure surpasses the global burden posed by both malaria and tuberculosis, and is nearly equivalent to that of HIV/AIDS. At present, this overwhelming disease burden is met with a near exclusive reliance on treatment with the drug praziquantel. The threat of drug resistance [19, 20] has spurred recognition of the pressing need for new antischistosomals [21–23]. In this context, as modulators of a diverse range of critical biochemical and physiological pathways, GPCRs hold great promise as potential targets for disruption of crucial parasite survival and proliferation activities.
The free-living planarian Schmidtea mediterranea is an important platyhelminth studied extensively for its regenerative abilities [24, 25]. Like other planarians, it is abundantly seeded with totipotent stem cells with the ability to migrate and undergo division and differentiation at sites of injury. In addition to its current role as a powerful model organism for regeneration and stem cell biology, S. mediterranea presents itself as a potential parasite drug discovery model [26]. In the case of nematodes, the biology of the free-living model organism Ceanhorhabditis elegans features prominently in many anti-parasitic drug discovery efforts [27, 28]. Like C. elegans, S. mediterranea is significantly more tractable to modern genomic approaches compared to the parasitic members of its phyla. It is relatively easy to maintain and it is amenable to RNA interference (RNAi) [29]. Genome-wide analysis and comparison of the GPCR complements of S. mansoni and S. mediterranea is a major step towards engaging this hypothesis.
The growing number of sequenced genomes has provided a GPCR mining platform for a number of organisms, including Homo sapien[30], Mus musculus[31], Gallus gallus[32], Rattus rattus[33], Tetraodon nigrovirdis[34], Anopheles gambiae[35], Drosophila melanogaster[36], Ciona intestinalis[37], Branchiostoma floridae[38], Xenopus tropicalis[39] and Canis familiaris[40]. For these organisms, GPCR sequences have been accumulated with a range of bioinformatic methods that include homology-based searching (BLAST), hidden Markov models (HMMs) and motif-driven queries [41]. The more sophisticated GPCR mining protocols have involved the application of a combination of such methods and algorithms.
Phylogenetic studies of the GPCRs in a number of eukaryotic genomes have led to the introduction of the GRAFS classification system [42, 43]. GRAFS outlines five major protein families thought to represent groupings of receptors with shared evolutionary ancestry present in the Bilateria: Glutamate, Rhodopsin, Adhesion, Frizzled, and Secretin. In addition to these primary families, some organisms are known to house groupings of lineage-specific receptors that constitute distinct GPCR families. Examples in the phylogenetic vicinity of the Platyhelminthes include the nematode chemosensory receptors [44] and insect gustatory receptors [45]. Any in silico protocol for genome wide GPCR identification should therefore cast a broad enough net to reveal any such highly-diverged receptor groupings, while also providing stringency to limit false positives.
Here, we apply an array of sensitive methods towards the goal of identifying, manually curating and classifying putative G protein-coupled receptor sequences in two prominent platyhelminths. Our hypothesis is that organisms in this phylum possess an extensive and complex complement of GPCRs, including phylum or species-specific GPCR groupings. We perform phylogenetic analysis of putative receptors with respect to the GRAFS classification system and employ a machine-learning approach for ligand-based classification of full-length Rhodopsin GPCRs.
Results and Discussion
In this study, we developed a robust transmembrane-focused strategy to identify, curate and classify putative platyhelminth GPCRs. TM-focused profile hidden Markov models (HMMs) were used to mine the predicted proteomes of
S. mansoni
and
S. mediterranea
in order to identify receptors at the GPCR family plane. Subsequent rounds of filtering were used to remove false positives, followed by homology-based searches against the original genome assemblies. Extensive manual curation of the final sequence dataset allowed for more refined phylogenetic analysis. Greater classification depth was achieved with a complementary transmembrane-focused support vector machine (SVM)-based classifier. An overview of this bioinformatics protocol is outlined in Figure
1
.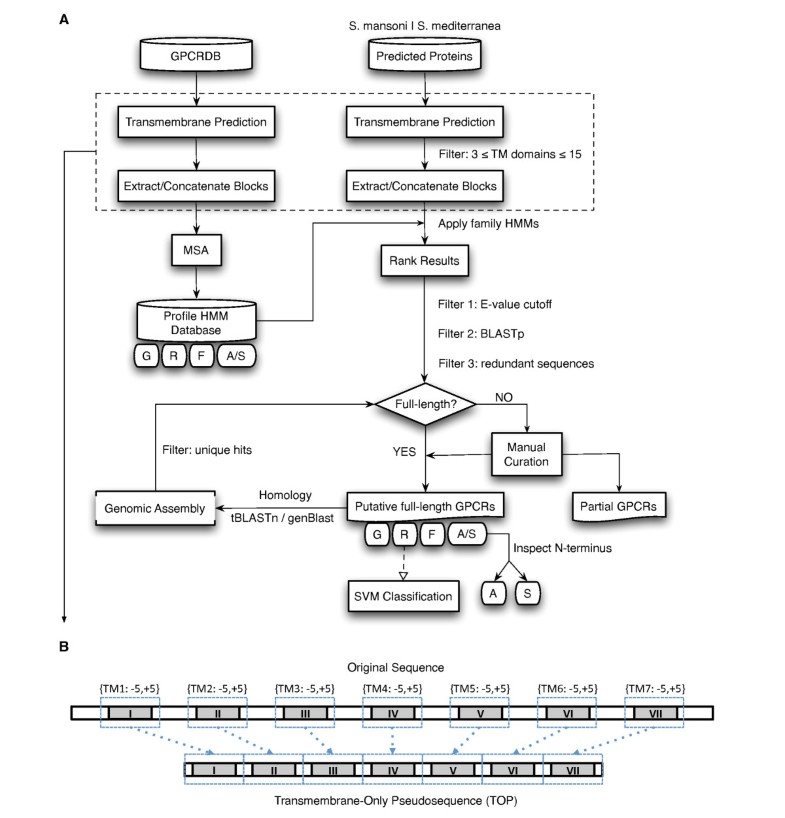 Conclusions
This is the first comprehensive genome-wide study of G protein-coupled receptors in the phylum Platyhelminthes. Our transmembrane-focused receptor mining approach yielded a lower-bound estimate of 117 S. mansoni and 460 S. mediterranea GPCRs. Phylogenetic analysis established the presence of the primary metazoan GRAFS families, along with well-populated α and β Rhodopsin subfamilies in both examined genomes. The identification of these receptors complements previous and ongoing efforts to identify biogenic amine and neuropeptide-like ligands in flatworms, and will help identify specific receptors that mediate important aspects of flatworm biology associated with the aminergic and peptidergic signaling systems.
The flatworm GPCR repertoire is also shown to house entirely novel receptor groupings with large numerical representation, including a Platyhelminth-specific Rhodopsin subfamily (PROF1) and a planarian-specific Adhesion-like family (PARF1). These particular lineage-specific expansions, along with the many other highly-diverged and receptors identified, may reveal functional innovations specific to these organisms. Many of these receptors have enhanced appeal as selective pharmacological targets. While their diverged structures are an attractive feature in the parasite drug discovery paradigm, this presents a challenge in posing more exact hypotheses related to receptor function.
To further aid the process of functionally pairing receptors and ligands, we provide a preliminary classification of full-length receptors using SVMs. This represents the first effort to apply SVMs to the problem of GPCR classification in a whole-genome manner, a task made difficult by the evolutionary distance of flatworms from other species with well-characterized GPCR complements. SVM results may be used in conjunction with phylogenetic and homology-based approaches to receptor classification. These results suggest that PROF1 receptors may respond to phylum-specific peptide ligands. As the quality of the underlying gene models improves, and as a greater number of full-length receptor transcripts are sequence characterized, these SVMs can be refined and applied to an expanding subset of identified GPCRs. Functional characterization of flatworm GPCRs is also likely to improve SVM accuracy by providing more relevant training examples.
The notion that schistosome GPCRs represent lucrative anthelmintic drug targets is strengthened by data on the crucial biological role of related receptor signaling molecules in nearly-related organisms [82, 83], as well as that of predicted platyhelminth GPCR ligands [56, 57, 61, 63]. The receptors, ligands and downstream biochemical pathways associated with GPCR signaling have been identified as potential targets for parasite life-cycle interruption [23, 84]. Enlistment of schistosome reverse genetics approaches alongside receptor sequence data can lead to the validation of specific receptors as drug targets.
In this regard, RNAi in schistosomes [85, 86] provides new opportunities for focused exploitation of this dataset. A simple medium-throughput phenotypic classification system has recently been described for both schistosomula and adult schistosomes [87]. These endpoints could readily be used in an RNAi-mediated GPCR loss-of-function screen. Assaying the temporal expression profiles of parasite GPCRs can also be a worthwhile measure as a selection tool for receptors expressed in intra-host stages. On this front, we further the case for planarians as a convenient model organisms to interrogate the function of trematode receptors, and provide a list of inter-species receptor pairings ranked by sequence identity.
While we further the case of planarians as model organisms for flatworm parasite research, differences between the receptor complements of parasitic and free-living flatworms are also very likely to reveal important molecular actors. Phylogenetically distinct planarian receptors are more likely to be involved in regenerative processes, while receptors unique to schistosomes are more likely to play key roles in parasite pathogenesis. Both of these avenues present fertile ground for the targeting and functional elucidation of specific receptors.
Methods
Predicted proteomes and training sequences
The most recent release of the S. mansoni genomic assembly is accompanied with a set of 13,197 predicted proteins [14]. The S. mediterranea predicted proteome consists of 31,955 predicted proteins that were produced with MAKER, although this number may represent a significant overestimate of the true protein count [15, 88]. HMM and SVM training sequences were downloaded from GPCRDB [49]. In total, 268 Glutamate, 5025 Rhodopsin, 175 Adhesion, 354 Frizzled and 185 Secretin sequences were procured for HMM training. 20,920 GPCRDB sequences were used for Rhodopsin SVM training, and 2,105 sequences were used for amine SVM subclassification.
Nomenclature
Putative receptors retain their original GeneDB, MAKER, or GenBlast IDs in modified form. In cases where a gene model was created, receptors were given a label in similar form that includes genomic contig or scaffold information. Letters are appended to the ends of these labels where necessary to distinguish among multiple gene models associated with a single contig or scaffold. All putative flatworm GPCR sequences are provided in association with their tentative IDs (Additional File 7).
Transmembrane domain prediction
We applied two common algorithms, TMHMM 2.0 [48] and HMMTOP 2.1 [47], to identify transmembrane domains in our GPCR training set. HMMTOP correctly predicted 7 TM domains for 93.8% (4712/5025) of rhodopsin family receptors, compared to 81.9% (4119/5025) in the case of TMHMM. This disparity in sensitivity held for all GPCR families, and was the basis for our decision to employ HMMTOP for most subsequent work. A robust Perl script (Additional File 8) was written to parse coordinate predictions output from HMMTOP, and to generate sequence files containing only regions of interest from the original protein sequences as required.
TM-focused Profile hidden Markov model (HMM) construction
Provided a multiple sequence alignment, HMMER-2.3.2 [89] builds a probabilistic model (profile HMM) that can be used to query sequence databases to find (or align) homologous sequences. To prepare each GPCR family training set, predicted TM domains flanked bi-directionally by 5 amino acids were extracted and concatenated using coordinates produced in the previous section. These sequences were aligned with Muscle 3.6 [90] and a profile HMM was constructed for each family with hmmbuild. All models underwent calibration using hmmcalibrate, with the default parameters.
HMM-based GPCR identification
All predicted proteins in the S. mansoni and S. mediterranea genomes with a predicted number of TM domains in the range of 3-15 were processed in a manner identical to the HMM training set. These TOP-converted protein sets were searched against our family-specific profile HMMs using hmmpfam. The resulting hits for each GPCR family were ranked according to E-value, and a cut-off was selected at the point where subsequent hits showed significant homology to other known proteins or GPCRs belonging to other families. This was accomplished with a BLASTp search of all hits against the NBCI nr database. The BLAST results were parsed with a script and top results were examined for removal of false positives.
Manual curation of putative GPCR-encoding genes
A large number of GPCR sequences underwent manual inspection of gene structure, and the original predictions were edited where possible. Common manual edits included the merging or splitting of gene models, modification of intron-exon boundaries, and sequence extension or truncation in either or both directions. All editing was performed with Artemis [91]. Curation was primarily guided by homology-based searches and identification of TM domains and family-specific GPCR motifs in ORFs that occurred in the vicinity of a gene model. In the case of S. mansoni, this labor-intensive process was aided by the extraction of GeneDB [http://www.genedb.org/] annotations for scaffolds thought to contain one or more receptors. More specifically, a script was written to compile pertinent scaffold information stored in EMBL formatted files, including the orientation, the number of predicted transmembrane domains and the top BLAST hits for proteins identified by the profile HMMs. This data was parsed into a spreadsheet and proved significant in helping identify instances where manual curation was appropriate (Additional File 9). In the case of S. mediterranea, annotated genomic regions were loaded into Artemis and edited in a similar manner.
Phylogenetic analysis
Near full-length (TM > 5) receptors were first processed for removal of the N- and C-termini. ClustalX 2.0 [92] was used to generate multiple sequence alignments of the GPCRs to be examined, with default parameters. PFAAT [93] was used to edit the resulting alignment with attention to key motifs and residues housed within transmembrane domains. Low-entropy sequence blocks present in all sequences were retained. The Phylip 3.6 [94]package was used to generate phylogenetic trees. Alignments were bootstrapped using seqboot. Maximum parsimony trees were calculated with protpars with input order randomized. Neighbor-joining trees were calculated with protdist and neighbor using the JTT (Jones-Taylor-Thornton) distance matrix and with input order randomized. Consensus trees were built with consense, and visualized and edited with FigTree [http://tree.bio.ed.ac.uk/software/figtree/].
PROF1 RT-PCR
Total RNA was extracted from flatworm (schistosome or planarian) tissue using the RNAqueous Kit (Ambion), and RNA was treated with Turbo DNAase (Ambion) per manufacturer's instructions. A two-step RT-PCR was performed, where reverse transcription was first carried out with the Retroscript kit (Ambion). Primers were designed for two schistosome PROF1 sequences and 13 planarian PROF1 sequences using Primer 3.0 [95] (Additional File 10). PCR products were visualized by agarose gel electrophoresis to confirm transcript expression.
SVM
Programs were written to process training sequences into feature vector form for the training of three SVM classifiers: SVMT 1, SVMT 2, and SVM FL (Additional File 3). TM prediction was performed on training sequences with HMMTOP, and fixed-length dipeptide frequency vectors were calculated in correspondence with each model. SVMs were implemented with the the LIBSVM [96] package. The RBF kernel was chosen and a grid-search was performed with an available python script for selection of kernel parameters. C and γ were assayed in the domains C = 2-5, 2-4, ..., 215 and γ = 2-15, 2-14, ..., 215 to identify the C,γ pair that maximizes 5-fold cross validation ACC. The classifiers were trained in accordance with the GPCRDB ligand-based groupings, and applied to a subset of flatworm Rhodopsin receptors with 7 predicted TM domains.
Declarations
Acknowledgements
The authors wish to acknowledge the sequencing centers and laboratories responsible for the publicly-accessible genomic data that made this work possible. We would like to thank Dr. Alejandro Sanchez Alvarado and Eric Ross for providing us the MAKER predicted gene set. This work was funded by a grant from the National Institutes of Health (NIH R01 AI49162) to TAD and AGM. The funders had no role in study design, data collection and analysis, decision to publish, or preparation of the manuscript.
Authors' Affiliations
(1)
Department of Biomedical Sciences, Iowa State University, Ames, USA
(2)
Neuroscience Program, Iowa State University, Ames, USA
(3)
Biomolecular Processes, School of Biological Sciences, Queen's University Belfast, Belfast, UK
Copyright
© Zamanian et al; licensee BioMed Central Ltd. 2011
This article is published under license to BioMed Central Ltd. This is an Open Access article distributed under the terms of the Creative Commons Attribution License (http://creativecommons.org/licenses/by/2.0), which permits unrestricted use, distribution, and reproduction in any medium, provided the original work is properly cited.