Research article
Open Access
Living with an imperfect cell wall: compensation of femAB inactivation in Staphylococcus aureus
Received: 26 February 2007
Accepted: 04 September 2007
Published: 04 September 2007
Abstract
Background
Synthesis of the Staphylococcus aureus peptidoglycan pentaglycine interpeptide bridge is catalyzed by the nonribosomal peptidyl transferases FemX, FemA and FemB. Inactivation of the femAB operon reduces the interpeptide to a monoglycine, leading to a poorly crosslinked peptidoglycan. femAB mutants show a reduced growth rate and are hypersusceptible to virtually all antibiotics, including methicillin, making FemAB a potential target to restore β-lactam susceptibility in methicillin-resistant S. aureus (MRSA). Cis-complementation with wild type femAB only restores synthesis of the pentaglycine interpeptide and methicillin resistance, but the growth rate remains low. This study characterizes the adaptations that ensured survival of the cells after femAB inactivation.
Results
In addition to slow growth, the cis-complemented femAB mutant showed temperature sensitivity and a higher methicillin resistance than the wild type. Transcriptional profiling paired with reporter metabolite analysis revealed multiple changes in the global transcriptome. A number of transporters for sugars, glycerol, and glycine betaine, some of which could serve as osmoprotectants, were upregulated. Striking differences were found in the transcription of several genes involved in nitrogen metabolism and the arginine-deiminase pathway, an alternative for ATP production. In addition, microarray data indicated enhanced expression of virulence factors that correlated with premature expression of the global regulators sae, sarA, and agr.
Conclusion
Survival under conditions preventing normal cell wall formation triggered complex adaptations that incurred a fitness cost, showing the remarkable flexibility of S. aureus to circumvent cell wall damage. Potential FemAB inhibitors would have to be used in combination with other antibiotics to prevent selection of resistant survivors.
Keywords
PeptidoglycanLuria BertaniTeicoplaninGlycine BetaineBacitracin
Background
The peptidoglycan structure of Staphylococcus aureus is a dynamic, three-dimensional meshwork consisting of multiple layers of glycan strands that are crosslinked through peptide bridges. It determines the bacterial shape and confers protection against the high internal turgor. Characteristic for the staphylococcal peptidoglycan is the long and flexible pentaglycine interpeptide, which branches off the ε-amino group of the L-lysine of the peptidoglycan stem peptide. The pentaglycine interpeptide is synthesized in a sequential fashion by the FemABX family of nonribosomal peptidyl transferases, which use glycyl-tRNA as a glycine donor. While FemX (synonym: FmhB) adds the first glycine, FemA and FemB add Gly2,3 and Gly4,5, respectively [1–4]. Although structurally and functionally related, these factors cannot substitute for one another [5]. Growth of mutants with a shortened interpeptide is strongly impaired [2]. They display a massive reduction in cell wall crosslinking, aberrant septum formation, and hypersusceptibility to antibiotics including all β-lactams [1, 2]. In methicillin-resistant S. aureus (MRSA), methicillin resistance is completely abolished upon inactivation of femA, suggesting that the monoglycine peptidoglycan is a very poor substrate for the native penicillin-binding proteins (PBPs) as well as for the low affinity PBP2a encoded by mecA, which confers resistance to β-lactams. FemX and/or FemA were therefore regarded as potential targets for novel antibacterial agents, which could restore β-lactam susceptibility in MRSA [6]. While FemX was shown to be essential [7], femAB null mutants were postulated to require a secondary, yet uncharacterized compensatory or suppressor mutation(s) chr* to stabilize the cell [6]. The phenotype of a femAB null mutant thus reflects not only the consequences of the inactivation of the femAB operon, but additionally the effects due to the postulated compensatory mutation(s). These compensatory events or adaptations are of potential interest, as they may tell us about the interrelationship between cell wall synthesis and other cellular mechanisms. By re-introducing the femAB wild type allele in cis, the compensatory effects were separated from those due to the femAB inactivation. This allowed us to study the consequences of the adaptation events in the presence of a restored pentaglycine interpeptide synthesis machinery.
Results and discussion
Phenotypic characterization of the femAB+ backcross
Transcriptome analysis
Given the multiple phenotypic traits that were not complemented by restoring the pentaglycine interpeptide, changes in the genome transcription profile were expected. In a snapshot of the transcriptomes of exponentially growing cells by microarray analysis, 56 genes were reported to be downregulated in the femAB+ backcross strain BB1305 compared to the wild type strain BB903, and 81 genes were reported to be upregulated [see Additional file 1]. The list of differentially expressed genes was determined using the moderated t-statistics [9], followed by the family-wise error rate (FWER)-based p- value adjustment according to Holm [10], in order to guarantee high confidence in the selected genes.
The distribution of functional classes within the down- and the upregulated genes (Table
2
) is depicted in pie charts for comparison with their occurrence within the total of genes represented on the chip (Figure
5
). Among the downregulated genes in the mutant, categories significantly overrepresented as determined by Fisher's exact test comprised transport/binding proteins and lipoproteins, protein synthesis, metabolism of lipids, nucleotides and nucleic acids. Taking into account the decreased growth rate of BB1305, this finding may in part reflect the differences in growth between the two strains tested, particularly with regard to protein synthesis. In contrast, the categories that were overrepresented among the upregulated genes, i.e. metabolism of amino acids and carbohydrates, pathogenic factors, and phage-related functions, may point to changes in metabolism selected by an overall stress response to the original
femAB
deletion.
Table 2
Functional classification and numbers of genes that were found differentially expressed in the femAB+ backcross BB1305 compared to the corresponding wild type BB903 as determined by microarray analysis
Functiona

Number of ORFs

Overrepresentationb

Chip

Down

Up

p -value

Cell wall

63

2

0

Membrane bioenergetics (electron transport chain and ATP synthase)

58

1

2

Transport/binding proteins and lipoproteins

254

16

11

down

< 0.001

Protein secretion

12

0

0

Sensors (signal transduction)

19

0

0

Cell division, germination, sporulation, and transformation/competence

34

0

0

DNA modification, repair, recombination, replication, packaging, and segregation

80

0

3

Protein folding and modification

35

1

1

Protein synthesis

85

6

0

down

0.015

RNA modification

20

0

0

RNA synthesis

132

3

8

Metabolism of lipids

50

4

3

down

0.030

Metabolism of amino acids and related molecules

143

7

10

up

0.029

Metabolism of carbohydrates and related molecules

134

2

10

up

0.023

Metabolism of coenzymes and prosthetic groups

70

0

1

Metabolism of nucleotides and nucleic acids

74

5

3

down

0.030

Metabolism of phosphate and sulfur

8

0

0

Adaptation to atypical conditions

44

0

1

Pathogenic factors (toxins and colonization factors)

97

1

9

up

0.006

Phage-related functions

43

0

7

up

0.001

Detoxification, transposon and IS, miscellaneous

66

1

2

Similar to unknown proteins, no similarity

811

7

10

Total ORFs

2332

56

81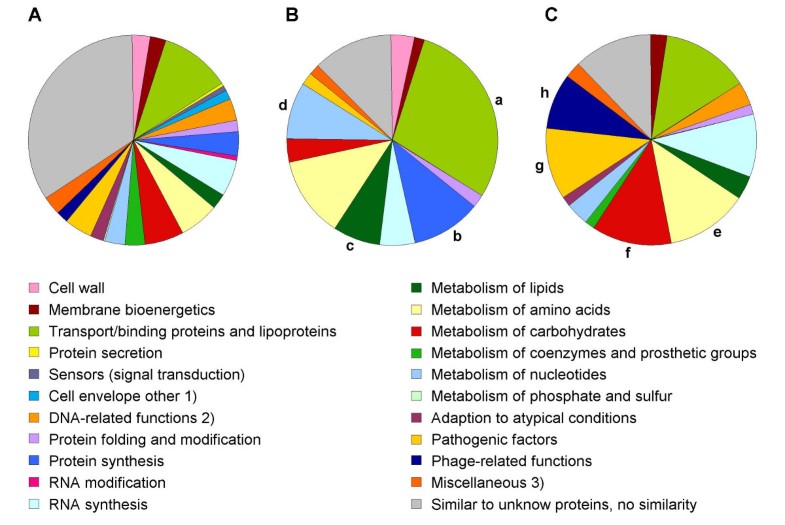 Conclusion
This is the first thorough characterization of compensatory effects triggered by a shortened pentaglycine interpeptide, the low ability of PBP to crosslink this altered peptidoglycan, and selection for survival. The poorly crosslinked cell wall may be not strong enough to withstand the cells' high internal turgor. This imbalance must have been sensed by the cells, which found a way to counteract osmotic stress, though at the cost of a decreased growth rate and temperature sensitivity. The rearrangements required also involved changes in the expression of metabolic pathways, especially of the arginine-deiminase pathway and the nitrogen metabolism, and seem to be maintained in a stable manner, since they persisted after restoration of the pentaglycine interpeptide. This demonstrates the vast extent of the compensatory adaptations. Such compensatory adaptations following mutagenesis may happen much more frequently than anticipated, and may be the cause of the often observed experimental inability to fully complement mutations with the original wild type alleles.
Cell wall-deficient forms (L-forms) of S. aureus are able to survive without an intact murein sacculus, and to internalize and persist in macrophages [47]. Adaptive responses to L-forms of S. aureus have recently been described by Fuller et al. [48], who selected cell wall-deficient mutants with subinhibitory concentrations of penicillin in the presence of elevated osmolality. Similar to what we observed, namely that the reconstituted strain BB1305 displayed a higher, more homogeneous oxacillin resistance than the wild type, recovery of the cell wall by the L-forms resulted in a stably inherited penicillin resistance that was independent of a β-lactamase or mecA. Apparently, the expected negative effect of reduced fmtC or glnA expression on oxacillin resistance was compensated in BB1305. A phenomenon, that was also observed with other fem, aux or fmt MRSA mutants which still harboured their original mutations but regained resistance by compensatory events when grown in the presence of β-lactams [18, 49].
The temperature sensitivity and the increased susceptibility to bacitracin and teicoplanin are indications for permanent alterations in the membrane. Membrane defects may also be the cause for the premature upregulation of global regulators which in turn most probably triggered the enhanced expression of virulence factors [50, 51].
It is likely that the adaptations represent just one of many ways that S. aureus could respond to femAB inactivation. Some of the findings may be secondary effects caused by slow growth and changes within the cell, not contributing to survival, similar to the upregulation of the purine operon in vancomycin intermediate resistant S. aureus [52], that did not contribute to increased glycopeptide resistance [53].
At this stage, we cannot confirm that the numerous adaptive events that occurred in the femAB deletion mutant and that are reflected in the femAB+ cis-complemented strain were indeed due to mutation(s). The phenotypic adaptations revealed here, such as temperature sensitivity, slowed down growth, but no changes in autolytic activities, were strikingly similar to the phenotype caused by mutations in femA after selection for lysostaphin resistant clones [54], which might be evidence for a common survival strategy.
S. aureus has shown here a remarkable ability to compensate and survive a severe condition, such as femAB inactivation, which prevents peptidoglycan crosslinking. Implementation of potential FemAB inhibitors may therefore entail selection of resistant subpopulations having unwanted characteristics, making a combined treatment with other antibiotics highly advisable.
Methods
Bacterial strains and growth conditions
The strains used in this study are listed in Table 1. Bacteria were cultivated either on sheep blood agar or in Luria Bertani (LB) broth (Becton Dickinson, Sparks, MD) at 37°C, unless stated otherwise. The ratio between broth and culture flask volume was 1:5 and incubation was carried out with shaking at 180 rpm.
Scanning electron microscopy (SEM)
Strains grown in brain heart infusion (BHI) broth at 30°C for 3 h were used to inoculate 1 ml BHI broth in 24-well plates containing polyethylene terephthalate (Thermanox) disks (Life Technologies, Basel, Switzerland) to an OD600 of 0.05. The cells were incubated in stationary culture at 30°C for 2 h. Fixation and SEM were carried out as described previously [55].
Peptidoglycan analysis
Insoluble peptidoglycan was purified from cultures grown to mid-log phase in BHI broth using a standard procedure [56, 57]. After removal of teichoic acids by hydrofluoric acid, the relative glycan chain lengths were determined in the peptidoglycan preparations as described elsewhere [58] and their muropeptide patterns were compared following digestion with muramidase [56].
Antibiotic gradient plates
Qualitative differences in resistance levels were evaluated by swabbing 0.5 McFarland-standard cell suspensions, prepared from freshly grown overnight cultures, along an antibiotic gradient on rectangular LB agar plates. Gradient plates were incubated at 35°C for 24 to 48 h.
Population analysis profile
Overnight cultures were diluted in 0.85% NaCl and aliquots of 0.1 ml were spread onto LB agar plates containing various oxacillin concentrations. Colony forming units (CFUs) were determined after 48 h.
Molecular biological methods
General molecular biology techniques were performed as described by Sambrook et al. [59] and Ausubel et al. [60].
Transcriptional profiling
Overnight cultures were diluted 100-fold in LB broth and cells were grown to an OD600 of 0.8–1.0. The cultures were stabilized by incubation with 2 volumes of RNAprotect Bacteria Reagent (QIAGEN, Hilden, Germany) for 5 min at room temperature. Subsequently, cells were harvested by centrifugation, lysed in the presence of 400 μg/ml lysostaphin (Sigma-Aldrich, Taufkirchen, Germany) and total RNA was isolated using the RNeasy Midi Kit (QIAGEN) following the manufacturers' instructions.
Three independent RNA preparations of each strain were reverse transcribed twice, using either cyanine-3' (Cy3) or cyanine-5' (Cy5) as a label. Briefly, 10 μg of total RNA were transcribed into cDNA using Superscript II reverse transcriptase (Invitrogen, Karlsruhe, Germany). The transcription reaction was performed in the presence of 0.1 mM Cy3- or Cy5-labelled dCTP (Perkin Elmer Life Science, Mechelen, Belgium) in addition to 0.2 mM dCTP, 0.5 mM dATP, dGTP and TTP, 75 μg/ml random hexamer primer (Amersham, Bioscience, Freiburg, Germany) and 4U/μl RNase-Out (Invitrogen). RNA was degraded by alkaline hydrolysis at 65°C and cDNA was purified using the MinElute PCR Purification Kit (QIAGEN).
Differentially labelled cDNAs of both strains were competitively hybridized with a custom PCR product microarray (Scienion, Berlin, Germany) resulting in a total of six chips. The microarray contained 2332 open reading frames (ORFs) of the S.aureus N315 genome, each represented by adjacent duplicate spots. Hybridization was performed at 42°C for 72 h according to the manufacturer's instructions. The hybridized microarrays were read out with a GenePix 4000B scanner (Axon Instruments/Distribution by Biozyme, Oldendorf, Germany). Image analysis and acquisition of relative data were conducted using GenePixPro 4.1 software (Axon Instruments).
Microarray data analysis
First, the intensity data arising from the six two-colour spotted microarrays were calibrated and normalized in order to remove systematic technical variation (e.g. different labelling efficiencies and scanning properties of the Cy3 and Cy5 dyes) and to ensure that observed differences in intensities indeed reflect biological signal. Two-channel normalization was performed to adjust the centre and spread of the distribution of intensity log-ratios [61] using the default method of the "marray" package [62] in Bioconductor version 1.8 [63]. Adaptive location normalization within print-tip groups using robust local regression [64] allows the capture of non-linear dependencies of the intensity log-ratio on overall intensity, while ensuring that the computed normalization values are not driven by a small number of differentially expressed genes with extreme log-ratios. Due to scale differences between the arrays we also conducted global scale normalization across arrays.
For identification of differentially expressed genes between the femAB+ backcross BB1305 and the wild type BB903, the linear modelling features of the "limma" R package version 2.9.1 were used [65]. In the present experiment, three BB1305 RNA preparations were to be compared with three BB903 RNA preparations using six arrays, i.e. each RNA appeared on two different arrays. Note that technical replicates are not independent: in fact they are likely to be positively correlated. Since the experimental design did not arrange the arrays in groups of biological replicates, we fitted a model with a coefficient for each RNA preparation. The duplicate spots in adjacent position were taken into account by estimating a common value for the intra-duplicate correlation [66] that was used when fitting a linear model for each gene. Finally, we extracted the contrast referring to the average expression differences between the two investigated S. aureus strains and computed moderated t-statistics using empirical Bayes methods. These borrow information across genes and thus stabilize the analysis even for a small number of arrays [9]. The reported list of potentially interesting genes was determined by adjusting the p-values for multiple testing. Here we have chosen the FWER-based p-value adjustment according to Holm [10], where the multiple significance level α was set to 0.05.
Reporter metabolite analysis
The microarray data were further analyzed by a recently developed algorithm that uses the topology of an organism's metabolic network to uncover underlying metabolism-related transcriptional regulation [67]. This algorithm first converts a genome-scale metabolic network of S. aureus N315 [11] into a bipartite metabolic graph. In this graph, each metabolite node is then scored based on the normalized transcriptional response of its neighbouring enzymes. Using the genes' p-values as inputs to score the enzyme nodes, the algorithm identifies so-called reporter metabolites, designating metabolites around which the most significant transcriptional changes occur.
Northern blots
The transcription of a selection of genes was verified by Northern hybridization and primers used for probe amplification are listed in Table
4
. Overnight cultures were diluted 100-fold in LB broth and incubated for 2 h. The pre-cultures were then diluted in LB broth to an OD
600
of 0.05 and grown until they reached the desired OD
600
. Total RNA was extracted according to the method of Cheung et al. [
68
]. For Northern hybridization, 8 μg of total RNA per sample were loaded on a 1.5% agarose gel containing 20 mM guanidine thiocyanate in 1xTris-Borate-EDTA running buffer [
69
]. Blotting of the electrophoretically separated RNA and detection of transcripts were carried out as described earlier [
70
].
Table 4
Primers used for construction of DIG-labelled DNA probes
| Primer | Sequence (5'-3') |
| --- | --- |
| dltA- F | TCAGGCGGTACATTAAATCTTGT |
| dltA- R | TATGTGTTGTAAATCGTCGCACT |
| dnaK-F | CGATGAGCCAAAAGTAATTC |
| dnaK-R | TACTTCGAATACACCGTCAC |
| fmtC-F | CCGTATGTCCTTAGTGTTAC |
| fmtC-R | GCAGTACAATCCTACAAAAC |
| glnA-F | AGATGGAACACCATTTGAAG |
| glnA-R | AAACGTTAAAGTGCATACCG |
| glpF-F | TAGACGGAAGTTTTGATTGG |
| glpF-R | GGCAATTGGTCCTAAGATAG |
| opuCC-F | TTGTCGTGTTTGTCTTATCG |
| opuCC-R | ACGTATTCGCAAAACCATAC |
| pyrP-F | TTATCACGGGATTAAGTACG |
| pyrP-R | ACAATCGGAATCATTACAAG |
| pyrR-F | AACGTACAGTGACGAGAATC |
| pyrR-R | TAACTGCATTTCTTTGATCC |
| RNAII-F | CGAAGACGATCCAAAAC |
| RNAII-R | TTATCTAAATGGGCAATGAGT |
| RNAIII-F | GTGATGGAAAATAGTTGATGAG |
| RNAIII-R | GTGAATTTGTTCACTGTGTCG |
| sa1007-F | TAATGAATCCTGTCGCTAAT |
| sa1007-R | TTCAGTGTATGACCAATCGAA |
| saeR-F | GACCCACTTACTGATCGTG |
| saeR-R | CCTAATCCCCATACAGTTGTG |
| sarA-F | AGGGAGGTTTTAAACATGGC |
| sarA-R | CTCGACTCAATAATGATTCG |
| splA-F | GAATTACCTGGTTGTGCATACG |
| splA-R | GAAGACCTTGCGATAGTTCATG |
Urease assay
McFarland 0.5-standard cell suspensions were diluted 100-fold in urea medium [71] and were incubated in 96-well plates at 37°C for 24 hours.
Declarations
Acknowledgements
This study was supported by LSHM-CT-2003-503335 (SBF03.0098) and Swiss National Science Foundation grant 31-105390/1 to B.B.-B., a grant of the Federal Ministry of Education and Research of Germany (Pathogenomics, PTJ-BIO/03U213B, 601 I 1-4/1 - V II ZV -03, V I PG 1) to G.B., Swiss National Science Foundation grant 3200B0-103793 to P.A.M., and financial support from DSM Nutritional Products to J.S.
Authors' Affiliations
(1)
Institute of Medical Microbiology, University of Zürich, Zürich, Switzerland
(2)
Institute for Medical Microbiology, Immunology and Parasitology, University of Bonn, Bonn, Germany
(3)
Institute of Molecular Systems Biology, ETH Zürich, Zürich, Switzerland
(4)
Seminar for Statistics, ETH Zürich, Zürich, Switzerland
(5)
Division of Infectious Diseases, Department of Internal Medicine, Centre Hospitalier Universitaire Vaudois, Lausanne, Switzerland
(6)
AO Research Institute, Davos, Switzerland
(7)
School of Medicine, University of Wales Swansea, Swansea, UK
Copyright
© Hübscher et al; licensee BioMed Central Ltd. 2007
This article is published under license to BioMed Central Ltd. This is an Open Access article distributed under the terms of the Creative Commons Attribution License (http://creativecommons.org/licenses/by/2.0), which permits unrestricted use, distribution, and reproduction in any medium, provided the original work is properly cited.