Research article
Open Access
The carotenoid biosynthetic and catabolic genes in wheat and their association with yellow pigments
Received: 13 July 2016
Accepted: 7 December 2016
Published: 31 January 2017
Abstract
Background
In plants carotenoids play an important role in the photosynthetic process and photo-oxidative protection, and are the substrate for the synthesis of abscisic acid and strigolactones. In addition to their protective role as antioxidants and precursors of vitamin A, in wheat carotenoids are important as they influence the colour (whiteness vs. yellowness) of the grain. Understanding the genetic basis of grain yellow pigments, and identifying associated markers provide the basis for improving wheat quality by molecular breeding.
Results
Twenty-four candidate genes involved in the biosynthesis and catabolism of carotenoid compounds have been identified in wheat by comparative genomics. Single nucleotide polymorphisms (SNPs) found in the coding sequences of 19 candidate genes allowed their chromosomal location and accurate map position on two reference consensus maps to be determined. The genome-wide association study based on genotyping a tetraploid wheat collection with 81,587 gene-associated SNPs validated quantitative trait loci (QTLs) previously detected in biparental populations and discovered new QTLs for grain colour-related traits. Ten carotenoid genes mapped in chromosome regions underlying pigment content QTLs indicating possible functional relationships between candidate genes and the trait.
Conclusions
The availability of linked, candidate gene-based markers can facilitate breeding wheat cultivars with desirable levels of carotenoids. Identifying QTLs linked to carotenoid pigmentation can contribute to understanding genes underlying carotenoid accumulation in the wheat kernels. Together these outputs can be combined to exploit the genetic variability of colour-related traits for the nutritional and commercial improvement of wheat products.
Keywords
WheatCarotenoids genesSNPAssociation mappingYellow pigmentsFlour colour
Background
Carotenoids are organic pigments commonly present in plants, photosynthetic algae and some species of fungi and bacteria. They are normally associated with thylakoid membranes of chloroplasts and often provide the yellow, orange and red pigmentation to many flowers, fruits and roots [1]. In plants, carotenoids play an important role in photosynthesis, photo-oxidative protection [2], and represent the substrate for the synthesis of apocarotenoid hormones, such as abscisic acid and strigolactones [3, 4]. Carotenoid actions and their relation to human health and disease have been widely reviewed [5]. Carotenoids and some of their metabolites are suggested to play a protective role in a number of reactive oxygen species (ROS)-mediated conditions, such as, i.e., cardiovascular diseases, several types of cancer or neurological, as well as photosensitive or eye-related disorders.
Carotenoids are typically divided into two classes: carotenes, which are tetraterpenoid hydrocarbons, and xanthophylls that contain one or more oxygen groups [
6
]. The carotenoid biosynthesis has been almost completely elucidated due to work in
Arabidopsis thaliana,
rice, maize and in some ornamental plants [
6
,
7
]. Briefly, the first stage of the biosynthetic process, mediated by phytoene synthase (PSY), involves the condensation of two molecules of geranylgeranyl diphosphate to produce phytoene, which normally does not accumulate in tissues (Fig.
1
). In higher plants, the phytoene undergoes a series of four desaturation reactions, mediated by phytoene desaturase (PDS), zeta-carotene isomerase (Z-ISO), zeta-carotene desaturase (ZDS) and carotenoid isomerase (CRTISO) that lead to the production of lycopene. Double lycopene cyclization can produce α-carotene (branch β-ε) or β-carotene (branch β-β). Subsequent modifications transform α-carotene to zeinoxanthin and lutein, and the β-carotene to β-cryptoxanthin, zeaxanthin, antheraxanthin, violaxanthin and neoxanthin. The oxidative cleavage of violaxanthin and neoxanthin form xanthoxin, which is converted to the phytohormone abscisic acid via ABA-aldehide [
3
]. Strigolactones derive from β-carotenoids via a pathway involving the carotenoid cleavage dioxygenases CCD7, CCD8 and CYP711A1 [
4
].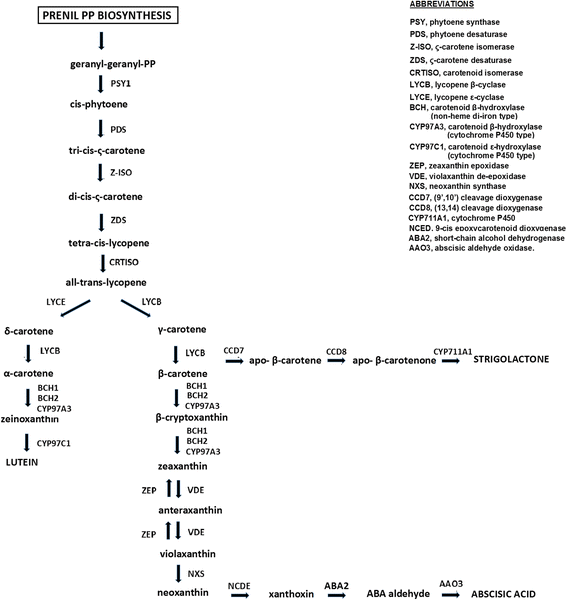 Wheat is one of the most important crops worldwide and is the leading source of plant protein in human food, having a higher protein content than other major cereals, such as maize or rice [8]. In addition to their protective role as antioxidant and as precursors of vitamin A, carotenoids are commercially important as they confer whiteness vs. yellowness degree to the end products of wheat. Consumers usually prefer white bread made from common wheat (Triticum aestivum L. subsp. aestivum), while yellow semolina and pasta made from durum wheat (Triticum turgidum L. subsp. durum) are preferred by the market. Flour and semolina colour is mainly the result of carotenoid accumulation in the grain [9], but the final colour of end-finished products is also associated to losses during grain storage and to the carotenoid oxidative degradation by enzymes, such as polyphenol oxidase, lipoxygenase and peroxidase, during processing [10, 11].
Flour and semolina colour in wheat is a quantitative trait controlled by several genes with additive effect, and influenced by environmental factors [12]. Mapping studies for yellow pigment content (YPC) and yellow index (YI), in several biparental populations have identified QTLs on all wheat chromosomes (reviewed in Additional file 1: Table S1). The major QTL on the long arm of chromosome 7A, accounting for up to 60% of the phenotypic variation, was detected through all studies and attributed to allelic variations of the phytoene synthase (Psy-A1) gene [13–15]. Although there is an increased understanding of the mechanisms regulating carotenoid content and composition, only some carotenoid biosynthetic genes have been identified and cloned in wheat, such as phytoene synthase (PSY) [13, 16, 17], lycopene ε-cyclase (LYCE) [18, 19], carotene desaturase (PDS) and zeta-carotene desaturase (ZDS) [20], carotenoid β–hydroxylase (BCH) [21], lycopene β-cyclase (LYCB) [22].
As an alternative to classical linkage-based QTL mapping, the association mapping approach has received increased attention for detecting QTLs controlling complex traits [23]. One of the potential disadvantages of genome-wide association studies (GWAS) is the appearance of spurious marker-trait associations (false-positive associations) resulting from population structure and multiple testing of thousands of markers [24, 25]. Association mapping can be simplified for some traits by the "candidate gene approach", that is testing SNPs within a candidate gene for a significant association with the trait [26].
The objectives of the current study were to: a) identify candidate carotenoid metabolic/catabolic genes in wheat by exploiting genomic resources and SNPs detected within the coding sequences of candidate genes; b) provide the precise map position of candidate genes on high-density SNP-based consensus maps; c) identify the genetic loci controlling yellow pigments by GWAS and candidate gene approaches using a tetraploid wheat collection coupled with the 90 K iSelect SNP genotyping array. The identification of genetic loci controlling yellow pigment accumulation/degradation will provide information on the genetic resources available to breeders to improve commercial and nutritional properties of wheat products, as well as the opportunity to develop functionally associated markers to be used in marker-assisted selection (MAS).
Conclusions
GWAS analysis in wheat collections can contribute to validate QTLs previously detected in biparental populations and to unravel new QTLs for colour-related traits. The MLM models can reduce the number of false positives, while the candidate gene approach can contribute to reduce the number of false negatives. However, GWAS analysis should be carried out on phenotypic data measured in more environments to detecting stable QTLs and determining the genotype x environment interactions that tend to confound the interpretation of MTAs and the genetic dissection even of quantitative traits with high heritability values. The availability of markers within the coding sequences of candidate genes can allow to elucidating the mechanism of carotenoid accumulation in the wheat kernels and to exploiting the genetic variability of colour-related traits for the nutritional and commercial improvement of end-finished products of wheat.
Abbreviations
At:

Arabidopsis thaliana
Bd:

Brachypodium distachyon
Os:

Oryza sativa
QTLs:

Quantitative trait loci
SNPs:

Single nucleotide polymorphisms
Ta:

Triticum aestivum
YI:

Yellow index
YPC:

Yellow pigment content
Zm:

Zea mays
Declarations
Acknowledgements
Not applicable.
Funding
This research was supported by grants from MIUR, Italy, projects 'PON-01_01145 – ISCOCEM". KH would like to acknowledge funding from the Rural & Environment Science & Analytical Services Division of the Scottish Government.
Availability of data and materials
Six additional files were uploaded in BMC Genomics website for supporting the results and findings found in this study.
Authors' contributions
PC, IM, A. Gadaleta and AB designed the research; MLL, DN, A. Giancaspro, GM, PDV, AMM, NP, KH and RS performed the research and analyzed the data. PC and AB wrote the manuscript. All authors read and approved the final manuscript.
Competing interests
The authors declare that they have no competing interests.
Consent for publication
Not applicable.
Ethics approval and consent to participate
The manuscript does not report the use of any animal or human data or tissue.
Data deposition
No data related to nucleic acid sequences and protein sequences need to be deposited since they were already available in NCBI database.
Open AccessThis article is distributed under the terms of the Creative Commons Attribution 4.0 International License (http://creativecommons.org/licenses/by/4.0/), which permits unrestricted use, distribution, and reproduction in any medium, provided you give appropriate credit to the original author(s) and the source, provide a link to the Creative Commons license, and indicate if changes were made. The Creative Commons Public Domain Dedication waiver (http://creativecommons.org/publicdomain/zero/1.0/) applies to the data made available in this article, unless otherwise stated.
Authors' Affiliations
(1)
Department of Soil, Plant and Food Sciences, University of Bari 'Aldo Moro', Bari, Italy
(2)
Department of Agricultural and Environmental Science, University of Bari 'Aldo Moro', Bari, Italy
(3)
Council for Agricultural Research and Economics - Cereal Research Centre, Foggia, Italy
(4)
The James Hutton Institute, Invergowrie, Dundee, Scotland