Research article
Open Access
Transcriptomic evidence for the control of soybean root isoflavonoid content by regulation of overlapping phenylpropanoid pathways
Received: 24 August 2016
Accepted: 22 December 2016
Published: 11 January 2017
Abstract
Background
Isoflavonoids are a class of specialized metabolites found predominantly in legumes. They play a role in signaling for symbiosis with nitrogen-fixing bacteria and inhibiting pathogen infection.
Results
A transcriptomic approach using soybean cultivars with high (Conrad and AC Colombe) and low (AC Glengarry and Pagoda) root isoflavonoid content was used to find elements that underlie this variation. Two genes, encoding the flavonoid-metabolizing enzymes, flavonoid 3′-hydroxylase (GmF3′H) and dihydroflavonol 4-reductase (GmDFR), had lower expression levels in high isoflavonoid cultivars. These enzymes compete with isoflavonoid biosynthetic enzymes for the important branch-point substrate naringenin and its derivatives. Differentially expressed genes, between the two sets of cultivars, encode transcription factors, transporters and enzymatic families of interest, such as oxidoreductases, hydrolases and transferases. In addition, genes annotated with stress and disease response were upregulated in high isoflavonoid cultivars.
Conclusions
Coordinated regulation of genes involved in flavonoid metabolism could redirect flux into the isoflavonoid branch of the phenylpropanoid pathway, by reducing competition for the flavanone substrate. These candidate genes could help identify mechanisms to overcome the endogenous bottleneck to isoflavonoid production, facilitate biosynthesis in heterologous systems, and enhance crop resistance against pathogenic infections.
Keywords
SoybeanSecondary metabolismPhenylpropanoidIsoflavonoidRootTranscriptomeRNA sequencing
Background
Soybean is a paleopolyploid with two duplication events, approximately 14 and 44 million years ago [1]. The majority of phenylpropanoid and specialized metabolism enzymes that have been characterized belong to multi-gene families [2–4]. Functional divergence within these families have been conjectured to be partially responsible for the array of plant specialized metabolites [5].
In the phenylpropanoid pathway chalcone synthase (CHS) produces the chalcone nucleus that is then utilized in downstream metabolite biosynthesis. There are at least nine CHS genes in soybean (GmCHS1-GmCHS9) that share 89.43 to 99.48% sequence identity at the amino acid level [6]. Members of the CHS gene family are differentially expressed, respond to different stimuli, and have shown functional divergence. GmCHS7 and GmCHS8 are critical for isoflavonoid biosynthesis and accumulation in soybean seeds [7]. These two enzymes have shown differential localization; GmCHS7 was localized to the cytoplasm, while GmCHS8 was localized to the nucleus and cytoplasm [8]. The level of differentiation in the expression of almost identical genes in the CHS family, and the putative functional specialization of their cognate proteins underlines the complexity associated with multi-gene families in large genomes such as soybean. Genetic and functional variation have also been evidenced in other closely linked enzyme families such as chalcone isomerase (CHI) [9, 10], chalcone reductase (CHR) [11–13] and isoflavonoid transferases [14].
The characterization of multi-gene families is important in the study of overlapping branches in the phenylpropanoid pathway. Specialization can explain mechanisms that mediate competition between shared enzymes and metabolites. Further, it can describe the evolutionary path that leads to new legume or species-specific metabolites such as isoflavonoids. The competition between the flavonoid and isoflavonoid branches of the phenylpropanoid pathway has been described in the shared usage of flavanone substrate, naringenin, and enzymes, such as CHS and CHI [15]. The evolution of enzymatic capacity is apparent in the evolution of the CHI fold from protist homologs to the legume-specific catalysis of isoliquiritigenin and naringenin chalcone to liquiritigenin and naringenin, respectively [9].
Isoflavonoid biosynthesis is a legume-specific branch of the diverse phenylpropanoid pathway (Fig.
1
). This class of specialized metabolites is involved in pathogen inhibition and nitrogen-fixing symbiosis [
16
–
19
]. As part of human diet isoflavonoids are linked with a reduction in the risk of cardiovascular disease and hormone-dependent cancers [
20
–
23
]. The isoflavonoid pathway is in direct competition with the concurrent flavonoid pathways for flavanone substrates. Efforts to manipulate isoflavonoid biosynthesis or to engineer the pathway in non-legumes have underlined this effective bottleneck to metabolite accumulation [
24
–
26
].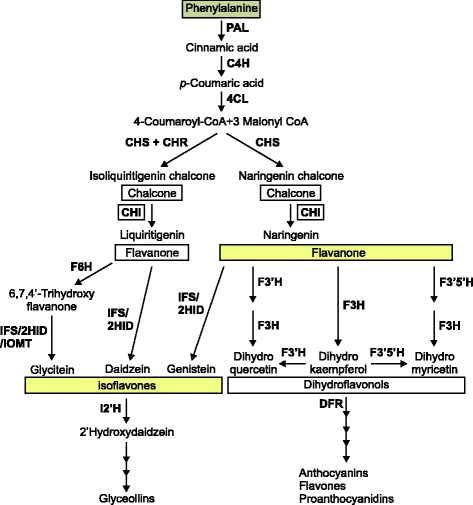 The present study applied a transcriptomic approach to investigate the factors that underlie isoflavonoid content variation. The root was chosen as the organ of study; due to the dual importance of isoflavonoids in the root as a) signaling molecules for nod gene induction in nitrogen-fixing symbiotic bacteria [27], and b) as phytoalexins and anti-microbial agents warding off pathogen infection [17, 27]. Four soybean cultivars were chosen for this study: two with increased resistance to stem and root rot disease caused by Phytophthora sojae, Conrad and AC Colombe; two with susceptibility to P. sojae, AC Glengarry and Pagoda (Poysa, personal communication). Multiple sources have cited increased resistance in Conrad soybeans to a broad range of pathogen infection (Fusarium graminearum and P. sojae) [28, 29].
Here we report that the root isoflavonoid contents of Conrad and AC Colombe are significantly higher than that of AC Glengarry and Pagoda. The variation in isoflavonoid levels in these four soybean cultivars was used as a basis for a transcriptomic approach to find the underlying mechanisms of metabolic variation. Five differentially expressed (DE) genes encoding flavonoid and isoflavonoid metabolic enzymes were found. This list was further refined by quantitative PCR (qPCR) to two genes encoding flavonoid-metabolizing enzymes: flavonoid 3′-hydroxylase (GmF3′H) and dihydroflavonol 4-reductase (GmDFR). These genes were significantly downregulated in high isoflavonoid cultivars. Transcriptomic downregulation of genes from overlapping phenylpropanoid pathways could divert common substrates, such as naringenin, toward isoflavonoid production. Further DE genes could play a role in transcriptional regulation, metabolism, transport, and plant stress response. The lattermost could be responsible for the favorable resistance traits of Conrad and AC Colombe.
Discussion
The transcriptomic exploration of underlying differences responsible for isoflavonoid content in two sets of soybean cultivars has yielded a large suite of transcripts encoding metabolic enzymes, transcriptional regulators, metabolite transporters and other potentially significant genes. Using RNA sequencing, differential gene expression analysis, and subsequent qPCR analysis of candidate phenylpropanoid metabolic genes, we have identified two DE genes, GmF3′H and GmDFR that could play a significant role in isoflavonoid accumulation. The enzyme, F3′H, competes with IFS for the branch-point substrate naringenin, while DFR is involved in downstream flavonoid production (Fig. 1). The down-regulation of these putative genes in high isoflavonoid cultivars could describe a mechanism of diverting naringenin, from flavonoid towards isoflavonoid biosynthesis. Functional work would be required to substantiate the link between gene expression and isoflavonoid biosynthesis and/or accumulation.
Conclusions
The coordinated regulation of genes encoding enzymes, transporters, transcription factors and other molecular elements could lead to the increase of root isoflavonoids in Conrad and AC Colombe. These transcriptomic elements can help overcome bottlenecks in isoflavonoid production for soybean cultivars, legumes, and heterologous systems. Genes annotated for disease and stress response could be important in conferring soybean resistance to P. sojae infection in Conrad and AC Colombe. Functional genomics should be employed to characterize the role of such transcriptomic elements in isoflavonoid production and disease resistance.
Abbreviations
CHI:

Chalcone isomerase
CHR:

Chalcone reductase
CHS:

Chalcone synthase
CYP:

Cytochrome P450
DE:

Differentially expressed
GmDFR:

Soybean dihydroflavonol 4-reductase
GmF3′H:

Soybean flavonoid 3′-hydroxylse
GO:

Gene ontology
Declarations
Acknowledgements
The authors thank Dr. Vaino Poysa (Harrow Research and Development Centre, AAFC) for soybean seeds, Ling Chen and Alex Molnar (London Research and Development Centre, AAFC) for technical assistance.
Funding
This research was supported by Agriculture and Agri-Food Canada's Genomics Research and Development Initiatives grant to SD.
Availability of data and materials
RNAseq data are available in the ArrayExpress database (www.ebi.ac.uk/arrayexpress) under accession number E-MTAB-4929.
Authors' contributions
MD conducted the experiments, analyzed the data and wrote the draft manuscript, PC and RA analyzed the data, JY conducted some qPCR analysis, SD designed the study, supervised all aspects of the project and prepared final draft manuscript. All authors have read and approved the manuscript.
Competing interest
The authors declare that they have no competing interest.
Ethics approval and consent to participate
Not applicable
Open AccessThis article is distributed under the terms of the Creative Commons Attribution 4.0 International License (http://creativecommons.org/licenses/by/4.0/), which permits unrestricted use, distribution, and reproduction in any medium, provided you give appropriate credit to the original author(s) and the source, provide a link to the Creative Commons license, and indicate if changes were made. The Creative Commons Public Domain Dedication waiver (http://creativecommons.org/publicdomain/zero/1.0/) applies to the data made available in this article, unless otherwise stated.
Authors' Affiliations
(1)
Department of Biology, University of Western Ontario, London, Canada
(2)
London Research and Development Centre, Agriculture and Agri-Food Canada, London, Canada