Unraveling multifaceted contributions of small regulatory RNAs to photomorphogenic development in Arabidopsis
Received: 23 April 2017
Accepted: 10 July 2017
Published: 24 July 2017
Abstract
Background
Post-transcriptional control of gene expression mediated by small regulatory RNAs (sRNAs) is vital for growth and development of diverse organisms. The biogenesis of sRNAs is regulated by both positive and negative regulators known to regulate photomorphogenic development. Two microRNAs (miRNAs), miR157 and miR319, also regulate photomorphogenesis. However, genome-wide profiling of sRNAs and their regulation of target genes during photomorphogenesis has been missing. We provide a comprehensive view of sRNA-controlled gene expression in this developmental process.
Results
By profiling sRNAs and the 5′ ends of degraded mRNAs during the first 24 h of photomorphogenic development in Arabidopsis, we identified 335 sRNA-mediated mRNA cleavage events in de-etiolating seedlings. These cleavage events are primarily resulted from actions of highly expressed miRNAs and irrelevant to the abundance of target mRNAs. In the light, the expression of the slicer protein gene ARGONAUTE1 in the miRNA functioning pathway could be fine-tuned by miRNA168a/b. We also found that miR396a/b positively regulates de-etiolation by suppressing GROWTH REGULATING FACTORs. Our results suggest that the miRNAs are required to tune down the target mRNAs and regulate photomorphogenesis.
Conclusion
sRNAs may have a broad impact on gene expression regulation for optimized photomorphogenic development. With both positive and negative regulators under the control of sRNAs, young Arabidopsis seedlings can have a timely but not exaggerated developmental adaptation to light.
Keywords
LightSmall regulatory RNAPost-transcriptional regulationPhotomorphogenesis
Background
Plants have evolved a plethora of morphological alterations to adapt to their surroundings. Photomorphogenesis, or de-etiolation, is one such process when seedlings first experience light irradiation. The rate of hypocotyl elongation decreases in seedlings under light exposure, which allows for the formation of firm structural support for seedlings emerging from the soil surface. Also, the cotyledons open and expand to maximize the area of light perception and to expose the shoot apical meristem for the development of true leaves. Light also triggers the development of chloroplasts for photosynthesis so that plants can utilize light energy for autotrophic growth and development [1–3].
In Arabidopsis, photomorphogenesis is under the control of at least three types of photoreceptors, including the red (R)–far-red (FR) light photoreceptor phytochromes (phys), blue light (B) photoreceptor cryptochromes (crys) and the UV-B photoreceptor, UVR8 [3–8]. The perceived light signals trigger signaling cascades that reprogram gene expression for photomorphogenic development. Transcriptional profiling for Arabidopsis seedlings exposed to B, FR, R light and the light–dark transition have revealed differential expression of approximately one-third of the genome [9]. The light-regulated genome-wide transcriptomic adjustment requires the actions of transcription factors. One of the most well-characterized transcription factors conveying light signals to changes of gene expression is ELONGATED-HYPOCOTYL 5 (HY5). HY5 is a light-regulated bZIP transcription factor that upregulates the expression of many light-responsive genes during de-etiolation [10]. In addition to activating transcription, light also enhances the translational efficiency of thousands of genes, especially those committed to the translation apparatus and chloroplast functions [11, 12].
Plant small regulatory RNAs (sRNAs) are 20 to 24 nt long and can be classified into microRNAs (miRNAs) and small interfering RNAs (siRNAs) primarily according to different modes of biogenesis. MiRNAs originate from stem-loop structures of primary transcripts, and siRNAs are mostly derived from double-stranded RNAs [13]. Phased siRNAs (phasiRNAs) are a special group of siRNAs generated from mRNAs cleaved by 22-nt miRNAs or siRNAs [14–16]. Plant miRNAs can mediate the cleavage or translation inhibition of target mRNAs, whereas siRNAs function via RNA-dependent DNA methylation (RdDM) for transcriptional gene silencing or post-transcriptional target mRNA cleavage [17–22].
Previous studies have implied that sRNAs are involved in gene expression regulation during de-etiolation. Mutants defective in genes for miRNA biogenesis and functions have altered light responses. For example, in Arabidopsis, light hypersensitive phenotypes have been observed to carry mutations in the miRNA processor HYPONASTIC LEAVES 1 (HYL1), the sRNA methyltransferase HUA ENHANCER1 (HEN1), the sRNA transporter HASTY (HST), and the slicer protein ARGONAUTE1 (AGO1) [23–25]. A negative regulator of photomorphogenesis, CONSTITUTIVE PHOTOMORPHOGENESIS 1 (COP1), can protect HYL1 against degradation, thereby leading to a stabilized miRNA pool [26]. Transcripts of the positive regulator HY5 and negative regulator TEOSINTE BRANCHED 1, CYCLOIDEA AND PCF TRANSCRIPTION FACTORs (TCPs) of photomorphogenesis were shown to be under regulation by miR157d and miR319, respectively [25]. In addition, HY5 was found to bind to promoter regions of at least 8 miRNAs (MIR) loci and required for the accumulation of miR156d, miR402, miR408, miR775 and miR858 [27]. These studies provide a glimpse into photomorphogenic development shaped by the actions of a few sRNAs. A global investigation of sRNAs and their targets would greatly help in assessing the impact of post-transcriptional regulation in photomorphogenic development. However, such information is currently missing in de-etiolating seedlings.
In this study, we profiled sRNAs at 6 times during the first 24 h of Arabidopsis photomorphogenic development. We also sequenced 5′ ends of degraded mRNAs (degradome) in both dark- and light-grown seedlings to reveal sRNA-mediated cleavage of mRNAs during de-etiolation. Pairwise studies of sRNAs and their target mRNAs indicated that a high sRNA-to-target ratio is a key determinant for successful mRNA target repression by sRNAs. The high ratio is mainly contributed by the abundance of sRNAs. A total of 335 sRNA-target mRNA regulatory pairs were identified in de-etiolating seedlings, with several sRNAs demonstrated to regulate photomorphogenesis. The action of miR168 leads to reduced expression of AGO1 under light, thereby offering a feedback regulation of miRNA functioning during de-etiolation. miR396 were identified to act as positive regulators of photomorphogenesis. In addition, we revealed that some 24-nt siRNAs had potential to cause target cleavage in de-etiolating seedlings. Our data indicate that sRNAs function in multiple regulatory circuits for optimized seedling growth under light illumination.
Discussion
Light regulates miRNA-target pairs in photomorphogenic development
In addition to the previously discovered miR157d–HY5 and miR319–TCP pairs [25], we found additional miRNA–target pairs that positively regulate photomorphogenesis. In this study, miR168 could tune down AGO1 level under light (Fig. 3), which can counteract the actions of sRNAs stabilized by the light-induced HEN1 expression. miR396 can act as positive regulators of photomorphogenesis by suppressing GRF1, GRF2, GRF3 and GRF7. The grf7 mutant shows shorter hypocotyl length under dark, so it may positively regulate hypocotyl elongation under dark. Under light conditions, the grf7 mutant phenotype is comparable to that of the wild type possibly because light also markedly represses GRF7 expression (Fig. 5e, Additional file 1: Table S8).
We cannot rule out that light down-regulates the expression of GRFs at the transcriptional level. However, the detection of the miR396-mediated cleavage events on GRFs (Additional file 2: Table S5) suggested that miR396 indeed functions to optimize the GRF mRNA levels during de-etiolation. GRFs are known as transcription activators [42]; hence, future investigation of GRF downstream genes will help demystify genes regulated by the miR396-GRF lineage and provide a future research direction for their contribution in photomorphogenic development.
sRNAs regulate photomorphogenesis from multiple angles
Our results in Fig. 2 and Additional file 2: Figure S1 showed that abundant sRNAs have a better likelihood of mediating target mRNA cleavage during photomorphogenic development. Also, despite no negative correlation between the expression of miR168/miR396 and their target mRNAs (Figs. 3 and 5), degradome signatures from their target mRNAs were observed (Additional file 1: Table S5, Fig. 5). This finding indicated that although light does not affect the accumulation of miR168 and miR396, these miRNAs can contribute to the expression repression of their target mRNAs in de-etiolating seedlings. The steady-state mRNA transcriptome during photomorphogenic growth likely is a finely orchestrated balance between the well-studied transcriptional regulation by light signals and target mRNA cleavage mediated by small regulatory RNAs as examples shown in this study.
Combined with our previous [
25
] and current discovery, sRNAs could fine-tune the expression of both positive (
HY5
) and negative (
TCPs
,
AGO1
,
GRF
s) regulators of photomorphogenesis (Fig.
8
). Clearly, as key regulators of these complex and interlocked regulatory circuits, the whole plethora of sRNAs is crucial for an optimal transcriptome during photomorphogenesis. This observation also explains why mutations of single
MIR
or target gene usually show less prominent phenotypic changes (Fig.
6
), as compared with mutants with a defective miRNA pathway [
23
–
25
,
30
,
43
–
46
]. We have observed a considerable amount of degradome signatures that were predicted to be results of siRNA-mediated mRNA cleavage. This suggests that, in addition to miRNAs, siRNAs also contribute considerably to down regulate their target mRNAs in de-etiolating seedlings. Further investigation of the miRNA- and siRNA-target pairs will continue to shed light on post-transcriptional regulation of photomorphogenic growth.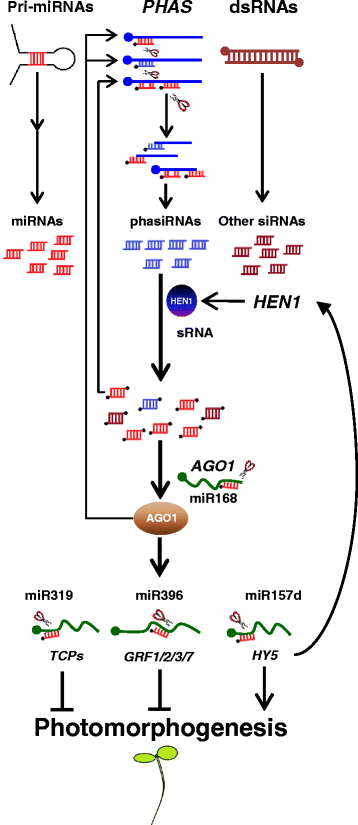 Finally, our observation suggests that siRNA-mediated TE mRNA cleavage may serve as an additional mode of TE silencing (Fig. 7). In Arabidopsis, TE mRNAs could also be cleaved by miR859 [47] and a tRNA-derived small RNA via the association with AGO1 in pollens [48]. In Drosophila germ cells, Piwi-interacting RNAs (piRNAs) can interact with Aubergine (Aub) or AGO3 for the cleavage of TE mRNAs [49, 50]. It remains to be clarified with which AGO protein(s) siRNAs interact for silencing plant TE mRNAs.
Conclusions
Photomorphogenesis is a coordinated result of gene expression regulation at multiple levels. Our analyses revealed multiple sRNA–mRNA pairs contributing to this important development process. We also confirmed a comprehensive impact of sRNAs on regulating post-transcriptional gene expression during de-etiolation in Arabidopsis. sRNAs target multiple positive and negative regulators of photomorphogenesis, offering sophisticated fine-tuning power for regulating gene expression during de-etiolation. The potency of an sRNA in target cleavage is primarily determined by its abundance, adding an extra regulation dimension in addition to target recognition.
Abbreviations
AGO1:

ARGONAUTE1
Aub:

Aubergine
B:

blue
COP1:

CONSTITUTIVE PHOTOMORPHOGENESIS 1
cry:

cryptochrome
FR:

far-red
GRF:

GROWTH REGULATING FACTOR
HEN1:

HUA ENHANCER1
HST:

HASTY
HY5:

ELONGATED-HYPOCOTYL 5
HYL1:

HYPONASTIC LEAVES 1
K-S test:

Kolmogorov-Smirnov test
miRNA or miR:

microRNA
PHAS :

phasiRNA-generating loci
phasiRNAs:

phased siRNA
phy:

phytochrome
piRNA:

Piwi-interacting RNA
R:

red
RdDM:

RNA-dependent DNA methylation
RPM:

read per million reads
siRNA:

small interfering RNA
sRNA:

small regulatory RNA
TAS :

trans-acting siRNA-generating loci
TCP:

TEOSINTE BRANCHED 1

CYCLOIDEA AND PCF TRANSCRIPTION FACTOR
TE:

transposable element
Declarations
Acknowledgements
We specially thank Ming-Tsung Wu and Shu-Jen Chou for establishing the degradome sequencing system, Bo-Jun Liu and Chi-Yu Chen for assisting in experiments related to MIM396 under the supervision of MCL and SHW. We also thank Jeong Hoe Kim at Kyungpook National University and Diqiu Yu at Xishuangbanna Tropical Botanical Garden, Chinese Academiy of Sciences, for kindly providing the grf mutants and 35S:MIR396aox line, respectively. Finally, we thank Chih-Ching Lin, Chiung-swey Joanne Chang, Ho-Ming Chen, Ho-Wei Wu, Wen-Ping Hsieh, Yi-Chen Wu and Ying Wang for inspiring discussion and suggestions.
Funding
This research, including design and collection of experimental results, data analyses and preparation of the manuscript, was supported by the Investigator Award to S.-H. Wu from Academia Sinica, Taiwan.
Availability of data and materials
The datasets generated and analyzed in this manuscript can be accessed from Gene Expression Omnibus (GEO) under accession number GSE83646. The other supporting data are included as Additional files.
Authors' contributions
SHW, STJ, MCL and HLT designed the experiments. SLL, HLT and MCL conducted experiments. SHW and MCL wrote the manuscript. All authors have read and approved the final manuscript.
Ethics approval and consent to participate
Not applicable.
Consent for publication
Not applicable.
Competing interests
The authors declare that they have no competing interests.
Open AccessThis article is distributed under the terms of the Creative Commons Attribution 4.0 International License (http://creativecommons.org/licenses/by/4.0/), which permits unrestricted use, distribution, and reproduction in any medium, provided you give appropriate credit to the original author(s) and the source, provide a link to the Creative Commons license, and indicate if changes were made. The Creative Commons Public Domain Dedication waiver (http://creativecommons.org/publicdomain/zero/1.0/) applies to the data made available in this article, unless otherwise stated.
Authors' Affiliations
(1)
Institute of Plant and Microbial Biology, Academia Sinica, Taipei, Taiwan
(2)
Institute of Plant Biology, College of Life Science, National Taiwan University, Taipei, Taiwan