Research article
Open Access
Water deficit alters differentially metabolic pathways affecting important flavor and quality traits in grape berries of Cabernet Sauvignon and Chardonnay
Received: 26 September 2008
Accepted: 08 May 2009
Published: 08 May 2009
Abstract
Background
Water deficit has significant effects on grape berry composition resulting in improved wine quality by the enhancement of color, flavors, or aromas. While some pathways or enzymes affected by water deficit have been identified, little is known about the global effects of water deficit on grape berry metabolism.
Results
The effects of long-term, seasonal water deficit on berries of Cabernet Sauvignon, a red-wine grape, and Chardonnay, a white-wine grape were analyzed by integrated transcript and metabolite profiling. Over the course of berry development, the steady-state transcript abundance of approximately 6,000 Unigenes differed significantly between the cultivars and the irrigation treatments. Water deficit most affected the phenylpropanoid, ABA, isoprenoid, carotenoid, amino acid and fatty acid metabolic pathways. Targeted metabolites were profiled to confirm putative changes in specific metabolic pathways. Water deficit activated the expression of numerous transcripts associated with glutamate and proline biosynthesis and some committed steps of the phenylpropanoid pathway that increased anthocyanin concentrations in Cabernet Sauvignon. In Chardonnay, water deficit activated parts of the phenylpropanoid, energy, carotenoid and isoprenoid metabolic pathways that contribute to increased concentrations of antheraxanthin, flavonols and aroma volatiles. Water deficit affected the ABA metabolic pathway in both cultivars. Berry ABA concentrations were highly correlated with 9-cis-epoxycarotenoid dioxygenase (NCED1) transcript abundance, whereas the mRNA expression of other NCED genes and ABA catabolic and glycosylation processes were largely unaffected. Water deficit nearly doubled ABA concentrations within berries of Cabernet Sauvignon, whereas it decreased ABA in Chardonnay at véraison and shortly thereafter.
Conclusion
The metabolic responses of grapes to water deficit varied with the cultivar and fruit pigmentation. Chardonnay berries, which lack any significant anthocyanin content, exhibited increased photoprotection mechanisms under water deficit conditions. Water deficit increased ABA, proline, sugar and anthocyanin concentrations in Cabernet Sauvignon, but not Chardonnay berries, consistent with the hypothesis that ABA enhanced accumulation of these compounds. Water deficit increased the transcript abundance of lipoxygenase and hydroperoxide lyase in fatty metabolism, a pathway known to affect berry and wine aromas. These changes in metabolism have important impacts on berry flavor and quality characteristics. Several of these metabolites are known to contribute to increased human-health benefits.
Keywords
CarotenoidFlavonolTranscript AbundanceZeaxanthinAnthocyanin Biosynthesis
Background
Vitis vinifera L. has relatively high drought tolerance [1, 2]. Once established in a deep soil with adequate water retention characteristics, grapevines produce root systems several meters deep enabling the vines to survive severe water deficits. Grape sensitivity to water deficit depends on the timing of the application being particularly more sensitive during anthesis and just after anthesis [3, 4].
Regulated-deficit irrigation has been used to improve berry and wine quality [5, 6]. For instance, application of water deficit early in the season before véraison resulted in greater concentrations of anthocyanins and phenolics [7, 8]. Color differences were the result of increased anthocyanin synthesis caused by water deficit applied either early or late in the season [7, 9]. Indeed, water deficit treatment typically increases the skin to pulp ratio compared to well-watered vines [10, 6], increasing the amount of skin tannins and anthocyanins. However, it does not appear to affect the quantity or polymerization of seed tannins [11, 6]. Application of water deficit after véraison decreases berry weight to a lesser extent [4], while still increasing substantially phenolic compounds such as anthocyanins [7]. In addition, the rates of accumulation of flavonoids as well as the degree of tannin polymerization may be increased [2]. In contrast, excessive and prolonged irrigation can reduce grape quality and yield due to late season vine growth [12]. Prolonged irrigation can delay or reduce sugar accumulation and increase titratable acidity. In addition, prolonged irrigation can reduce anthocyanin content, in part due to continuous and excessive shoot growth that increases the shading of berry clusters [13].
Whereas physiological and biochemical data are numerous regarding the effect of water deficit, little is known about gene expression in grape berries exposed to water deficit. One global approach, using the Affymetrix® Vitis vinifera (Grape) Genome Array V. 1.0, at the tissue level indicated that water deficit affected the mRNA abundance of 13% of genes at grape maturity within the three tissues of the berry (skin, pulp and seeds), with the greatest changes located in the pulp and skin [14]. While the function of many of the genes differentially expressed within the seed and pulp remain to be elucidated, genes over-represented in the skin were clearly associated with phenylpropanoid metabolism, ethylene, pathogenesis-related responses, energy metabolism and stress responses.
Recently, water deficit was shown to accelerate anthocyanin biosynthesis, along with associated changes in transcript abundance of genes in the anthocyanin biosynthesis pathway in the grape berry skin [9, 15]. These authors suggested that both ABA and sugar signaling might have accelerated anthocyanin development. Indeed, additions of ABA and rhamnose to grape berry skins have induced anthocyanin biosynthesis in a synergistic manner [16].
Water deficit is known to increase ABA concentrations in the xylem sap and leaves of grapevine [17–19]. Under normal conditions (no water deficit), ABA concentrations in berries peak near véraison [20], when berries begin to soften, and sugars and anthocyanins begin to accumulate. To the best of our knowledge, only one report has described the effect of water deficit on ABA concentrations in grape berries [18]; water-deficits applied after véraison significantly increased ABA concentrations in Chardonnay berries in one water-deficit treatment, but not in another water-deficit treatment that occurred in a later developmental stage.
In this study, we tested the hypothesis that a long-term, seasonal water deficit induces ABA concentrations in the berries of red-wine grape cultivar, Cabernet Sauvignon, influencing berry phenylpropanoid and sugar metabolism after véraison. Likewise, we expected that a long-term, seasonal water deficit would cause different metabolic responses in Chardonnay, a white-wine grape cultivar that lacks anthocyanin biosynthesis. We show that there are significant differences in the response to water deficit between the two cultivars. Not only were there differences in the effects of water deficit on phenylpropanoid metabolism, but also there were different effects of water deficit on ABA, isoprenoid, carotenoid, amino acid and fatty acid metabolism.
Results
Physiological responses to water deficit
Different ripening parameters (berry size, soluble solids, titratable acidity) were measured throughout development in Cabernet Sauvignon and Chardonnay berries in both well-watered (WW) and water deficit (WD) treatments (Fig.
1
). Water deficit was administered simply by withholding water. Thus, these vines developed water-deficit at the rate natural to their local conditions. Note that Chardonnay and Cabernet Sauvignon had different flowering and harvest dates due to differences in genotype and location.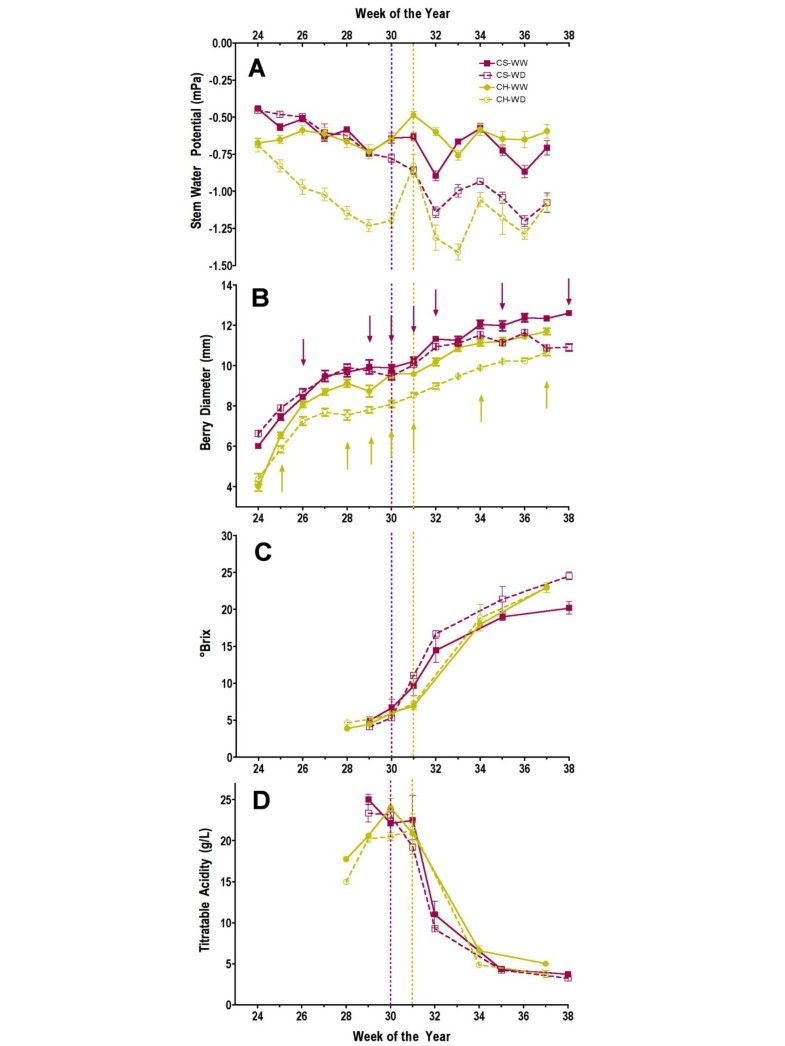 Stem water potentials were monitored in both cultivars, which were at different vineyards, in order to define water status conditions throughout the season and its impact on these ripening parameters. Water was applied to both WW and WD vines by drip irrigation, once the desired stem water potential was reached (-0.6 or -1.2 MPa, respectively). For Chardonnay, irrigation was initiated on week 24 and 29 for WW and WD vines, respectively. For Cabernet Sauvignon, irrigation was initiated on week 27 and 36 for WW and WD vines, respectively. Once started, irrigation was applied weekly, because there was no rainfall throughout the growing season.
Differences in the stem water potentials between WW and WD vines were detected by week 25, early in Chardonnay berry development (Fig. 1A) just after the administration of the water deficit treatment. This difference was maintained throughout the season until harvest. In contrast, the differences in stem water potentials between WW and WD Cabernet Sauvignon vines were not observable until week 30 and reached a minimum of -1.25 MPa at week 36 in WD vines. The slower rate of stress development for Cabernet Sauvignon could be due to a number of factors including differences in soil type, vapor pressure deficits, temperature, age of the vines, root stock, depth of roots, and trellising systems. In Chardonnay, the berry diameter was smaller in berries from WD plants over the course of berry development; differences ranged from 0.5 cm to 1 cm at the harvest stage (Fig. 1B). In contrast, a decrease in berry diameter of Cabernet Sauvignon under water deficit conditions was detectable first at the start of véraison (week 30; Fig. 1B).
Soluble solids content (°Brix) and titratable acidity (TA) were significantly affected in WD vines (p < 0.001) with varying results (Fig. 1C). °Brix increased in both Chardonnay and Cabernet Sauvignon berries for all treatments starting at véraison. There was no significant effect of water deficit on the start of véraison. °Brix was increased significantly (p = 0.0002) in Cabernet Sauvignon berries of WD vines compared to berries of WW vines starting one week after véraison (Fig. 1C), however there was no significant effect (p = 0.26) of water deficit on the °Brix of Chardonnay berries. TA (Fig. 1D) was highest just prior to véraison, and then decreased until harvest in both cultivars. WD significantly reduced TA in Chardonnay berries (p < 0.01) but not in Cabernet Sauvignon berries (p = 0.15).
Functional comparison of genes sets differentially expressed in both cultivars during water deficit
The effect of water deficit on the global gene expression of berries of both cultivars was examined. Total RNA was extracted from the berries at seven different time points for each cultivar and treatment as indicated in Figure 1B. Global gene expression analysis was performed using the Affymetrix Vitis Genome Array. Out of the 16,436 Vitis probe sets placed on the array, 10,101 probe sets were detected in at least two of three replicates within every experimental condition (water status, time point, and cultivar) according to the GCOS software (Affymetrix, USA) leading to an overall specialized detection rate of 61.7%. To validate expression profiles obtained by the Vitis Genome Array, quantitative real-time RT-PCR (qRT-PCR) was performed on four different transcripts (two for each cultivar) that increase and decrease in abundance using gene-specific primers (Additional file 1). Transcript abundance patterns were calculated for both cultivars and treatments along the entire course of berry development. Linear regression analysis resulted in an r2 of 0.89 indicating a very good correlation between transcript abundance assessed by qRT-PCR and the expression profiles obtained with the Vitis Genome Arrays (Additional file 2). This is consistent with previous results from these arrays [21].
A simple, three-way fixed effects ANOVA was performed, to examine probe sets with a significant treatment effect, a significant treatment and cultivar interaction effect, and a significant treatment, cultivar and time interaction effect. There were 3819, 2036, and 368 significant probe sets (p = 0.05) in each effect test, respectively (Additional files
3
,
4
, and
5
). The genes represented by these probe sets were functionally categorized and compared to the functional categorization for the entire
Vitis
Genome Array (Fig.
2
). Functional categories were assigned using the Munich Information Center for Protein Sequences (MIPS, ver. 2.1) catalog of top Arabidopsis BLAST hits [
22
]. Because we detected some errors in the functional annotation for some Unigenes, functional categorization of each Unigene was verified or corrected manually using BLAST functions at PLEXdb
http://www.plexdb.org
. A complete list of functional categories for all probe sets on the
Vitis
Genome Array has been constructed and is available at the grape annotation page of this website.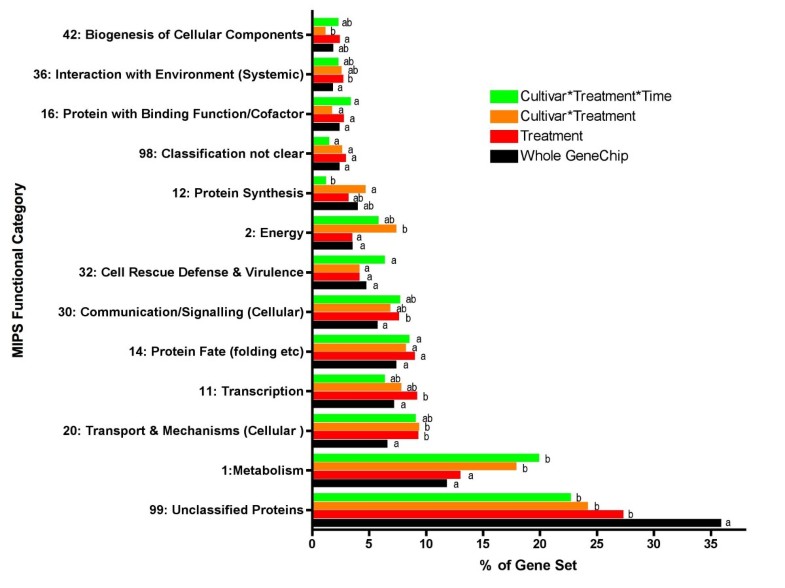 Water deficit had significant effects on several functional categories including transport, transcription, and signaling categories (Fig. 2). Chi-square and Fisher's exact tests showed a statistically significant increase in the percentage occurrence of genes in these categories. There was a significant treatment and cultivar interaction effect on the metabolism, transport and energy categories when compared to all probe sets on the Vitis Genome Array. Likewise, genes with a significant treatment, cultivar and time interaction effect had more significant increases in abundance of transcripts related to metabolism than the treatment-significant set as well as for all probe sets on the array. The metabolism category had the largest differences in transcripts that were significantly increased in the treatment and cultivar interaction effect and therefore will be the focus in the remainder of this paper.
Interactive effects of water deficit and genotype on berry metabolism
A number of maps of metabolic pathways were created by matching probe sets on the
Vitis
Genome Array to enzymes in known metabolic pathways (unpublished results). Figure
3
summarizes how water deficit affected the major metabolic pathways and their interrelationships for each cultivar. Bold colored arrows indicate those pathways and interrelationships most affected by water deficit in Cabernet Sauvignon (magenta) and Chardonnay (green), including ABA, carotenoid, amino acid, fatty acid and phenylpropanoid metabolism. Water deficit responses differed significantly between the two cultivars. Some components of these pathways were increased and others were decreased. For example, water deficit affected carotenoid, ABA, amino acid and fatty acid metabolism in both cultivars, but the specific effects in these pathways were different for each of the cultivars. In other cases, only one cultivar was significantly affected by water deficit (e.g. isoprenoid metabolism in Chardonnay). Some of the specific details of these differences are described in the following sections.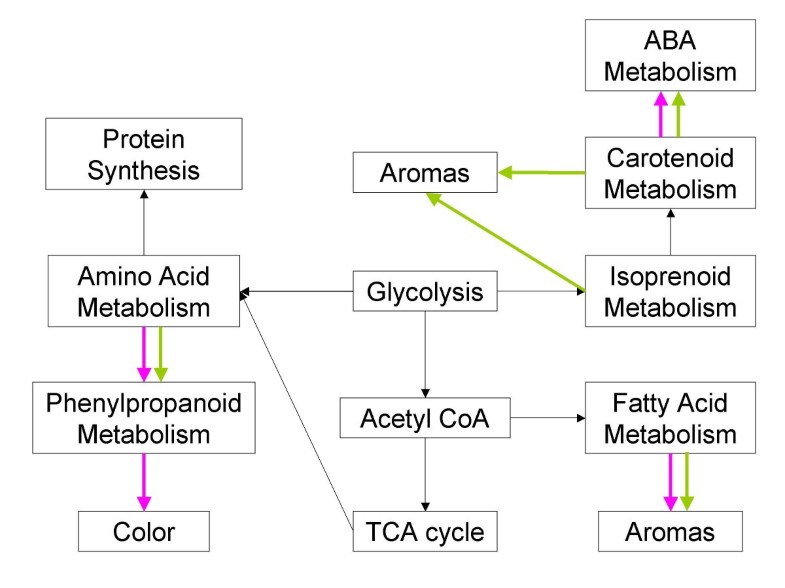 Discussion
Cabernet Sauvignon (red-wine grape) and Chardonnay (white-wine grape) are two of the most widely grown cultivars of Vitis vinifera throughout the world and have different genetic backgrounds. Their genetic pedigree has been clearly established. Cabernet Sauvignon is the progeny of two French Bordeaux cultivars, Cabernet Franc (red) and Sauvignon Blanc (white) [50] and Chardonnay is the progeny of Pinot (red) and Gouais Blanc (white) that were widely grown in Northeastern France [51].
Most white grapes, including Chardonnay, evolved apparently from the mutation of two MYB transcription factors, VvMYBA1 and VvMYBA2, which regulate anthocyanin biosynthesis in the grape skin; Cabernet Sauvignon is heterozygous for red berry color having both a red and a white allele [45]. In the same paper it was shown that in Shiraz (red grape), the transcript abundance of these transcription factors along with UFGT, an enzyme involved in one of the last steps in anthocyanin biosynthesis, was increased at véraison, the beginning of fruit ripening and coloring [45].
In a previous greenhouse study, Cabernet Sauvignon shoot growth was more sensitive to water deficit and salinity than the shoot growth of Chardonnay [52]. In stressed plants, there was a reduction of the amount of proteins involved with photosynthesis, protein synthesis, and protein destination and this was correlated with the inhibition of shoot elongation. Many of the proteins that were increased by osmotic stress in Chardonnay were of unclassified or of unknown function, whereas proteins specifically increased by dehydration in Cabernet Sauvignon were involved in protein metabolism.
In this study, the response of these two cultivars to water deficit was evaluated. Given that they have different genetic backgrounds, different color compositions in their berry skins, and known differences in their tolerance to water deficits, we expected that there would be distinct differences in their metabolic responses to water deficit. Analysis of this water deficit study was confounded by the fact that the cultivars were studied at different vineyard sites. Any field study is imperfect in that one cannot control all experimental variables in the field. For example, the soil in a field is not uniform; there is natural soil variability within the site; therefore, the roots of each plant in a field might be exposed to a different soil environment. Pot experiments in the greenhouse also suffer from their own set of experimental limitations (e.g. root restriction, filtered light, unrealistic and rapid soil drying, etc.). In this study, not only were the cultivars exposed to slightly different climatic conditions, but also they were grown in different soils with different rooting depths. Consequently, the rate of application of water deficit for Cabernet Sauvignon was slower than the rate of application of water deficit for Chardonnay. The rate of decreasing water deficit could not be controlled, but the final level of water deficit reached was controlled. The timing and rate of water deficit could affect the stress response of the vines as discussed in the introduction. A gradual application of water deficit or salinity to grapevines allowed more time for more complex responses and possible acclimation than osmotic shock treatments [53]. Thus, while both cultivars were exposed to water deficit, there may be confounding factors in the field that limit our ability to make firm conclusions.
Nevertheless, some interesting observations have been made. For example, given that there was a faster rate of development of water deficit in Chardonnay and that the overall decrease in stem water potential was at least that of Cabernet Sauvignon relative to its control over the entire course of the season (Fig. 1), it would be expected that Chardonnay would have some water deficit responses that were more rapid and at least equal to that of Cabernet Sauvignon. For example, the induction of elevated ABA concentrations in Chardonnay would be expected to be at least as high as Cabernet Sauvignon, because elevated ABA concentrations are generally proportional to the water deficit level imposed on the plant [54–56] and ABA concentrations can be increased with osmotic shock or with slower applications of stress [57]. However, while ABA concentrations increased early on in Chardonnay, the ABA response to water deficit at véraison or one week after véraison was much more significant for Cabernet Sauvignon than Chardonnay indicating that these diverse responses might be due to varietal differences (Fig. 5). In the following sections, the impacts of water deficit on the most significant changes in metabolism that differ between these cultivars and how they impact important sensory attributes in grapes and wines are discussed.
Is increased anthocyanin metabolism, proline and hexose accumulation regulated by ABA?
Our results (Fig. 12) are consistent with earlier reports on anthocyanin biosynthesis [45]; probe sets for both VvMyBA1&2 and UFGT increased significantly at véraison in Cabernet Sauvignon but not in Chardonnay. In addition, water deficit significantly increased mRNA expression of these genes at the start of véraison in Cabernet Sauvignon and was probably responsible for the most part in the increased concentrations of individual anthocyanins in the berries (Fig. 12) and in wine color [36]. Similar findings and conclusions were presented recently for berries of Cabernet Sauvignon [9], Merlot [15] and Agiorgitiko [58].
Coincident with these changes in anthocyanin accumulation, water deficit increased hexose (Fig. 15) and proline (Fig. 11) accumulation at véraison in Cabernet Sauvignon, but not in Chardonnay. Hexose accumulation is not only a function of biosynthesis (invertase activity), but also requires transport into the cells of the berries from the apoplast and may be dependent upon starch metabolism [21]. There are a number of hexose transporters that have been identified in grape berries [59]. A hexose transporter as well as an abscisic acid, stress, and ripening (ASR) protein are synergistically upregulated by ABA and sugar treatments [60, 61]. Thus, not only might ABA trigger anthocyanin biosynthesis [16], but also hexose uptake. In addition, ABA is known to increase proline concentrations [62]. Our data were consistent with these hypotheses, but the temporal spacing of time points collected in this study was inadequate to properly resolve the timing of these events. However, support for this hypothesis can be found in another study on grape berries [63]. ABA was shown to stimulate invertase activity in the apoplast of grape berries and there was a rise of ABA concentration in the berry (with high time resolution) that clearly preceded the accumulation of soluble solids (hexoses) in the berries.
ABA regulation during berry development
What is regulating the increase in ABA concentration prior to véraison in well-watered berries? NCED represents the first committed step in ABA biosynthesis [64] and its transcript abundance is often correlated with ABA concentrations. In addition, metabolic steps upstream of NCED and ABA catabolism downstream can also affect ABA concentrations in some tissues and organs [57].
Other reports are not consistent with our results or with each other. In a study on ripening Cabernet Sauvignon berries [23], NCED2 but not NCED1 was found to be up-regulated at véraison. However, ABA concentrations were not measured in that study, so the significance of this change in gene expression was not clear. We did observe a slight increase in transcript abundance of NCED2 (Fig. 7) at véraison, but ABA concentrations were correlated largely with the expression of NCED1 (Fig. 6).
In another study on Merlot berries [15], the transcript abundance of NCED1 and NCED2 was transiently increased by water deficit at véraison, but ABA concentrations also were not measured. These authors implied that NCED enzyme activity might not be significant based upon correlations of NCED transcript abundance with other ABA-regulated transcripts. In contrast to a previous study [23], the transcript abundance of NCED2 of the well-watered controls of Merlot berries did not increase before véraison but did so for NCED1 [15]. In our study we found that ABA concentrations of Cabernet Sauvignon and Chardonnay berries were highly correlated with NCED1 transcript abundance. While other mechanisms of ABA inactivation such as catabolism or glycosylation might affect ABA concentration, these mechanisms did not appear to be as significant as biosynthesis in our study.
What signals might regulate NCED1 transcript abundance? The transcript abundance of NCEDs and ABA concentration can be increased by water deficit [65]. Berry turgor declines at or before véraison as a result of solute accumulation in the apoplast [66, 67] and could possibly be a trigger for the increase in ABA biosynthesis. However, turgor decreases appear to be the result of ABA-stimulated invertase activity and the subsequent significant accumulation of hexoses in the apoplast [68, 67].
In addition, ABA concentrations are affected by ethylene [69] and phytochrome [70, 71]. A recent study indicates that phytochrome can affect NCED transcript abundance [71]. Results from the Genevestigator response reviewer https://www.genevestigator.ethz.ch/ for AtNCED9 (At1g78390), the Arabidopsis transcript with the highest homology with VvNCED1, indicates that its transcript abundance is significantly increased by ACC (the precursor of ethylene) treatment, as well as by brassinolide, heat, osmotic stress, and low concentrations of K+, NO3- and glucose treatments. Thus, there are likely to be a number of factors that influence NCED transcript abundance.
ABA concentrations are regulated by NCEDs in avocado fruit, a climacteric fruit [72]. The rise in ABA concentration in avocado is preceded by a rise in ethylene concentration. Likewise, the expression of CsNCED1 in the peel of citrus, a non-climacteric fruit, was stimulated by ethylene and water deficit [73]. The ethylene receptor, ETR4, was found to regulate the onset of ripening in tomato fruit [74]. In a previous study, there was an increase in transcript abundance of ACC oxidase (1615952_s_at, TC56709) at stage 32 [21], which preceded the peak of NCED1 transcript abundance, indicating that ethylene might be a potential trigger of ABA biosynthesis at or before véraison in grape berries. However, this suggestion is very tentative as the overall correlation between the transcripts was poor and no measurements of ethylene were made. Further experiments are needed to clarify this hypothesis.
Differential effects of water deficit on volatile compounds
Water deficit affected other metabolic pathways in berries that also act in plant defense and stress responses. These pathways involve fatty acid, isoprenoid and carotenoid metabolism as well as photosynthesis. Plant volatile esters can be derived from fatty acids through the activity of several enzymes including LOX and HPL. LOXs belong to a large gene family and are ubiquitous in plants [75]. In addition to their potential role in the formation of volatile compounds, LOXs are involved in storage lipid mobilization, plant defense and jasmonic acid biosynthesis. These enzymes might act as a "master switch" in plant development and stress adaptation [75]. HPL is a cytochrome P450 monooxygenase that is part of a small gene family, CYP74 [32]. This enzyme catalyzes the conversion of 13-hydroperoxide (the product of the LOX reaction) to hexanal (a green leafy volatile) and 12-oxo-cis-9-dodecenoic acid. Hexanal can be converted into other volatile compounds. These volatiles are thought to be involved in defense signaling [76]. In addition, they clearly participate in human perception of flavor and aroma in wines [77].
Water deficit had significant effects on fatty acid metabolism for both Cabernet Sauvignon and Chardonnay. Five different lipoxygenases (LOXs) were identified on the Vitis Genome Array with four of them having significantly increased transcript abundance in response to water deficit. However, two of these LOXs had decreased transcript abundance in Cabernet Sauvignon after véraison in response to water deficit, so the response is complex. Water deficit also increased the transcript abundance of HPL for both cultivars (Fig. 11).
There were specific effects of water deficit on isoprenoid and carotenoid metabolism in Chardonnay. The transcript abundance of a terpenoid synthetase and a carotenoid cleavage dioxygenase was increased by water deficit in Chardonnay at maturity, but not in Cabernet Sauvignon (Fig. 11). Both of these enzymes are known to produce odor-active volatile compounds in wine grapes [30, 31]. Although these volatiles were identified in other wine grape cultivars (i.e. Muscat of Alexandria, Shiraz and Gewürztraminer) it is possible that they also contribute to the aroma profile of Chardonnay.
We did not detect significant increased concentrations of lutein and β-carotene by water deficit in our study, however a recent study [78] found small but significant increases in these carotenoids in Cabernet Sauvignon berries treated with partial rootzone drying, a specialized technique to induce water deficit and ABA concentrations. The accumulation of lutein 5,6 epoxide (Lx) in grape berries is of interest. This compound is associated with a novel long-term photoprotective/light harvesting cycle known as the Lx cycle in the leaves of a few select species, including avocado, mistletoe, shaded leaves of tropical plants and Mediterranean oaks [79, 80]. Its occurrence in a fruit (avocado) has only been reported once to our knowledge [72]. Thus, this observation in grape berries presents an additional opportunity for further investigations into the physiological function of this intriguing cycle.
Glycosylated C13-norisoprenoid precursors in Cabernet Sauvignon berries were increased by partial rootzone drying [78]. Thus, while our data indicated that CCD transcript abundance was not increased in Cabernet Sauvignon by water deficit at maturity, earlier increased activity of this enzyme may have contributed to the increased storage (glycosylated) form. Thus, early activity of this enzyme might still contribute to perceived differences in aromas in Cabernet Sauvignon wine, because deglycosylation during yeast fermentation could convert these precursors to odor-active forms.
Aroma profiles are complex and influenced by many variables [77]. While it is not possible from this study to make direct connections between enzymatic activity and volatile production, one can link the effect of water deficit on the transcript abundance of enzymes involved in volatile production and there are clear effects of water deficit on fruity aromas in both red and white wines [36, 58, 5]. There were many differences between the two cultivars in response to water deficit, which might contribute to differences in their volatile and flavor profiles in the grapes and the wines. Further experiments are needed to clarify the full significance of these results.
The specific effects of water deficit on the carotenoid pathway in Chardonnay are probably related to volatile production and photoprotection. Grape berries are usually regarded as photosynthetic organs during their first phase of development, which explains why most of the transcripts with photosynthesis-related functions are largely expressed at anthesis and two weeks after flowering and then decline steadily in abundance for the remainder of berry development [21, 81, 82]. In grapevine shoots, water stress is known to enhance the expression of genes involved in glycolysis and the electron transport chain of chloroplasts, reflecting the need to repair damaged photosynthetic components due to photoinhibition [29]. In WD Chardonnay berries, the same response occurred with several Unigenes associated with glycolysis and photosystem II (Fig. 10). Taken together, it would appear that photosynthesis reactions were more easily damaged in WD Chardonnay berries in comparison to the anthocyanin-protected WD Cabernet Sauvignon berries.
Another fact that supports the differential occurrence of photoinhibition in Chardonnay was the altered abundance of antheraxanthin and key transcripts associated with the xanthophyll cycle. Xanthophylls protect chloroplasts from excessive light particularly under stress. For instance, chloroplasts are more tolerant of heat when they accumulate zeaxanthin [83], antheraxanthin being an intermediate step between zeaxanthin and violaxanthin. In our experiment, the transcript abundance of β-carotene hydroxylase (1615888_at, TC67433) and violaxanthin de-epoxidase (NPQ1, 1611998_at, TC68254) was increased just before maturity (Fig. 5). Conversion of violaxanthin to zeaxanthin by violaxanthin de-epoxidase is required for the dissipation of excess light energy in the antennae of photosystem II [28]. Thus, it would appear that Chardonnay berries are more sensitive during water deficit resulting in damage to the photosynthetic apparatus. To compensate for the lack of anthocyanins, white grape cultivars, like apples [46], might accumulate carotenoids to protect the photosynthetic apparatus. Anthocyanin accumulation in red or black grape berries might provide sufficient protection against excess light, which might explain why the transcript abundance of NPQ1 was not increased by water deficit in Cabernet Sauvignon.
In addition, flavonol concentrations were increased in Chardonnay, but not in Cabernet Sauvignon. Flavonols are phenolics; the major compounds in grapes are quercetin, kaempferol and isorhamnetin [84]. Flavonols, carotenoids and anthocyanins provide photoprotection in apples and apples with low levels of anthocyanins have increased flavonol and carotenoid concentrations [46]. Thus, the increased concentration of flavonols in WD Chardonnay berries indicates a greater need for photoprotection. An additional benefit of increased flavonol concentrations in grapes is that flavonols have important medicinal properties in humans with significant anti-inflammatory activities [85].
Conclusion
Using transcript and metabolite profiling, water deficit was shown to have a significant impact on the metabolism of both red- and white-wine grape berries. Metabolic responses varied with the cultivar and the color of the grape. Across berry development and in response to water deficit, berry ABA concentrations were strongly correlated with the berry transcript abundance of NCED1. ABA concentrations were increased significantly by water deficit at véraison and one week after véraison in Cabernet Sauvignon, but not in Chardonnay berries. The rise in ABA concentrations by water deficit appeared to precede and enhance anthocyanin, hexose and proline accumulation in Cabernet Sauvignon berries. Water deficit also had large and significant impacts on the abundance of some transcripts and metabolites involved in phenylpropanoid, isoprenoid, carotenoid, amino acid and fatty acid metabolism in Cabernet Sauvignon and Chardonnay berries. To the best of our knowledge, this is the first report to show that water deficit had significant effects on transcripts involved in amino acid and fatty acid metabolism in grape berries. The effects of water deficit on metabolism have important impacts on berry constituents that influence flavor and quality characteristics in grapes and wine and might contribute to increased antioxidants and human-health benefits.
Declarations
Acknowledgements
We would like to thank Sue Abrams for reading and providing useful comments on a previous version of this manuscript especially with the ABA analysis. We would also like to thank Dr. Barry Pogson for his advice on the carotenoid analysis. This work was supported by grants from the National Science Foundation (NSF) Plant Genome program (DBI-0217653) to G.R.C. and J.C.C., the Bioinformatics program (DBI-0136561) to K.A.S, and by the Nevada Agricultural Experiment Station (publication # 03097128). The Nevada Genomics and Proteomics Centers are supported by grants from the NIH Biomedical Research Infrastructure Network (NIH-NCRR, P20 RR16464) and NIH IDeA Network of Biomedical Research Excellence (INBRE, RR-03-008).
Authors' Affiliations
(1)
Department of Biochemistry and Molecular Biology, University of Nevada, Reno, USA
(2)
Groupe d'Études des Substances Végétales à Activité Biologique, EA 3675, Institut des Sciences de la Vigne et du Vin, Université Victor Segalen Bordeaux 2, UFR Sciences Pharmaceutiques, Bordeaux Cedex, France
Copyright
© Deluc et al; licensee BioMed Central Ltd. 2009
This article is published under license to BioMed Central Ltd. This is an Open Access article distributed under the terms of the Creative Commons Attribution License (http://creativecommons.org/licenses/by/2.0), which permits unrestricted use, distribution, and reproduction in any medium, provided the original work is properly cited.