Research article
Open Access
Comparative transcriptome profiling of amyloid precursor protein family members in the adult cortex
Received: 22 December 2010
Accepted: 24 March 2011
Published: 24 March 2011
Abstract
Background
The β-amyloid precursor protein (APP) and the related β-amyloid precursor-like proteins (APLPs) undergo complex proteolytic processing giving rise to several fragments. Whereas it is well established that Aβ accumulation is a central trigger for Alzheimer's disease, the physiological role of APP family members and their diverse proteolytic products is still largely unknown. The secreted APPsα ectodomain has been shown to be involved in neuroprotection and synaptic plasticity. The γ-secretase-generated APP intracellular domain (AICD) functions as a transcriptional regulator in heterologous reporter assays although its role for endogenous gene regulation has remained controversial.
Results
To gain further insight into the molecular changes associated with knockout phenotypes and to elucidate the physiological functions of APP family members including their proposed role as transcriptional regulators, we performed DNA microarray transcriptome profiling of prefrontal cortex of adult wild-type (WT), APP knockout (APP-/-), APLP2 knockout (APLP2-/-) and APPsα knockin mice (APPα/α) expressing solely the secreted APPsα ectodomain. Biological pathways affected by the lack of APP family members included neurogenesis, transcription, and kinase activity. Comparative analysis of transcriptome changes between mutant and wild-type mice, followed by qPCR validation, identified co-regulated gene sets. Interestingly, these included heat shock proteins and plasticity-related genes that were both down-regulated in knockout cortices. In contrast, we failed to detect significant differences in expression of previously proposed AICD target genes including Bace1, Kai1, Gsk3b, p53, Tip60, and Vglut2. Only Egfr was slightly up-regulated in APLP2-/- mice. Comparison of APP-/- and APPα/α with wild-type mice revealed a high proportion of co-regulated genes indicating an important role of the C-terminus for cellular signaling. Finally, comparison of APLP2-/- on different genetic backgrounds revealed that background-related transcriptome changes may dominate over changes due to the knockout of a single gene.
Conclusion
Shared transcriptome profiles corroborated closely related physiological functions of APP family members in the adult central nervous system. As expression of proposed AICD target genes was not altered in adult cortex, this may indicate that these genes are not affected by lack of APP under resting conditions or only in a small subset of cells.
Keywords
DAPTTranscriptome ChangeHigh Fold ChangeFunctional Annotation ClusterDAVID Bioinformatics Resource
Background
Despite its key role in Alzheimer's disease (AD) pathogenesis, the physiological functions of the β-amyloid precursor protein (APP) and its close homologue, the β-amyloid precursor-like protein 2 (APLP2), are still poorly understood. This is due to two major problems complicating the in vivo analysis. i) APP is subject to complex proteolytical processing and ii) APP is part of a gene family with partially overlapping functions.
APP is a type I transmembrane protein, and processing (see Figure
1a
) is initiated either by α-secretase cleavage within the Aβ region, or by β-secretase (BACE) cleavage at the N-terminus of Aβ, leading to the secretion of large soluble ectodomains, termed APPsα and APPsβ respectively. Subsequent γ-secretase processing of the C-terminal fragments (βCTF, or αCTF) results in the production of secreted Aβ, p3 and the APP intracellular domain (AICD). Both APLPs are similarly processed by the same secretases. It is evident that APP/APLPs are highly complex molecules, that may exert important functions as unprocessed cell surface molecules (APP-FL) as well as functions mediated by their diverse proteolytic fragments. APP processing is highly reminiscent to that of Notch with γ-secretase-mediated release of the Notch intracellular domain (NICD) triggering the translocation of NICD to the nucleus. This results in transcriptional regulation of defined target genes involved in e.g. neuronal differentiation. Thus, a similar functional role for AICD (and the related intracellular fragments of APLPs, termed ALID1 and ALID2) as transcriptional regulator has been proposed [
1
]. Indeed, AICD has been shown to translocate to the nucleus and can form a complex with the adaptor FE65 and the histone acetyltransferase TIP60. This complex can induce the transcription of artificial reporter constructs in transfected cells [
2
,
3
]. Likewise, APLP1 and APLP2 are subject to γ-secretase processing and can stimulate the expression of heterologous reporter constructs in an FE65-dependent manner [
4
]. Additional complexity comes from recent studies indicating that APP (and both APLPs) can form tripartite complexes with the adaptor protein MINT3 and the transcriptional co-activators TAZ and YAP. When overexpressed in HEK293 cells, this complex functions in GAL4 reporter assays [
5
,
6
]. To date, several putative AICD target genes have been identified (mainly using overexpression approaches) including
Kai1
[
7
],
Gsk3b
[
8
,
9
],
Nep
[
10
],
Egfr
[
11
],
p53
[
12
],
Lrp
[
13
],
Tip60
,
Bace1
,
App
itself [
14
] as well as genes involved in cytoskeletal dynamics [
15
]. However, the validity of these proposed targets, in particular regarding the question of whether they also constitute endogenous AICD/ALID target genes, has remained controversial [
16
–
22
]. Interestingly, in several recent studies, increased production of AICD either in transfected cells or in transgenic animals did not lead to a consistent up-regulation of previously proposed target genes [
15
,
20
,
22
].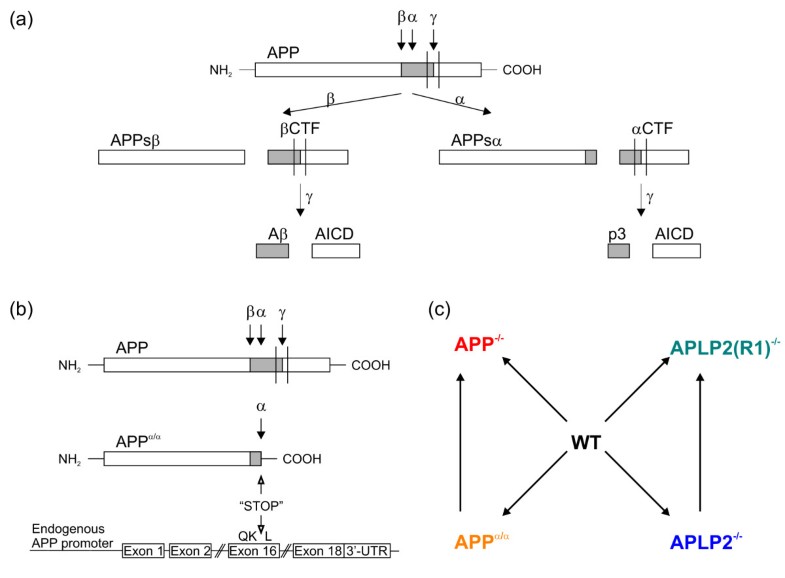 Previously, we showed that knockout (KO) mice deficient in a single family member such as APP (or one of the APLPs) are viable [23, 24] whereas combined APP-/-APLP2-/- or APLP1-/-APLP2-/- double KO mice [24] and APP-/-APLP1-/-APLP2-/- triple mutants [25] die shortly after birth, likely due to defects of neuromuscular transmission [26]. Neither APP-/- nor APLP2-/- mice display obvious defects of central nervous system (CNS) morphology, yet APP-/- mice revealed reduced body weight and defects in spatial learning associated with impaired synaptic plasticity including long-term potentiation (LTP) [26]. However, the molecular mechanisms underlying these defects have remained unclear.
Processing of APP gives rise to several fragments including besides neurotoxic Aβ the α-secretase-generated soluble APPsα fragment that is neuroprotective and involved in synaptic plasticity [27, 28]. To delineate its specific functions, we previously generated APPsα knockin (APPα/α) mice by inserting via gene targeting a stop codon into the endogenous APP locus right after the α-secretase cleavage site [28]. Thus, APPα/α knockin mice express only secreted APPsα from the endogenous APP promoter (Figure 1b).
Here, we employed a rational unbiased approach and investigated transcriptional changes arising due to the lack of APP family members in the adult cortex of knockout mice to gain further insight into the physiological and signaling functions of APP family members. This includes transcriptome changes that may arise due to a lack of direct AICD/ALID-mediated transcriptional regulation as well as changes resulting from indirect signaling events mediated by transmembrane APP/APLP isoforms. First, we analyzed transcriptome changes due to the complete absence of APP or APLP2 (including all their proteolytic fragments) by conducting the pairwise comparisons of WT versus APP-/- (WT/APP-/-) and WT versus APLP2-/- (WT/APLP2-/-). Second, we had a closer look at the role of different APP fragments, in particular APPsα. Therefore, we compared the transcriptome of APPα/α mice both to WT (WT/APPα/α) and APP-/- mice (APPα/α/APP-/-), respectively. Third, we addressed the influence of the genetic background by comparing knockout animals of mixed 129 × C57BL/6 genetic background (APLP2(R1)-/-) to those backcrossed to C57BL/6 for 6 generations.
Results and Discussion
We subjected prefrontal cortices of adult male mice (24 - 28 weeks of age) of the following groups to transcriptome analysis: WT (n = 3), APP-/- (n = 3), APPα/α (n = 3), APLP2-/- (n = 3), APLP2(R1)-/- (n = 3) (Figure 1c). WT, APP-/-, APPα/α, APLP2-/- had been backcrossed for six generations to C57BL/6 mice. APLP2(R1)-/- mice harbor the identical knockout allele as APLP2-/- but were only backcrossed once. Note that APP-/- mice lack membrane-anchored full length APP (APP-FL) as well as all proteolytic fragments derived from it (APPsα, Aβ, APPsβ, αCTF, βCTF and AICD), whereas APPα/α mice express APPsα but lack full length APP and all other fragments.
Raw data was processed according to the RMA procedure [29, 30]. We validated the microarray data by clustering the processed raw data based on all available App/Aplp2 probe sets. As expected, all samples grouped according to their genotypes: WT, APP-/-, APPα/α, and APLP2-/- samples were clearly separated (Additional file 1).
Conclusions
Here, we determined the effect of APP-/-, APPα/α and APLP2-/- genotypes on gene expression in the adult murine cortex. We found large sets of differentially expressed genes, however, fold changes were in most cases only small to moderate. Previously proposed AICD target genes were not convincingly affected by lack of either APP or APLP2 (and thus lack of AICD and ALID) in the complex cortical tissue of adult brain. This may either indicate that the role of AICD in transcriptional regulation has been overestimated or that gene expression changes occur only in a distinct subset of cells that is below the detection level of our analysis.
Remarkably, we found the largest set of differentially expressed genes in APLP2-/- brain, although so far no apparent morphological or other phenotypic changes had been reported for APLP2-KO mice. A substantial proportion of genes were identified as co-regulated by lack of APP or APLP2, notably in pathways such as neuronal differentiation, neurogenesis and transcriptional regulation. This common genetic profile points towards shared physiological functions in these pathways. When comparing APPsα knockin mice and APP-/- mice we observed a close resemblance of the two genotypes pointing towards a crucial role of the APP C-terminus for transcriptome changes. Interestingly, we could demonstrate that several synaptic plasticity-related genes found in this gene set are considerably down-regulated which further substantiates the importance of APP family members in this regard.
Finally, we addressed the role of genetic background for transcriptome changes. Here, we report that the presence of different WT-alleles can lead to profound changes in gene expression that are even higher in magnitude than those resulting from the knockout of a single gene such as APLP2. Thus, it is crucial to keep genetic background constant, particularly if gene expression changes are rather subtle to reliably correlate affected pathways (and physiological functions inferred from them) with a knockout phenotype. In many studies regarding AICD signaling this issue has not been addressed which may at least partially explain the conflicting results reported by different laboratories. Here, we identified the chemokine Ccl21 as a gene that is highly up-regulated in APLP2-/- cortex, but only in conjunction with C57BL/6-specific background alleles. Moreover, our study corroborates that APP family members are not only structurally related but also serve related physiological functions. It will therefore be of high interest to analyze phenotypic and gene expression changes in adult APP/APLP2 double or APP/APLP1/APLP2 triple deficient brain, once viable conditional combined mutants become available that are currently generated by crossing mice with floxed APP and APLP2 alleles with transgenic tissue-specific Cre mice [56].
Methods
Animals
APP-/-, APLP2-/-, APPα/α animals were previously described [28, 57, 58]. All animals were kept under specific pathogen free housing conditions (SPF unit) and in compliance with the regulations of the German animal protection law. For transcriptome analysis, animals had been backcrossed to C57BL/6 wild-type animals for 6 generations (R6) before they were interbred to homozygosity. All animals were adult males (24-28 weeks) and not challenged with any cognitive or stress tasks.
RNA preparation and microarray data generation
Animals were sacrificed by cervical dislocation. Mouse brains were dissected and stored in RNAlater (Qiagen) at -20°C. Subsequently, the prefrontal cortex was cut out and used for total RNA preparation (RNAeasy kit, Qiagen). Quality of RNA was assessed with a spectrophotometer and Bioanalyzer (Agilent). 1 μg of total RNA was used for cDNA preparation (Oligo(dT) method, Invitrogen). Subsequent cRNA was prepared with Affymetrix One-Cycle Target Labeling and Control Reagent kit (Affymetrix Inc., Santa Clara, California, USA). The biotinylated cRNA was hybridized onto GeneChip Mouse Genome 430 2.0 Arrays (Affymetrix, Santa Clara). Chips were washed and scanned on the Affymetrix Complete GeneChip® Instrument System generating digitized image data files.
Statistical analysis
If not stated otherwise, data analysis and processing was carried out within the statistical computing environment R, version 2.8.0, using Bioconductor, BioC Release 2.4 [59]. Raw data was processed with the RMA algorithm (Robust Multiarray Average) developed by Irizarry et al. [29] and normalized using quantile normalization [30].
Hierarchical clustering was carried out using Euclidean distances to calculate the distances between the genes and between the sample groups. Calculated distances were clustered by complete linkage clustering. Expression values for each probe set were normalized to zero mean and unit variance. The values shown thus represent the number of standard deviations above or below the mean expression for each gene. Calculated expression differences for each probe set can be found in the respective additional file.
Significant differentially expressed probe sets between two groups were detected by a Significance Analysis of Microarrays (SAM) [60]. As a cut-off value for significance, we set the false discovery rate (FDR) to 5.33% (WT/APP-/-), 4.96% (WT/APLP2-/-), 4.5% (WT/APPα/α), 4.79% (APPα/α/APP-/-), 5.02% (WT(R6)/APLP2(R1)-/-), and 5.11% (APLP2(R6)-/-/APLP2(R1)-/-).
For counting significant differentially expressed genes, probe set identifiers were mapped to Entrez Gene identifiers. If at least one probe set was significant in the SAM, the gene was regarded to be significant as well. If no gene information (Entrez ID) was available for a certain probe set, the probe set was not counted.
For group testing (GO terms, pathways) DAVID bioinformatics resources was used [61]. Gene symbols from each list were taken as input, and redundant entries were discarded. The following gene sets were included into the analysis: GOTERM_BP_FAT (Gene Ontology), Biocarta (Pathways), KEGG_PATHWAY, PANTHER_PATHWAY, REACTOME_PATHWAY. Functional annotation clustering was carried out using the highest classification stringency.
Quantitative real-time PCR (qPCR)
Total RNA was prepared using High Capacity cDNA kit based on random hexamer primer method (Applied Biosystems). For each qPCR reaction 20ng of total RNA were reverse transcribed into cDNA. qPCR was performed using FAM™-MGB dye labeled TaqMan® Gene Expression Assays (Applied Biosystems) for Bace1 (assay Mm00478664_m1), Kai1 (assay Mm00492061_m1), Egfr (assay Mm01187858_m1), Gsk3b (assay Mm00444911_m1), p53 (assay Mm01731290_g1), Tip60 (assay Mm00724374_m1), Vglut2 (assay Mm00499876_m1), Hspa5 (assay Mm00517690_g1), Cdkn1a/p21 (assay Mm01303209_m1), Arc (assay Mm00479619_g1), Fos (assay Mm00487426_g1), Egr2 (assay Mm00456650_m1), Dio2 (assay Mm00515664_m1), Ccl21 (assay Mm03646971_gH) and beta-Actin as an internal standard (assay 4352933E). Quantification of qPCR results were evaluated by the 2-ΔΔCT method and normalized to wild-type animals. Significance was calculated using unpaired Student's t-test (*, p < 0.05; **, p < 0.01; ***, p < 0.001).
CCL21 ELISA measurements
Brain homogenates for ELISA were generated as described before [62]. Briefly brains were homogenized in lysis buffer (100mM phosphate, pH 7.4, 1mM EDTA, supplemented with complete protease inhibitor cocktail (Roche, Germany) using a PotterS homogenizer (Sartorius, Germany), followed by centrifugation at 1,500 ×g for 10 min. Supernatants were directly used for ELISA determinations.
ELISA measurements were performed using a mouse CCL21/6Ckine kit (R & D Systems Inc., MN) according to the manufacturer's protocol with slight modifications. Briefly, the standard curve was performed in a concentration range of 0 - 5000 pg/ml, the antibodies were used in the dilutions suggested by the protocol, except for the HRP-streptavidine conjugate, which was diluted 1:100. As a substrate one-step TMB-ELISA (Thermo Scientific, IL) was used.
Declarations
Acknowledgements
We thank J. Gobbert and M. Saile for excellent technical assistance. This work was supported by grants from the NGFNplus, Deutsche Forschungsgemeinschaft (SFB488-D18, MU1457/8-1 and MU1457/9-1) and the Hans and Ilse Breuer foundation to UCM.
Authors' Affiliations
(1)
Department of Bioinformatics and Functional Genomics, Institute of Pharmacy and Molecular Biotechnology, Heidelberg University, Heidelberg, Germany
(2)
Medical Research Center, Medical Faculty Mannheim, Heidelberg University, Mannheim, Germany
(3)
Institute for Neuropathology, University Hospital Freiburg, Freiburg, Germany
(4)
Department of Theoretical Bioinformatics, German Cancer Research Center (DKFZ), Heidelberg, Germany
Copyright
© Aydin et al; licensee BioMed Central Ltd. 2011
This article is published under license to BioMed Central Ltd. This is an Open Access article distributed under the terms of the Creative Commons Attribution License (http://creativecommons.org/licenses/by/2.0), which permits unrestricted use, distribution, and reproduction in any medium, provided the original work is properly cited.