Research article
Open Access
Inflammatory responses in primary muscle cell cultures in Atlantic salmon (Salmo salar)
Received: 23 May 2013
Accepted: 26 October 2013
Published: 1 November 2013
Abstract
Background
The relationship between fish health and muscle growth is critical for continued expansion of the aquaculture industry. The effect of immune stimulation on the expression of genes related to the energy balance of fish is poorly understood. In mammals immune stimulation results in major transcriptional changes in muscle, potentially to allow a reallocation of amino acids for use in the immune response and energy homeostasis. The aim of this study was to investigate the effects of immune stimulation on fish muscle gene expression.
Results
Atlantic salmon (Salmo salar) primary muscle cell cultures were stimulated with recombinant (r)IL-1β, a major proinflammatory cytokine, for 24 h in order to simulate an acute immune response. The transcriptomic response was determined by RNA hybridization to a 4 × 44 K Agilent Atlantic salmon microarray platform. The rIL-1β stimulation induced the expression of genes related to both the innate and adaptive immune systems. In addition there were highly significant changes in the expression of genes related to regulation of the cell cycle, growth/structural proteins, proteolysis and lipid metabolism. Of interest were a number of IGF binding proteins that were differentially expressed, which may demonstrate cross talk between the growth and immune systems.
Conclusion
We show rIL-1β modulates the expression of not only immune related genes, but also that of genes involved in processes related to growth and metabolism. Co-stimulation of muscle cells with both rIGF-I and rIL-1β demonstrates cross talk between these pathways providing potential avenues for further research. This study highlights the potential negative effects of inflammation on muscle protein deposition and growth in fish and extends our understanding of energy allocation in ectothermic animals.
Keywords
TranscriptomicsAtlantic salmon (Salmo salar)Muscle cell cultureInflammationCatabolismCell cycleIGF binding proteins
Background
Muscle growth involves a tightly controlled balance between protein synthesis and degradation [1]. Protein synthesis is driven by the growth hormone (GH)/Insulin like growth factor (IGF)/mammalian target of rapamycin (mTOR) pathway [2–5], whereas protein degradation occurs via a number of pathways including ubiquitin proteasome [6–8], lysosomal [9], apoptotic [10] and the calcium dependant calpains [11]. These processes and the pathways underlying their regulation have been examined in Atlantic salmon (Salmo salar) [12], rainbow trout (Oncorhynchus mykiss) [13–16] and other fish [17, 18]. The anabolic effects of the GH/IGF system have also been studied in ectothermic animals including Atlantic salmon [12, 19, 20], rainbow trout [21, 22] and other teleosts [23]. The GH/IGF system has been seen to activate the mTOR pathway thus directing protein synthesis, and is highly conserved in teleosts [2–4].
In mammals the key signals involved in stimulating anabolic activity are free amino acids, GH and IGF [24], whereas catabolic signals include nutrient depletion, hormones such as cortisol and transcription factors such as forkhead box O (FOXOs) [25]. The actions of many of these key signals have been seen to be conserved in salmonid fish [2, 12, 22]. Despite being initiated by different signals, catabolism and anabolism share many aspects of downstream signalling machinery, providing the possibility of intracellular cross talk between these two processes [26]. In mammals undergoing acute inflammatory responses, muscle tissue goes into immediate catabolic state [27, 28] where muscle fibres are broken down releasing free amino acids, likely to be used for liver protein synthesis of acute phase serum proteins. As skeletal muscle is the principal body store of proteins, this tissue is the main target for catabolism and release of free amino acids [29]. In mammals the inflammatory response leads to a loss of skeletal muscle mass in both acute and chronic inflammatory situations [30]. The current consensus in higher vertebrates is that this increase in muscle atrophy can be mediated by proinflammatory cytokines such as interleukin-1β (IL-1β) [26, 31], IL-6 [27, 32, 33] and tumor necrosis factor-α (TNF-α) [26, 27, 32]. Several different processes have been identified by which proinflammatory cytokines can negatively affect muscle mass. IL-1β and TNFα receptors, on the surface of the cells, signal via conserved signal transduction pathways and alter gene expression, which in muscle tissue normally induces genes involved in protein degradation resulting in the release of free amino acids [28, 31, 34–36]. In parallel this cytokine signalling competes with and decreases the effects of IGF-I signalling, specifically during downstream signal transduction, hence reducing the anabolic hormone effect. Such intracellular receptor crosstalk between cytokines and anabolic hormones can lead to a state of endocrine resistance whereby no increase in the amount of ligand present will increase the hormonal effects [26, 37, 38]. This cytokine induced hormone resistance can result in a condition known as cachexia, one aspect of which is a chronic increase in proinflammatory cytokines such as TNFα and IL-1β [39, 40]. The effects of cachexia are a loss of body mass, especially skeletal muscle protein, and it is thought that the ability of cytokines to cause hormone resistance is one of the primary mediators of cachexia. This condition differs from simple weight loss since the loss of body mass will continue despite feeding [26, 39].
Transcriptional responses to various triggers of protein catabolism have been examined in salmonid fish, including starvation [41], starvation and refeeding [42], or following extensive anorexic migrations [18] and vitellogenesis [14, 43]. However to date only a limited number of investigations have addressed the effects of infection or immune stimulation on muscle growth in fish [44, 45]. Previously a cachexia model in rainbow trout was developed by chronic stimulation with lipopolysaccharides (LPS) [44], mimicking sepsis and chronic background infection. In these fish, muscle protein content was decreased, but levels of MyoD and myosin were unaffected indicating that while muscle accretion was altered, the mechanisms may be different to those known in mammals. In general the response was much less dramatic than is observed in mammals, probably reflecting the different control of amino acid reallocation in ectothermic fish.
Proinflammatory cytokines, which include IL-1β, are the primary mediators of the innate immune system [46] and show a rapid response at the transcriptional level following recognition of pathogens including bacterial and viral products [47]. IL-1β is secreted as the mature form following cleavage of the precursor molecule by interleukin 1 converting enzyme (ICE). The mature soluble protein binds to the IL-1 receptor 1 (IL-1R1) receptor which then recruits the IL-1 receptor accessory protein (IL-1RAcP) and initiates the signal cascade [47, 48]. The signalling cascade activates pathways that positively regulate the activity of transcription factor nuclear factor-κβ (NFκB) and the mitogen activated protein kinases p38 (MAPK p38) and c-Jun N-terminal kinases (JNK) [26, 48, 49]. It is through the activation of these pathways that IL-1β is thought to negatively affect anabolism while stimulating catabolism [26, 34, 37]. Whilst there is some controversy as to how IL-1β is processed in fish [50–52], nevertheless a functional mature peptide has been produced in several species [53] and the receptor genes have been cloned [54, 55].
This paper investigates the effects of acute proinflammatory stimulation on the transcriptome of Atlantic salmon primary myocyte cells. We hypothesise that the inflammatory stimuli will cause significant changes in the expression of genes related to immune function, protein metabolism and other cellular processes. Further to this, we hypothesize that co-incubation of cell cultures with IGF-I as well as rIL-1β will lead to an attenuation of the metabolic actions of inflammation.
Discussion
Regulation of muscle mass is under the control of a multitude of regulators related to both anabolic and catabolic processes. We hypothesised that the muscle cells would respond to the inflammatory stimulus by signalling the induction of inflammatory responsive genes in addition to other pathways related to protein metabolism for release of free amino acids as occurs during the acute phase response [56], or for gluconeogenesis and energy reallocation. Our approach of using primary cells to examine the transcriptomic responses of muscle cells stimulated with IL-1β avoids complex host and cell type responses observed during in vivo experiments. The response to the recombinant cytokine resulted in a large panel of genes that were significantly modulated being both increased and decreased in expression. Using gene ontology enrichment analysis for biological processes five key enriched processes were revealed: immune function, protein catabolism, IGF and growth regulation, cell cycle and lipid metabolism.
Conclusions
Muscle tissue is a complex and dynamic organ and is generally the only protein storage organ in the body; hence it needs to be able to control the synthesis of proteins and release of amino acids via degradation under a variety of environmental and physiological conditions. Muscle does respond to immune insults in fish, [
45
,
76
] but to date these responses have not been examined in an
in vitro
system removing the mileu of cytokines and hormones. Here we show a direct effect of a proinflammatory cytokine on primary muscle cells that induces not only immune genes, but also alters the wider transcriptome indicating increased catabolism, lipid mobilization and decreased cell proliferation with a large role potentially for the IGFBPs (Figure
5
). Subsequent experiments demonstrate that both IL-1β and IGF-1 exert disparate effects on mechanisms that regulate growth and other physiological responses as highlighted by their interaction of expression on atrogin-1. These findings will direct future research into the control of muscle mass in ectothermic animals, particularly in relation to health and nutrition.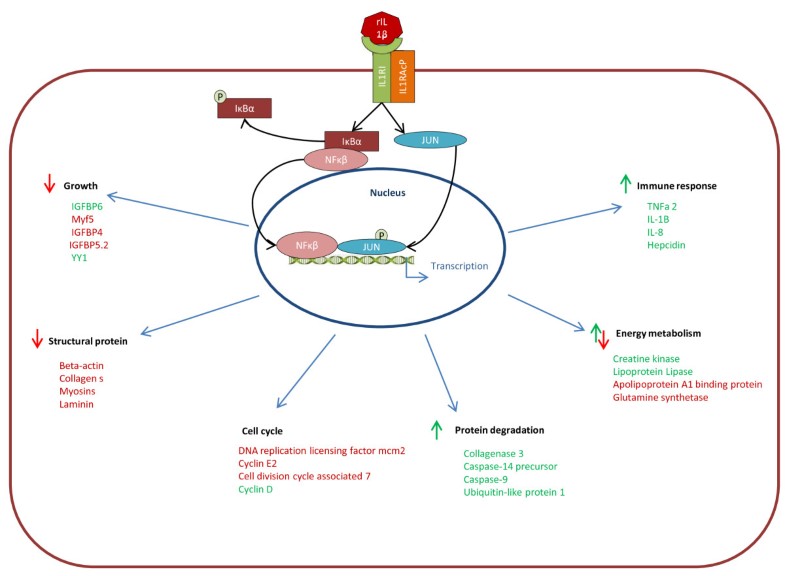 Methods
Myosatellite isolation and stimulation
Atlantic salmon (mean weight of 25 g and mean length of 12 cm) were used for skeletal muscle myosatellite cell extraction, as previously described [112–114]. For each muscle extraction 6 fish were used (~1.5 g tissue from each fish), this was to remove any individual fish effects. No experimental procedures were carried out on the fish and fish maintenance was in line with national ethical guidelines in an experimental facility at University of Aberdeen, UK. Fish were maintained in freshwater and fed a commercial diet at 1.5% body weight per day. Fish were killed using a schedule one method and muscle tissue from above the mid line of the fish was removed sterilely with scalpel and forceps. This pooled muscle (approx 9 g) was placed into a pre-weighed flask containing 30 ml of Leibovitz L15 medium (Gibco) + penicillin/streptomycin 1% (Pen/Strep, Gibco, Penicillin 10,000 units/ml, streptomycin 10,000 μg/ml) (L15 + P/S). The muscle was diced into small blocks (2 mm3) using sterile procedures and the diced muscle then centrifuged (300 g, 5 min) and the supernatant removed. The tissue was digested in collagenase (0.2%) at 11°C for 1 h. Following digestion the cell suspension was centrifuged (300 g, 5 min) and washed before being centrifuged again (300 g, 5 min). This pellet was digested in trypsin (0.1%) at 11°C for 30 min. The cell suspension was again centrifuged (300 g, 40 sec) and the remaining supernatant was added to L15 + P/S plus 10% foetal calf serum (FCS, Sigma) before being passed through a 200 μm nylon mesh. The suspension was centrifuged (300 g, 15 min), the supernatant was removed and 12 ml of L15 + P/S + 10% FCS were added. Finally the contents of this tube were added to two 6 well plates. Prior to plating laminin (mouse laminin, Sigma-Aldrich) was applied to the well surfaces 24 h before the cells were plated out, at a concentration of 1 mg/ml. Cell cultures were then left for 1 h for microsatellite cells to bind to the surface before the medium was first changed and cells allowed to differentiate at 22°C, with the medium being changed every 2 days.
Stimulation of cells
Cells were cultured for 4 days to allow cellular differentiation, this was observed using light microscopy. Morphology typical of satellite cells and time taken to reach confluence in our system was approximately 6 days. The cells were found to exhibit the typical growth pattern previously observed for muscle satellite cells as described in Bower & Johnston (2010) [12]. Initially cells were mono-nucleic before beginning to proliferate and differentiate into spindle shaped cells, a small number of which were beginning to fuse together by day 4. For the microarray experiment stimulations, the medium was removed and 1 ml of new medium (with 0.5% FCS) containing either 10 μl recombinant trout IL-1β protein (rIL-1β) to achieve a concentration of 25 ng/ml or a non-stimulated control with 10 μl PBS. The concentration of IL-1β has previously been determined to be optimal in salmonid cell lines [58]. The cells were then stimulated for 24 h before RNA extraction was carried out.
Subsequent experiments were carried out to further investigate the effects of rIL-1β at different time points and to investigating the effects of the anabolic hormone IGF-I on rIL-1β actions. For these experiments the same procedure was carried out with the only alterations being the length of time the cells were stimulated and in some cases the addition of 100nM of recombinant human IGF-I (rIGF-I) (Sigma). For these experiments the cells were cultured in the stimulant for either 6, 24 or 48 h as specified.
Study design and sample replicates
Cells cultures were generated from six individual fish, this allowed purification of sufficient cells for two six well plates. For the microarray four of these wells were used as biological replicates and stimulated with rIL1β and the remaining four were mock stimulated as described above. RNA extractions were performed and the stimulated samples were kept separate whereas the control unstimulated samples were pooled to have a single common reference prior to mRNA amplification and labelling (Figure
6
).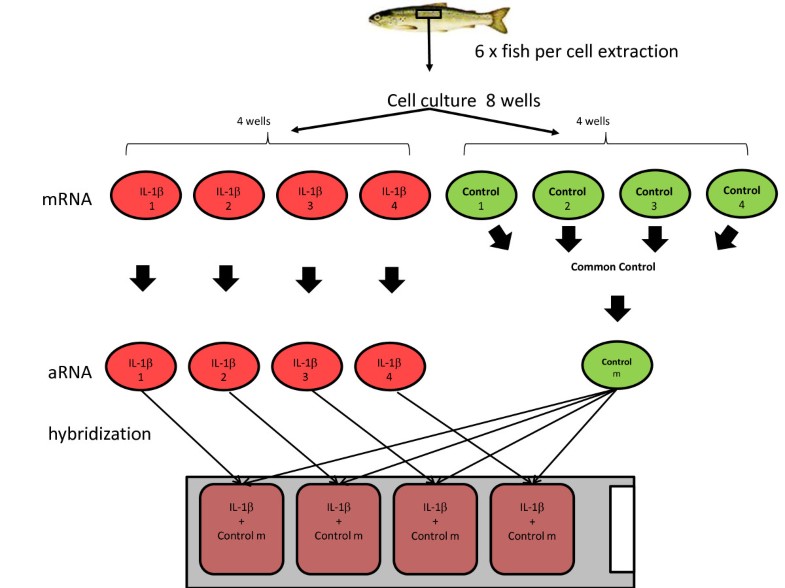 RNA extraction
For microarray experiments RNA was isolated using the RNAeasy extraction kit (Qiagen) as per the manufacturer's instructions. For all other samples RNA was isolated using Trizol (Sigma) as per the manufacturer's instructions. In both cases the RNA was resuspended in 50 μl of nuclease free water and concentration measured by Nanodrop ND1000 (LabTech). The quality of the RNA was assessed using an Agilent Bioanalyzer RNA 6000 Nano Kit as per the manufacturer's instructions.
Microarray hybridization and analysis
Microarray analysis of the samples was carried out using a custom-designed Agilent microarray platform with 4 × 44 K probes per slide (Salar_2; Agilent Design ID:025520) as previously described [115]. The microarray platform design is available at array express accession number A-MEXP-2065.
To produce labelled template for hybridisations aRNA was generated using a MessageAMP II aRNA Amplification Kit (Ambion) as per the manufacturer's instructions. Briefly 1 μg of total RNA was reverse transcribed to create first strand cDNA. This was then used in the synthesis of second strand cDNA and this product was purified using the supplied reagents and columns. Finally the in vitro transcription to synthesise amino allyl modified aRNA was carried out to incorporate amino allyl dUTP in to the aRNA after a 14 h incubation at 37°C and the product purified using the supplied reagents and columns.
For incorporation of flouresence dye 3 μg of aRNA in a volume of 10 μl was denatured at 70°C for 2 min, and to this was added 3 μl of NaHCO3 and 2 μl Cy dye (Cy3 or Cy5 mono-reactive dye pack, Amersham, resuspended in DMSO). The dye was allowed to incorporate for 1 h in the dark before excess dye was removed using a DyeEx spin column purification kit (Qiagen). Confirmation of dye incorporation and aRNA recovery was by nanodrop spectrometry. Agilent microarrays were hybridised according to the manufacturer's instructions as described by [115]. Briefly 825 ng cDNA of each labelled template was fragmented in the dark and made up to a final volume of 20 μl with nuclease free dH2O. After fragmentation, 57 μl of 2XGEx hybridisation buffer (Agilent) was added to each sample which was then briefly mixed and spun down before being stored on ice in preparation for loading 103 μl onto each microarray. Four biological replicates of rIL-1β stimulated cells aRNA were labelled with Cy3 dye and a control consisting of four biological replicates of control cells aRNA was labelled with Cy5 dye. Each rIL-1β stimulated aRNA was hybridised against the control. Hybridisations were carried out in a microarray hybridisation oven (Agilent) overnight (18 h) at 65°C. Following hybridisation the slides were washed in the gene expression wash buffers 1 and 2 (Agilent) following the manufacturer's instructions. The slides were scanned using a GenePix personal 4100A scanner (axon Instruments) at a resolution of 5 μm. Files saved as *. TIF files were extracted using feature extraction software v9.5.3 (Agilent) and background correction and normalization were carried out within this program. Statistical analysis was performed using the Genespring GX analysis platform (version 9.5, Agilent Technologies). Significant differences between IL-1β stimulated cells and control cells were established by t-test analysis (P < 0.05) followed by correction for multiple tests (Benjamini Hochberg FDR post hoc test). Further filtering was carried out to maintain only those genes that showed a ≥2 fold difference in expression as a result of the stimulation. The raw hybridisations data have been deposited at ArrayExpress under accession number (http://www.ebi.ac.uk/arrayexpres, E-MTAB-1692).
Gene ontology (GO) enrichment was carried out on all features with associated GO identifiers using GOEAST software [116]. Fishers exact test was used within the GOEAST program to determine if the GO identifiers occurred significantly more often in a group than would be expected by chance. The output from GOEAST was entered into the software REVIGO [117] to remove redundant GOs.
Gene expression analysis by real time PCR
For cDNA synthesis total RNA (500 ng) was added to 1 μl of oligo-dT
17
(500 ng μl
-1
) and RNase/DNase free water (Sigma-Aldrich) up to a volume of 11 μl, then denatured for 3 min at 70°C and cooled on ice. To each of these denatured RNA samples was added 1 μl of Bioscript reverse transcriptase enzyme (10000U μl, Bioline), 5 μl of 5x reaction buffer, 1 μl of deoxynucleoside triphosphate mix (12.5 mM each, Bioline) and 7 μl of RNase/DNase free water (Sigma-Aldrich) and the mix incubated at 42°C for 1.5 h in a final volume of 25 μl. The cDNA was diluted 4-fold to 100 μl in 1x TE. (Sigma-Aldrich). qPCR amplifications were performed using 3 μl cDNA, 2x Sybr Green PCR master mix (Biorad) and gene specific primers (Table
7
) at 10 μM, with a final reaction volume of 20 μl in 96 well plates in an Opticon real time PCR machine. A typical qPCR cycle used was an initial denaturation for 5 min at 95°C followed by 30-40 cycles of 30 sec at 94°C, 30 sec at 55°C, 30 sec at 72°C, and a final 5 sec at 80°C in which the machine read the plate. The number of cycles used was varied depending upon the expression level of the gene under study. The annealing and measuring temperature was also varied depending upon the primers being used. To calculate the relative quantities of the gene of interest in each sample the standard curve method of relative quantification was used. A dilution series of cDNA diluted 1, 10, 100 and 1000 times was run in each plate to provide a standard curve which was used to calculate primer efficiency to ensure efficiency between 1.8 and 2. Next a linear regression was applied to the standard curve with the subsequent formulas being used to interpolate the relative amount of the gene of interest in the samples [
118
]. Negative control PCRs were run on all plates. For normalization three "house keeping genes" previously found to be stable during immune reactions in fish, namely elongation factor 1α, hypoxanthine-guanine phosphoribosyl transferase (HPRT1) and RNA polymerase 1 (RPL1) were used. The arbitrary units of each individual house keeping gene were normalized to give an average value of 100 to account for different expression levels of the genes, a geometric mean of the arbiatry units of the three housekeeping genes was taken and used for normalization of genes of interest. None of these three genes were found to show any difference in expression over the experiment. For the comparison between microarray expression and qPCR one way T-tests were used to establish if a difference between stimulated and control samples was significant at P ≤ 0.05. For the subsequent qPCR experiments significant differences were established using one way ANOVAs with a Fishers post hoc test to control for multiple testing. Statistics were performed on log transformed arbitrary units. Fold was calculated by division of experimental sample arbitrary units by the average of the control. In the case of negative fold changes below 1, the number was inverted to give a negative fold change.
Table 7
Primers used for qPCR
| Name1 | Accession2 | | Sequence 5′ to 3′ | bp3 |
| --- | --- | --- | --- | --- |
| EF-1α | AF498320.1 | F | CAAGGATATCCGTCGTGGCA | 327 |
| | | R | ACAGCGAAACGACCAAGAGG | |
| RPL1 | CB516726 | F | ACTATGGCTGTCGAGAAGGTGCT | 118 |
| | | R | TGTACTCGAACAGTCGTGGGTCA | |
| HPRT1 | EG866745 | F | CCGCCTCAAGAGCTACTGTAAT | 255 |
| | | R | GTCTGGAACCTCAAACCCTATG | |
| IL-1β | AJ223954.1 | F | GCTGGAGAGTGCTGTGGAAGAACATATAG | 179 |
| | | R | CCTGGAGCATCATGGCGTG | |
| Hepcidin | NM_001140849.1 | F | CATTGAAAATCGTGCATTGG | 150 |
| | | R | AGGCCTTCATTCTCGGTTTT | |
| IGFBP-6 | DQ190459.2 | F | GCTCAATAGTGTTCTGCGTGG | 118 |
| | | R | CTTGGAGGAACGACACTGCTT | |
| TNFα1 | NM_001123589.1 | F | TGTGTGGCGTCCTCTTAGTAGCAGCTT | 101 |
| | | R | CTCCATTTTGTCCTGCATCGTTGC | |
| IGFBP-4 | EU861007 | F | TGTCGTGCTGAGCTGCAGAG | 129 |
| | | R | TGGCTGGCACTGCTTGGCAT | |
| IGFBP-5.2 | EU861009 | F | TTCTCCAGAGGAAGCTATGTTAG | 170 |
| | | R | TCAAGGCTGCTGACAGAGTG | |
| Myf5 | TC97553 | F | CGCATACCGCTTTTACTTCC | 245 |
| | | R | TGATCATGAGAAACGTGAAGC | |
| High choriolytic enzyme | TC63579 | F | ATCAATGGGGCTCATCTCAG | 239 |
| | | R | ATGAGCAAACACGCAGTGAC | |
| Atrogin-1 | GU456729.1 | F | CGAGTGCTTCCAGGAGAATCTG | 384 |
| | | R | GTCTGAAGGAGCTCCTTGATGG | |
Availability of supporting data
The microarray data is submitted to Array express public archive (E-MTAB-1692). Other supporting data is as supplementary files attached to this paper.
Declarations
Acknowledgements
The research was supported by BBSRC studentship for NJP at the University of Aberdeen. We thank Dr Jun Zou for providing the recombinant IL-1β protein used for stimulations.
Authors' Affiliations
(1)
Institute of Biological and Environmental Sciences, University of Aberdeen, Aberdeen, UK
(2)
Centre for Evolutionary and Theoretical Immunology, University of New Mexico, Albuquerque, USA
Copyright
© Pooley et al.; licensee BioMed Central Ltd. 2013
This article is published under license to BioMed Central Ltd. This is an open access article distributed under the terms of the Creative Commons Attribution License (http://creativecommons.org/licenses/by/2.0), which permits unrestricted use, distribution, and reproduction in any medium, provided the original work is properly cited.