Research article

Open Access
Recombinant structures expand and contract inter and intragenic diversification at the KIR locus
Received: 9 August 2012
Accepted: 26 January 2013
Published: 8 February 2013
Abstract
Background
The human KIR genes are arranged in at least six major gene-content haplotypes, all of which are combinations of four centromeric and two telomeric motifs. Several less frequent or minor haplotypes also exist, including insertions, deletions, and hybridization of KIR genes derived from the major haplotypes. These haplotype structures and their concomitant linkage disequilibrium among KIR genes suggest that more meaningful correlative data from studies of KIR genetics and complex disease may be achieved by measuring haplotypes of the KIR region in total.
Results
Towards that end, we developed a KIR haplotyping method that reports unambiguous combinations of KIR gene-content haplotypes, including both phase and copy number for each KIR. A total of 37 different gene content haplotypes were detected from 4,512 individuals and new sequence data was derived from haplotypes where the detailed structure was not previously available.
Conclusions
These new structures suggest a number of specific recombinant events during the course of KIR evolution, and add to an expanding diversity of potential new KIR haplotypes derived from gene duplication, deletion, and hybridization.
Keywords
Natural killer cells
Human
KIR
Recombinant structures
Background
Natural killer (NK) cells are lymphocytes that act as central components of the innate immune response, providing immediate defense against infectious agents[1]. As part of the mechanisms directing this function, these cells utilize a number of stimulatory and inhibitory receptors that react with major histocompatibility complex (MHC) class I antigens expressed by host cells. These NK receptors include variable killer cell immunoglobulin-like receptors (KIR) that in humans interact with the polymorphic HLA-A, B, and C ligands[2] and the nearly invariant CD94/NKG2 family of receptors that interact with the conserved HLA-E ligand[3, 4]. For KIR, variation can be described at two levels, gene content and allelic variation. Early reports of gene content variation described two major haplotypes: group A, consisting of inhibitory KIR and one noninhibitory KIR; and group B, containing additional inhibitory and noninhibitory KIR not found in group A[5]. The genomic structure of the KIR region has been extensively studied[6–8] and the complete genomic sequence of 24 KIR haplotypes has been delineated[9].
The genetic variation of KIR and the central role of NK cells in the immune response – including infectious disease and tumor immunity – have spurred investigation into the association of KIR genetics with a number of diseases and immunologic responses. Many of these studies have focused on the presence or absence of KIR genes and association with infectious disease[10]. For example, the presence of KIR2DL3 and its HLA-C1 ligand directly influenced resolution of hepatitis C virus infection[11] and herpes simplex type 1 infection was modified by the high-affinity receptor/ligand pair KIR2DL2/HLA-C1[12]. Further, both genetic and functional data point to interactions between specific KIR genes and their HLA ligands in managing HIV infection[13]. On the dysfunctional side of the immune response, several autoimmune diseases appear to be associated with the presence of a subset of activatory KIR genes, including KIR2DS2, which is associated with rhuematoid arthritis[14], and scleroderma[15]. KIR was implicated in hematopoetic cell transplantation not long after the delineation of KIR genetic structures[16] and more recently specific KIR haplotype substructures were associated with improved outcomes of unrelated transplants for acute myelogenous leukemia[17]. Finally, KIR receptors and HLA ligands have been implicated in normal processes of pregnancy where allorecognition of paternal HLA-C by maternal KIR is postulated to be involved in essential trophoblast invasion and vascular remodeling and in turn potential derivative complications of pregnancy[18].
Our previous study of the KIR region yielded detailed information about KIR haplotype structures derived uniquely from complete phased genomic sequences, revealing substructures of known haplotypes and further defined linkage among the KIR genes. Taking into account the many reported correlations between KIR polymorphism and disease, there is some imperative to incorporate KIR haplotype structures, including potential intraregion epistasis, into the association studies so that causative variation at KIR can be identified. In addition, the repetitive gene content structure of the KIR region may contribute to rapid evolution through aberrant recombination mechanisms, possibly driven by the immune function of KIR and providing further impetus towards understanding overall genomic region variation. Towards these ends, we set out to establish methods for genotyping KIR that would yield the structures of phased haplotypes as defined by gene content. In the course of this development, we uncovered a number of new haplotype substructures and further defined genomic sequences that account for a large majority of those found in human populations. Stemming from the establishment of a comprehensive genotyping/haplotyping methodology, the results suggested that a number of different recombination events intertwined with strong linkage disequilibrium have been directly involved in the expansion and contraction of the KIR locus.
Results
Complete genomic sequences of the major KIR haplotypes enabled the design of an approach to detect KIR gene-content haplotypes. Our primary design was based on linkage disequilibrium (LD) derived from 27 completely sequenced haplotypes and a diversity panel of 384 DNAs using STSs registering presence or absence of loci as previously described[
9
]. We calculated D' and r
2
between each of the haplotype-variable
KIRs
and mapped the coordinates among all pairwise combinations (Figure
1
). These calculations were used to direct our design of methodology to detect known haplotypes and to uncover new arrangements that could be resolved by further genomic sequencing.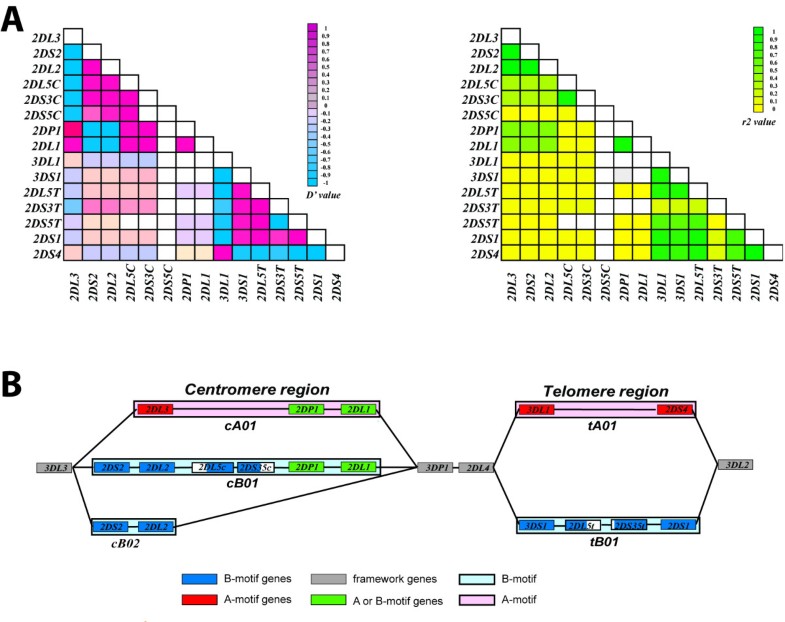 Discussion
The human KIR locus, with its unique repetitive structure has facilitated numerous asymmetric recombinations that duplicated KIR genes, deleted KIR genes, and formed new hybrid KIR genes with novel ligand-binding and signaling functions[52]. A unique sequence in the KIR locus is located in the 14 kb intergenic region that separates KIR3DP1 from KIR2DL4 and divides the locus into centromeric and telomeric segments of similar size[7, 9]. This unique sequence has been the site for events of reciprocal recombination to form new variant KIR haplotypes[6, 53]. Recombination at this site is evidently a major driver of KIR haplotype variation as it accounts for most of the major haplotypes, which involve combinations of the three common centromeric and two telomeric motifs[9]. A minor percentage of recombinant haplotypes, including those newly reported in this study, may have arisen from other mechanisms of recombination including insertions and deletions of gene blocks that may have involved misalignment at repetitive sequences in common between different KIRs. The resources produced from this study include two new complete haplotype sequences and 6 partial sequences of duplicated or deleted regions representing submotifs found in one or more haplotypes.
The high mutability of the KIR region is likely driven by immunological processes, which contribute a central role in the human immune response for KIR receptors, including infection and reproduction[54]. In line with this, KIR genetics have been widely studied in relation to complex disease[10]. However, the genotyping methods used in most of those studies measured the presence or absence of specific KIR genes with reduced or absent ability to reference haplotype structures. Knowledge of the complete haplotype structure is likely important when attempting to identify causative KIR genetic factors associated with disease for a number of reasons, including LD and possible epistatic interactions among KIR. Given the complexity of KIR allelic polymorphism combined with gene content haplotype polymorphism, perhaps the optimal data set is the complete genomic sequences of each pair of haplotypes in an individual (i.e. all of the genetic variation present). However, until technology allows for such data to be derived economically, methods that determine haplotype structures, supplemented with allelic information, mark progress towards the identification of KIR genetic factors that are directly involved or causative of complex diseases.
The KIR haplotyping method described for this study is currently based on an ABI dye-terminator sequence-based approach that detects specific variant positions identifying KIR genes and ratios at SNP positions determining gene copy number. Our reliance on sequence-based methods stems from the desire to use uniform methodology in genotyping in our laboratory. However, this approach can be adapted to other sequencing methods that detect specific SNPs and allow for quantitative determinations at SNP positions. Regardless of the genotyping approach, robust information processing of the data is needed, especially when scaling studies into the thousands of samples. Again, although we developed in house software for this purpose, appropriate algorithms can be developed within a variety of different software frameworks. The overall cost of the assay is similar to existing KIR gene presence/absence methods while yielding potentially valuable more complete genetic information, including phase and copy number.
Of the 9,024 chromosomes examined, 10 samples showed unique genotyping patterns, each different from one another and from the 37 haplotypes described. It was not possible to assign a unique structure to these haplotypes using the existing set of insertion, deletion, and hybridization submotifs. In addition, we did not pursue proving these structures through sequencing due to their single occurrence. There are likely other rare recombinant types not yet described with frequencies in the very rare range, perhaps similar to the frequency of new HLA alleles still being discovered. In addition, our survey populations did not include substantial numbers of African, Asian or Hispanic individuals (in the hundreds each), leaving much of the frequencies to be determined for those populations and with numerous new haplotypes likely to be found in the more diverse African populations. Excluding these 10 very rare haploytpes, the sequence-validated rare haplotypes – those with submotif patterns (Table 3) – collectively account for almost 7% of the total we examined here. These numbers may be significant in studies when the copy number or tandem arrangement of genes is important[55]. In addition, when combined with allelic variants that significantly alter expression of KIR genes[56] the exceptional cases can collectively amount to significant percentages. This may prove to be an important perspective for KIR and complex disease, especially in light of studies where rare variants collectively may be causative of complex diseases[57].
Among the rare mutations that may deserve unique attention are those that delete the framework genes KIR3DL3, KIR2DL4, and KIR3DL2, which may perform essential functions given their near invariant presence in all KIR haplotypes compared with more variable presence of other KIR within a haplotype. In this study, while no cases of a KIR3DL3 deletion were observed, the KIR2DL4 deletion found in the cB02|tB01-del6 haplotype accounted for about 2.3% of the haplotypes surveyed. The KIR2DL4 protein has been implicated as the receptor for the HLA-G ligand and may function in the pregnant environment[58] although it may not play an essential role there as maternal homozygous deletion variants can apparently achieve a successful pregnancy[59]. The KIR3DL2 protein has been shown to interact with specific HLA-A ligands and may act as an inhibitory receptor[60, 61]. As a framework KIR locus, KIR3DL2 shares with KIR2DL4 a rare variant type. The cA01|cB01-del7 haplotype is the only haplotype found where both genes are deleted. Functional studies performed on lymphocytes derived from individuals with this haplotype in a homozygous or hemizygous state could be revealing.
No doubt additional functional data about individual KIR receptors and their ligands are needed before conclusive causative genetic associations of KIR can be made with complex diseases. However, as new functional understandings are revealed, and as KIR population genetics is more comprehensively defined and genotyping becomes more extensive, refined, and economical, we can fully expect to achieve this long sought goal.
During the course of submitting this paper, a parallel study on KIR haplotypes was published where 72 haplotype structures were reported[45]. Three differences between our reporting of haplotypes and that study account for the numerical difference. First, in our descriptions we did not consider haplotypes that carried the 2DS3 or 2DS5 genes or the 2DS4L and 2DS4S groups as distinguishing and instead considered the 2DS3/5 genes and the 2DS4L/S allele groups as sets of alleles. Also, among the 72 reported, 31 were single occurrence, none validated by sequencing, and none of which intersected with haplotypes from our samples. Although we detected 10 haplotypes for which we could estimate structures in addition to the 37 we reported in Figure2, each had only a single occurrence in our population set, and we chose not to fully characterize them through sequence analysis. Our standard for reporting new haplotypes was determination by our genotyping assay and sequencing of genomic DNA (fosmids or LR-PCR) when new structures were uncovered.
Conclusions
Knowledge of the complete haplotype structure of KIR is critical for association studies between KIR genetic variation and complex diseases. We developed a method to detect phased KIR gene-content haplotypes based on PCR sequencing of amplicons. Using this method, we defined a total of 37 KIR haplotypes from genotyping 9,024 chromosomes. An additional 10 haplotypes were detected in single copy but were not confirmed by sequencing. The 37 KIR haplotypes were sorted into 10 types of structural alterations, including gene deletions, insertions, and hybridizations, which together suggest a number of recombination events that might have occurred during KIR evolution. This haplotyping method is an important step towards the identification of KIR genetic factors that are associated with complex diseases.
Abbreviations
HCT:

Hemapoietic Cell Transplantation
KIR:

Killer cell Immunoglobulin-like Receptor
LD:

Linkage Disequilibrium
MHC:

Major Histocompatability Complex
NK:

Natural killer cell.
Declarations
Acknowledgments
This work was supported by the National Institutes of Health [RR018669 to D.E.G.]. The expert contributions of Dr. Shu Shen in the preparation of the manuscript are gratefully acknowledged. We thank the organizers of the UCLA International Cell Exchange for the KIR reference panel (http://www.hla.ucla.edu/cellDna.htm).
Authors' Affiliations
(1)
Clinical Research Division, Fred Hutchinson Cancer Research Center, Seattle, USA
(2)
Histogenetics LLC, Ossining, USA
(3)
Cancer and Inflammation Program, Laboratory of Experimental Immunology, Frederick National Laboratory for Cancer Research, Frederick, USA
(4)
Division of Infectious Diseases, The Feinberg School of Medicine, Northwestern University, Chicago, USA
Copyright
© Pyo et al.; licensee BioMed Central Ltd. 2013
This article is published under license to BioMed Central Ltd. This is an Open Access article distributed under the terms of the Creative Commons Attribution License (http://creativecommons.org/licenses/by/2.0), which permits unrestricted use, distribution, and reproduction in any medium, provided the original work is properly cited.