Research article

Open Access
The reduced kinome of Ostreococcus tauri: core eukaryotic signalling components in a tractable model species
Received: 24 January 2014
Accepted: 8 July 2014
Published: 2 August 2014
Abstract
Background
The current knowledge of eukaryote signalling originates from phenotypically diverse organisms. There is a pressing need to identify conserved signalling components among eukaryotes, which will lead to the transfer of knowledge across kingdoms. Two useful properties of a eukaryote model for signalling are (1) reduced signalling complexity, and (2) conservation of signalling components. The alga Ostreococcus tauri is described as the smallest free-living eukaryote. With less than 8,000 genes, it represents a highly constrained genomic palette.
Results
Our survey revealed 133 protein kinases and 34 protein phosphatases (1.7% and 0.4% of the proteome). We conducted phosphoproteomic experiments and constructed domain structures and phylogenies for the catalytic protein-kinases. For each of the major kinases families we review the completeness and divergence of O. tauri representatives in comparison to the well-studied kinomes of the laboratory models Arabidopsis thaliana and Saccharomyces cerevisiae, and of Homo sapiens. Many kinase clades in O. tauri were reduced to a single member, in preference to the loss of family diversity, whereas TKL and ABC1 clades were expanded. We also identified kinases that have been lost in A. thaliana but retained in O. tauri. For three, contrasting eukaryotic pathways – TOR, MAPK, and the circadian clock – we established the subset of conserved components and demonstrate conserved sites of substrate phosphorylation and kinase motifs.
Conclusions
We conclude that O. tauri satisfies our two central requirements. Several of its kinases are more closely related to H. sapiens orthologs than S. cerevisiae is to H. sapiens. The greatly reduced kinome of O. tauri is therefore a suitable model for signalling in free-living eukaryotes.
Keywords
Conserved eukaryote signalling
Protein kinase phylogeny
Ostreococcus tauri
Model kinome
Phosphorylation
TOR signalling
MAPK cascade
Circadian clock
Background
Protein kinases are a major component of the complex signalling networks that coordinate all fundamental cellular processes, including transcription, cell cycle and metabolism. Protein kinases and phosphatases elicit reversible phosphorylation, which enable the rapid cellular responses that are crucial for survival in a continually changing environment. Protein kinases activate and deactivate proteins by addition of the gamma-phosphate from ATP to serine (S), threonine (T), tyrosine (Y), aspartate (D) or histidine (H) amino acid residues [1]. Cascades of consecutive kinase-mediated phosphorylation events constitute the backbone of signalling pathways [2]. The complexity of the signalling networks scales with size. Part of this complexity is constrained by the number of genes encoding protein kinases, also known as the kinome. The number of encoded protein kinases in free-living eukaryotes ranges from as little as 126 kinases in Saccharomyces cerevisiae[3] to ~1000 in Arabidopsis thaliana[4]. Between these extremes, surveyed organisms include Dictyostelium discoideum with 285 kinases [5], the fruit fly Drosophila melanogaster with 251, and Homo sapiens with 518 kinases [6]. Minimal kinomes are present in parasites that are not obviously representative of other tractable species. The kinome of the parasitic fungus Encephalitozoon cuniculi[7] has only 32 kinases and lacks sequences that are ubiquitous in the kinomes of free-living eukaryotes, including the STE family, TOR and AMPK. E. cuniculi kinases are also highly divergent within fungi: 9 are reported to have no clear orthologs. The protozoan Giardia lamblia can be grown in pure culture and has a small genome of only 6,500 ORFs with a core of only 80 kinases, of which 14 have no clear orthologs and 5 are Giardia-specific [8]. The remainder of the kinome is composed of a large expansion of 198 Nek kinases, 139 of which are likely to be catalytically inactive. G. lamblia kinase domains were also found to have a mean sequence identity of only 40% with H. sapiens, lower than plant and fungal kinases (49-50%).
It was originally thought that S/T and Y kinases were unique to eukaryotes, and that bacteria and archaea operated a parallel system of H and D phosphorylation. However it is now known that S/T and Y phosphorylation is also important in both bacteria [9] and archaea [10]. While many eukaryote-like kinases (ELK) in bacteria share only remote sequence similarity with eukaryotic protein kinases (ePK) they share strong structural similarities [11, 12]. The Rio and Bud32 families of kinases are common to both eukaryote and archaea [11]. Conversely, the Histidine kinases (HK) are also found in eukaryotes, where their roles include osmoregulation in several species [13] and ethylene hormone signalling in A. thaliana[14].
A well conserved 250 – 300 amino acid catalytic domain, known as the ePK domain [15], is present in most protein kinases and mediates protein phosphorylation. A small subset of kinases do not possess the ePK domain and are regarded as atypical protein kinases (aPK) [16]. As ePKs are structurally related, a common evolutionary ancestry, distinct from aPKs has been proposed [12]. Members of the protein kinase ePK family [1] are divided into the following major groups: AGC (named after protein kinases A, G and C), TK (Tyrosine Kinases), TKL (Tyrosine Kinase-Like kinases), CaMK (Calcium/Calmodulin-dependent Kinases), CMGC (containing Cyclin-Dependent Kinases (CDK); Mitogen-Activated Protein Kinases (MAPK); Glycogen Synthase Kinase 3 (GSK3) and Cyclin-Dependent Kinase-Like (CKL)), CK1 (Casein Kinase 1), CK2 (Casein Kinase 2), STE (containing homologs of the yeast Sterile kinases), and AUR (Aurora Kinases). The TK family, particularly transmembrane receptor kinases, account for the majority of receptor kinases in humans and serve as cell-surface receptors for growth factors that trigger cell growth, proliferation and differentiation [6]. Non metazoan-eukaryotes, including the green lineage, do not possess genuine TKs [6]. Instead, Y phosphorylation is substituted by dual-specificity kinases that phosphorylate S/T as well as Y [17, 18].
In this study we survey the kinase components of O. tauri and assess its suitability as a model organism for eukaryotic signalling, based on two criteria: (1) reduced signalling complexity and (2) conservation of signalling components. O. tauri is a promising candidate as it is the smallest free-living eukaryote [19], with a 12.6 Mb genome, encoding 7,989 proteins with minimal genome duplication [20]. This reduced genome might impose simplified signalling. O. tauri is part of the Chlorophyta clade within the Plantae supergroup [21], and is taxonomically positioned at the base of the green-plant lineage. Given its size and taxonomic position, it is a promising candidate for generating hypotheses that can be transferred to more complex eukaryotes. O. tauri has a streamlined cell structure comprising a single nucleus, mitochondrion, Golgi body and chloroplast [22]. It possesses several benefits as an experimental model, cells can be readily and rapidly cultured in controlled laboratory conditions, where they undergo simple binary cell-division which can be synchronised by light/dark cycles. It has already been used as a model for the eukaryotic cell-cycle, helping to unify current understanding of cell-cycle regulation across eukaryotes [23]. The lack of a cellulose plant cell wall facilitates transformation [24, 25] as well as organelle enrichment and protein extraction [26, 27]. These genetic and proteomic tools have already been applied to studies of protein turnover [27], nutrient deprivation [26] and the plant circadian clock in experimental [25, 28, 29] and mathematical approaches [30].
We survey the O. tauri kinome and examine conservation of protein sequences, through phylogenies of kinase orthologs in A. thaliana, H. sapiens and S. cerevisiae as the most widely studied models of plant, metazoan and fungal kinomes respectively. We then focus on three pathways, 1) TOR signalling in H. sapiens, 2) MAPK-mediated GSK3 signalling in A. thaliana and 3) the core circadian clock. We evaluate the capacity of O. tauri components to support signalling in current models of these exemplar pathways. Building on our recent proteomic surveys [26, 31, 32], we examine a large set of phosphorylated peptides detected by mass spectrometry and use these to validate phosphorylation-mediated signalling events in O. tauri. In combination with the phylogenetic evidence, we discuss the suitability of O. tauri as a model species to study protein kinase signalling.
Results and discussion
The overall proteomic similarity among
O. tauri
,
A. thaliana
,
S. cerevisiae
, and
H. sapiens
was revealed by a survey of shared ortholog-groups (Figure
1
A) identified by OrthoMCL [
33
]. This approach allows a comparison of shared sequences, despite the widely differing number of protein-family members in their proteomes. The proportion of ortholog-groups that were unique to
O. tauri
and
S. cerevisiae
was very similar, at 45% and 44% of their respective proteomes.
O. tauri
shares 10.6% of the 12,546 ortholog-groups present in
A. thaliana.
The
O. tauri
genome contains a comparable number of
H. sapiens
protein families (2,367) to the existing model species
S. cerevisiae
(2,300).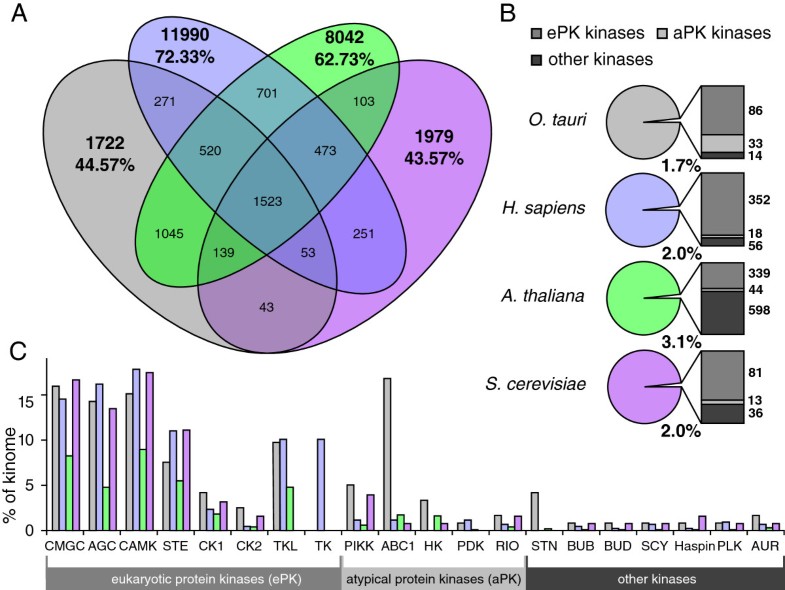 We compared the number of protein kinases for each family in O. tauri with other model organisms, using an existing, high-level classification derived from 22 eukaryotic kinomes [35]. This data-mining approach was augmented by experimental identification of 5,563 phosphorylated O. tauri peptides from 107 liquid-chromatography-coupled mass spectrometry (LC-MS) experiments. These correspond to 3,994 uniquely identified phosphorylations of 2,214 peptide sequences of 1,252 proteins (Additional file 1: Table S1), including several conserved protein kinases, discussed below. In the process of identifying and categorising kinases in O. tauri, we identified a novel gene locus, corrected 9 existing gene models, and patched sequencing gaps in 25 gene loci with sequence information from Ostreococcus lucimarinus data to generate a more complete database for peptide identification. Protein domain diagrams are attached as Additional file 2: Figure S1 while the new and patched gene models and sequences are detailed in Additional file 3: Figure S2. Evidence of phosphorylation motifs conserved between species is presented in Additional file 4: Figure S3.
Conclusion
We identified 133 gene loci encoding catalytic protein kinases in O. tauri, constituting a small kinome of a similar order to S. cerevisiae (130 genes). As a photosynthetic model for core signalling, it is nearly ten-fold smaller than the A. thaliana kinome [4]. Comparing A. thaliana, S. cerevisiae and H. sapiens sequences, we found O. tauri kinases were frequently more closely related to the H. sapiens sequences than were the S. cerevisiae orthologs (the PIKK kinases are one exception). Thus genome reduction in O. tauri has not led to divergence in its kinome, in contrast to the minimal kinomes of parasitic species. DNA-PK is present in O. tauri and H. sapiens but absent in A. thaliana; PKG in O. tauri is also closer to the metazoan and fungal sequences than the closest A. thaliana sequences; several other components are conserved in exemplar signalling pathways (genes, phosphorylated amino acids and binding motifs), such as S6K activation via the TORC1 pathway. Together with other conserved components that are otherwise absent or poorly conserved in much of the green lineage, such as the cell cycle phosphatase CDC25 [127], our kinome survey indicates that O. tauri is a reduced but representative laboratory model species for signalling research, which incorporates many eukaryote-wide signalling components.
Declarations
Acknowledgements
We are grateful to Bram Verhelst from VIB Department of Plant Systems Biology, Ghent University, for advice concerning O. tauri gene models. GvO is a Royal Society University Research Fellow (UF110173) supported by Royal Society research grant RG120372. This work was supported by BBSRC and EPSRC awards BB/D019621 and BB/J009423.
Authors' Affiliations
(1)
SynthSys and School of Biological Sciences, University of Edinburgh, Edinburgh, UK
(2)
Institute of Structural and Molecular Biology, University of Edinburgh, Edinburgh, UK
(3)
Biomathematics & Statistics Scotland, University of Edinburgh, Edinburgh, UK
(4)
Institute for Adaptive and Neural Computation, School of Informatics, University of Edinburgh, Edinburgh, UK
Copyright
© Hindle et al.; licensee BioMed Central Ltd. 2014
This article is published under license to BioMed Central Ltd. This is an Open Access article distributed under the terms of the Creative Commons Attribution License (http://creativecommons.org/licenses/by/2.0), which permits unrestricted use, distribution, and reproduction in any medium, provided the original work is properly credited. The Creative Commons Public Domain Dedication waiver (http://creativecommons.org/publicdomain/zero/1.0/) applies to the data made available in this article, unless otherwise stated.