Protein intrinsic disorder toolbox for comparative analysis of viral proteins
BMC Genomics
2008
9(Suppl 2):S4
Published: 16 September 2008
Abstract
To examine the usefulness of protein disorder predictions as a tool for the comparative analysis of viral proteins, a relational database has been constructed. The database includes proteins from influenza A and HIV-related viruses. Annotations include viral protein sequence, disorder prediction, structure, and function. Location of each protein within a virion, if known, is also denoted. Our analysis reveals a clear relationship between proximity to the RNA core and the percentage of predicted disordered residues for a set of influenza A virus proteins.
Neuraminidases (NA) and hemagglutinin (HA) of major influenza A pandemics tend to pair in such a way that both proteins tend to be either ordered-ordered or disordered-disordered by prediction. This may be the result of these proteins evolving from being lipid-associated. High abundance of intrinsic disorder in envelope and matrix proteins from HIV-related viruses likely represents a mechanism where HIV virions can escape immune response despite the availability of antibodies for the HIV-related proteins. This exercise provides an example showing how the combined use of intrinsic disorder predictions and relational databases provides an improved understanding of the functional and structural behaviour of viral proteins.
Keywords
InfluenzaInfluenza VirusViral ProteinLipid RaftViral Subtype
Background
Goals and objectives
Structures and functions of a large number of viral proteins are not yet totally understood [1–5]. This may account for the continuous need for the development of novel computational and experimental tools suitable for the viral protein analysis. Although experimental techniques remain the major providers of structural and functional knowledge, often, the experiments are expensive or difficult to the point of infeasibility. The use of various bioinformatics tools to predict structure and function represents an alternative approach that is gaining significant attention. Comparative computational studies have opened a new way for easier benchmarking and functional analysis of proteins. Here we examine the usefulness of intrinsic disorder predictions for studying the viral proteins. To this end, a set of biocomputing tools that include relational database design and utilization of disorder prediction algorithms was elaborated.
Viral protein functions by proteins, location and virus type
Two families of RNA viruses, the Lentivirinae (HIV) and the Orthomyxoviridae (Influenza), were used in this comparative study. These viral families were selected because they are widely studied due to their involvement in major outbreaks during the last century [5, 6]. The Lentiviruses include the HIV and the SIV viruses among others [7], whereas the orthomyxoviruses encompass mainly the various influenza viruses [8].
The influenza A virion (which is a complete virus particle with its RNA core and protein coat) is a globular particle sheathed in a lipid bilayer derived from the plasma membrane of its host (Figure
1A
). Two integral membrane proteins, hemagglutinin (HA) and neuraminidase (NA), are studded in the lipid bilayer. Beneath the envelope, the matrix formed by matrix proteins M1 and M2 is located. This matrix encompasses eight pieces of the genomic RNA, each in association with many copies of a nucleoprotein (NP), some "non-structural" proteins with various functions (e.g., NS1 and NS2) and several molecules of the three subunits of its RNA polymerase. Sixteen HA subtypes (or serotypes) and nine NA subtypes of influenza A virus have been identified in different virus isolations so far.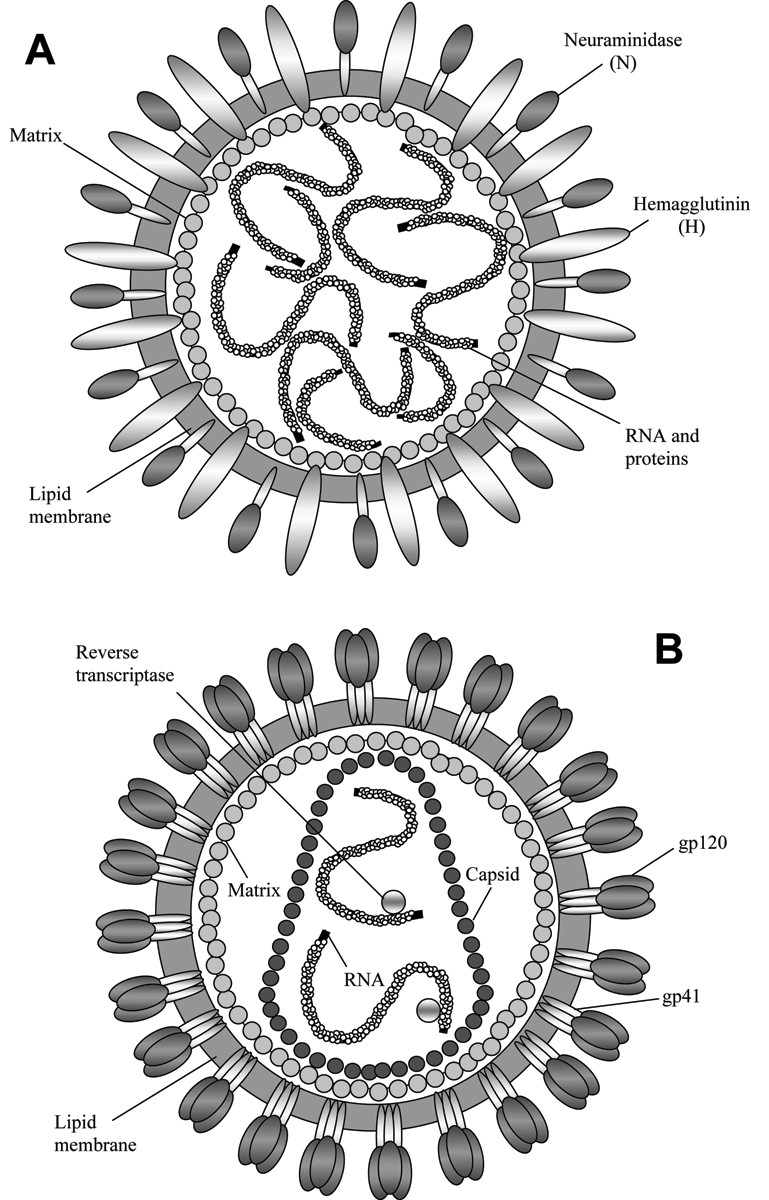 HIV is also an enveloped virus. Figure 1B represents a model of its virion. The surface of the HIV virion is the viral envelope made of the cellular membrane, which is acquired when the virus leaves the host cell. Protruding from the envelope is the viral glycoprotein, gp160, which is made up of two component parts, the structural unit (SU), gp120, and the transmembrane (TM), gp41. These two surface proteins play important roles in attachment and penetration of HIV into target cells. Inside the lipid envelope, there is a matrix formed by Gag protein p17, which holds the RNA-containing core in place. This cylindrical core is a proteinaceous capsid made of p24 protein. The capsid contains two copies of the single-stranded RNA genome and three key enzymes: protease, PR (p11); integrase, IN (p32); and reverse transcriptase RT (p66), as well as some other proteins.
Table
1
represents a list of some of the most important proteins analyzed in this study. These proteins are arranged by their approximate location in the HIV and Influenza A virions [
7
–
10
]; i.e., according to their proximity to the core where the RNA is housed. The proteins that are located closer to the core are likelier to be involved in interaction with the viral RNA. Note: the exact locations of some of the proteins within the virions are not known as of yet.
Major HIV proteins

Protein

Function of the Protein

Location

SU(gp120)

Binding of host's CD4 to itself

Virion Surface(SU)

TM (gp41)

Involved in fusion with host

Transmembrane (TM) at the Virion Envelope

MA (p17)

Matrix

Beneath the Enevelope

Vpua

Virion release

Vpr

Nucleus transportation of viral proteins

Within capsid and beneath matrix

CA (p24)

Main core protein

Nucleocapsid

PR (p11)

Protease.

Within the Core

RT (p66)

Reverse Transcriptase

Within th Core

IN (p32)

Integrase.

Within the Core

Tata

Transcription factor

NAa

Major influenza A virus proteins

Protein

Function/Description

Location

HA

Hemagglutinin allows the attachhment of host's CD4 to itself

Envelope

NA

Neuraminidase cleaves sialic acud group to allow virion release into the extracellular region.

Transmembrane (TM) at the Virion Envelope

MA (M1, M2)

Protein assembly with membrane binding and disassociation

Matrix: Beneath the Enevelope

NS1

Non-Structural Protein. Inhibits RNA splicing. RNA binding

Within capsid and beneath matrix

NS2

Transportation of RNPb to cytoplasm

NP

Nucleoprotein

Nucleocapsid

PB1

Main core protein

Binds to Nucleocapsid
Table 1 shows that proteins similarly located within the virions of different viral types possess significant functional similarities [11]. For example, similar functions can be seen in the surface proteins (gp120, HA, NA) in both influenza A and HIV viruses. Although Table 1 lists major functions for several proteins, it is important to remember that some of the functions are not totally understood or are not known at all [1]. Multi-functionality of a protein is, of course, also possible.
Intrinsic disorder
Many proteins are intrinsically disordered; i.e., they lack rigid 3-D structure under physiological conditions in vitro, existing instead as dynamic ensembles of interconverting structures. Intrinsically disordered proteins [12] are also known by several other names including "intrinsically unstructured" [13] and "natively unfolded." [14–16] While the function of a given protein is often determined by its unique structure, comparative studies on several exceptions to the structure-to-function mechanism led to the realizations that intrinsically disordered proteins share many sequence characteristics and so comprise a distinct cohort. These intrinsically unstructured proteins and regions differ from structured globular proteins and domains with regard to many attributes, including amino acid composition, sequence complexity, hydrophobicity, charge, flexibility [12, 15], and type and rate of amino acid substitutions over evolutionary time [17]. Many of these differences between ordered and intrinsically disordered proteins were utilized to develop numerous disorder predictors. The disorder predictors used in this paper are PONDR®s (Predictors of Naturally Disordered Regions) VLXT and VL3 [18–21]. We utilized these predictors to address the following question: Can disorder prediction be used to determine or map at least some the functions for viral proteins?
Results
Predicted intrinsic disorder in various viruses
Table
2
lists the average percentages of predicted disordered residues (the percentage disorder rate) that have been found in proteins studied by NMR or X-Ray crystallography. They are also divided into PDB-Select 90 proteins [
22
,
23
], lentivirus, and influenza A virus. Table
2
shows that the percentage of residues predicted to be disordered by PONDR
®
VLXT in proteins from a PDB-Select 90 set is 24 ± 2, whereas the corresponding value for PONDR
®
VL3 predictions is 14 ± 2. Table
2
also shows that predicted disorder is a bit more abundant in lentivirus proteins in comparison with proteins from the influenza virus. The values given in this table are the average percentages of disordered residues in a given dataset, not the average percentages of disordered residues
in each chain
. The former provides a better gauge of the mean since the number of influenza and HIV-related proteins available in PDB [
22
] is relatively small.
Table 2
Abundance of intrinsic disorder in various datasets.
| Protein | % Predicted Disordered X-raya | % Predicted Disordered NMR | % Predicted Disordered |
| --- | --- | --- | --- |
| PDBS90 | 24 ± 2 (14 ± 2) | 34 ± 2 (32 ± 1) | 24 ± 2 (15 ± 1) |
| HIV | 27 ± 2 (16 ± 1) | 50 ± 3 (41 ± 3) | 34 ± 2 (19 ± 2) |
| Influenza | 21 ± 2 (10 ± 2) | 34 ± 3 (40 ± 3) | 21 ± 2 (11 ± 2) |
Averaged predicted disorder rates enable analysis of the viral protein disorder
Conclusion
Results presented in this paper show the usefulness of the intrinsic disorder prediction for the comparative analysis of viral proteins. This approach offers several advantages, including the opportunity to map proteins by functionality, predicted disorder, and locality across viral species, strains and subtypes. Furthermore, it provides useful benchmarks for the evaluation of the intrinsic disorder concept and for the analysis of various disorder predictors. Using this comparative study of predicted disorder, several interesting patterns in the behaviour of viral proteins from HIV-1 and influenza A viruses were uncovered. We have shown that the patterns of predicted disorder can be mapped and related to the functions of the various proteins. There is evidence that the functions and the amount of disorder of the proteins are related to their physical location in the virion. Some of the key findings of this paper are further outlined below.
Intrinsic disorder is unevenly distributed within the virions, especially for influenza, with the least predicted disorder being observed at the surface proteins and the most disorder being characteristic for the proteins at the virion core. While a similar trend is observed for HIV, the disorder changes are much less pronounced.
Proteins near the surface of HIV-related viruses are characterized by higher levels of predicted disorder as compared to influenza. Although the major surface protein, gp120, has been consistently predicted to be ordered, its major neutralizing determinant is highly mobile. These data support a scenario where HIV virions can escape immune response despite the availability of antibodies for the HIV-related proteins.
Significant variations in the amount of predicted disorder by HA subtypes in influenza A virus were observed. This might provide an explanation for the variations in the functionality and infectivity of specific viral subtypes. Furthermore, NA and HA of major influenza A pandemic, tend to pair in such a way that both tend to be predicted either ordered-ordered or disordered-disordered. Such behaviour might be linked to the evolutionary advantages of being ordered or disordered, but more experiments are needed to test this conjecture.
Methods
Tools and materials used
The programs were written in C#, JAVA®-JDBC, Microsoft® SQLSERVER, and MYSQL. Object-oriented programming in JAVA®-5 was also used. The design of the database was done using relational database concepts with normalization in Third Normal Form Boyce-Codd Normal Form [74].
PONDR® VLXT and VL3 predictors
The predictors of intrinsic disorder used in this paper are PONDR® VLXT and VL3 [18, 19, 21]. PONDR® VLXT was built using 15 proteins whose structures were elucidated using X-ray diffraction, NMR spectroscopy, circular dichroism spectroscopy, or limited proteolysis [19]. PONDR® VL3, on the other hand, was built using a combination of 30 neural networks and a training set of disordered regions of 150 proteins [21].
Relational database and entity relationship diagram
In order to do a comparative study of the viral proteins, it was necessary to develop a database that would capture the information from the amino acid sequence and the disorder prediction. The list of proteins of interest included viral proteins of lentiviruses and orthomyxoviruses. Searches were done on the list using the Entrez website [22]. Available samples were randomly chosen with preferences given to those with longer chains and those with binding partners. Whenever possible, corresponding viral protein of different virus strains were included as samples and annotated. The respective FASTA and PDB [22] files were downloaded and stored using a JAVA® program and the list prepared.
In order to provide a benchmark for predicted disorder, a set of proteins from PDB-Select 90 was randomly chosen and downloaded to the database. The mean and standard deviation were calculated using bootstrapping techniques when necessary [75]. PDB Select90 [23] is defined as a representative, non-redundant subset of the PDB [22], made up of proteins that have no more than 95% sequence identity [23].
Figure
3
shows the Entity-Relationship (ER) Diagram [
76
]. The ER Diagram attempts to summarize the relationships among entities in a relational database. In our case, entity Virus_Type contains information about the virus family (such as Lentiviradae), while entity Viruses contains names of viruses such as HIV-1 on the virus_id attribute. In order to query by protein types, the entities protein_category and protein_type were designed. Attributes for protein category includes accession_code and protein_cat_desc, which include descriptions of proteins such as p17. Protein_type_id links the Protein_category entity to the Protein_Type entity, which contains information relayed to protein type, e.g. matrix protein.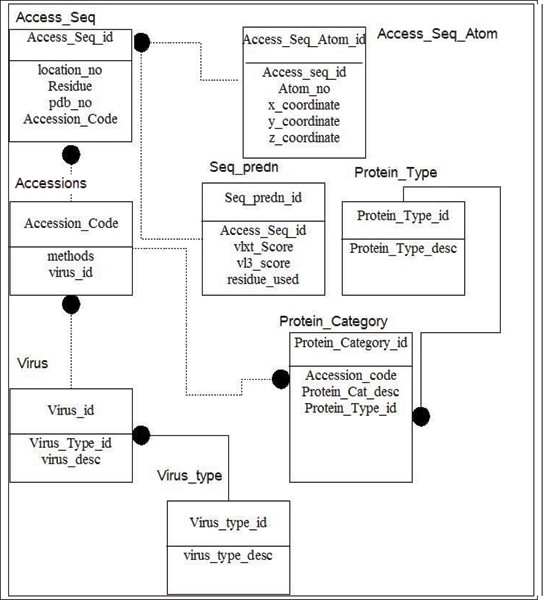 Using a set of programs written in JAVA®, the PDB and FASTA files were searched, and the essential information was placed in the MYSQL tables using accessions seq_access and seq_access_atom. The necessary FASTA files were then used to generate PONDR® VLXT and PONDR® VL3 scores via a LINUX BASH shell script. Another JAVA® program was then used to load the prediction into the seq_predn table. Information regarding to the virus and its subtype was initially stored in a Microsoft® SQLSERVER database via C# and later was transferred to the MySQL database server.
Declarations
Acknowledgements
This work was supported in part by the grants R01 LM007688-01A1 (to A.K.D and V.N.U.) and GM071714-01A2 (to A.K.D and V.N.U.) from the National Institutes of Health and the Programs of the Russian Academy of Sciences for the "Molecular and cellular biology" and "Fundamental science for medicine" (to V. N. U.). We gratefully acknowledge the support of the IUPUI Signature Centers Initiative.
This article has been published as part of BMC Genomics Volume 9 Supplement 2, 2008: IEEE 7th International Conference on Bioinformatics and Bioengineering at Harvard Medical School. The full contents of the supplement are available online at http://www.biomedcentral.com/1471-2164/9?issue=S2
Authors' Affiliations
(1)
Center for Computational Biology and Bioinformatics, Indiana University School of Medicine, Indianapolis, USA
(2)
Institute for Intrinsically Disordered Protein Research, Indiana University School of Medicine, IndianapolisIndiana, USA
(3)
Institute for Biological Instrumentation, Russian Academy of Sciences, Pushchino, Russia
Copyright
© Goh et al; licensee BioMed Central Ltd. 2008
This article is published under license to BioMed Central Ltd. This is an open access article distributed under the terms of the Creative Commons Attribution License (http://creativecommons.org/licenses/by/2.0), which permits unrestricted use, distribution, and reproduction in any medium, provided the original work is properly cited.