Research article
Open Access
Changes in Bacillus anthracis CodY regulation under host-specific environmental factor deprived conditions
Received: 12 May 2016
Accepted: 9 August 2016
Published: 17 August 2016
Abstract
Background
Host-specific environmental factors induce changes in Bacillus anthracis gene transcription during infection. A global transcription regulator, CodY, plays a pivotal role in regulating central metabolism, biosynthesis, and virulence in B. anthracis. In this study, we utilized RNA-sequencing to assess changes in the transcriptional patterns of CodY-regulated B. anthracis genes in response to three conditions of environmental starvation: iron, CO2, or glucose deprivation. In addition, we performed chromatin immunoprecipitation on newly identified CodY-mediated genes.
Results
Environmental deprivation induced transcriptional changes in CodY-regulated genes in both wild-type and codY null strains, and both CodY-specific and environment-specific patterns were observed. In the iron-depleted condition, overexpression of iron homeostasis genes was observed independent of codY deletion; however, transcription of siderophore and amino acid biosynthesis genes was CodY dependent. Although CodY has a significant regulatory role in central metabolism and the carbon overflow pathway, metabolism-associated genes exhibited CodY-independent expression patterns under glucose starvation. Genes that were differentially expressed in response to CO2 availability showed CodY-dependent regulation, though their maximal expression did require a supply of CO2/bicarbonate.
Conclusions
We speculate that CodY regulates the expression of environmental-responsive genes in a hierarchical manner and is likely associated with other transcription regulators that are specific for a particular environmental change.
Keywords
Bacillus anthracis CodYEnvironmental signalsStarvationRNA-sequencingChromatin immunoprecipitation
Background
Bacillus anthracis, a gram-positive, spore-forming bacterium that is the etiological pathogen of the zoonotic disease anthrax, is constantly exposed to different environmental conditions in its host, strongly influencing its physiology. Several environmental factors are known to promote survival, growth and virulence. One such factor is the presence of carbon dioxide (CO2), a gaseous waste product generated by central metabolism and cellular respiration. An infectious pathogen would encounter an elevated level of CO2/bicarbonate in infected cells as well as in blood vessels during invasion, switching from aerobic respiration to fermentative growth, adaptation, and virulence induction in various pathogens. Of note, CO2-induced virulence factor expression in B. anthracis is well documented, as expression of anthrax toxin components and capsule synthesis are enhanced in the presence of bicarbonate and/or high atmospheric CO2 levels [1–4].
Glucose availability is also considered an important signal for bacterial pathogens. However, the effect of starvation varies among species. For example, glucose can decrease virulence gene expression in the gram-negative pathogen Escherichia coli O157:H7 [5], whereas glucose positively regulates virulence-related processes in Vibrio cholerae [6] and Helicobacter pylori [7]. As for B. anthracis, the presence of glucose increases transcription of anthrax toxin activator atxA, in turn positively regulating transcription of protective antigen, one of three anthrax toxin components. This glucose-induced AtxA expression requires the carbon catabolite protein CcpA through an indirect mechanism, forming a molecular link between metabolism and B. anthracis pathogenesis [8].
In addition to CO2 and glucose, iron availability in the host environment is a major signal for any pathogenic bacterium, as iron is involved in bacterial invasion, survival, motility, capsule biosynthesis and toxin production [9]. To utilize iron in cells or serum, bacterial pathogens express iron-chelating siderophores to scavenge and extract sequestered protein-bound iron ions [10, 11]. As for B. anthracis, it expresses the siderophores, petrobactin, and bacillibactin to extract iron in the host system [12], and deletion of iron uptake genes attenuates growth in macrophages and virulence in mice [13]. Overall, host-related environmental factors have a significant impact on bacterial gene expression with regard to stress response, adaptation, survival, and pathogenesis.
Multiple extracellular signals induce complex changes in bacterial gene expression to adapt to new conditions. Simultaneous gene regulation in response to a rapidly changing intracellular milieu suggests the existence of global transcription regulator(s) that integrate extracellular stimuli to choreograph gene transcription. One of the potential gene regulators responding to environmental stimuli is the global transcriptional regulator CodY, which represses early stationary phase genes during growth via direct and indirect mechanism [14]. CodY regulates the expression of the genes closely related to metabolism, adaptation and virulence in various gram-positive pathogens [15]. Its virulence regulation in B. anthracis virulence was documented in several literatures [16–18], including a recent CodY overexpression study that showed defects in B. anthracis sporulation and pellicle formation [19].
It is notable that CodY-directed gene regulation is closely associated with responses to environmental stimuli. Indeed, nutrient availability is directly associated with CodY binding activity, as starvation leads to depletion of two CodY effectors, GTP and branched-chain amino acids (BCAAs). Without bound effectors, CodY loses its binding affinity and is released from its binding site, followed by derepression of genes involved in various metabolic functions [20, 21]. Previous reports have shown that CodY functions in harmony with CcpA in the regulation of metabolism-related genes. CodY is also known to repress genes that are related to iron uptake and scavenging in B. anthracis [17]. However, it remains unclear whether the CO2-sensing mechanism is linked to CodY regulation in pathogenic bacteria. At least in B. anthracis, post-translational accumulation of AtxA is positively regulated by CodY via unknown mechanisms [18], with its activity also being influenced by CO2 [2]. The fact that AtxA is regulated by CodY in a CO2 atmosphere suggests potential coordinated regulation between CodY and CO2-sensing mechanisms in B. anthracis. Although these host-specific environmental stimuli induce stimulus-specific gene expression, it is not yet clear how CodY regulation is connected to environmental-specific responses. Here, we report B. anthracis expression profiles in response to both CodY deletion (codY mutant) and deficiency of three environmental factors, iron, CO2, or glucose, revealing the expression patterns of CodY-mediated genes in B. anthracis exposed to various environmental stimuli in a host-like system.
Conclusions
We attempted to determine the expression patterns of
B. anthracis
genes that are directly or indirectly regulated by CodY in response to different environmental deprivation conditions using high-throughput sequencing. We identified CodY-mediated genes that were either sensitive or insensitive to environmental changes, with some being involved in regulation under more than one starvation condition. Although transcriptional repression in response to environmental factor deprivation was derepressed by
codY
mutation in several cases, the CodY-mediated genes displayed complex expression patterns, being either positively or negatively regulated in response to the mutation. The genes with complex transcription patterns were closely related to specific biological pathways that utilize the deprived environmental factor(s) for proper regulation and metabolism. These biological pathways were regulated by multiple regulators that may act in a global or a pathway-specific manner, such as the Fur regulon for iron metabolism and CcpA for glucose metabolism. Our transcription profiles suggest that CodY regulation is sophisticatedly coordinated with other regulators during the environmental changes evaluated (Fig.
5
): (i) iron metabolism is regulated by iron-dependent regulators, is independent of CodY repression but affects CodY-mediated regulation indirectly by altering iron-dependent amino acid biosynthesis; (ii) CodY assists other glucose-dependent regulators in the regulation of glucose catabolism and the TCA cycle, and indirectly coordinates proper transcription of vegetative genes in response to glucose availability; and (iii) CodY retains its role as a global regulator for those CodY-mediated genes that require CO
2
/bicarbonate for full expression but has less of a regulatory role in aerobic-anaerobic respiration, at least in enzyme gene regulation. The complex nature of CodY regulation in response to environmental factors suggests the involvement of other pleiotropic or pathway-specific regulators. As numerous gene regulators and regulatory proteins belong to the CodY regulon [
54
], functional characterization of CodY-mediated gene regulators would elucidate this complex phenotypic changes. Our findings also depict CodY as a supportive regulator rather than a signal-integrating hub in response to the deprived conditions studied. This transcription study provides useful insight into CodY regulon in
B. anthracis
during various environmental changes that would ultimately affect its physiology and virulence. However, we only examined a limited set of environmental stimuli that
B. anthracis
experiences during its life cycle inside or outside of the host system. Furthermore, interaction of CodY with other regulators requires validation of their direct physical contact or indirect regulation during transcriptional regulation in the host-like environmental niche. Other environmental factors, such as amino acid starvation, are being studied by many research groups [
55
]. Integration of datasets generated using environmental factors that affect other physiological and virulence features of
B. anthracis
would provide better information for understanding its adaptation and pathogenesis in the host system.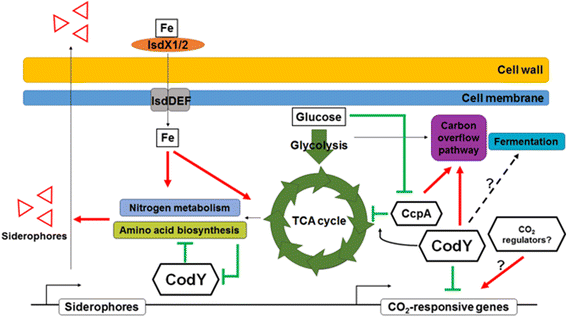 Abbreviations
BCAA:

Branched-chain Amino Acid
BHI:

Brain Heart Infusion
ChIP-qPCR:

Chromatin Immunoprecipitation Quantitative Polymerase Chain Reaction
CO2 :

Carbon Dioxide
DAVID:

the Database for Annotation, Visualization and Integrated Discovery
EDTA:

Ethylenediaminetetraacetic Acid
Em:

Erythromycin
GO:

Gene Ontology
GTP:

Guanosine Triphosphate
Km:

Kanamycin
MeV:

MultiExperiment Viewer
PBS:

Phosphate Buffered Saline
PMSF:

Phenylmethylsulfonyl Fluoride
qRT-PCR:

Quantitative Real-time Polymerase Chain Reaction
Declarations
Acknowledgements
We thank Dr. Konstantin Shatalin for providing an integration vector pKS1, and Dr. Abraham L. Sonenshein for anti-CodY antibody.
Funding
This research was supported by Global Ph. D. Fellowship Program through the National Research Foundation of Korea (NRF) funded by the Ministry of Education (2012–003722) and NRF Grant funded by Korean Government (MSIP 2011–0030049). The funders had no role in study design, data collection and analysis, decision to publish, or preparation of the manuscript.
Availability of data and material
The datasets generated during and/or analyzed during the current study are available in the Gene Expression Omnibus database (GEO, http://www.ncbi.nlm.nih.gov/geo/) under accession number GSE79644.
Authors' contributions
SK constructed the codY deletion strain, analyzed RNA-sequencing data and performed ChIP-qPCR, and was a major contributor in writing the manuscript. KJ prepared RNA-sequencing library and performed qRT-PCR. YC conceived and designed the experiments, and contributed in writing the manuscript. All authors read and approved the final manuscript.
Competing interests
The authors declare that they have no competing interests.
Consent for publication
Not applicable.
Ethics approval and consent to participate
Not applicable.
Open AccessThis article is distributed under the terms of the Creative Commons Attribution 4.0 International License (http://creativecommons.org/licenses/by/4.0/), which permits unrestricted use, distribution, and reproduction in any medium, provided you give appropriate credit to the original author(s) and the source, provide a link to the Creative Commons license, and indicate if changes were made. The Creative Commons Public Domain Dedication waiver (http://creativecommons.org/publicdomain/zero/1.0/) applies to the data made available in this article, unless otherwise stated.
Authors' Affiliations
(1)
Department of Molecular and Life Science, Hanyang University ERICA, Ansan, Republic of Korea
(2)
Department of Bionanotechnology, Hanyang University, Seongdong-gu, Republic of Korea