Research article
Open Access
Unscrambling butterfly oogenesis
Received: 11 January 2013
Accepted: 5 April 2013
Published: 26 April 2013
Abstract
Background
Butterflies are popular model organisms to study physiological mechanisms underlying variability in oogenesis and egg provisioning in response to environmental conditions. Nothing is known, however, about; the developmental mechanisms governing butterfly oogenesis, how polarity in the oocyte is established, or which particular maternal effect genes regulate early embryogenesis. To gain insights into these developmental mechanisms and to identify the conserved and divergent aspects of butterfly oogenesis, we analysed a de novo ovarian transcriptome of the Speckled Wood butterfly Pararge aegeria (L.), and compared the results with known model organisms such as Drosophila melanogaster and Bombyx mori.
Results
A total of 17306 contigs were annotated, with 30% possibly novel or highly divergent sequences observed. Pararge aegeria females expressed 74.5% of the genes that are known to be essential for D. melanogaster oogenesis. We discuss the genes involved in all aspects of oogenesis, including vitellogenesis and choriogenesis, plus those implicated in hormonal control of oogenesis and transgenerational hormonal effects in great detail. Compared to other insects, a number of significant differences were observed in; the genes involved in stem cell maintenance and differentiation in the germarium, establishment of oocyte polarity, and in several aspects of maternal regulation of zygotic development.
Conclusions
This study provides valuable resources to investigate a number of divergent aspects of butterfly oogenesis requiring further research. In order to fully unscramble butterfly oogenesis, we also now also have the resources to investigate expression patterns of oogenesis genes under a range of environmental conditions, and to establish their function.
Keywords
Oogenesis Pararge aegeria Lepidoptera Bombyx mori Drosophila melanogaster TranscriptomeEco-evo-devoReproductive physiologyMaternal effectsEarly embryogenesis
Background
Successful development relies heavily on parental contribution over and above the direct effect of maternal and paternal genes. For example, maternal effect genes, which have been particularly well studied in Drosophila melanogaster, are involved in setting up; 1) the location of the germ plasm and subsequent germ cell line development in the offspring [1–3] and, 2) a basic framework of positional information, which is interpreted by the embryo's own genetic program [4, 5]. Furthermore, insect embryos rely on nutrients for growth derived from the mother in the form of yolk deposited in the egg [6–9]. The investigation of insect egg production (i.e. oogenesis) is thus not only crucial in understanding reproductive, and consequently fitness variation [10–12], it is also a popular model system for studying epigenetic programming [13, 14], the apoptotic pathway [15, 16], stem cell behaviour [17–20], cell cycle regulation [21, 22] and developmental patterning mechanisms in general [4, 5, 23–25].
Research into the physiological mechanisms underlying insect oogenesis and egg provisioning has a rich history [26], particularly in moths and butterflies (Lepidoptera) [7, 8, 27, 28]. However, to date sufficiently detailed developmental genetic data to allow us to comprehensively understand the gene regulatory mechanisms underlying oogenesis and maternal effect gene expression controlling early embryogenesis only really exist for the model organism D. melanogaster [3–5, 15, 21]. Developmental genetic studies focussing on species other than D. melanogaster provide us with the opportunity to investigate how the Gene Regulatory Networks (GRNs) underlying insect oogenesis might have evolved [3–5, 23].
Maternal effects can have consequences that extend well beyond embryonic or juvenile development, affecting offspring fertility and longevity [28, 29]. The exact nature of the maternal effects and thus the contribution of a female to the phenotype (and fitness) of her offspring are not static, however, but to a large extent depend on her own internal state, resource availability [12, 30] and in general the environmental conditions she experienced during her life (both biotic and abiotic) [31–34]. As such maternal effects constitute a form of non-genetic transmission of environmental conditions across generations. This means that elements of the regulatory states from the oogenesis GRN of a mother can be passed on to the next generation. There is thus a developmental framework in place with mothers having the possibility to influence the fecundity and survival of their offspring in response to their own environment, thereby providing an alternative system of inheritance with profound consequences for phenotypic evolution [32, 35–38]. However, much of life history theory has been developed without regard to the actual developmental genetic basis of the variation in the traits being investigated, such as reproductive output and maternal effects [39–41]. What has been lacking is a powerful model system to study the developmental genetics of insect reproduction in an evolutionary ecological context [42]. Lepidoptera are ideal candidates to undertake such ecological evolutionary developmental (eco-evo-devo) studies given the vast amount of physiological data on oogenesis [8], as well as very detailed information, for butterflies in particular, on reproductive variability in relation to environmental variability [10, 11, 43–46].
Recently, valuable functional genomic tools have been developed for butterflies [47]; for example, for Melitaea cinxia to study life history variation [48], Bicyclus anynana to study wing colour patterning [49], the monarch butterfly Danaus plexippus to study long-distance migration [50], Heliconius species to study mimicry [51] and for both Erynnis propertius and Papilio zelicaon to study variability among populations in response to environmental heterogeneity and climate change [52]. The information that has been missing so far in butterflies is a detailed description of the ovarian transcriptome, including maternal regulation of patterning the embryo along its axes and mRNA contributed maternally to eggs. In fact, in Lepidoptera, there is a distinct lack of such developmental studies; only in the silkmoth Bombyx mori have a number of recent studies on candidate genes in maternal regulation of early embryogenesis (e.g. establishing positional information) been undertaken [53, 54].
The Speckled Wood butterfly
Pararge aegeria
(L.), a temperate zone species, is a popular model species for evolutionary ecology studies, for example on plasticity in female reproduction [
10
,
11
,
55
–
57
]. Female
P. aegeria
mate soon after emergence and usually mate only once [
58
]. At eclosion they have no or just a few [
56
] mature oocytes and if mated on the day of emergence, usually they start ovipositing 48 hrs later on the third day of their life [
10
,
11
]. In female
P. aegeria
resources for reproduction are, to a significant degree, obtained during the larval stage and there is little opportunity to obtain more nitrogenous resources for reproduction through adult feeding [
59
] or nuptial gifts. Like many other butterflies [
8
],
P. aegeria
has meroistic ovaries with 8 ovarioles. Each ovariole consists of a germarium (i.e. stem cell region), previtellogenic primary oocytes, vitellogenic eggs and mature chorionated eggs [
8
] (Figure
1
). A total of seven nurse cells transfer maternal proteins, and mRNA of maternal effect genes into developing oocytes, whilst the somatic follicle cells surrounding the oocyte are involved in choriogenesis and vitellogenesis, as well as oocyte patterning [
8
].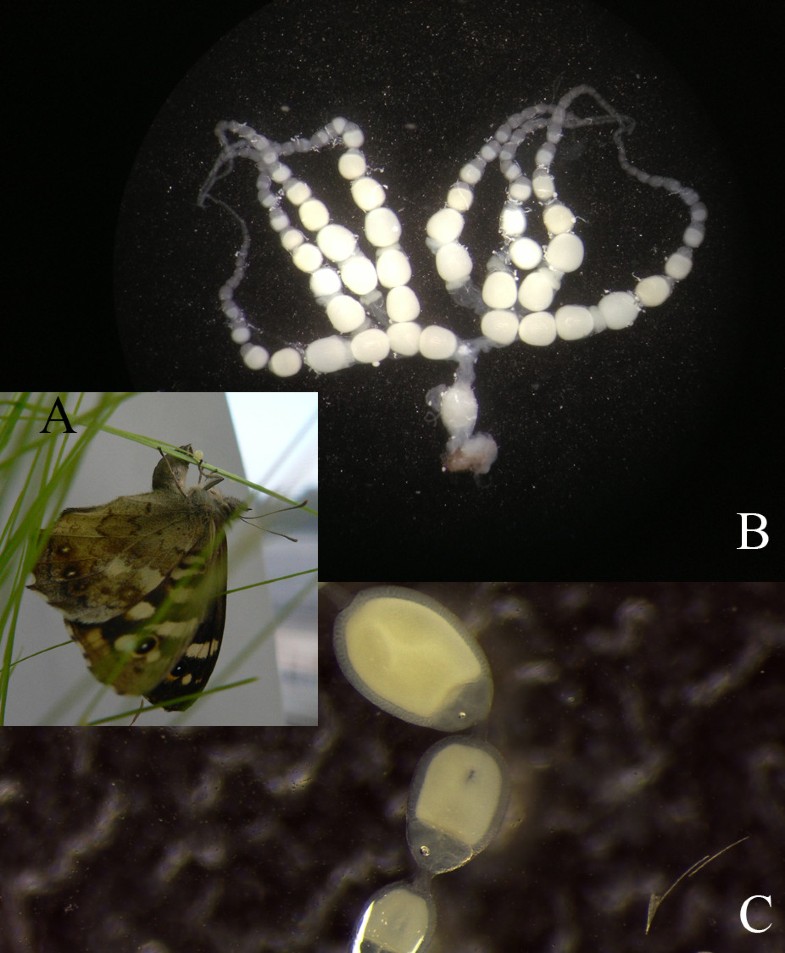 In this paper, we present a comprehensive study of the genes expressed during oogenesis for the butterfly P. aegeria, using de novo transcriptome sequencing and qPCR. Given the wealth of data on reproductive physiology in Lepidoptera, the genes implicated in hormonal control of reproduction will be investigated in particular detail in this study. Furthermore, as a first step in determining the conserved and divergent elements of the butterfly oogenesis GRN (including maternal regulation of zygotic gene expression and embryonic patterning), we investigated which of the genes known to play an essential role in D. melanogaster or B. mori oogenesis were also transcribed by P. aegeria.
Although the number of ovarioles differs among D. melanogaster, P. aegeria and B. mori, these species have similar organisation of their meroistic ovaries, making for an ideal comparison. Furthermore, within Lepidoptera, the silkmoth B. mori and butterflies (including P. aegeria) belong to the more derived division Ditrysia within the infraorder Heteroneura and thus are likely to share developmental characteristics [60, 61]. Many aspects of maternal regulation of early D. melanogaster embryogenesis can be explained by the fact that it is a long germ band insect [5]. Within the order of Lepidoptera there is a transition from a short germ in the more ancestral species to something more similar to long germ in the more derived species, such as those belonging to Ditrysia [60]. This fact, again, makes for an interesting comparison between the three species.
We describe particular features of the P. aegeria ovarian transcriptome that were revealed during assembly and annotation, including orthologs of genes involved in several major conserved signaling pathways, maternal regulation of early embryogenesis, vitellogenesis and choriogenesis. We observed that P. aegeria differed most significantly from D. melanogaster (and many other insect species) in terms of stem cell maintenance in the germarium, EGF signalling in establishing oocyte polarity along anterior-posterior (AP) and dorsal-ventral (DV), and the signalling mechanisms used at the termini of the oocyte. Furthermore, we observed a high proportion of apparently unique sequences in the transcriptome, and we discuss how future exploration of the function and expression patterns of these unique sequences will undoubtedly provide valuable insights into the evolution of insect oogenesis.
Results
The main aim of this study was to identify the genes expressed in the ovaries involved in oocyte formation, establishing oocyte polarities and the RNA transcripts transferred into the eggs by the mother, which either regulate early embryogenesis or are needed during early embryogenesis. Drosophila melanogaster is arguably the best studied insect species in terms of ovarian gene expression and maternal effect gene function. Additional file 1 contains an extensively referenced list of the key essential oogenesis genes. FlyBase [62] and SilkBase [63] were used as a starting point to conduct the comprehensive literature search. The vast majority of papers thus mainly concern the model species D. melanogaster and B. mori. Furthermore, for D. melanogaster genes, a high-throughput developmental time series database was consulted for FPKM (Fragments Per Kilobase of exon per Million of fragments mapped) -based gene expression levels [64] (see also Methods), as well as an in-situ database for maternal transcript contribution to the oocyte [65]. The oogenesis genes discussed in this paper have been classified into functional groupings and were identified predominantly from D. melanogaster studies (and to a lesser extent B. mori studies). Studies on D. melanogaster oogenesis are too numerous to list exhaustively, but key relevant papers (and references therein) have been cited to enable the reader to explore the role of each particular gene during oogenesis further. It should of course be noted that quite a number of genes are expressed in different functional contexts during oogenesis, such as genes encoding the components of various signalling pathways or a gene such as cornichon, which is involved in setting up both AP and DV axis polarity as well as oocyte nucleus localisation in D. melanogaster [66]. Such genes only occur once in Additional file 1 and the tables presented in this paper, but the references to and discussion of such genes will highlight their pleiotropic functions.
Annotation and verification of expression by means of qPCR
Pararge aegeria
egg and ovary RNA was sequenced using Illumina short read RNA-Seq technology. Of the 25266 contigs, 17306 contigs were of sufficient quality and length to be annotated (both automated and manually) with 30%, possibly novel or highly divergent, remaining uncharacterised (Table
1
; Additional file
2
; see Methods). The presence or absence of
P. aegeria
orthologs in the transcriptome data of 1035 essential oogenesis genes listed in Additional file
1
was verified manually; 833 were found, which is 80.5%. A total of 994 genes out of the 1035 had been identified in
D. melanogaster
studies.
Pararge aegeria
expressed 741 of these, which is 74.5%. A further 56 genes were found to be expressed for which functionality during oogenesis can be inferred, but which have not been verified experimentally. Specific genes will be discussed elsewhere in this paper. A large number of these genes are not only transcribed during oogenesis to produce an oocyte, but maternal transcripts were also found to be present in the oocyte itself (Additional file
2
; Figure
2
). Exceptions include genes encoding chorion proteins as well as yolk and associated proteins. Large amounts of transcripts of these genes are found in the ovaries only (Additional file
2
; Table
2
). A number of contigs appeared to have relatively high transcript abundance (measured by means of FPKM values; see Methods) in the oocytes compared to the ovaries, suggesting that these transcripts are important as maternal effect transcripts incorporated into the oocytes in relatively large concentrations (Table
2
and Figure
2
). An example of this is the gene encoding a signal transducing adaptor molecule (STAM; Table
2
and Additional file
2
), which in
D. melanogaster
is expressed throughout oogenesis [
67
], but of which transcripts are detected in very high levels in early embryogenesis [
68
]. On the basis of the GO terms, the 838 gene orthologs appear to be representative of the annotated genes in the transcriptome as a whole (Figures
2
and
3
).
Table 1
Transcript abundance
| Ovary/Egg LOG2 fold change | Egg/Ovary LOG2 fold change | FPKM - value |
| --- | --- | --- |
| spherulin-2A | signal transducing adapter molecule 1 | ribosomal protein LP2 |
| PACG20471 | nucleolar GTP-binding protein 2 | 40S ribosomal protein S6 |
| chorion class A precursor family 5 | ubiquitin-conjugating enzyme E2 S | ribosomal protein L39 |
| Bmtitin1 | SLIT-ROBO Rho GTPase-activating protein | cytochrome oxidase subunit 3 |
| Egg protein 80 | mo-molybdopterin cofactor sulfurase | Bmtitin1 |
| Vitellogenin | poly U binding factor 68kD | ribosomal protein L32 |
| chorion class A precursor family 3 | NADH dehydrogenase subunit 6 | 40S ribosomal protein S28 |
| chorion class A precursor family 4 | PACG6651 | ubiquitin |
| PACG21670 | chromatin regulatory protein sir2 | Ferritin 2 – light chain homolog |
| chorion class C precursor family 2 | PACG13792 | BmBR-C gene for Broad-Complex isoform Z2 |
| putative uncharacterized protein DDB | DNA repair protein complementing XP-A cells homolog | polyubiquitin |
| PACG20450 | disulfide oxidoreductase | ribosomal protein L27 |
| PACG21661 | PACG710 | 60S ribosomal protein L28 |
| PACG24051 | similar to phosphinothricin acetyltransferase gene | PACG20761 |
| chorion class B precursor family 1 | PACG5386 | 60S ribosomal protein L18 |
| chorion protein-like | abhydrolase domain-containing protein 1 | translationally controlled tumor protein |
| endonuclease-reverse transcriptase | RAD51C protein | ribosomal protein S3A |
| spec2 | PACG18339 | 60S ribosomal protein L38 |
| PACG19208 | PACG19350 | ribosomal protein L7A |
| PACG20509 | SLIT-ROBO Rho GTPase-activating protein 1-like | heat shock protein cognate 3 |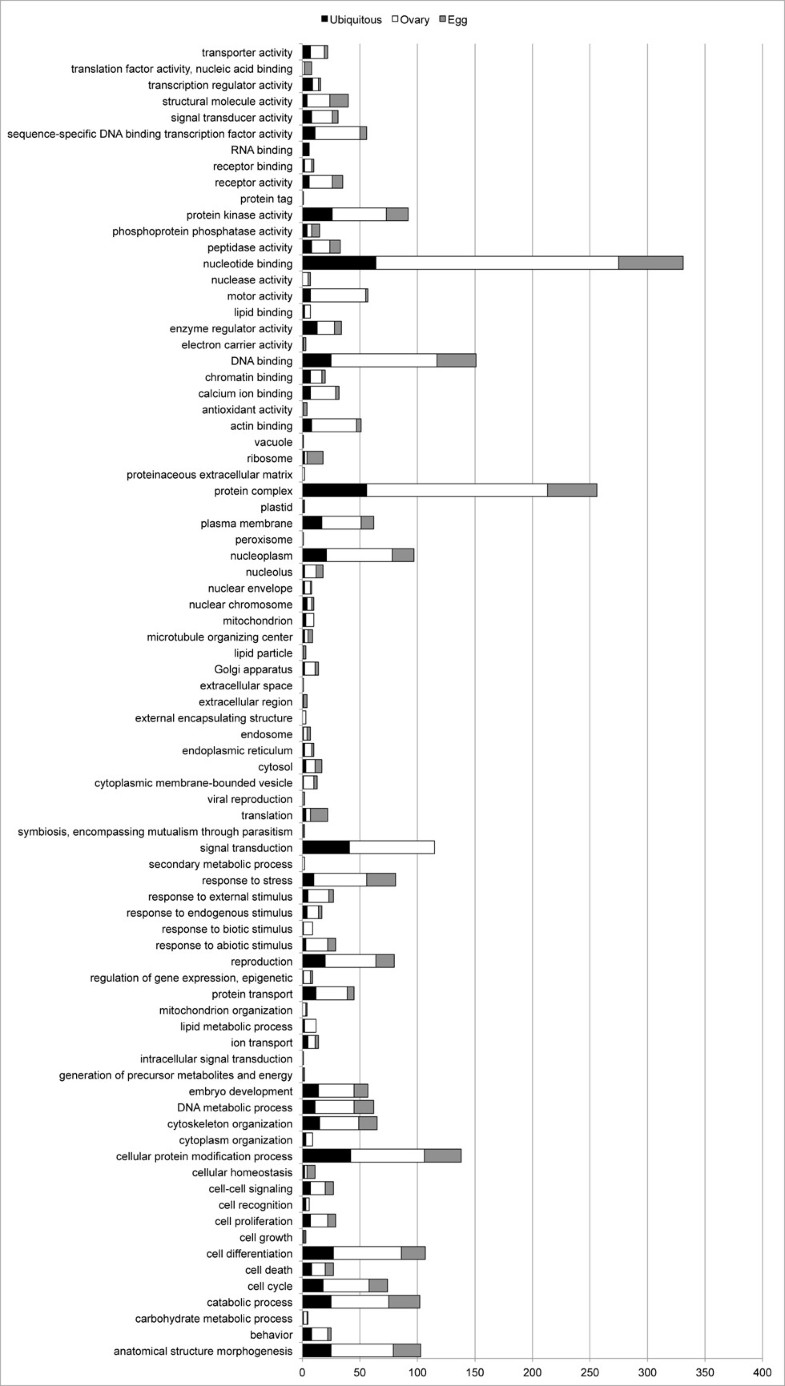 Table 2
Sequencing and annotation summary
| Location/Feature | Contigs annotated | Manually curated | Av. Contig (bp) | Av. CDS (bp) | Av. 5' UTR (bp) | Av. 3'UTR (bp) |
| --- | --- | --- | --- | --- | --- | --- |
| Genomic | 16919 | 1564 | 625.99 | 459.89 | 69.61 | 75.17 |
| Complete CDS | 4530 | 473 | 1022.96 | 667.12 | 142.07 | 210.79 |
| Homology | 3055 | 466 | 1196.75 | 855.06 | 124.15 | 214.53 |
| Novel | 1475 | 7 | 663.02 | 277.87 | 179.18 | 203.02 |
| Partial CDS | 11842 | 992 | 485.34 | 393.59 | 45.11 | 26.77 |
| Homology | 8054 | 975 | 521.96 | 454.21 | 51.65 | 12.67 |
| Novel | 3788 | 17 | 407.48 | 264.69 | 31.20 | 56.73 |
| Partial mRNA | 547 | 99 | 383.36 | 179.24 | 0.00 | 0.00 |
| Mitochondrion | 387 | 11 | 728.64 | 563.20 | 83.18 | 75.32 |
| Complete CDS | 177 | 7 | 996.59 | 719.80 | 115.86 | 157.94 |
| Partial CDS | 201 | 3 | 510.06 | 443.30 | 58.13 | 5.95 |
| Partial mRNA | 9 | 1 | 340.67 | 161.22 | 0.00 | 0.00 |
| Grand Total | 17306 | 1575 | 628.28 | 462.20 | 69.91 | 75.18 |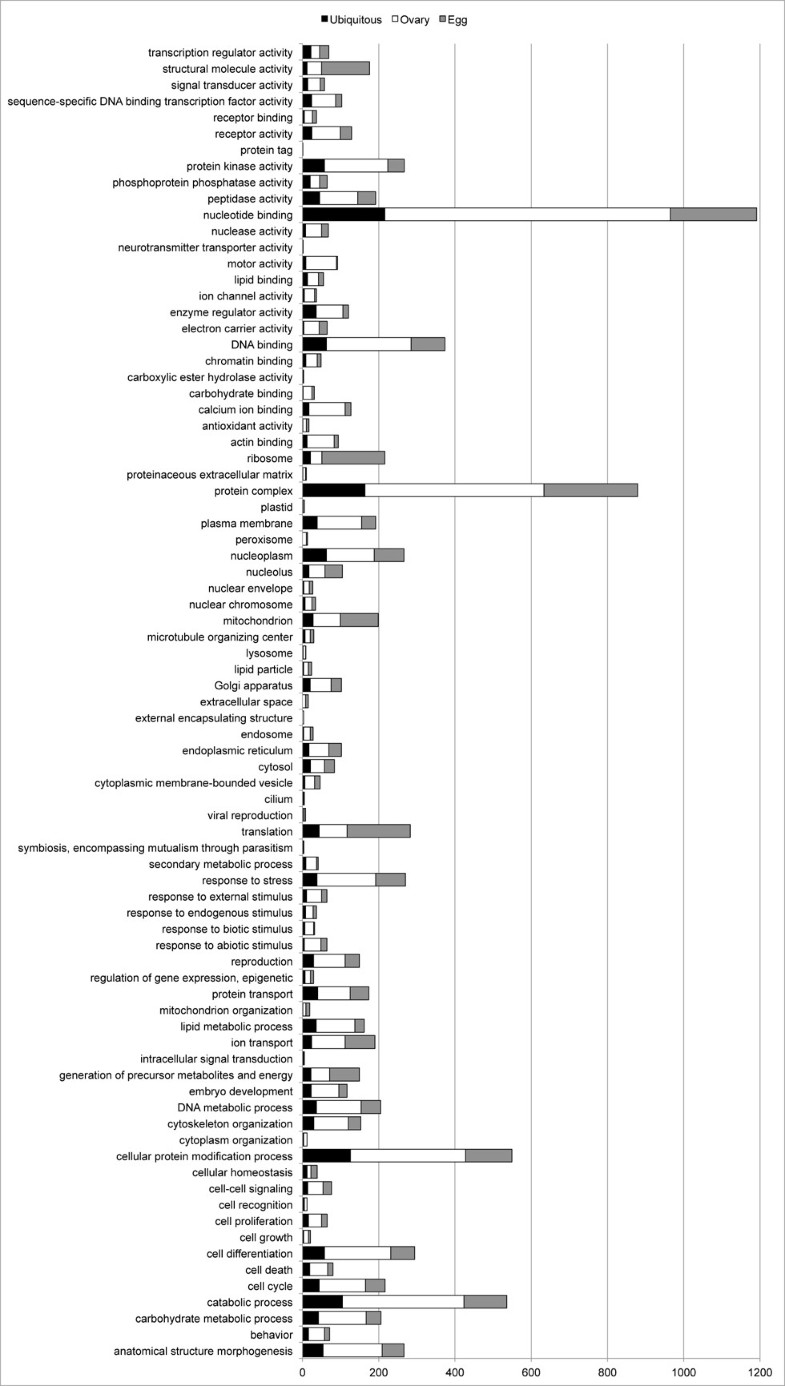 For of a subset of 17 genes, sampled across the functional groups identified in Additional file 1, the expression in the ovarioles and the presence of transcripts in the oocyte were confirmed further by means of RT-qPCR. These genes were: argonaute 2 (AGO2), caudal (cad), decapentaplegic (dpp), egalitarian (egl), exuperantia (exu), Fragile X mental retardation 1 (Fmr1), nanos-like (nos-like), nanos-M (nos-M), nanos-O (nos-O), ornithine decarboxylase antizyme (Oda), anterior open (aop), par-1, piwi, chorion b-ZIP transcription factor (CbZ), staufen (stau), vitellogenin receptor yolkless (yl; VgR) and vitellogenin (Vtg/Vg). Two further genes, which have not been explicitly studied in the context of oogenesis (references in Additional file 1), were investigated: embryonic lethal abnormal vision (elav) and minibrain (mnb). Furthermore, 3 housekeeping genes were selected to be used as reference genes: RNA polymerase II 215 KD subunit (RPII215), TATA binding protein (Tbp) and zwischenferment (zw, G6PDH) (Additional file 3).
The qPCR results were used to confirm the presence of expression as well as the levels of expression (as indicated by means of FPKM values) in the transcriptome dataset (Figure 4; Additional files 4, 5, and 6). Transcripts of vitellogenin were not transferred into the oocytes and very few dpp transcripts were transferred into the egg (Figure 4). All of the other oogenesis genes investigated by means of qPCR were included as maternal effect gene transcripts in the oocytes (see also Additional file 2). Specific qPCR results will be discussed in the remainder of the paper.
Conclusions
A large proportion of the genes currently described in the literature as being essential during insect oogenesis (in particular D. melanogaster oogenesis) were transcribed by P. aegeria and transcripts were transferred to the oocytes. As this was an ovarian transcriptome study, the precise functional context in which these genes were transcribed has not been identified. Differences in the functional context in which particular genes are expressed are to be expected compared to model organisms such as D. melanogaster and even B. mori. What is perhaps more revealing, however, is the absence of certain transcripts in the database, in particular where these transcripts concern paradigms of maternal regulation for various aspects of early insect embryogenesis [3–5, 24]. Pararge aegeria differed most significantly from D. melanogaster (and quite a number of other insect species), both in terms of stem cell maintenance or differentiation in the germarium and in establishing (and maintaining) polarity along AP, DV and at the termini of the oocyte. In particular, although Pararge aegeria females expressed an ortholog of a spi/krn-like EGF ligand and possibly its receptor, many components of the EGF pathway involved in patterning of the axes in D. melanogaster embryos, as well as pipe and mirror, were not expressed. This may either suggest that there is not much evidence for a significant role of EGF signalling in establishing P. aegeria oocyte polarity, or that its functional role and genes involved is divergent from other insects. This requires further study, as well as the functional role and significance of Dpp and Notch signalling in this context.
Although the more derived species such as B. mori within the Ditrysia are argued to be long germ band-like [94], it is more appropriate to describe them as intermediate germ band [53, 54], as they have a very unusual preblastoderm stage. Like D. melanogaster, cleavage in B. mori and the butterfly Pieris rapae is superficial but nuclear migration to the periphery of the oocyte and subsequent cellularisation occurs in an anterior to posterior gradient, after which they display long germ band characteristics [60]. It is very likely that this has a bearing on maternal effect gene expression regulating axes patterning after oocyte polarity has been established during the pre-vitellogenic stages in Ditrysia compared to D. melanogaster, and this could be reflected in the gene expression data presented in this study (e.g. the absence of maternal expression of hb). Although progress has been made in investigating B. mori embryonic patterning [53, 54], how polarity is established during oogenesis in Ditrysia and in the Lepidoptera as a whole is not known. This needs further investigation, and P. aegeria may prove an ideal model these future studies.
Unfortunately, maternal effect gene expression and regulation have received significantly less research attention in Lepidoptera compared to vitellogenesis, choriogenesis and reproductive physiology [8]. This is reflected in the discussion of the results in this paper. Although the latter aspects of oogenesis are well suited to studies of reproductive output under a variety of environmental conditions, many of the genes discussed in this study highlight the interconnectedness of all stages during oogenesis, for example eggshell production and oocyte polarity. Furthermore, key candidate genes that have the potential to play an important role in transgenerational maternal effects have been identified. Among these are genes encoding heat shock proteins and proteins involved in chromatin remodelling.
This study has taken a much-needed first step in determining the conserved and divergent elements of the butterfly oogenesis GRN (including maternal regulation of embryonic patterning) and establishes P. aegeria as an eco-evo-devo model system for the study of butterfly oogenesis. In order to fully unscramble butterfly oogenesis, an investigation of the spatio-temporal expression patterns of the genes discussed in this study, as well as establishment of their function, is required. Further studies are also required to establish the function and expression patterns of the uncharacterised contigs identified in this study, which make up 30% of the total contigs found, and are undoubtedly composed of genes that are of high importance in butterfly oogenesis.
Abbreviations
GRN:

Gene Regulatory Network
eco-evo-devo:

Ecological evolutionary development
AP:

Anterior-posterior
DV:

Dorso-ventral
RNA-seq:

RNA-sequencing
RNP:

Ribonucleoprotein
RTK:

Receptor Tyrosine Kinase
CDK:

Cyclin-dependent kinase
SC:

Synaptonemal Complex
RN:

Recombination Nodules
IRS:

Insulin Receptor Substrate
20E:

20-hydroxy-ecdysone
JH:

Juvenile Hormone
FPKM:

Fragments Per Kilobase of exon per Million of fragments mapped
ORF:

Open Reading Frame
SS:

Similarity Score
GO:

Gene Ontology
RT-qPCR:

Real-time reverse transcription quantitative polymerase chain reaction
NRT:

Negative reverse transcription
NTC:

No template control
Declarations
Acknowledgements
Research funding for JMC and CJB was provided by the Faculty of Health and Life Sciences, Department of Biological and Medical Sciences, Oxford Brookes University (Jnl no 105595 and 103324) and a NERC studentship quota award. In particular we would like to thank Peter Holland, Laura Ferguson and Ferdinand Marletaz for the collaboration on the Pararge aegeria genome. Furthermore, we would like to thank Alistair McGregor and the two anonymous reviewers for helpful comments on earlier versions of the manuscript, Maarten Hilbrant for discussions on maternal effect genes, Tom Annat for his help with chorion gene phylogenetic analyses, Luca Livraghi for discussions on caudal translational repression, as well as the numerous undergraduate students who have worked in the lab of CJB on butterfly oogenesis.
Authors' Affiliations
(1)
Evolutionary Developmental Biology Research Group, Faculty of Health and Life Sciences, Department of Biological and Medical Sciences, Oxford Brookes University, Headington, Oxford, UK
(2)
Bioline Reagents Ltd, London, UK
(3)
Non-coding RNA Research Group, Faculty of Health and Life Sciences, Department of Biological and Medical Sciences, Oxford Brookes University, Headington, Oxford, UK
(4)
NERC Centre for Ecology and Hydrology, Crowmarsh Gifford, Wallingford, UK
Copyright
© Carter et al.; licensee BioMed Central Ltd. 2013
This article is published under license to BioMed Central Ltd. This is an Open Access article distributed under the terms of the Creative Commons Attribution License (http://creativecommons.org/licenses/by/2.0), which permits unrestricted use, distribution, and reproduction in any medium, provided the original work is properly cited.