Methodology article

Open Access
A gene expression fingerprint of C. elegans embryonic motor neurons
Received: 23 December 2004
Accepted: 21 March 2005
Published: 21 March 2005
Abstract
Background
Differential gene expression specifies the highly diverse cell types that constitute the nervous system. With its sequenced genome and simple, well-defined neuroanatomy, the nematode C. elegans is a useful model system in which to correlate gene expression with neuron identity. The UNC-4 transcription factor is expressed in thirteen embryonic motor neurons where it specifies axonal morphology and synaptic function. These cells can be marked with an unc-4::GFP reporter transgene. Here we describe a powerful strategy, Micro-Array Profiling of C. elegans cells (MAPCeL), and confirm that this approach provides a comprehensive gene expression profile of unc-4::GFP motor neurons in vivo.
Results
Fluorescence Activated Cell Sorting (FACS) was used to isolate unc-4::GFP neurons from primary cultures of C. elegans embryonic cells. Microarray experiments detected 6,217 unique transcripts of which ~1,000 are enriched in unc-4::GFP neurons relative to the average nematode embryonic cell. The reliability of these data was validated by the detection of known cell-specific transcripts and by expression in UNC-4 motor neurons of GFP reporters derived from the enriched data set. In addition to genes involved in neurotransmitter packaging and release, the microarray data include transcripts for receptors to a remarkably wide variety of signaling molecules. The added presence of a robust array of G-protein pathway components is indicative of complex and highly integrated mechanisms for modulating motor neuron activity. Over half of the enriched genes (537) have human homologs, a finding that could reflect substantial overlap with the gene expression repertoire of mammalian motor neurons.
Conclusion
We have described a microarray-based method, MAPCeL, for profiling gene expression in specific C. elegans motor neurons and provide evidence that this approach can reveal candidate genes for key roles in the differentiation and function of these cells. These methods can now be applied to generate a gene expression map of the C. elegans nervous system.
Keywords
Motor NeuronFluorescence Activate Cell SortEmbryonic CellnAChR SubunitNetrin
Background
The nervous system is assembled from disparate classes of neurons that together define the overall properties of the network. The specific functions of these neurons are governed by genetic programs that control cell fate [1]. Thus, a key to understanding the molecular basis for neural function is to establish the gene expression blueprint that orchestrates neuronal differentiation. With its simple, well-defined nervous system and powerful genetics, the nematode C. elegans is a useful model system for addressing this issue. The C. elegans hermaphrodite nervous system is composed of exactly 302 neurons. The morphology and connectivity of each one of these neurons has been defined at high resolution [2]. In addition, the birth of each neuroblast is embedded in a lineage diagram of every cell division in C. elegans development [3, 4]. The C. elegans genome is fully sequenced and contains ~20,000 predicted genes [5]. At a fundamental level, the identity of a given class of neuron is defined by a unique combination of these genes. In principle, microarray-based strategies could be employed to establish these cell-specific patterns of gene expression. However, the small size of the nematode has limited access to individual cells for molecular analysis. Here we describe a strategy, MAPCeL (Micro-Array Profiling of C. elegans Cells) that overcomes these obstacles to generate neuron-specific gene expression profiles.
MAPCeL exploits recently developed methods of culturing
C. elegans
embryonic cells. GFP markers for specific classes of neurons and muscle cells are expressed
in vitro
and can be used to identify the corresponding differentiated cell types. We established that these GFP cells arise at a frequency predicted by their abundance in the intact embryo and display normal morphological, molecular, and physiological characteristics [
6
]. For example, a GFP reporter for the
unc-4
homeodomain transcription factor gene is expressed in 13 motor neurons out of a total 550 cells in the mature embryo (Figs.
2D
,
5A
) [
7
].
In vitro
, we detected a comparable fraction (~2%) of
unc-4
::GFP cells. Moreover, cultured
unc-4
::GFP cells adopt neuronal-like processes and express molecular markers also seen
in vivo
(Fig.
2D–E
) [
6
]. On the basis of these results, we have profiled cultured
unc-4
::GFP neurons with the expectation that this approach will provide a comprehensive picture of genes expressed in these motor neurons
in vivo
.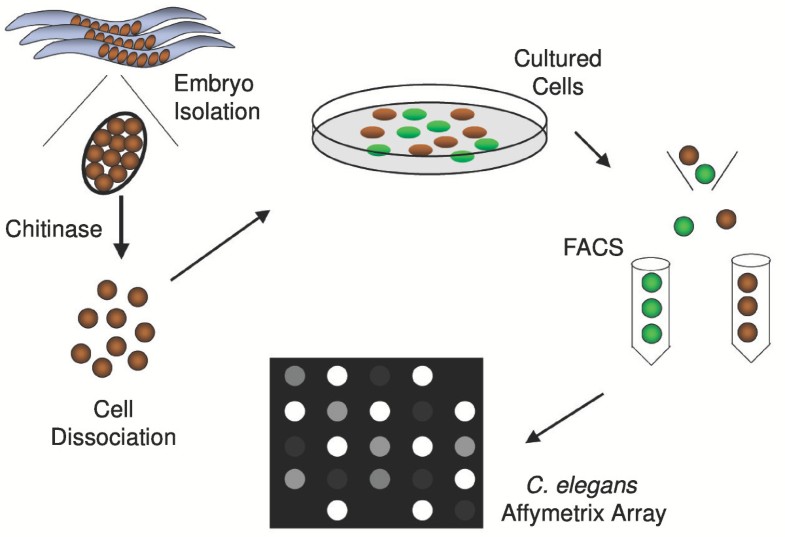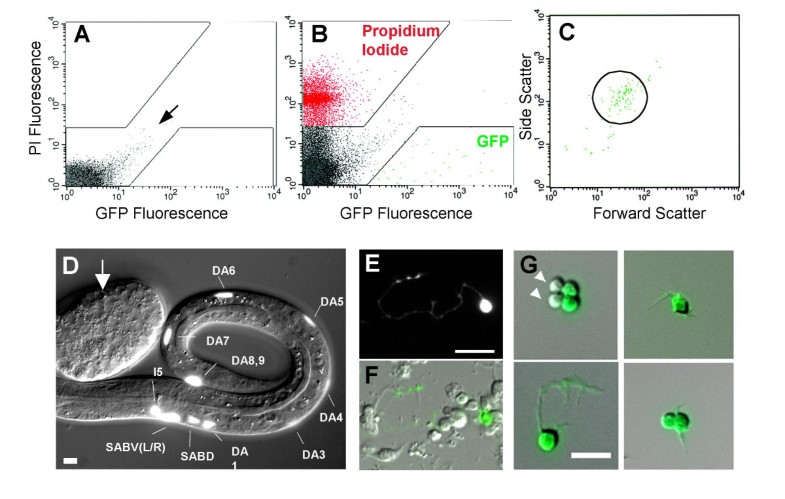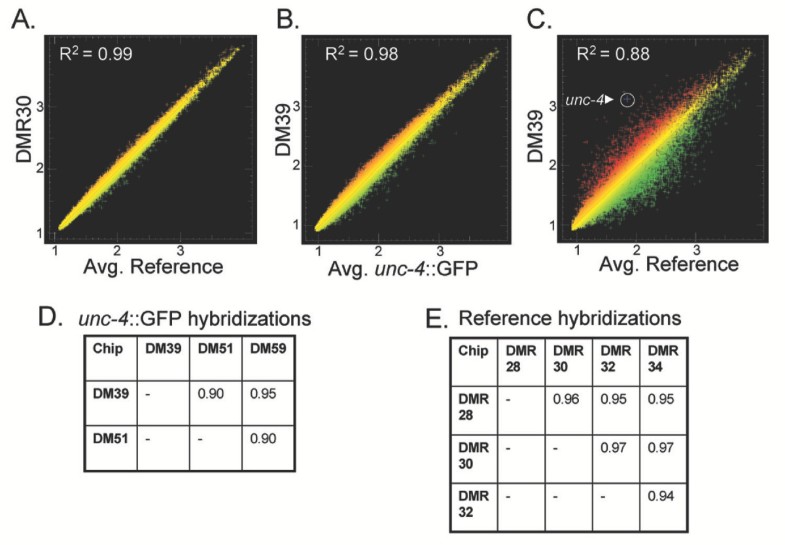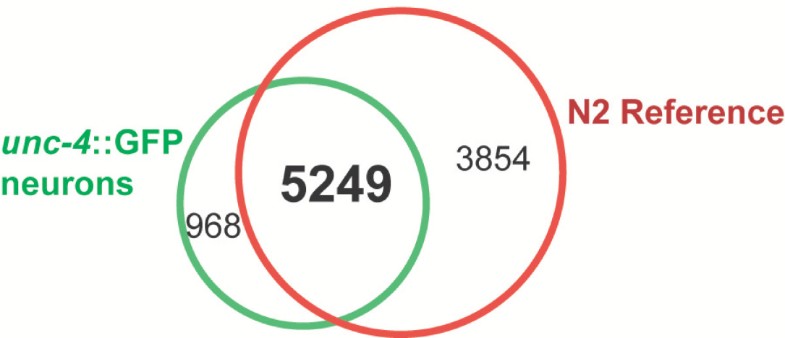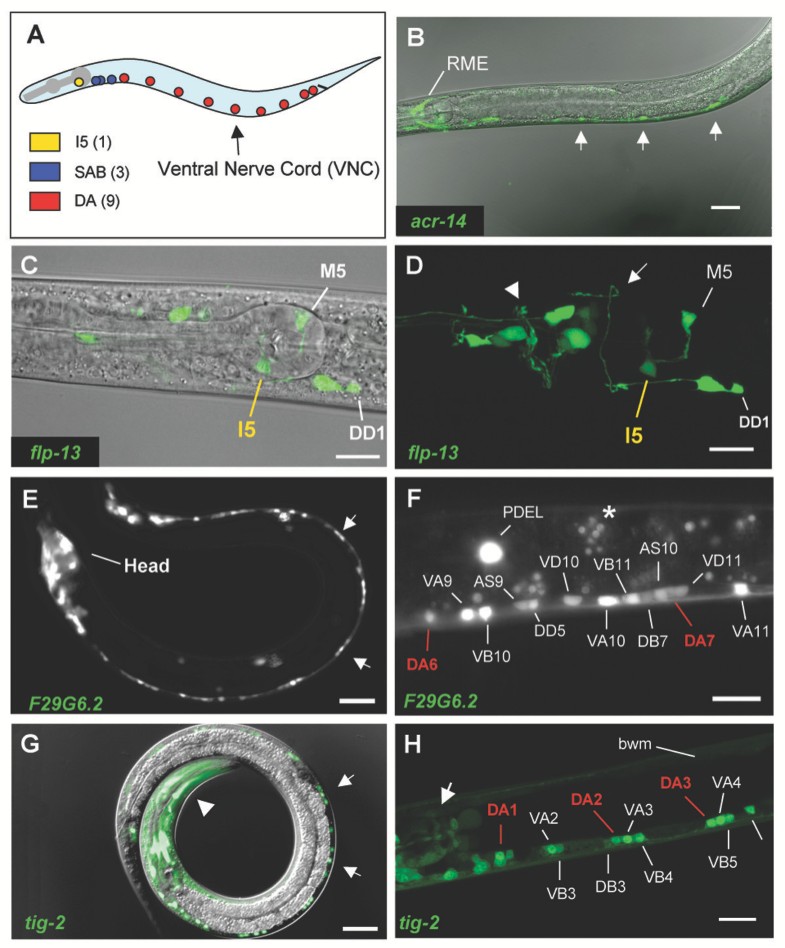 We describe methods for isolating unc-4::GFP-labeled neurons by Fluorescence Activated Cell Sorting (FACS). mRNA from these cells is amplified, labeled and hybridized to the C. elegans Affymetrix Gene Chip. A comparison to microarray data derived from all embryonic cells reveals ~1000 genes with significantly higher levels of expression in unc-4::GFP neurons. The validity of these data is supported by the inclusion of genes known to be expressed in these neurons in vivo and by the generation of new GFP reporters from previously uncharacterized genes on this list. We conclude that MAPCeL offers a reliable strategy for profiling gene expression of a specific motor neuron class. Using this approach, we have provided, for the first time, a comprehensive picture of gene expression in a subset of C. elegans motor neurons. We expect that MAPCeL can now be applied to other C. elegans neurons and thereby link specific neuronal fates with unique combinations of differentially expressed genes.
Discussion
We have described MAPCeL, a microarray-based strategy for fingerprinting specific C. elegans neurons, and provide evidence that this approach can reveal a comprehensive picture of gene expression in these cells in vivo. unc-4::GFP-marked neurons were isolated by FACS from primary cultures of embryonic cells and profiled on the C. elegans Affymetrix gene chip. Because these unc-4::GFP neurons differentiate in vitro, it was important to establish that our microarray data provide an accurate representation of gene expression in the intact animal. This conclusion is supported by three observations: (1) A majority (21/27) of genes with known expression in unc-4::GFP neurons are detected in our microarray data set; (2) ~80% (15/18) of GFP reporters constructed for transcripts enriched in UNC-4 motor neurons are expressed in these cells in vivo (Table 1, Fig. 5); (3) Transcripts known to encode proteins with key roles in unc-4::GFP motor neuron differentiation (e.g. axon guidance and outgrowth, synaptogenesis) and function (e.g., neurotransmitter vesicle release, G-protein signaling pathways) are highly represented in our data sets. These findings parallel earlier studies showing that cultured C. elegans neurons and muscle cells adopt apparently normal morphological and physiological characteristics [6] and are consistent with evidence favoring a cell autonomous mode of differentiation for C. elegans embryonic cells after an initial phase of inductive signaling events [4, 82]. We have now generated comparable microarray profiles of other motor neuron classes and muscle cells that also show strong congruence with known patterns of gene expression (RMF, SEV, SJB, DMM, unpublished data). We therefore conclude that our approach of profiling GFP marked neurons isolated from primary culture can now be widely applied to fingerprint specific C. elegans embryonic cells. In some cases, however, differentiation of a given neuron is likely to depend on specific intercellular signals that primary cultures will not provide. Thus, in every instance, it will be necessary to confirm microarray data by independent methods as described here.
Methods for profiling specific C. elegans cells
Previous studies have described other methods for cataloging transcripts from specific C. elegans cells. Comparisons of microarray data from mutant animals with either supernumerary or absent sensory neurons in the male tail, have revealed genes that are preferentially expressed in these cells [83]. However this approach is limited to cell types that can be manipulated by specific mutants. In addition, this method may be insufficiently sensitive to detect changes in smaller subsets of cells due to high background mRNA from cells that are not affected by the mutation (SEV, DMM, unpublished data). This limitation can be overcome by enriching for mRNA from target cells. To this end, Zhang et al. (2002) used an approach similar to the strategy outlined in this paper to identify downstream genes of the MEC-3 transcription factor in C. elegans touch neurons [84]. However, this work did not provide a comprehensive cell-specific gene expression profile as we have here perhaps due to the limited enrichment (~50%) of GFP-labeled touch neurons. We have now optimized the application of nematode embryonic cell culture and FACS technology to obtain ~90% enrichment of GFP-marked neurons and muscle cells (Fig. 2) (RMF, SEV, SJB, DMM, unpublished data). These methods have now been successfully applied to profile other classes of C. elegans embryonic cells [85, 86].
MAPCeL cannot be used for postembryonic cells because these apparently do not arise in culture [6]. Microarray profiles of specific larval cells have been obtained, however, by mRNA tagging. In this approach, an epitope-labeled polyA binding protein (FLAG-PAB-1) is expressed transgenically under the control of a cell-specific promoter and mRNAs isolated by co-immunoprecipitation with anti-FLAG. This method has been used for microarray analysis of C. elegans body muscle cells and ciliated sensory neurons [87, 88]. We have now successfully used the mRNA tagging strategy to profile specific subsets of motor neurons from C. elegans larvae (SEV, RMF, J. Watson, S. Kim, P. Roy, DMM, unpublished data). Thus, in principle, it should now be possible to obtain an accurate gene expression profile for virtually any C. elegans cell throughout development.
UNC-4 motor neurons are sensitive to a wide range of neurotransmitters and peptidergic signals
Acetylcholine (ACh) release at the DA neuromuscular junction is presumptively triggered by excitatory input from command interneurons. The strength of the DA cholinergic signal, however, may be strongly modulated by other cells that release neurotransmitters from distal locations. For example, dopamine is produced by 8 neurons, none of which are presynaptic to DA motor neurons [
89
]. Dopamine, however, is a potent regulator of cholinergic secretory activity in the ventral motor circuit. The dopamine effect is mediated in part by DOP-1, a G-protein coupled receptor (GPCR) [
55
]. We have confirmed enrichment of the
dop-1
transcript and also detected elevated levels of transcripts encoding GPCRs for acetylcholine and serotonin, additional neurotransmitters known to modulate cholinergic motor neuron activity via G-protein signaling pathways [
18
,
55
]. Enrichment of a GABA metabotropic receptor transcript offers yet another mechanism for exogenous adjustment of neurotransmitter vesicular fusion in DA motor neurons. Indirect evidence indicates that acetylcholine release from ventral cord motor neurons may also be sensitive to neuropeptide signals from other neurons or muscle cells [
73
,
81
]. We have established that
unc-4
::GFP motor neurons express elevated transcript levels for nine different GPCRs with significant homology to insect or mammalian neuropeptide receptors. This signaling complexity is further compounded by the enrichment of transcripts for 18 members of the serpentine GPCR-like family in
unc-4
::GFP neurons (Additional Files
9
,
16
). Ligands for this outlier group of GPCRs are unknown [
90
]. The picture emerging from these data is of a motor neuron festooned with multiple G-protein linked receptors each responding to a different class of neurotransmitter or peptidergic signal (Fig
8
). In effect, these motor neurons are also functioning as a kind of sensory neuron in which disparate inputs are internally assessed to fine-tune output in concert with temporal requirements for locomotory activity.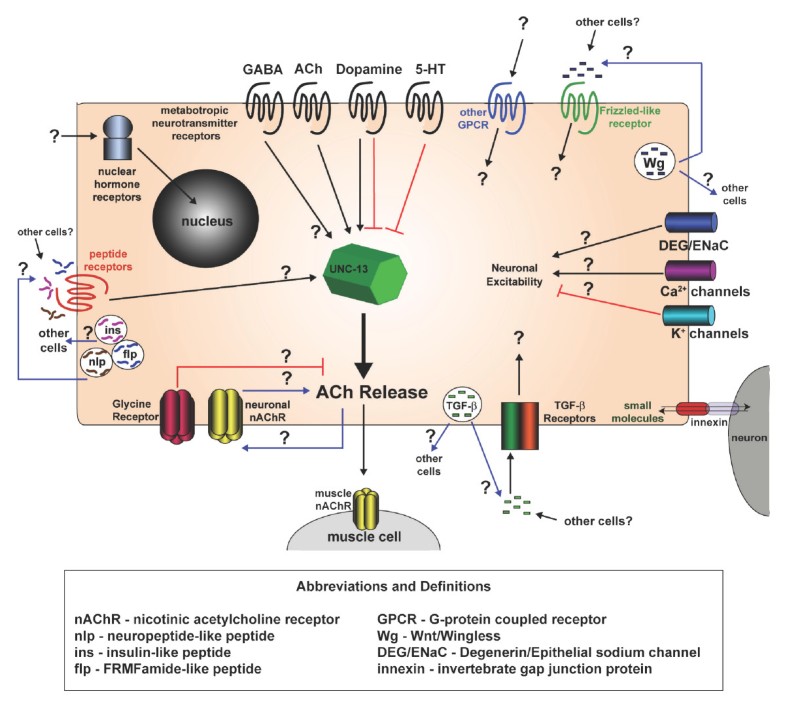 The microarray data also reveal multiple additional classes of receptors and ion channels through which the differentiation and function of unc-4::GFP motor neurons could be modulated by extracellular signals (Fig 8). Finally, we have detected enrichment of transcripts encoding TGF-β, wingless, and several classes of neuropeptides (Table 2, Additional Files 9, 16). Thus, in addition to responding to a wide range of stimuli, unc-4::GFP motor neurons are also potentially capable of regulating the activities of other cells with a variety of different signals. If an organism as simple as C. elegans builds motor neurons with such sophisticated signaling and response mechanisms, it is tempting to speculate that neurons in other, more advanced species may have evolved even more complex pathways. It is likely, however, that the core signaling systems described here are also conserved. This prediction is underscored by our finding that approximately half of the enriched transcripts (537/1012) and 2/3 of EGs (4050/6217) detected in unc-4::GFP neurons have human homologs (BLAST ≤ e-10) (Additional Files 12, 13).
Applications of MAPCeL
In addition to confirming expression of genes with known roles in unc-4::GFP motor neuron differentiation and function, the microarray data also uncovered strong candidates for new genes governing these events. For example, DA motor axons grow dorsally in response to a ventrally provided repulsive UNC-6/netrin guidance cue [15]. Recent work has shown that the receptor protein tyrosine phosphatase (RPTP), CLR-1, positively enhances this response [24]. As expected, we found that the clr-1 transcript is enriched in the unc-4::GFP motor neuron data set. We also noted enrichment of abl-1, the C. elegans homolog of Abelson tyrosine kinase. By analogy to findings in Drosophila in which Abelson tyrosine kinase functions in opposition to RPTP-dependent axon guidance [91], we propose that ABL-1 antagonizes CLR-1 activity (Fig 6). This model predicts that either genetic ablation or RNAi of abl-1 will suppress the DA motor axon guidance defects of clr-1 mutants.
Another application of this strategy includes the identification of transcription factor target genes. A comparison of expression fingerprints of wildtype cells vs cells that are mutant for a specific transcription factor could reveal downstream genes [84]. For example, the UNC-4 transcription factor regulates axon morphology and synaptic strength in embryonically derived unc-4::GFP neurons [8]. UNC-4 also defines the specificity of synaptic inputs to postembryonically-derived VA motor neurons [7, 92, 93]. We have now used a combination of MAPCeL and mRNA tagging strategies to identify candidate genes regulated by UNC-4 in these cells (RMF, SEV, DMM, unpublished data). Gene regulatory motifs to which transcription factors bind may also be revealed as common cis-acting sequences in cohorts of co-regulated genes [94].
The C. elegans nervous system is composed of exactly 302 neurons. The morphology and connectivity for every neuron has been defined by serial section electron microscopy to generate a detailed wiring diagram for the entire network [2]. The C. elegans genome is similarly well defined. All 6 chromosomes are completely sequenced and the structure of over 20,000 genes described [5]. Unique combinations of these genes are likely to specify different classes of neurons and their differentiated traits. The problem now is to link the gene map with the wiring diagram. We believe that MAPCeL offers a powerful approach toward achieving this goal.
Conclusion
We have described a new method, Micro-Array Profiling of C. elegans cells, or MAPCeL, for generating gene expression fingerprints of subsets of C. elegans neurons. Embryonic motor neurons marked with a reporter gene, unc-4::GFP, were isolated by FACS from primary cultures and profiled on the C. elegans Affymetrix array. We confirmed that microarray data generated by this approach reliably identify genes expressed by these motor neurons in vivo. We propose that MAPCeL can now be used to generate a gene expression map for the C. elegans nervous system.
Methods
Cell Culture
Embryonic cells were obtained using methods previously described [6]. Briefly, embryos were isolated from gravid adults following lysis in a hypochlorite solution. Intact embryos were separated from debris by flotation on 30% sucrose. Eggshells were removed by incubation in 0.5 ml chitinase (0.5 U/ml in egg buffer) for 45 minutes. Following resuspension in L-15 medium supplemented with 10% FBS (L15-10) and antibiotics, the embryos were dissociated by passage through a 5μm syringe filter (Durapore). Cells were plated on poly-L-lysine (0.01%, Sigma) coated single-well chambered coverglasses (Nalge Nunc International) at a density of ~10 million cells/ml and maintained in L15-10 media. Cells were incubated at 25°C in a humidified chamber. Wildtype (N2) cells were isolated and treated similarly.
FACS analysis
Sorting experiments were performed on a FACStar Plus flow cytometer (Becton Dickinson, San Jose, CA) equipped with a 488 nm argon laser. Emission filters were 530 ± 30 nm for GFP fluorescence and 585 ± 22 nm for PI fluorescence. The machine was flushed with egg buffer [6] prior to sorting to enhance viability. 2 μm fluorescent beads were used to calibrate light scattering parameters for the relatively small size of C. elegans embryonic cells. Cells were sorted at a rate of 4000–5000 cells per second through a 70 μm nozzle.
Immediately prior to sorting, supernatant from the 24 hour cultures was removed and discarded. 1 ml of egg buffer was added to the chamber coverglass. Cells are loosely adherent to poly-L-lysine and can be easily dislodged with gentle pipetting. 3 ml of egg buffer + cells were drawn into a 3 cc syringe and the suspension filtered with a 5 μm Durapore syringe filter. Propidium Iodide (PI) was added to the cell suspension at a final concentration of 5 μg/ml prior to sorting. Autofluorescence levels were established by flow cytometry of cells isolated from wildtype (i.e. non-GFP) embryos (See Fig 2A). Next, wildtype cells stained with PI were used to define the sorting gate for damaged cells. GFP+ cells containing no PI were sorted to establish the intensity range of GFP fluorescence. Finally, unc-4::GFP cells stained with PI were gated (Fig 2B) using the parameters established above. The sorting gate for size and granularity (Fig 2C) was empirically adjusted to exclude cell clumps and debris and to achieve ~90% enrichment for GFP-labeled cells. unc-4::GFP cells were collected in a 15 ml conical tube containing 1 ml of L15-10 media. Cells were pelleted using low-speed cenrifugation (300 × g) and either plated on peanut lectin-coated slides for visualization [6] or used for RNA isolation (see below). Reference cells were obtained from 1 day old cultures of embryonic blastomeres isolated from the non-GFP wildtype strain (N2). In this case, all viable cells (i.e. non-PI stained) were collected by FACS for RNA isolation.
RNA isolation, amplification, and hybridization
RNA was prepared from FACS-isolated unc-4::GFP cells for comparison to RNA from the wildtype reference strain (N2). Cells were pelleted using low-speed centrifugation (300 × g). The supernatant was removed and RNA was extracted with a micro-RNA isolation kit (Stratagene) using the recommended volumes for 1 million cells. Typical yields were 1 pg total RNA/cell. 100 ng of total RNA was subjected to 2 rounds of amplification, as described in the Affymetrix GeneChip Eukaryotic Small Sample Target Labelling Protocol, with the following modifications. 100 ng (5 pmol) of T7-dT primer (5'-GGCCAGTGAATTGTAATAC GACTCACTATAGGGAGGCGG-(dT)24-3') was used as opposed to the recommended 100 pmol. RNA cleanup was achieved using the RNeasy mini kit (Qiagen); 300 μl of 100% ethanol (final concentration = 40% ethanol) was added to the sample prior to absorption to the column matrix. Eluate was passed through the column 2× prior to washing to improve yields. The BioArray High Yield RNA Transcript Labeling Kit (Enzo) was used to biotinylate the sample in the second round of amplification. 10–15 μg of labeled aRNA (amplified RNA) was fragmented and hybridized to the Affymetrix C. elegans chip according to the Affymetrix Expression Analysis Technical Manual. The Agilent Bioanalyzer was used to assess RNA quality prior to labeling and to confirm fragmentation (<200 bp) before hybridization.
Data analysis
The commercially available C. elegans Affymetrix array was used for all experiments. This chip was designed using the December 2000 genome sequence. All probe set information is available at http://www.affymetrix.com as well as http://www.wormbase.org. unc-4::GFP neurons were profiled in triplicate; baseline data (all cells) were obtained from four independent experiments with wildtype embryonic cells. Hybridization intensities for each experiment were scaled in comparison to a global average signal from the same array (A complete list of Affy normalized values can be found in Additional file 2) [95]. Expressed transcripts were initially identified on the basis of a "Present" call in a majority of experiments (2/3 for unc-4::GFP and 3/4 for wildtype cells) as determined by Affymetrix MAS 5.0 (see below) (Additional Files 4, 5). In this approach, a Mismatch (MM) value for each feature is compared to a Perfect Match (PM) value to estimate non-specific binding. This strategy, however, tends to arbitrarily exclude low intensity signals in which PM and MM values may be comparable [96, 97]. To avoid this bias in the detection of transcripts that might be differentially elevated in the unc-4::GFP data set, intensity values were normalized using RMA (Robust Multi-Array Analysis) available through GeneTraffic (Iobion) in which the MM values are not considered (Additional file 3) [96, 97]. Comparisons of RMA normalized intensities for unc-4::GFP vs reference cells were statistically analyzed using Significance Analysis of Microarrays software (SAM, Stanford) [98, 99]. A two-class unpaired analysis of the data was performed to identify genes that differ by ≥ 1.7-fold from the wildtype reference at a False Discovery Rate (FDR) of ≤ 1%. These genes were considered significantly enriched (Additional file 9). This analysis also identified ~1600 transcripts that are depleted (1.7×, ≤ 1% FDR) in unc-4::GFP cells vs the wildtype reference (Additional file 10). Although 729 of these transcripts are also scored as "present" in the unc-4::GFP motor neuron dataset, we attribute their detection to high expression in the small fraction (~10%) of non-GFP cells contaminating this preparation (see above). Therefore, we excluded all 729 of these wildtype-enriched transcripts from the list of present calls in the unc-4::GFP motor neuron data set (Additional file 6). Finally, to compute the overall sum of Expressed Genes (EGs) in the unc-4::GFP data set we restored 118 unc-4:: GFP-enriched genes that were initially excluded from the present list due to high mismatch signals. These considerations produce a final list of 6,217 genes that are detected in unc-4::GFP motor neurons (Additional file 7). (see Logic Tree, Additional file 17).
Annotation of datasets
A Wormbase mirror was established by downloading code and databases from http://www.wormbase.org. Using the acedb perl module, an annotation script was generated that queries the wormbase mirror. Affymetrix IDs have been mapped to specific transcripts in wormbase. Text files containing Affy IDs (one per line) and cosmid names are input into the script which then searches the wormbase mirror and matches Affy ID/cosmid name to a specific transcript. Cosmid names are used for this search when Affy IDs have not been mapped in wormbase. This information is used to acquire other linked annotations (i.e. KOG, common name, RNAi phenotype, Expression data, Kim mountain data and Gene Ontology, etc.).
In litero analysis
An extensive literature search was performed using Textpresso http://www.textpresso.org. The keywords "DA motor neurons" generated a list of 68 citations, a similar search was conducted using the keywords "I5 pharyngeal neuron" and "SAB neurons" that detected an additional 21 citations. Expression patterns on wormbase were also searched using the "Cell identity" function to identify genes with documented expression in DA, SAB or I5. A list of 27 genes with documented expression in DA motor neurons, the I5 pharyngeal neuron and the SAB neurons was compiled from this information (Additional file 11).
Strains
Nematode strains were maintained at 20–25°C using standard culture methods [100]. The wildtype strain was N2. Transgenic lines carrying promoter GFP fusions are listed in Additional file 1.
Generating transgenic promoter GFP strains
twk-30::GFP (25 ng/ul) was microinjected with the myo-3::dsRed2 marker (25 ng/ul) [101]. Other transgenics were generated by biolistic transformation with promoter::GFP constructs from the Promoterome project (Additional file 1). Primer sequences for "promoterome" constructs can be found at http://vidal.dfci.harvard.edu/promoteromedb[102]. Microparticle bombardment was conducted [103] in a BioRad Biolistic PDS-1000/He equipped with the Hepta Adapter. Gold beads (1 micron) were coated with DNA at 1 ug/ul. 100 mm NGM plates were seeded with a monolayer of ~100,000 L4/adult unc-119 (ed3) animals. For each construct, 1 'shot' was performed using a 1550 psi rupture disk at 28 inches of Hg vacuum. After a 1 hr recovery period, animals were washed from the plates with 7 ml M9 buffer and transferred to 7 NGM plates (1 ml/plate). Animals were grown at 20°C for 1 week. To pick transgenic animals, one-half of the plate was 'chunked' and added to a new 100 mm NGM plate; animals with wildtype movement were picked to 60 mm NGM plates and allowed to self. Worms derived from separate plates were considered independent lines; at least 2 lines were obtained for each construct.
Microscopy
Transgenic animals and cultured cells were visualized by differential interference contrast (DIC), or epifluorescence microscopy using either a Zeiss Axioplan or Axiovert compound microscopes. Images were recorded with CCD cameras (ORCA I, ORCA ER, Hamamatsu Corporation, Bridgewater, NJ). Some images were recorded on a Zeiss 510 META confocal microscope.
Declarations
Acknowledgements
We thank Anne Hart, Chris Li, Mike Nonet, Larry Salkoff, Cori Bargmann, Harald Hutter, Cynthia Kenyon, Kevin Hamming, Colin Thacker, Terry Snutch, Roger Pocock, and Allison Woollard for GFP reporter plasmids and transgenic lines; Cathy Alford and Jim Price of the VU Flow Cytometry Special Resource Center; Joseph Watson and Jennifer Ross for assistance with scoring transgenic animals, and Millet Treinin, David Greenstein and members of the Miller lab for comments on the text. Confocal images were obtained in the Cell Imaging Shared Resource (CA68485, DK20593, DK58404, HD15052 and EY08126). Microarray experiments were performed in the Vanderbilt Microarray Shared Resource which is supported by the Vanderbilt Ingram Cancer Center (P30 CA68485), the Vanderbilt Diabetes Research and Training Center (P60 DK20593), the Vanderbilt Digestive Disease Center (P30 DK58404) the Genomics of Inflammation Program Project Grant (1 P01 HL6744-01), and the Vanderbilt Vision Center (P30 EY08126). Additional support for microarray experiments was provided by DK58749 (PI, A. George). Supported by NIH grants to D.M.M. (R01 NS26115 and P01 DK58212), R.M.F. (F31 NS046923), S.E.V. (F31 NS043068), and M.V. (R33 CA097516).
Authors' Affiliations
(1)
Department of Cell and Developmental Biology, Vanderbilt University, Nashville, USA
(2)
CHGR, Bioinformatics Core, Vanderbilt University, Nashville, USA
(3)
Dartmouth Medical School, Computational Genetics Laboratory, Lebanon, USA
(4)
Center for Cancer Systems Biology and Department of Cancer Biology, Dana-Farber Cancer Institute and Department of Genetics, Harvard Medical School, Boston, USA
Copyright
© Fox et al; licensee BioMed Central Ltd. 2005
This article is published under license to BioMed Central Ltd. This is an Open Access article distributed under the terms of the Creative Commons Attribution License (http://creativecommons.org/licenses/by/2.0), which permits unrestricted use, distribution, and reproduction in any medium, provided the original work is properly cited.