Evaluation of experimental design and computational parameter choices affecting analyses of ChIP-seq and RNA-seq data in undomesticated poplar trees
BMC Genomics
2014
15(Suppl 5):S3
Abstract
Background
One of the great advantages of next generation sequencing is the ability to generate large genomic datasets for virtually all species, including non-model organisms. It should be possible, in turn, to apply advanced computational approaches to these datasets to develop models of biological processes. In a practical sense, working with non-model organisms presents unique challenges. In this paper we discuss some of these challenges for ChIP-seq and RNA-seq experiments using the undomesticated tree species of the genus Populus.
Results
We describe specific challenges associated with experimental design in Populus, including selection of optimal genotypes for different technical approaches and development of antibodies against Populus transcription factors. Execution of the experimental design included the generation and analysis of Chromatin immunoprecipitation-sequencing (ChIP-seq) data for RNA polymerase II and transcription factors involved in wood formation. We discuss criteria for analyzing the resulting datasets, determination of appropriate control sequencing libraries, evaluation of sequencing coverage needs, and optimization of parameters. We also describe the evaluation of ChIP-seq data from Populus, and discuss the comparison between ChIP-seq and RNA-seq data and biological interpretations of these comparisons.
Conclusions
These and other "lessons learned" highlight the challenges but also the potential insights to be gained from extending next generation sequencing-supported network analyses to undomesticated non-model species.
Keywords
ChIP-seq bioinformaticsRNA-seq bioinformaticscomparative genomicschromatin immunoprecipitation sequencingRNA sequencing
Background
A major goal of biology is to understand the genetic mechanisms underlying the evolution and development of organisms. To that end, comparative and evolutionary genomic studies are increasingly recognized as being fundamental [1–3]. Such studies are now tractable through the extension of next generation sequencing-based tools and analytical approaches to non-model species [4]. For plants, non-model species fill two important niches. First, many of the most intensively studied model plant species are either domesticated (e.g. maize), or do not fully represent the range of biological processes of interest in plant evolution and development (e.g. Arabidopsis does not display perennial habit). Second, model species have not been developed for many key taxonomic groups.
Forest trees present the opportunity to test the extension of next generation sequencing-based tools and associated analytical approaches to non-model plants. Forest trees are largely undomesticated, and show extremes of plant biology not seen in most model species. One conspicuous feature of trees that is largely lacking in other models is secondary growth, the process by which tree stems grow in diameter and produce wood. Secondary growth is supported by a poorly understood meristem, the vascular cambium, which lies between the inner bark and the secondary xylem (wood) of the stem [5]. The cells of the cambium divide to provide daughter cells that differentiate into the bark or wood tissues. The process of secondary growth is tightly regulated transcriptionally but, although the genes expressed during secondary growth have been previously catalogued using microarrays [6], we currently lack an understanding of how genes are regulated or interact to condition the complex phenotypes seen in the woody stems of trees.
Trees of the genus Populus enjoy the most complete set of genomic and experimental tools for any forest trees. Full genome sequence is available for P. trichocarpa [7], facilitating use of applications that require mapping sequence reads to non-transcribed regions (e.g. ChIP-seq). However, P. trichocarpa is difficult to transform, and thus most labs use other Populus species that can be transformed at high frequency for experimental studies of gene function. In a practical sense, Populus is of importance for forest industry and biofuels production, and includes keystone species that underpin ecosystems across the Northern Hemisphere [8]. Advances in understanding the basic biology of these species could ultimately be translated into applications of ecological and economic significance [9]. They also represent a test-case for extending advanced genomics and computational approaches to other tree and undomesticated plant species.
Recently we initiated a series of experiments designed to elucidate gene expression and gene regulation involved in secondary growth and wood formation in Populus using ChIP-seq and RNA-seq as primary data types. To seed these studies, we selected two classes of transcription factors, Class I KNOX and Class III HD ZIPs, which had been previously implicated as playing key roles in regulating the cambium and wood formation [10–13]. Prior analysis of transcript levels from Populus mutants mis-expressing these transcription factors showed mis-expression of overlapping genes or genes influencing similar pathways [10–13], suggesting short path lengths among the Class I KNOX and Class III HD ZIPs in the secondary growth transcriptional network. In addition, the plant hormone auxin has been implicated in the function of both these classes of transcription factors [14, 15]. While options for ChIP-seq and RNA-seq experimental design and tools for the resulting data analysis abound, many non-trivial decisions had to be made related to the sequencing and parameter choices, for which guidance is scarce or inexistent for non-model plants.
In this paper, we outline the quantitative and qualitative data analyses that aided us with some of the challenges related to effectively performing gene expression and gene regulation studies in
Populus
, using ChIP-seq and RNA-seq experiments. We faced challenges during all phases of the project, and had to make decisions on a number of practical issues, summarized in Figure
1
. Our specific contributions in this paper are the studies that helped us make the appropriate choices for
Populus
. We summarize our results below, and expand on them in the rest of the paper.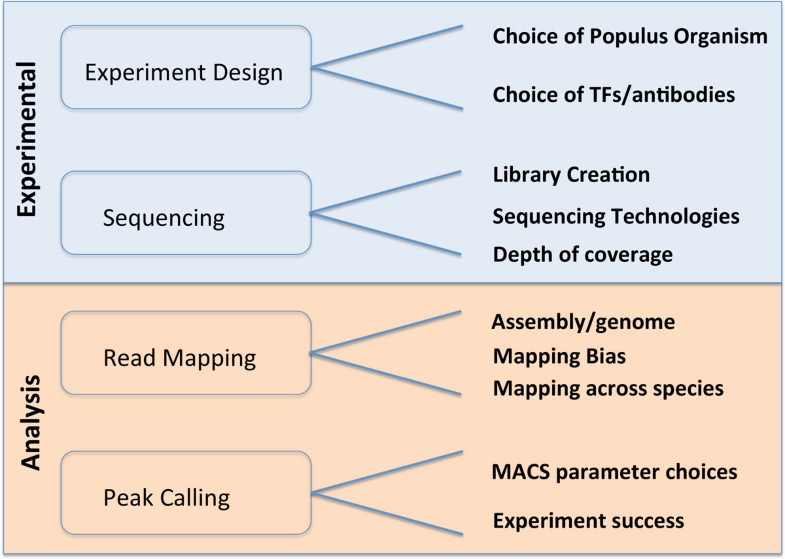 We chose to measure transcript levels using RNA-seq in existing transgenic mutants for Class I KNOX and Class III HD ZIP transcription factors of interest in the P. tremula x P. alba aspen hybrid background. We performed ChIP-seq experiments in mature P. trichocarpa, with at least two peptide-based antibodies raised against each transcription factor based on P. trichocarpa gene models.

We quantify the effects of library creation, choice of sequencing platforms, depth of sequencing coverage, and genome assembly on the quality of short-read mapping, especially cross-species mapping.

We quantify the effect of different determinants on the downstream ChIP-seq data analyses, including sequence coverage, MACS1.4 parameters, and the use of control sequences.

We discuss and quantify the effect of multiple samples and replicates as determinants of a successful ChIP-seq experiment.

We discuss the congruence of ChIP-seq and RNA-seq data and the expectations for genes showing both ChIP-seq peaks and differential expression in mutants.
Because of the generality of the technologies, our results are relevant and can provide guidance not only to those working in Populus, but to any emerging model plant organism. Importantly, our studies represent an integrated wet-lab and bioinformatics approach which illustrates both the challenges and promises of next generation sequence-enabled evolution and development studies in non-model species.
Conclusions
We have presented challenges we encountered when generating genome-wide ChIP-seq and RNA-seq datasets from tissues of non-domesticated forest trees of the genus Populus. We presented analyses showing the effects of various parameters affecting the outcome of ChIP-seq and RNA-seq analyses, including the differences of mapping to different versions of Populus genome assemblies, the challenges of cross-species mapping, the effects of input control file and sequencing coverage for ChIP-seq peak calling, evaluating ChIP-seq data quality technically, and comparisons between ChIP-seq and RNA-seq data. Choices at all these steps could influence the downstream gene expression and gene regulation analyses and results, so they must be approached with care. We hope these findings will be informative for future genomic research in Populus and other species.
Methods
Plant cultivation and sample collection
Whole stems of P. tremula x P. alba aspen hybrid hybrid aspen clone INRA 717-IB4 were used for ChIP-seq and RNA-seq experiments from plants that were propagated using previously published methods (Han et al., 2000). Vascular cambium samples were collected during active growth from P.trichocarpa trees grown in the field in Westport, Oregon. Briefly, the bark was peeled from stems, vascular cambium and derivatives were collected by light scraping with double edged razor blades. Tissue for RNA-seq was directly frozen in the field in dry ice. For ChIP-seq, tissues were fixed (0.4 M sucrose, 10 mM Tris-HCI, pH 8.0, 1 mM EDTA, 1% formaldehyde and 1 mM PMSF) under vacuum for 15 min. Then, Glycine was added to a final concentration of 0.1 M for 5 min to quench fixation. The tissue was then rinsed in distilled water before being frozen in the field in dry ice.
Antibody for ChIP-seq
A monoclonal antibody against RNA Polymerase II (MMS-126R) was used for RNA pol II ChIP-seq. ARK1 polyclonal antibodies were produced by Pacific Immunology Corp in rabbits. Briefly, unique and high antigenicity peptides were selected from the ARK1 peptide sequence, synthesized, conjugated, and used in immunizations. Antibodies were purified by affinity columns against the conjugated peptide, and evaluated for titer based on ELISA of the peptide used for immunization.
ChIP-seq and data analysis
Fixed P.trichocarpa vascular cambium or 717-IB4 whole stem samples were ground to powder in liquid nitrogen. The nuclei were isolated with CelLytic PN extraction kit (Sigma-Aldrich) and sonicated in a Lysis buffer (50 mM Tris-HCI, pH 8.0, 10 mM EDTA, 0.5% DOC, 0.3% SDS, proteinase inhibitor and 1 mM PMSF) until the majority of chromatin was fragmented to a size range of 200-500 bp. Chromatin immunoprecipitations were performed using CHIP-IT Express kit (Active Motif) following manufacturer's instruction. Sequencing libraries were prepared with Illumina TrueSeq DNA Sample PrepKit and submitted for ultra-high-throughput Solexa (Illumina) 50 bp single-end sequencing. Input libraries were prepared with approximately 10 ng whole genomic DNA purified from sonicated chromatin used for ChIP reactions.
Sequencing reads were mapped to the P. trichocarpa genome using Bowtie2.0.2 (http://bowtie-bio.sourceforge.net/index.shtml) with default parameters. MACS1.4 software (http://liulab.dfci.harvard.edu/MACS/00README.html) was used to call peaks representing enriched binding sites as discussed in the Results and Discussion sections. Size ratio of input control file and ChIP-seq libraries were calculated based on mapped reads of each library.
RNA-seq and data analysis
P.trichocarpa vascular cambium or 717-IB4 whole stem samples were ground to powder in liquid nitrogen. Total RNA were extracted with Trizol (Invitrogen) and then purified with the RNeasy Mini kit (Qiagen) following the manufacturer's protocol. mRNA sequencing libraries were prepared from total RNA using Illumina TrueSeq RNA Sample PrepKit and submitted for ultra-high-throughput Solexa (Illumina) 50 bp single-end sequencing.
Sequencing reads were mapped to the P. trichocarpa genome using bowtie2 (For Table 2) or Tophat (http://tophat.cbcb.umd.edu/) (For Figure 6) with default parameters. The raw mapped reads for each sample were counted using htseq-count and read counts per million (CPM) were calculated using the library size normalization function calcNormFactors in the edgeR package [32] (http://www.bioconductor.org/packages/2.13/bioc/html/edgeR.html).
Data repository
All raw ChIP-seq and RNA-seq data have been deposited in the NCBI SRA database under the accession number SRP028935.
Declarations
Acknowledgements
We thank Greenwood Resources for assistance in collecting vascular cambium samples in Westport, Oregon.
Declarations
Funding for publication of this work was provided by USDA AFRI 2011-67013-30062 to AG and VF, and the USDA Forest Service.
This article has been published as part of BMC Genomics Volume 15 Supplement 5, 2014: Selected articles from the Third IEEE International Conference on Computational Advances in Bio and Medical Sciences (ICCABS 2013): Genomics. The full contents of the supplement are available online at http://www.biomedcentral.com/bmcgenomics/supplements/15/S5.
Authors' Affiliations
(1)
USDA Forest Service, Pacific Southwest Research Station, Davis, USA
(2)
UC Davis Genome Center, University of California Davis, USA
(3)
Department of Computer Science, University of California Davis, USA
Copyright
© Liu et al.; licensee BioMed Central Ltd. 2014
This article is published under license to BioMed Central Ltd. This is an Open Access article distributed under the terms of the Creative Commons Attribution License (http://creativecommons.org/licenses/by/4.0), which permits unrestricted use, distribution, and reproduction in any medium, provided the original work is properly cited. The Creative Commons Public Domain Dedication waiver (http://creativecommons.org/publicdomain/zero/1.0/) applies to the data made available in this article, unless otherwise stated.