Research article
Open Access
The purplish bifurcate mussel Mytilisepta virgata gene expression atlas reveals a remarkable tissue functional specialization
Received: 6 April 2017
Accepted: 2 August 2017
Published: 8 August 2017
Abstract
Background
Mytilisepta virgata is a marine mussel commonly found along the coasts of Japan. Although this species has been the subject of occasional studies concerning its ecological role, growth and reproduction, it has been so far almost completely neglected from a genetic and molecular point of view. In the present study we present a high quality de novo assembled transcriptome of the Japanese purplish mussel, which represents the first publicly available collection of expressed sequences for this species.
Results
The assembled transcriptome comprises almost 50,000 contigs, with a N50 statistics of ~1 kilobase and a high estimated completeness based on the rate of BUSCOs identified, standing as one of the most exhaustive sequence resources available for mytiloid bivalves to date. Overall this data, accompanied by gene expression profiles from gills, digestive gland, mantle rim, foot and posterior adductor muscle, presents an accurate snapshot of the great functional specialization of these five tissues in adult mussels.
Conclusions
We highlight that one of the most striking features of the M. virgata transcriptome is the high abundance and diversification of lectin-like transcripts, which pertain to different gene families and appear to be expressed in particular in the digestive gland and in the gills. Therefore, these two tissues might be selected as preferential targets for the isolation of molecules with interesting carbohydrate-binding properties.
In addition, by molecular phylogenomics, we provide solid evidence in support of the classification of M. virgata within the Brachidontinae subfamily. This result is in agreement with the previously proposed hypothesis that the morphological features traditionally used to group Mytilisepta spp. and Septifer spp. within the same clade are inappropriate due to homoplasy.
Keywords
MusselTranscriptomeRNA-seqLectinsPhylogenomicsBivalveMollusk
Background
The purplish bifurcate mussel Mytilisepta virgata (Wiegmann, 1837), also known as Septifer virgatus, is a small bivalve mollusk species commonly found in the middle/upper intertidal zone of moderately wave-exposed shores along the coasts of Japan, Taiwan, and South Eastern China [1], between −10 and +70 cm above the mean tide level [2]. M. virgata is usually found in dense mussel beds, whose lower limit of vertical distribution is often determined by the association with the lower-intertidal mussel Hormomya mutabilis [3]. This mussel species developed remarkable morphological adaptations to cope with a wave-exposed environment, including a ventrally flattened, particularly resistant shell and stronger byssal attachment to the substrate compared to other subtidal and lower-intertidal sympatric mussel species [3–5]. Furthermore, M. virgata appears to be much more resistant to high temperature stress and air exposure than M. edulis, another invasive mussel species which preferentially occupies the lower part of the intertidal zone in the same geographical region [2]. Mature individuals are usually 45 mm long and live for approximately 4–5 years, although exceptional cases of 65 mm long specimen surviving up to 12 years have been recorded. Sexual maturity is reached after 12 months and, although fertility is maintained throughout the entire year, spawning events follow a bimodal pattern (the first one occurring in February–March, the second one in September–December) [6].
From a taxonomical point of view, M. virgata has long been considered as a member of the Septifer genus (and therefore named S. virgatus) and placed within the subfamily Septiferinae [7]. However, this clade was later found to be polyphyletic and, based on the revised hierarchical classification of NCBI Taxonomy, M. virgata, along with and most of the other species previously paced within this subfamily, has been moved to Mytilinae (Rafinesque, 1815). However, the current taxonomical classification still does not appear to accurately reflect the evolutionary history of these mussels. Indeed, more than a decade ago, molecular studies based on Cytochrome c oxidase subunit I (COI) first pointed out that M. virgata and the morphologically similar Septifer excisus (Wiegmann, 1837) pertained to two different clades within the order Mytiloida [8]. This observation is strongly supported by a recent study by Trovant and colleagues, which reported that COI and 18S/28S–based phylogeny identified both M. virgata and Mytilisepta bifurcata (Conrad, 1837) as members of the same clade, together with Perumytilus purpuratus (Lamarck, 1819) and Brachidontes rostratus (Dunker, 1857) (both pertaining to the Brachidontinae family), but distantly related to Septifer bilocularis [9]. Based on these results, the authors further suggested that Mytilisepta should be retained as a separate genus within Brachidontinae and that the septum structure involved in the insertion of the adductor muscle and used for the current morphological classification of different species within the Septifer genus is the product of homoplasy.
Apart from its disputed taxonomical placement, very limited scientific attention has been so far focused on M. virgata, with only a handful of studies dealing with its morphological adaptations [5], embryonic development [10], reproductive cycle [6] and population dynamics [2]. To date, only 31 nucleotide and 11 amino acid sequences have been deposited in public repositories for this species (data retrieved from NCBI, June 2017). These include several partial sequences used for phylogenetic analyses [9, 11, 12], microsatellites [13], a complete mitochondrial sequence (KX094521.1) and a few unrelated sequences referring to still unpublished manuscripts, highlighting the still nearly non-existing molecular knowledge of M. virgata, in stark contrast with the extensive investigations carried out in Mytilus spp. since the early 2000's [14–18]. The only reliable data available about the genome of M. virgata is an assessment of its size made by flow cytometry. The calculated genome c-value, 1.08, further confirmed by a very similar estimate for the closely related Mytilisepta keenae (1.06) [19], reveals that the purplish Japanese mussel genome is about 2/3 the size of those of Mytilus spp. and among the smallest known mytiloid genomes, but quite in line with the average genome size for all bivalves (Animal Genome Size Database, http://www.genomesize.com/).
Due the narrow scientific interest posed so far on mussel species other than Mytilus spp., deep sea vent mussels (Bathymodiolus spp.) and Perna viridis, M. virgata represents an interesting alternative subject for the study of the evolution of Mytiloida and for the investigation of some peculiar gene family expansion events which specifically occurred in this lineage [20].
The main aim of the present work was to provide the first curated and publicly accessible genomic resource for this species. The de novo assembled and functionally annotated transcriptome, together with gene expression data from five different adult tissues, will serve as a sequence and gene expression database for future genetic and molecular studies. The data we present will provide a substantial contribution in the improvement of scientific studies in this marine mussel. While discussing the potential function of tissue-specific genes, we put a particular emphasis on expanded families encoding lectin-like proteins involved in carbohydrate recognition, a class of molecules with a great biotechnological potential which could find a practical application in many areas of biomedical and biological research [21, 22].
Methods
Collection of samples
The selected sampling site was a natural mussel bed found in a tide pool in Oshima, Saikai city (Nagasaki prefecture, Japan). Based on national and local fishing regulations, no permits were required for the collection of shellfish. Five adult mussels, whose shell size approximately ranged between 4 and 5 cm, were collected, dissected using razor blades and scissors, and tissues were immediately placed in RNAlater (Thermo Fisher Scientific, Waltham, USA). Namely, the following tissues were dissected and stored for subsequent RNA extraction: hemocytes (collected with a syringe), posterior adductor muscle, inner mantle, mantle rim, digestive gland, gills and foot (Fig.
1
). The collected tissues were subsequently chopped into smaller parts weighting approximately 20 mg; for each of the sampled tissues, one of these slices of tissue was selected for each of the five specimens, placed in a vial containing TRIzol (Thermo Fisher Scientific, Waltham, USA) and homogenized. The total RNA, thereby representing a pool of five individual mussels, was extracted following the manufacturer's instructions. The quality and quantity of the extracted RNAs were assessed with an Agilent 2100 Bioanalyzer (Agilent Technologies, Santa Clara, USA). Only samples whose RNA Integrity Number was > = 9 were selected for RNA sequencing. Unfortunately the quality of the RNA extracted from hemocytes and inner mantle was not sufficient to proceed with the preparation of Illumina sequencing libraries.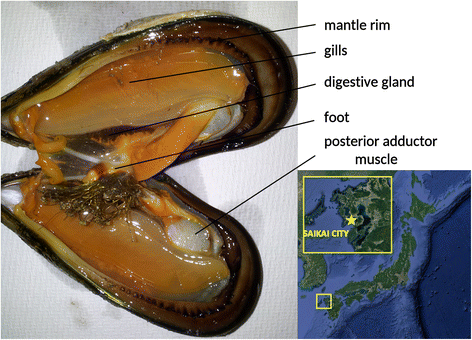 Library preparation and sequencing of the samples
The preparation of cDNA libraries compatible with Illumina sequencing was carried out using the Lexogen SENSE mRNA-seq library prep kit v2 (Lexogen, Wien, Austria), aiming at an average fragment size of 400 nt. RNA-sequencing was performed at the DNA Sequencing Center of the Brigham Young University using a 2 × 125 bp paired-end strategy on a single lane of an Illumina HiSeq 2500 in high output mode with v4 reagents.
De novo assembly, quality assessment and annotation
Raw reads were demultiplexed, imported in the CLC Genomics Workbench v.9.5 environment (Qiagen, Hilden, Germany) and trimmed according to base-calling quality scores and presence of residual sequencing adaptors. Resulting reads shorter than 75 bp were discarded. Trimmed reads were used as an input for Trinity v.2.3.2 [23] on the Galaxy platform [24] with default parameters. The minimum contig length was set at 200 bp. As suggested by previous studies [25, 26], in order to remove unreliable sequences likely originated from excessive fragmentation of longer mRNA molecules or residual contamination from exogenous RNA, contigs displaying a very low sequencing coverage were removed; this procedure was based on a threshold of TPM = 1, calculated with the back-mapping of all trimmed reads on the full assembled transcriptome using the software Kallisto v0.43.0 [27]. All the contigs that did not reach this threshold were discarded. Contigs originated from the assembly of mitochondrial and ribosomal RNAs were identified by BLASTn [28] using the sequences KX094521.1 (mitochondrial) and KJ453817.1 (ribosomal) as queries (e-value threshold 1E−10). The quality of the transcriptome was assessed with BUSCO v.2 [29] based on the set of conserved orthologous genes of the Metazoa lineage according to OrthoDB v.9 [30].
For annotation purposes, only the longest transcript per gene was selected and subjected to virtual protein translation with TransDecoder v.3.0.1 (http://transdecoder.github.io), using a minimum predicted protein length of 100 amino acids. All the sequences were annotated with the Trinotate pipeline v.3.0 (https://trinotate.github.io) and assigned Gene Ontology categories [31] based on positive BLASTp and BLASTx [28] matches against the UniProtKB/Swiss-Prot database (e-value threshold, 1E−5). The annotation of Pfam conserved protein domains [32] was based on the identification by Hmmer v.3.1b2 [33]. In specific cases where no annotation could be assigned based on these criteria, remote structural similarities with templates deposited in the Protein DataBank were inspected with HHpred [34].
Gene expression analysis
Trimmed reads for each of the five tissues were mapped on the annotated transcriptome with the RNA-seq mapping tool of the CLC Genomics Workbench v.9.5 (Qiagen, Hilden, Germany) using the following parameters: length fraction: 0.75; similarity fraction: 0.98; maximum number of matching contigs: 10; paired-end reads distance was automatically estimated. The number of matched reads were converted into Transcripts Per Million (TPM) expression values [35], a measure which ensures efficient data normalization and comparability both within and between samples. The obtained TPM values, representing the average expression levels of a pool of five biological replicates, were subjected to a statistical analysis of gene expression with a Kal's Z-test [36]. In detail, the expression profile of a given tissue was compared with the other four to identify differentially expressed genes (DEGs). The thresholds of fold change and False Discovery Rate-corrected p-value were set at 2 and 0.05, respectively. All DEGs exceeding these thresholds in all the four comparisons were marked as "tissue-specific". TPM expression were processed by log2 transformation for visualization purpose to generate scatter and volcano plots. A gene expression heat map was created by Euclidean distance-based hierarchical clustering (with average linkage) of a representative set of genes whose expression exceeded 3000 TPM in any of the five tissues taken into account in this study. Heat maps were also similarly generated for genes encoding lectins.
Tissue-specific genes were subjected to a functional evaluation, assessed through hypergeometric tests on Gene Ontology and Pfam annotations [37], implemented in the CLC Genomics Workbench v.9.5. Significantly over-represented annotations were detected based on a p-value <0.01 and observed – expected value > = 5.
Validation by real-time PCR
The expression data obtained by in silico analyses as detailed in the section above was validated by Real-Time PCR on three individual adult mussel, collected and dissected as previously described. Extracted RNAs were used to synthetize cDNA with a qScript™ Flex cDNA Synthesis Kit, QuantaBio (Quanta BioSciences Inc., Gaithersburg, MD) following manufacturer's instructions. Ten target genes (two for each tissue) were selected for validation among those displaying high tissue specificity in RNA-seq experiments. The primer sequences, designed with Primer3Plus (
https://primer3plus.com/
) to obtain amplicons of 100–150 nt size, are reported in Table
1
. In addition, we selected two stable housekeeping genes, the elongation factor 1 alpha and the ribosomal protein S2 (the former from literature data [
38
,
39
], the latter due to its constant TPM values), to normalize gene expression data among samples.
Table 1
Primers used for real-time PCR validation
| target gene | forward primer (5′ - > 3′) | reverse primer(5′ - > 3′) |
| --- | --- | --- |
| Chitotriosidase | TACTGCGATTGGCCATACAA | TGCCTGTGTAGTTCGAGGTG |
| Meprin A | GCTTGGGTACATCGACCACT | CTGCTTTGGTTCCAGTGTCA |
| Paramyosin | CCGAACTCGCAGAAAAGAAC | CGTAGAGCTTCCTCGGTGTC |
| Myosin, striated muscle | CTCTTGTTGCCCCAGGATTA | CTGGTAGCTCCACCAGCTTC |
| Acetylcholine receptor | GTCAAAGTCGGCCACTCACT | GTCTGACCGTCGTTGGTTCT |
| Glycine-rich secreted protein | CACACGGTCTTACTGGAGCA | GTTCGCCTTGTTCACCTTGT |
| Valine-rich secreted protein | AAAGTGCCATTCGAGACACC | GGGCTGGGAACTCTGAATTT |
| SCP domain containign protein | TCAAACACTGCGTCAAGACC | GGATCCACGTTTTCTCTTGC |
| Serine protease inhibitor | AGGCCAACTGCAAAAACG | CCGTCAACTCCACACACG |
| Tyrosinase-like protein 2 | CAGAGCCCTACCTCCAGATG | TGACTGCTCGCTTTGTATGG |
| EF1alpha | CTCTTCGTCTCCCACTCCAG | ACCAGGGAGAGCTTCAGTCA |
| Ribosomal protein S2 | GCCATTGCCAATACCTATGC | GCCTGGTTGACGAGTATGGT |
In detail, PCR reactions were prepared as follows: 5 μL of SsoAdvanced SYBR Green Supermix (Bio-Rad, Hercules, CA), 0.2 μL of the 10 μM forward and reverse primers, 1 μL of 1:20 diluted cDNA and water to reach a final reaction volume of 10 μL. Polymerase chain reaction (PCR) amplifications were carried out on a Real-Time C1000-CFX96 platform (Bio-rad), using the following thermal profile: 95° for 30 s, by 40 cycles at 95° (10 s) and 60° (20 s). The absence of non-specific amplification products was assessed with a melting curve analysis (65° to 95°). Gene expression values for the target genes were calculated using the delta Ct method and normalized on the average expression level of the two housekeeping genes. Results are shown as the average plus standard deviation of three technical replicates.
Phylogenomic analysis
The phylogenomic analysis was carried out based on a set of 445 single-copy orthologous genes present in the transcriptomes of M. virgata and 8 other mytiloid bivalve mollusk species, using the same strategy previously used by Biscotti and colleagues [25]. Namely, the species selected for this purpose were: Bathymodiolus azoricus, Bathymodiolus manusensis, Bathymodiolus platifrons, Geukensia demissa, Lithophaga lithophaga, Modiolus kurilensis, Modiolus modiolus, Modiolus philippinarum, Mytilus californianus, Mytilus coruscus, Mytilus galloprovincialis (as a representative of the M. edulis species complex), Perna viridis and Perumytilus purpuratus. The full set of the proteins encoded by the recently published genomes of B. platifrons and M. philippinarum were recovered. For all the other species, publicly available raw sequencing data was downloaded from the NCBI SRA database, imported in the CLC Genomics Workbench 9, trimmed based on quality as described above and assembled with the de novo assembly tool, setting both the word size and bubble size parameters to "automatic". Coding sequences (CDSs) were then predicted with TransDecoder v.3.0.1 (http://transdecoder.github.io), as described above for M. virgata. Sequence data from the genome of the Pacific oyster Crassostrea gigas v.9 [40] were also included to provide a reliable outgroup species for the analysis, based on the recent identification of Ostreoida as a sister group to Mytiloida [41].
Following this procedure, reciprocal BLASTp searches were performed, between the target species, M. virgata and C. gigas (the outgroup), using an e-value threshold of 1 × 10−10; taking into account only the best BLAST hit and discarding all the sequences lacking significant homology in any of the comparisons (either because of an e-value lower than the threshold or because of sequence identity <50%). This finally allowed the identification of a set of conserved orthologous sequences, which were aligned with MUSCLE [42] and further processed with Gblocks v.0.91b to remove highly divergent regions or fragments missing in one or more species due to the incompleteness of transcriptome data [43]. The resulting trimmed alignments were then concatenated and used as an input for a ProtTest v.3.4 analysis [44] in order to identify the best-fitting model of molecular evolution based on the corrected Akaike Information Criterion [45]. The concatenated multiple sequence alignment file, consisting of 247 orthologous proteins unambiguously detected in all the species taken into account, was subjected to Bayesian phylogenetic inference analysis with MrBayes v.3.2 [46], based on the LG model of molecular evolution, with a Gamma-shaped distribution of rates across sites, a proportion of invariable sites and fixed (empirical) priors on state frequencies (LG + G + I + F), identified by ProtTest as the best-fitting model. Phylogenetic inference was carried out with two independent analyses run in parallel. The convergence of the parameters generated by the two MCMC analyses was evaluated with Tracer v.1.6 (http://beast.bio.ed.ac.uk/Tracer). The analysis was stopped when the Effective Sample Size of each estimated parameter reached a value higher than 200, without considering the initial 25% of the generated trees (removed due to the burnin process). Sampled trees were used to calculate a consensus phylogenetic tree, where poorly supported nodes (those displaying posterior probability <50%) were collapsed.
Conclusions
As more and more bivalve species become the subject of –omic studies thanks to the development of cost-effective sequencing technologies, most transcriptomic studies are usually either focused on single tissues or on samples obtained from whole body, and just a very few have been so far dedicated to the investigation of the highly specialized function of tissues in a comparative way. With the present study, we tried to fill a gap in the genetic knowledge of M. virgata, providing a detailed snapshot of the gene expression profile of most of the main tissues of this marine mussel species. Besides revealing the high tissue-specificity of genes fundamental for mussel immune defense, feeding and attachment to the substrate, we also provide compelling evidence bimolecular phylogeny that the Japanese purplish mussel is not closely related to Septifer (Récluz, 1848) and that is should be instead considered as part of the Brachidontinae subfamily.
Abbreviations
BUSCO:

Benchmarking Universal Single-Copy Ortholog
C1qDC:

C1q domain-containing
CDS:

Coding sequence
COI:

Cytochrome c oxidase subunit I
CRD:

Carbohydrate recognition domain
DEG:

Differentially expressed gene
FREP:

Fibrinogen-related protein
L-DOPA:

L-3,4-dihydroxyphenylalanine
MAPM:

Microbe Associated Molecular Pattern
PAMP:

Pathogen Associated Molecular Pattern
PCR:

Polymerase chain reaction
PRR:

Pattern Recognition Receptor
TDI:

Transcriptomic Diversity Index
TPM:

Transcripts Per Million
Declarations
Acknowledgements
We would like to thank Dr. Giulia Moro and Dr. Martina Ianniello for technical help. We thank Dr. Jose Liétor Gallego for providing shell photographs.
Funding
This project was performed within the frame of the project "Molecular characterization of Myticalins: a new family of linearcationic AMPs from Mytilus galloprovincialis", supported by the program Finanziamento di Ateneo per la Ricerca Scientifica 2015 (FRA 2015) of the University of Trieste. Yuki Fujii and Hideaki Fujita received research funds from Nagasaki International University and grants-in-aid from the Ministry of Education, Science, Culture, and Sport (25,840,119 to YF, and 460,086 to HF). Yasuhiro Ozeki received research funds from the Yokohama City University (20160951101). This study was supported in part by Grants-In-Aid for Scientific Research from the Japan Society for the Promotion of Science (JSPS). The funding agencies played no role in the design of the study, sample collection, analysis or interpretation of the data nor in the writing of the manuscript.
Availability of data and materials
Raw sequencing reads have been deposited in the NCBI SRA database (Accession ID: SRP096873) under the umbrella Bioproject PRJNA361571, linked to Biosamples SAMN06233921–5.
The final set of high quality assembled contigs was deposited in the NCBI Transcriptome Shotgun Assembly database under the accession ID GFKS00000000.
Contig annotation and expression data are available in Additional file 1.
The multiple sequence alignment of the 17-mer repeated units of byssal cuticle proteins is available in Additional file 2.
Gene expression scatter plots are available in Additional file 3.
The complete results of hypergeometric tests on annotations are available in Additional file 4.
Authors' contributions
MG performed the assembly, annotation and bioinformatics analyses, designed validation experiments and wrote the paper. MG and YF conceived the project and experimental plan. YF, TK, SS and KY collected the biological material, dissected the animals and prepared tissues for RNA extraction. FS extracted RNA from samples, evaluated its quality, prepared sequencing libraries and performed validation experiments by RT-PCR. AP contributed to bioinformatics analyses and supervised the pipeline of analysis. YF, IH, YO and HF provided inputs for the biological interpretation of results and performed the analysis of lectin gene families. All the authors provided a critical contribution for the improvement of the first draft of the manuscript and approved its final version.
Ethics approval and consent to participate
Not applicable
Consent for publication
Not applicable
Competing interests
The authors declare that they have no competing interests.
Publisher's Note
Springer Nature remains neutral with regard to jurisdictional claims in published maps and institutional affiliations.
Open AccessThis article is distributed under the terms of the Creative Commons Attribution 4.0 International License (http://creativecommons.org/licenses/by/4.0/), which permits unrestricted use, distribution, and reproduction in any medium, provided you give appropriate credit to the original author(s) and the source, provide a link to the Creative Commons license, and indicate if changes were made. The Creative Commons Public Domain Dedication waiver (http://creativecommons.org/publicdomain/zero/1.0/) applies to the data made available in this article, unless otherwise stated.
Authors' Affiliations
(1)
Department of Life Sciences, University of Trieste, Trieste, Italy
(2)
Department of Pharmacy, Faculty of Pharmaceutical Science, Nagasaki International University, Nagasaki, Japan
(3)
Department of Life and Environmental System Science, Graduate School of NanoBio Sciences, Yokohama City University, Yokohama, Japan
(4)
Department of Biochemistry and Molecular Biology, Faculty of Science, University of Rajshahi, Rajshahi, Bangladesh