Research article

Open Access
Skin healing and scale regeneration in fed and unfed sea bream, Sparus auratus
Received: 24 December 2010
Accepted: 7 October 2011
Published: 7 October 2011
Abstract
Background
Fish scales are an important reservoir of calcium and phosphorus and together with the skin function as an integrated barrier against environmental changes and external aggressors. Histological studies have revealed that the skin and scales regenerate rapidly in fish when they are lost or damaged. In the present manuscript the histological and molecular changes underlying skin and scale regeneration in fed and fasted sea bream (Sparus auratus) were studied using a microarray 3 and 7 days after scale removal to provide a comprehensive molecular understanding of the early stages of these processes.
Results
Histological analysis of skin/scales revealed 3 days after scale removal re-epithelisation and formation of the scale pocket had occurred and 53 and 109 genes showed significant up or down-regulation, respectively. Genes significantly up-regulated were involved in cell cycle regulation, cell proliferation and adhesion, immune response and antioxidant activities. 7 days after scale removal a thin regenerated scale was visible and only minor changes in gene expression occurred. In animals that were fasted to deplete mineral availability the expression profiles centred on maintaining energy homeostasis. The utilisation of fasting as a treatment emphasised the competing whole animal physiological requirements with regard to barrier repair, infection control and energy homeostasis.
Conclusions
The identification of numerous genes involved in the mitotic checkpoint and cell proliferation indicate that the experimental procedure may be useful for understanding cell proliferation and control in vertebrates within the context of the whole animal physiology. In response to skin damage genes of immune surveillance were up-regulated along with others involved in tissue regeneration required to rapidly re-establish barrier function. Additionally, candidate fish genes were identified that may be involved in cytoskeletal re-modelling, mineralization and stem cells, which are of potential use in aquaculture and fish husbandry, as they may impact on the ability of the fish to produce structural proteins, such as muscle, efficiently.
Keywords
Food Deprivation
Ingenuity Pathway Analysis
Definitive Endoderm
Fast Animal
Scale Removal
Background
In vertebrates the skin performs many functions, not least of which is protection from the external environment. It has a relatively well conserved organisation, composed of the epidermis, dermis, and hypodermis, but is obviously adapted to the habitat and environmental challenges that a particular species faces. In aquatic organisms, such as fish, the skin is also an important osmoregulatory organ and the scales act as a reservoir of minerals [1–5]. The living non keratinized epidermis and scales are a functional specialisation of teleost skin and the latter structures are dermal skeletal elements which form after metamorphosis in juvenile fish [6]. The scales in most teleosts are classified as elasmoid and consist of an external calcified layer and a thicker, partially calcified basal plate composed of closely packed type I collagen fibrils [7, 8]. The basal plate overlays elasmoblasts (scale forming cells) and resorption involves the action of osteoclasts (scale resorbing cells) [9–13].
Scale removal in fish involves the loss of epidermal cells, scales and the superficial dermis. Such skin wounds heal rapidly in fish and the skin surface is quickly covered by mucus and re-epithelization from the wound margin occurs within a few hours [1, 14]. Moreover, within a few weeks a new scale with the size and characteristics of a mature scale is completely re-grown [8, 15]. This process of regeneration has been divided into four stages; starting with re-epithelization and the differentiation of scale-forming cells (day 1-2), followed by rapid production of external layer matrix (days 3-5), the production of basal-plate matrix (days 6-14) and finally partial mineralization of the basal plate (very intense by days 14-28) [8]. To date most studies on scale formation and/or regeneration have focussed on morphology [7, 16], with a limited understanding of the associated molecular basis, which is restricted to single gene studies. For example, co-expression of the estrogen receptor 2a (esr2a), apolipoprotein Eb (apoeb) and sonic hedgehog (shh) has been linked to cell proliferation, differentiation and metabolic activity of the zebrafish epidermis in fin buds and growing scales [17–19]. The ectodysplasin-A-receptor (EDAR) has been shown to be required for scale initiation and may also be involved in the cross-talk between the epidermal basal cells and the differentiating scale-forming cells in medaka (Oryzias latipes) [20]. Moreover, recently MMP-2 and MMP-9 were shown to have a role in scale regeneration in zebrafish [21]. Removal of scales damages a key barrier of the innate immune system and consequently provokes an inflammatory response and activation of the processes associated with healing and skin and scale re-growth [22, 23].
Along with their protective role, scales also provide a readily mobilized reservoir of calcium in periods of high-calcium demand and contribute to whole organism calcium homeostasis [2, 3, 24, 25]. Calcium in its soluble form is essential for cellular enzyme activities, nerve and muscle function and is a significant component of skeletal architecture including bone and scales. Its levels are tightly regulated [26–28]. Calcium in bones and scales is closely associated with phosphorus in the form of hydroxyapatite. Hence regeneration and repair of scales not only affects calcium levels, but also those of phosphorus, which like calcium, is essential for bone integrity and has numerous other essential cellular functions [29].
The aim of this study is to gain an understanding of the molecular basis of scale regeneration in a teleost fish, the gilthead sea bream (Sparus auratus, Linnaeus 1758). In particular, calcium and phosphorus are essential for the calcified matrix of forming scales and the effect on regeneration of manipulating minerals via food availability was assessed. Scale regeneration was monitored by analysing temporal changes in skin/scale morphology and modifications in the transcriptome determined using a sea bream specific oligo microarray.
Results and Discussion
The experiments represented three treatments: animals with scales removed (WS), fasted animals (ST) and fasted animals with scales removed (STWS); and control animals (N). The sea bream scale regeneration process was evaluated at two time points, day 3 and day 7 after scale removal. Food deprivation was employed as a treatment to reduce the transcriptome associated with cellular/tissue metabolism and modify whole animal mineral homeostasis and in this way cause a relative amplification in the gene expression signals generated as a result of the cellular response to scale removal. There were no evident signs of stress, no mortality occurred during the experimental trial and no overt infections were evident. Sea bream from which food was withheld failed to increase in length and weight during the experiment compared to those that were fed irrespective of the presence or absence of scales. The good condition of the animals was substantiated by measurements of plasma components. Lactate and glucose were the plasma components measured to investigate the condition of animals.
Conclusions
Fish skin is a very metabolically active organ which has crucial physiological functions, in osmotic regulation and is also an important immune barrier. Loss of scales and superficial wounds occur in both wild and captive teleosts and the vital importance of integument integrity means damage must be repaired as soon as possible. Although several studies exist which characterise tissue and cellular changes underlying skin regeneration in teleosts, molecular studies have largely been centred on scale formation and calcification, with the latter process not taking place until 14-28 days after scale removal [8]. The study described here, concentrates on the initial stages of scale removal and re-epithelialization. Our results show that this is a dramatic process, mainly occurring within the first three days after scale loss. The identification of numerous genes involved in the mitotic checkpoint and cell proliferation indicates that, with a more detailed time course experiment, this procedure represents a good model for understanding cell proliferation and control within the constraints of whole animal physiology. The utilisation of starvation as a treatment emphasised not only the essential processes underlying repair of the epithelia, but also the competing whole animal physiological requirements with regard to barrier repair, infection control and energy homeostasis. Comparison with human disease genes has identified several putative candidates in fish for the maintenance of cytoskeletal structure, which are of potential use in aquaculture and fish husbandry studies.
Methods
Fish
Juvenile sea bream (Sparus auratus) were maintained at the Centre of Marine Science (CCMAR) field station (Ramalhete, Faro, Portugal) in through-flow seawater tanks (2000L) at 17-21°C, 36% salinity and 12 h light and 12 h dark photoperiod for several weeks prior to the start of the experiments. The maintenance of fish and subsequent experiments complied with the Guidelines of the European Union Council (86/609/EU) and was covered by a group 1 licence (Direcção-Geral de Veterinária, Portugal). Behaviour and health of animals was monitored visually each day and no mortality occurred during the experiment.
Experimental Design
Sea bream (n = 8 fish/tank, 93.4 ± 3.1 g) were acclimatised for one week to the experimental circuit which consisted of 8 through-flow seawater tanks (500L), with water maintained at 19-21°C, 36% salinity and a 12 h light and 12 h dark photoperiod. Food was withheld from the fasted experimental groups for 1 week (-7 days) prior to removal of the scales which was considered day 0 of the trial (Figure
3
). The experiment had 3 treatment groups: ST = fasted for duration of experiment; WS = scales removed at time 0; STWS = fasted for duration of the experiment with scales removed at time 0 and the control group (N) with no treatment but subjected to the same anaesthesia/handling as the treatments groups.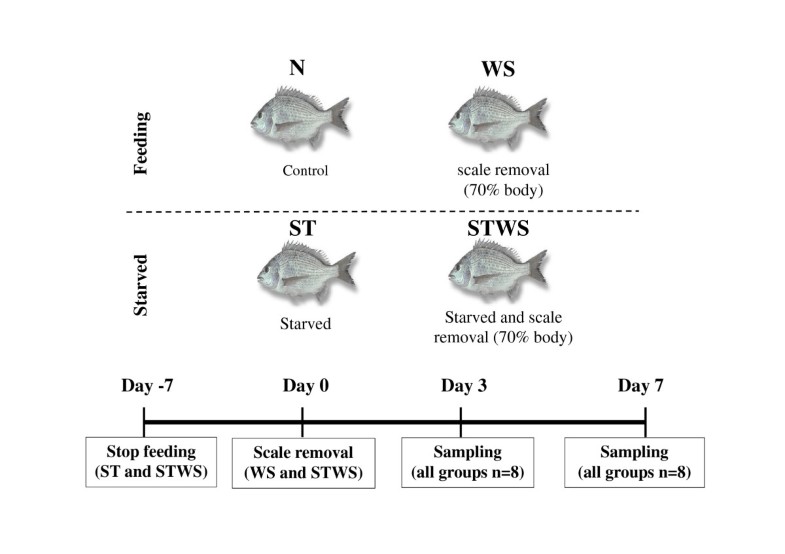 Duplicate tanks for each treatment were prepared (day 3 and day 7) and 8 fish were sampled from one tank 3 days after the scales had been removed and from the second tank 7 days after the scales had been removed. Two tanks contained the control fish and were sampled at the same time as the experimental groups at day 3 and 7. To remove the scales, fish were lightly anaesthetised in 2-phenoxyethanol (1:5000, Sigma-Aldrich, Madrid, Spain) and scales were removed (approximately 60-70%) by wiping fish with a wet paper towel in order to minimize damage. For sampling fish were anaesthetised in 2-phenoxyethanol, as described above, weight and length was measured, blood collected and centrifuged (10,000 rpm for 5 minutes) and the plasma stored at -20°C. Fish were sacrificed by sectioning the spinal cord and skin was collected (approximately 1 cm2) from below the dorsal fin and carefully dissected free of muscle and snap frozen in liquid nitrogen and stored at -80°C. For histology, skin with some adhering muscle was fixed overnight at 4°C in 4% PFA.
Plasma measurements
To determine the possible effect of treatments on plasma composition but also to evaluate the physiological condition of the experimental and control animals, calcium, phosphorus, glucose and lactate were determined. Duplicate samples of sea bream plasma (10 μl diluted 1/4 in milliQ water), collected from 8 fish/experimental group, 3 days after the removal of scales were measured. Colourimetric tests were performed according to the manufacturers' instructions and absorbance measured with a microplate reader:
Calcium: Calcium-ο-C v/v kit (ο-cresolphtalein, v/v, colorimetric; Spinreact ref. 1001061, Spain), absorbance at 570 nm.

Phosphorus: Phosphorus - UV kit (Phosphomolybdate, uv; Spinreact ref. 1001155, Spain), absorbance at 340 nm.

Glucose: Glucose-TR kit (GOD-POD; Spinreact ref. 1001190/1001191/1001192, Spain), absorbance at 505 nm.

Lactate: Lactate kit (LO-POD Enzymatic colorimetric; Spinreact ref. 1001330, Spain), absorbance at 505 nm.
Histology of sea bream skin and scales
To characterize sea bream skin and scale morphology, samples fixed in 4% PFA were decalcified overnight in 0.5 M EDTA, pH 8, dehydrated through a graded ethanol series, saturated in xylene and impregnated and embedded in paraffin wax (Merck, Germany). Serial sections (5 μm) of skin were mounted on 3-aminopropyltriethoxysilane (APES; Sigma-Aldrich, Madrid, Spain) coated glass slides. The sections were dried overnight at 37°C, cooled to room temperature and stored or stained. To distinguish between collagen rich and/or mineralized and non-mineralized tissue, sections were stained with Masson's trichrome [83]. Skin sections were rapidly dehydrated through a graded series of alcohols, cleared in xylene and mounted in DPX mountant (BioChemika, Sigma-Aldrich, Madrid, Spain). Stained sections were analyzed using a microscope (Leica DM2000) coupled to a digital camera (Leica DFC480) and linked to a computer for digital image analysis.
Sea bream microarray
A 4 × 44 k oligo-array developed and validated for the gilthead sea bream by Ferraresso et al.[36] was used in this study. The array contained 39,379 sea bream oligonucleotide probes covering 19,715 unique transcripts and of these, 19,650 were represented by two non-overlapping probes and 65 were present as a single probe. Owing to the expansion of teleost sequences in the public databases since the publication of Ferraresso et al. [36], a re-annotation of probes was carried out with Blastx similarity searches against the Uniprot/Swissprot and Uniprot/Trembl databases [37]. Annotation was assigned for probes with an expected score in excess of 1e-10.
Total RNA was extracted from five individual fish using an RNeasy Mini kit (Qiagen, Hilden, Germany) according to the manufacturer's instructions. RNA quality and integrity were checked using an Agilent 2100 Bioanalyser (Agilent technologies, Palo Alto, CA) and only samples with an RNA integrity index number (RIN) >7.5 were processed for use in microarray analysis. Samples from each treatment group (5 replicates) were labelled with Cy3-dCTP and hybridizations were performed using the Agilent One-Colour Microarray-Based Gene Expression Analysis protocol with the modifications described by Ferraresso et al.[36]. The arrays were scanned on an Agilent G2565BA DNA microarray scanner, at a resolution of 5 μm, and at two different sensitivity levels (XDR Hi 100% and XDR Lo 10%). The XDR Hi and XDR Lo images generated per array were analysed together and the data extracted. Background subtraction was performed using the standard procedure in the Agilent Feature Extraction Software 9.5.1. Spike-In Viral RNAs were used to control array hybridization intensities and ensure normalization gave a uniform signal across all microarray slides. The R [84] limma package [85] was used for microarray analysis. A factorial design of the treatments were compared by fitting a linear model [86] with differentially expressed clones selected by a Benjamini and Hochberg [87] globally adjusted p-value of 0.05 and a minimum two-fold change. The transcripts represented by two non-overlapping probes were only selected when both probes were differentially expressed.
The data discussed in this publication have been deposited in NCBI's Gene Expression Omnibus [88] and are accessible through GEO Series accession number GSE30717 (http://www.ncbi.nlm.nih.gov/geo/query/acc.cgi?acc=GSE30717).
Gene Ontology Annotations and GO enrichment
Accession numbers associated with the probe annotations were used to assign GO and GOSLIM terms [89]. GO enrichment was determined by a proportion test between the number of clones representing a GO term on the array compared to the number of differentially expressed clones representing the same GO term in a given comparison with a p-value cut-off of 0.05.
Ingenuity pathway Analysis
Cellular networks arising from the gene expression data were identified and established through the use of IPA (Ingenuity Systems, http://www.ingenuity.com). The sequences of differentially expressed genes from treatments collected at 3 days were all submitted to BLASTN in order to identify human orthologues. The accession numbers were extracted and used as identifiers in IPA together with the fold-changes of the corresponding differentially expressed genes. The Ingenuity knowledge base was used as a reference and direct and indirect relationships were included and no filters were applied. Bio functions, namely molecular and cellular functions and physiological system development and function significantly (p < 0.05) related with the input dataset were identified. Networks were then algorithmically generated based on their connectivity and a score was assigned. The score was used to rank networks according to how relevant they were to the genes in the input dataset.
Microarray validation by real time RT-PCR
Array results were corroborated by real-time RT-PCR using when possible RNA extracted from the same individuals used for array analysis from all the different treatments at the 3 day time point. Ten genes were analysed and primers were designed using Beacon Design software (Premier Biosoft Int., Palo Alto, CA) (Table
10
). For cDNA synthesis, 1 μg of total RNA was pre-treated with DNA-free Kit (Ambion, UK) to remove genomic DNA and then cDNA synthesis carried out using 250 ng of DNAse-treated total RNA, 200 ng of random hexamers (GE Healthcare, Little Chalfont, UK), 40 U of MMLV reverse transcriptase (RT) (Promega, Southampton, UK) and 5 U of RNAguard Rnase inhibitor (GE Healthcare, Little Chalfont, UK) in a final reaction volume of 20 μl. Q-PCR was performed in duplicate reactions using SYBRgreen chemistry (Power SYBR
®
Green PCR Master Mix, Applied Biosystems, UK) and the relative standard curve method, using a StepOnePlus qPCR thermocycler and StepOne software v2.0 (Applied Biosystems, UK). PCR cycling conditions were 10 min at 95°C, followed by 55 cycles of 10 sec at 95°C, 20 sec at the optimal temperature for each primer pair (Table
10
), and 30 seconds at 72°C. A final melting curve was carried out between 60 and 95°C for all genes and each produced single products/dissociation curves. Standard curves relating initial template quantity to amplification cycle were generated using serial dilutions of linearized plasmid DNA containing the gene of interest or of RT-PCR specific product obtained from the same specie and tissue, and the efficiency of qPCR reactions ranged between 82-100%, with the exception of SAPD20351 and SAPD13946 that had efficiencies of 73.1 and 78.6%, respectively, and all gave R
2
> 0.985. All amplicons were sequenced to confirm specificity of the PCR reaction. Ribosomal protein S18 (S18) expression was quantified using the same conditions as the other genes. No statistically significant differences were found between experimental groups so it was chosen as an endogenous reference gene to normalize qPCR data as it had a low inter-group variation and a similar level of expression to the analyzed genes. Statistical significance of relative gene expression between groups was analysed by one-way ANOVA using the software SigmaStat v.3.1 (SPSS Inc, Chicago, USA). Pearson correlations between the qPCR relative expression and microarray expression of both probes (average of individuals in each experimental group) were calculated for each gene. Statistical significance was established at p < 0.05.
Table 10
List of primers used for real time RT-PCR.
| SAPD ID | Gene Name | Accession Number | Primer sequence (5'→ 3') | Amplicon (bp) | Temp (°C) | Efficiency |
| --- | --- | --- | --- | --- | --- | --- |
| SAPD20351 | Beta-2-glycoprotein I precursor | IPI00298828 | F: TGGTTCGCCTCCTGTCTCC R: GGTTCTGGTGACTCATCCTCTG | 178 | 60 | 73.1% |
| SAPD01318 | Collagen alpha1 I chain precursor | P02452 | F: AGACCTGCGTATCCCCAACTC R: GCCACCGTTCATAGCCTCTCC | 110 | 57 | 83.4% |
| SAPD03530 | Collagen alpha2 V chain precursor | IPI00293881 | F: ACCTGTGACGACCTGAAGAGATGC R: TGGATGGGTTGGCGGAGATGC | 145 | 60 | 86.8% |
| SAPD23304 | Cytochrome c | P81459 | F: AGGCATTCGTCCAGAAGTGTG R: TGGCATCGGTGTAGGAGTAGC | 132 | 56 | 84% |
| SAPD05261 | IFI56 | Q7T2R0 | F: ACCTCGCTGCTCAGTACCTC R: GCCTCCTCCGCCAAATCAATG | 184 | 57 | 87.7% |
| SAPD02730 | Glutathione S-transferase A5 | Q7RTV2 | F: AGACGTGCTGCTGCTTGAATGC R: TGGCTTCGGCTTCCTCTTGCTG | 157 | 60 | 99.1% |
| SAPD00344 | P22phox protein | NP_001027717 | F: ATGCTTGCCACCGTCCTG R: TCTTGATGCTCTCTGCGACTG | 139 | 60 | 82.4% |
| SAPD02155 | Proliferating cell nuclear antigen (pCNA) | P12004 | F: GAGCAGCTGGGTATTCCAGA R: CTGTGGCGGAGAACTTGACT | 148 | 60 | 83.4% |
| SAPD13946 | Retinol-binding protein I, cellular | P82980 | F: TCCGCACCATAACCACCTTCAAG R: CCAGCCTCGTCCTTCCTTCTCC | 168 | 60 | 78.6% |
| SAPD26722 | SPP1 protein | NP_001002308 | F: AGGTTGCTGACAGTTCTGAGAG R: GCGGCTGCTGCTACAATG | 130 | 57 | 92.2% |
| --- | Ribosomal protein S18 | AM490061 | F: AGGGTGTTGGCAGACGTTAC R: CTTCTGCCTGTTGAGGAACC | 164 | 60 | 92.1% |
Declarations
Acknowledgements
The authors acknowledge B. Louro and P. Pinto, for the help with the IPA software and qPCR technique, respectively. The work was funded by FINEFISH (COLL-012451) a European funded FP6 Project and Pluriannual funding to CCMAR from the Portuguese Science and Technology Foundation (FCT). FV was in receipt of a PhD fellowship from FCT (BD/17630/2004) and SG benefited from a mobility grant from AQUAGENOME (SSP8-044481) a European specific support action. MSC and MAST performed this work within the remit of the Adaptations and Physiology Workpackage of the Ecosystems Programme at the British Antarctic Survey.
Authors' Affiliations
(1)
Comparative and Molecular Endocrinology Group, Centre for Marine Sciences (CCMAR), Universidade do Algarve, Faro, Portugal
(2)
Dipartimento di Sanità Pubblica, Patologia Comparata e Igiene Veterinaria, Università di Padova, Legnaro, Italy
(3)
British Antarctic Survey, Natural Environment Research Council, Cambridge, UK
Copyright
© Vieira et al; licensee BioMed Central Ltd. 2011
This article is published under license to BioMed Central Ltd. This is an Open Access article distributed under the terms of the Creative Commons Attribution License (http://creativecommons.org/licenses/by/2.0), which permits unrestricted use, distribution, and reproduction in any medium, provided the original work is properly cited.